Intro
Story Time Chess is a successful introduction to teach kids how to play chess. The game has been awarded TIME best invention of the year, 2021 Toy of the Year award, & ASTRA best toy for kids. Story Time Adventures focuses on teaching kids classics, from Chess to Backgammon. This version teaches chess using silly stories, vibrant illustrations, using custom pieces, and a double sided chessboard. There is no prior experience needed to start with this story led game. The game focuses on strategic planning, problem solving, and a lot more.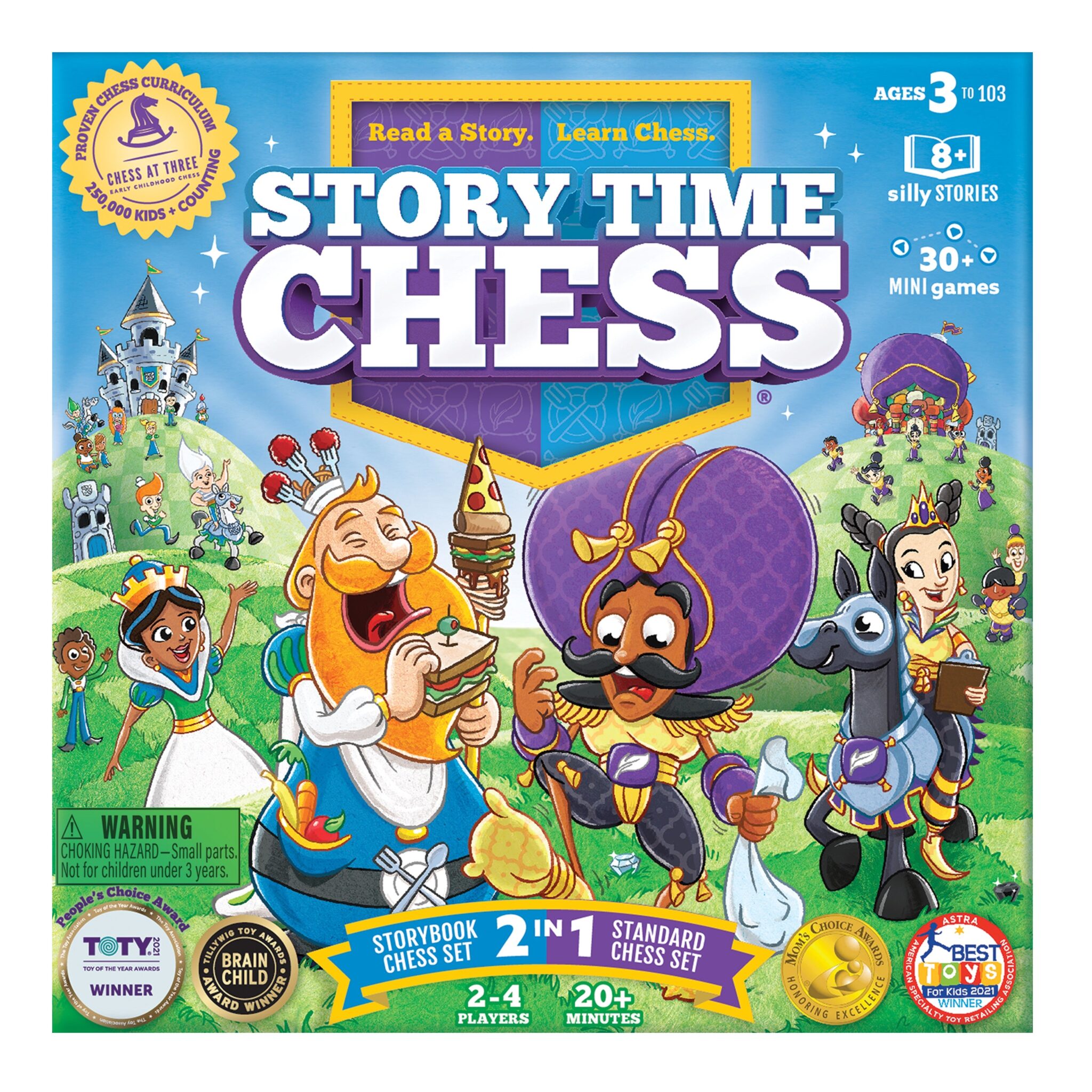 What's in the Box?
1 Storybook with 8 stories, and 30+ mini-games
1 Double sided chess board
2 bags to place chess pieces in
30 mini-game crown tokens
16 White chess pieces
16 Black chess pieces
16 Team Chopper cutouts
16 Team Shaky cutouts
How's it Play?
Story Time Chess is a game where you read the story book one chapter at a time. You are encouraged to use voices, be silly, and act out the story to help understand the mechanics used in the game of chess. After completing a chapter you then perform the mini games, putting into practice what you just read. Each chapter in the game introduces how to use a different piece on the chess board. 
King Chomper loves food so much that he can only move one step at a time because his pockets are full of food. King Shaky is afraid of everything, including the grass, and that's why he only moves one step at a time in any direction. Each king has children who like to race each other but only in straight lines in columns. They love to race and can begin the race with a head start moving 2 spaces forward or one. Because they get stuck with the kids from the other king, they learned how to capture each other by moving diagonal if another pawn was there.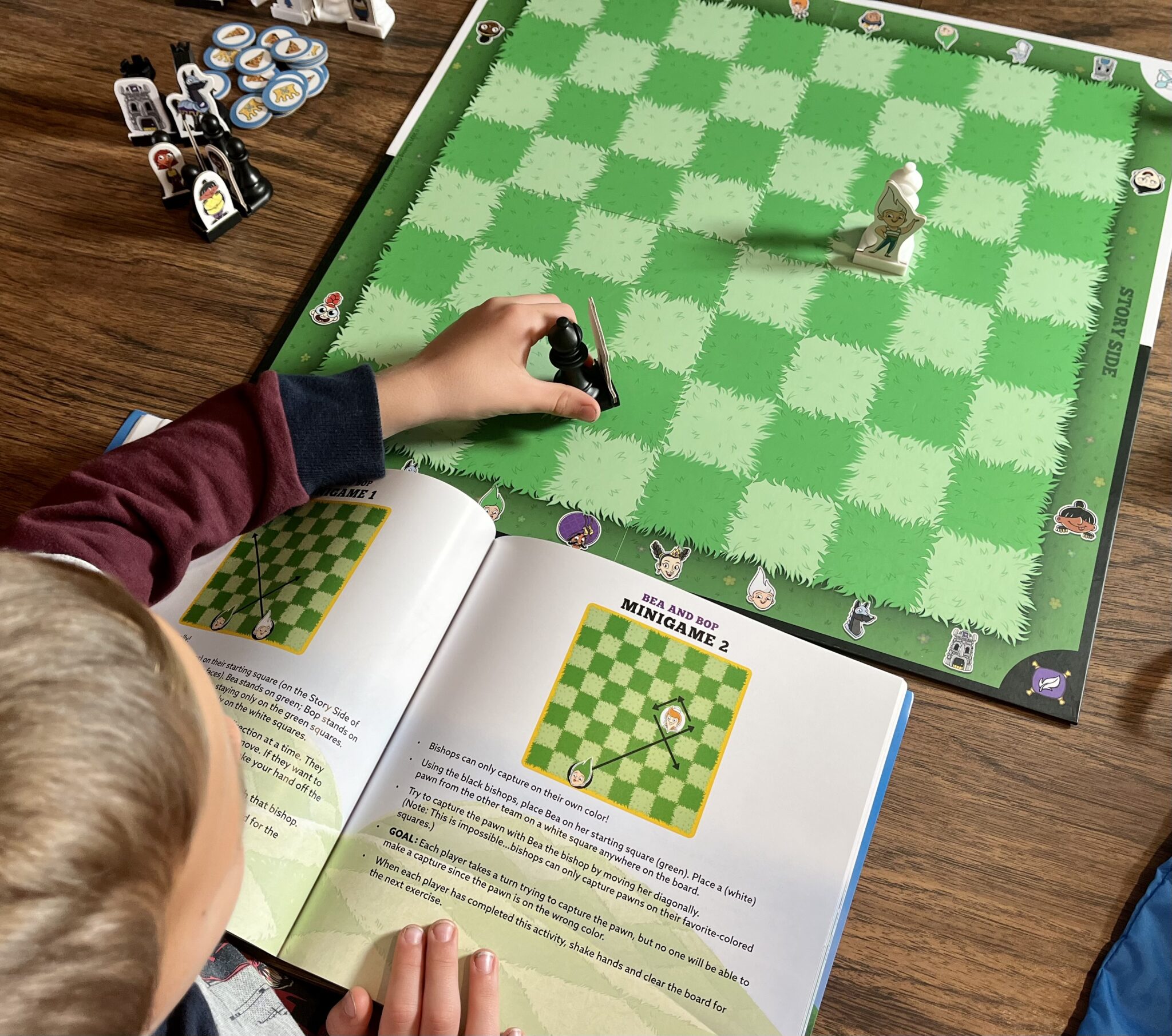 Bea and Bop were gifted a green ruby and a white diamond and only like those colors; they went off to become trapeze artists and came back able to swing diagonally from one side of the board to the other. Clip and Clop learned to do a dance to open the secret wall to get better grass. They now gallop, gallop, and step to the side when they move in chess, and they can jump over other pieces too!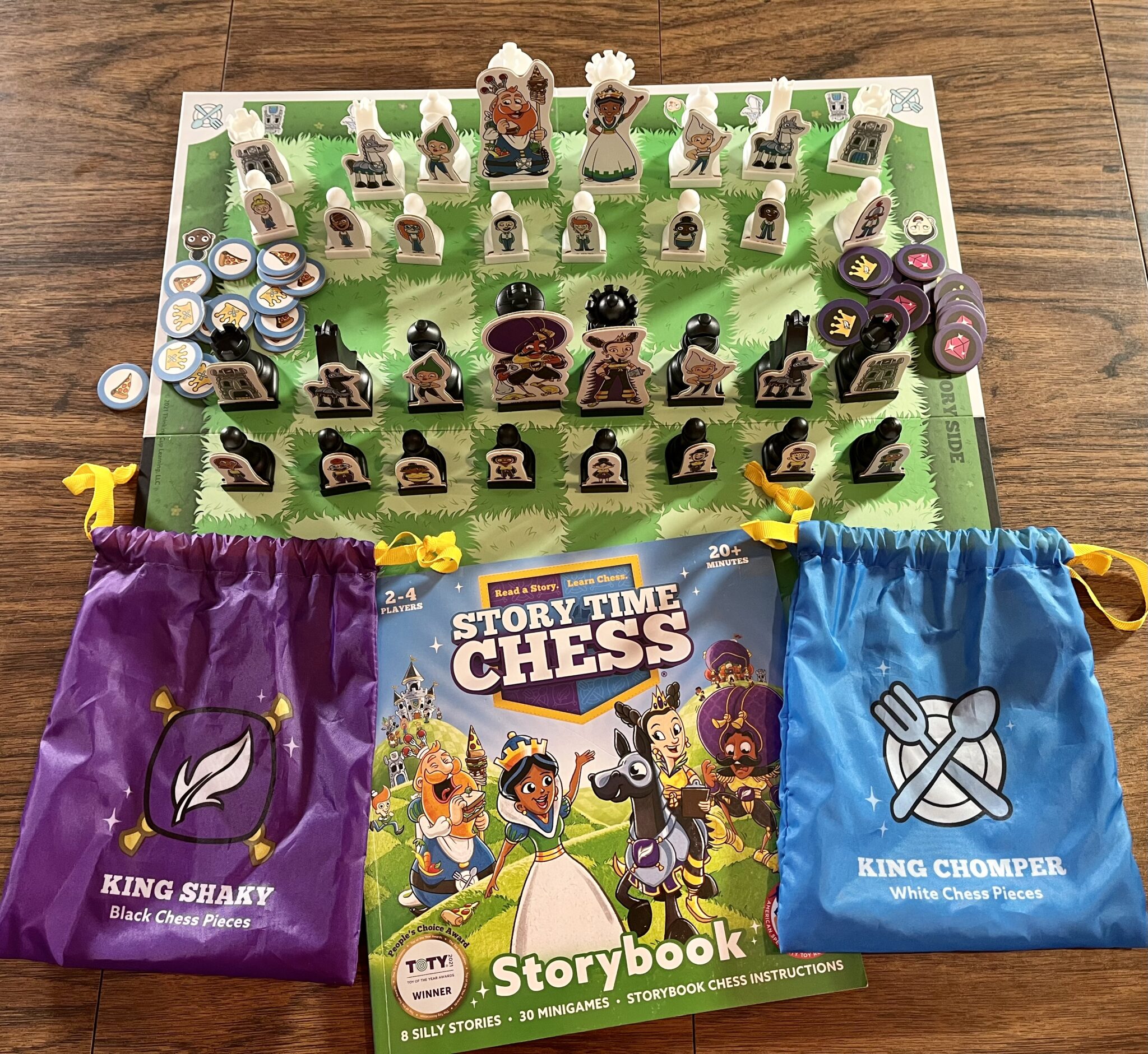 The rooks were made to store extra food for King Chomper, but they were found to move forward and sideways, so they were used in chess and placed in the corners. They are magical towers and can move forward, backwards, and side to side. Lastly, Queen Bella is Chief Friendship Officer and needs to be best friends with everyone and moves all around the board. Queen Allegra designs very cool structures, and when King shaky's castle falls apart, the Queen is able to move all around constructing his castle again. She can move in any direction as far as she wants to. 
Of course all these stories is learned in the book and eventually explains how each piece moves on the chess board. After the book, you now know how they move and you are trying to go after the king of the other side.
The Verdict
The story book does a good job explaining how pieces move to kids. Later on when playing chess, you can go back and explain why a certain piece can only move a certain space. "Remember, the pawns only run forward in their race, they cannot move sideways because they are racing forward." Or, "Queen Bella helps everyone so she can go almost anywhere with movement unless someone is in her way."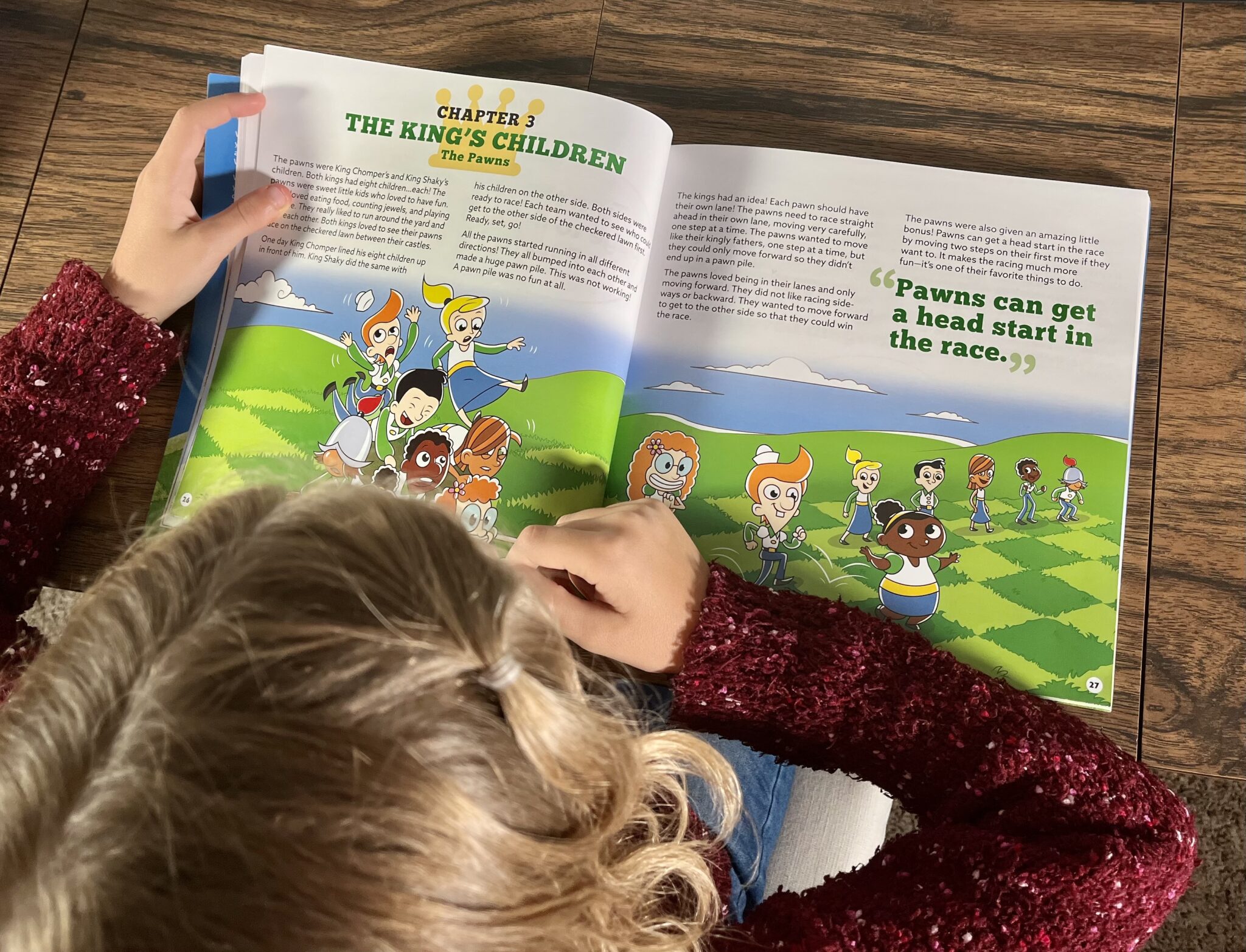 Story Time Chess has helped the kids remember how they can move their pieces. Also we have taken the tokens and placed them on all places on the board that each character can move. This also helps reinforce movement and possible places pieces can move.
The strategy for Story Time Chess and putting all the movement together takes time. You have to continue playing the game to see why you would move and why you might not want to. Remember the other side can come take you pieces, so kids have a hard time sometimes seeing those movements from the other side.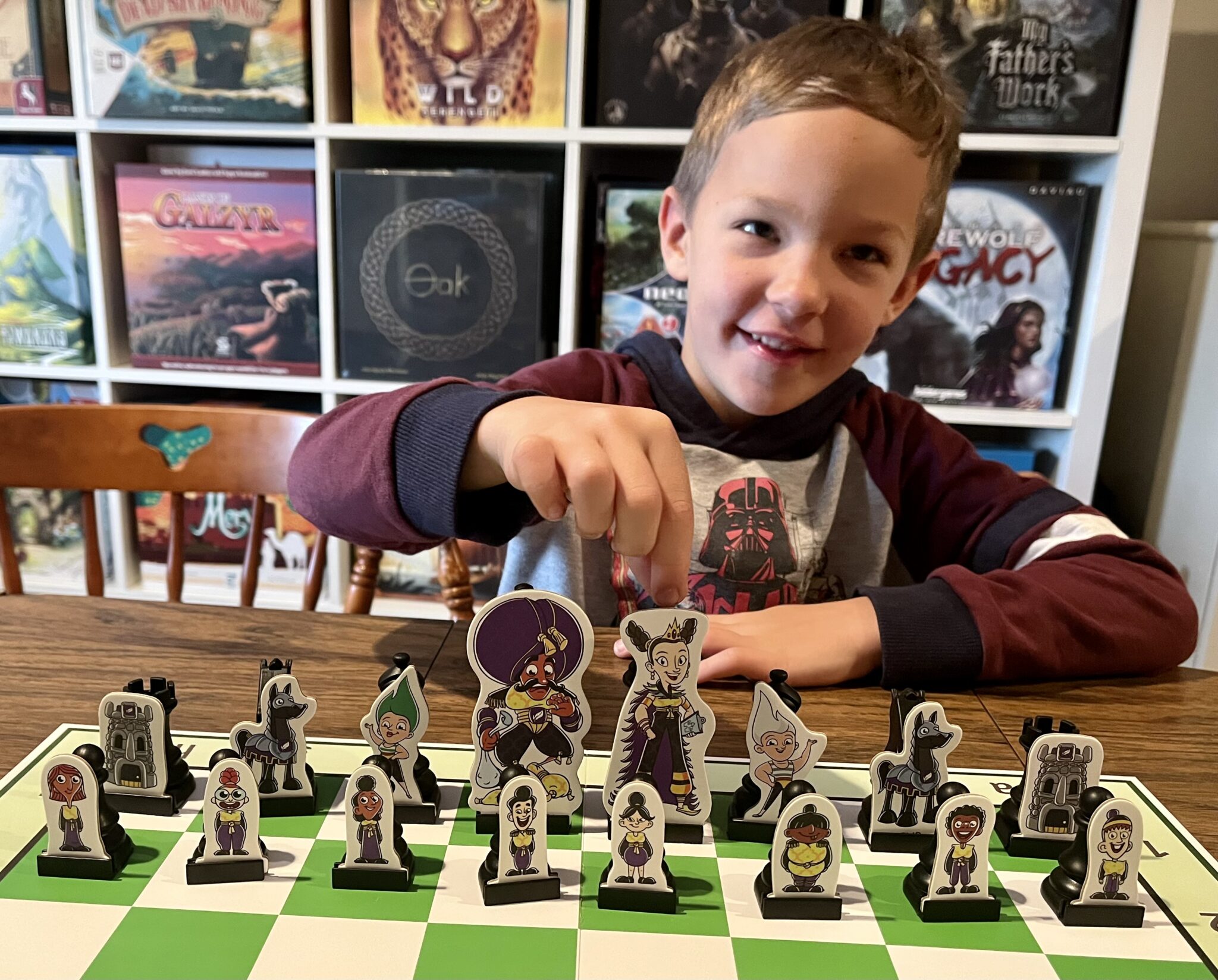 Overall, Story Time Chess is a good way to teach chess for very beginners, and it teaches about how each piece can move. After players know how to move, they can flip the board over to the normal side and start figuring out a strategy. My kids now use the game to play chess with me and with each other, and it has become a daily thing were we play a quick game with each other. Maybe you can make it a part of quality time in your family, too!
Images via Story Time Learning
Have strong thoughts about this piece you need to share? Or maybe there's something else on your mind you're wanting to talk about with fellow Fandomentals? Head on over to our Community server to join in the conversation!