Lucy the kitten loves Halloween almost as much as her stuffed Woof-Woof or her little brother Yob. But as she and her very eccentric animal family prepare to celebrate their favorite holiday, they discover this is no ordinary Halloween. A full moon is coming, bringing something completely unexpected to the desert ranch where they all live. On this All Hallows' Eve, Lucy, Yob, and the entire Yard Gang must go in search of their Halloween Spirit!
When I was a kid, horror was my number one ultimate genre. If I could get my little hands on it, I was going to read it. Which is why little 8-year-old Kori knew all about Dracula's Daughter, Creature From the Black Lagoon, Murders in the Rue Morgue, The Bride of Frankenstein, The Cabinet of Dr. Caligari, and Werewolf of London. I would sneak into the hallway on the night Tales From the Crypt would air and hope to watch the full episode before my parents invariably caught me. Nickelodeon's Are You Afraid of the Dark was must-see television.
It's ironic because as an adult I absolutely hate horror movies and can't watch them. Go figure.
That doesn't mean I don't love a good, fun, and spooky time. And The Yard Gang: Halloween Special is made for children (or adults) who are more adult Kori speed. You know, the people who think Witch's Night Out, The Halloween That Almost Wasn't, and Garfield's Halloween Adventure are just the right amount of fright.
Following the adventures of a familial group of animals, this is a story that is just adorable as f*ck. (Pssst! I'm not swearing in this review since it's technically for children.)
The artwork is delightful, the story heartwarming, and it has just enough "aesthetic" to charm the most snobby Halloween-o-phile.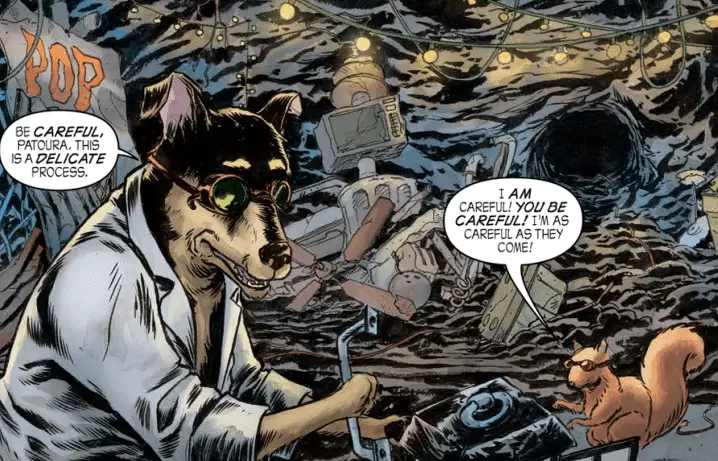 This is the perfect little Halloween treat to grab for your little trick-or-treater and let them distract themselves while you prepare to go door-to-door to load up on enough candy to give them a month-long sugar high. Heck, they could even read it in the car if you're the sort that has to drive to different neighborhoods.
Or, if you're not of the child persuasion, but want to check out low-speed spooky, grab it for yourself! Again, it's charming AF. (Still not technically swearing!)
Writers
Steve Niles
Monica Richards
Illustrator
Cover Illustrator
Storm Kids – The Yard Gang: Halloween Special is available in comic stores near you!
Images courtesy of Storm King Productions
Have strong thoughts about this piece you need to share? Or maybe there's something else on your mind you're wanting to talk about with fellow Fandomentals? Head on over to our Community server to join in the conversation!