Even though they're significantly older than podcasts and audio books, audio plays are a relatively uncommon form of storytelling. It takes a lot of skill to write a good play, and it takes even more skill to translate a play into a listening experience. A good audio play has to be immersive without the added benefits that a stage play has for storytelling – visuals, audience based timing and sets (or lack thereof) that help plays come to life. Audio plays have to capture the entire experience with sound effects and strong voice acting. Not all actors are good voice actors – and not all voice actors are good at theatrical roles. Despite these potential hurdles, Starstruck successfully takes the audience on a solid ride through space.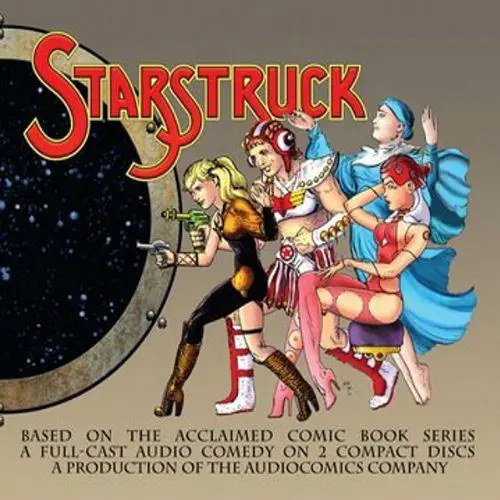 The audio play Starstruck is based on a comedic play of the same name written by Elaine Lee. The original play was produced off-off-Broadway in 1980. It was then turned into a graphic novel first published in April 1982. A year later, a revised version of the play opened off-Broadway. A reading of this version of the play was done in 2009, and in 2010 AudioComics Company produced the audio play adaptation.
Starstruck takes place almost entirely on two ships roaming the galaxy – the Harpy and the Siren 3. The Harpy is commanded by Captain Galatia 9, a captain for the United Federation of Female Freedom Fighters. She and her all-female crew (Erotica Ann, Brucilla the Muscle, and Sister Bronwyn) are sent to find the leader Glorianna, whose disappearance caused chaos in the galaxy. During their voyage they run into the ship Siren 3, commanded by the villainous Verloona Ti and her majority male crew (Rah El Rex, Kalif Bajar, Dwannyun, and N.O.R.M). The life-long rivalry between sisters Captain Galatia and Verloona results in a wild turn of events. 
While the story structure is simple, the over the top nature of the characters – heroic or villainous – keeps it an engaging tale. Even though it's known that good will prevail, there's still excitement and danger as the story plays out. The absurdist drama of it all let the actors play exaggerated roles, which ended up being charming instead of annoying.
One of the few problems with the audio play was its pacing; the first act of the show is much stronger than the second act. The sense of urgency should have amplified as the show went on but the beginning of the second act dragged. However, the show did have a strong and heartfelt ending. Like a classic good versus evil story there was a larger lesson to be learned. It could have been extremely cheesy but considering the overall absurdity of the story, it ended up working.
This show is definitely something that's best listened to with headphones. There were moments where the loudness of a character matched their movement, such as characters moving from side to side as a ship tilted. The dialogue, though nonsensical at moments, was easy to hear and the sound effects were an appropriate volume in comparison to what was happening in a scene. Sound effects added to the story instead of distracting from it, a key component in making an audio play good.
A show being made four decades ago emphasizing the fact that phone books would be archaic in the distant future made me laugh, especially because phone books became rare in the mid 2010s. Surprisingly, the vast majority of pop culture references are still relevant, from Shakespeare to Terminator. My favorite reference was one for Star Trek: The Original Series, where a frustrated N.O.R.M replies, "damn it, I'm a computer not a magician."
For fans of science fiction, theater, or both, Starstruck is an audio play that is a delight to experience. The life of Starstruck continues in 2022 with the release of a collector's edition of the comics and a season of Dropout's Dimension 20 taking place in the Starstruck universe. (The Dungeon Master for A Starstruck Odyssey is Brennan Lee Mulligan, Elaine Lee's son.)
Starstruck can be bought on Audible, with or without a membership.
Image courtesy of The Audiocomics Company
Have strong thoughts about this piece you need to share? Or maybe there's something else on your mind you're wanting to talk about with fellow Fandomentals? Head on over to our Community server to join in the conversation!