Let's face it, nobody does a villain like Star Wars. Ever since Darth Vader rattled his first breath back in 1977, the series has had a knack for creating some of the scariest baddies ever put on film. So it's only natural for Ravensburger to turn to a galaxy far, far away for the next big addition to their hit Villainous line of asymmetrical strategy titles. Released for the holiday this year, it stars villains from across the saga: Separatist General Grievous, Dark Apprentice Asajj Ventress, Dark Lord of the Sith Darth Vader, Moff Gideon, and Supreme Leader Kylo Ren.
What's In The Box?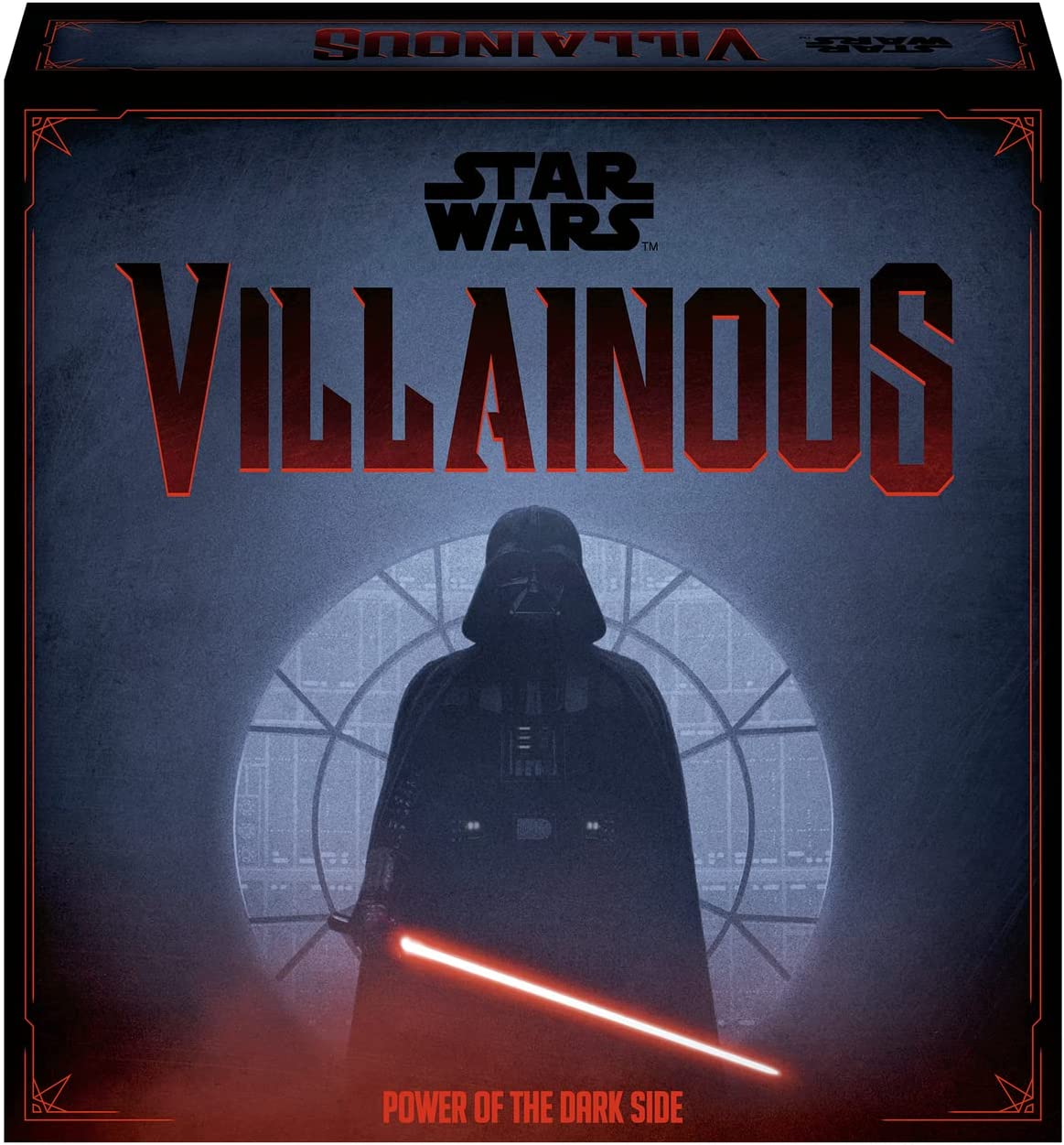 5 Unique Sculpted Villain Movers,
5 Villain Sectors (Boards)
150 Illustrated Villain Cards
75 Illustrate Fate Cards
1 Luke Skywalker Tile
1 Destiny Tracker
79 Game Tokens
1 Chamber
5 Reference Cards
5 Villain Strategy Guides
Rulebook
Like previous versions of Villainous, there's no "board" persay, instead each villain has their own section to move around that players put cards around. The movers for the game are, as always, fantastic little pieces of stylization that capture the essence of each character. All of them are naturally built around lightsabers (or, in some cases, multiple). Moff Gideon might be my favorite of the, however, since the front of his mover looks like the hilt of the Darksaber while the back resembles the sinister helmet of a Dark Trooper.
How's It Play?
The game is on paper quite simple and doesn't differ from the previous releases. They are, after all, cross compatible with other Villainous titles. Each villain has their own goal they're working to achieve, and these goals all have different requirements you must fulfill in order to win. Vader is trying to flip his son Luke to the Dark Side while Kylo Ren is working to fully commit himself to the Dark Side and overcome the conflict in his heart. Moff Gideon is, naturally, trying to find Grogu and General Grievous is trying to defeat six jedi and make their lightsabers a fine addition to his collection. Asajj Ventress might be the most interesting of the lot, mechanically, since she's trying to fulfill three jobs, each of which have their own set of requirements within them.
Players move around their sector, and each space on that sector provides them with influence, credits, and/or actions that they can take to further their goal. They'll also work to play minions, items, and ships around their sector to both increase their power and counter the other villains as they work to thwart them.
Villains are contending with the forces of good that stand in their way, and each has a "Fate" Deck representing the heroes. Other villains will be the ones to choose and place these Fate cards, which block actions in the villains sector, stop their acquisition of resources, and overall make their lives hard as heroes so often do. The minions and ships available to the Villains can counter the heroes, but often at the cost of that resource. Interestingly, most of the villains have some interactions that require the correct handling of the fate cards. Moff Gideon has to capture Grogu, who also must be attached to an existing hero to be open for him to take. Grievous NEEDS hero Jedi to enter his field so he can kill them and take their lightsabers. Each Fate card won't make things easy, and it's great seeing the character-specific heroes pop up to challenge you.
The Verdict?
This is a can't miss release for Villainous fans who want to mix things up a little and stretch those Disney licenses as far as they can. Ravensburger is never one to rest on its licenses, and each Villain in this release easily stands out as a new opportunity for fans of the series to explore strategies. But it's also a great entry point for Star Wars fans curious about the popularity of the Disney editions but who might not quite be as into the whole cartoon villains things. And beyond that, the fact that it's such a well-made love letter to the entire saga from Prequel to Sequel means it makes a great collectible for any Star Wars fan.
Star Wars Villainous: Power of the Dark Side is available at Amazon, Target, or your FLGS at an MSRP of $39.99!
Images via Ravensburger
Have strong thoughts about this piece you need to share? Or maybe there's something else on your mind you're wanting to talk about with fellow Fandomentals? Head on over to our Community server to join in the conversation!