Shazam! Fury of the Gods sometimes feels overburdened by all the groundwork it has to lay to make the climactic battle feel epic. While it never quite reaches the high point, it comes close. I have to admire that in a landscape where the fate of all humanity is constantly in balance, Fury of the Gods sets its grandiosity within Philadelphia. While the world may be in danger, Philadelphia is the immediate concern. The people who live in the city have a unique relationship fraught with ups and downs with their local heroes. 
A team of heroes they have affectionately dubbed-and not without a little harsh truth-the Philly Fiascos.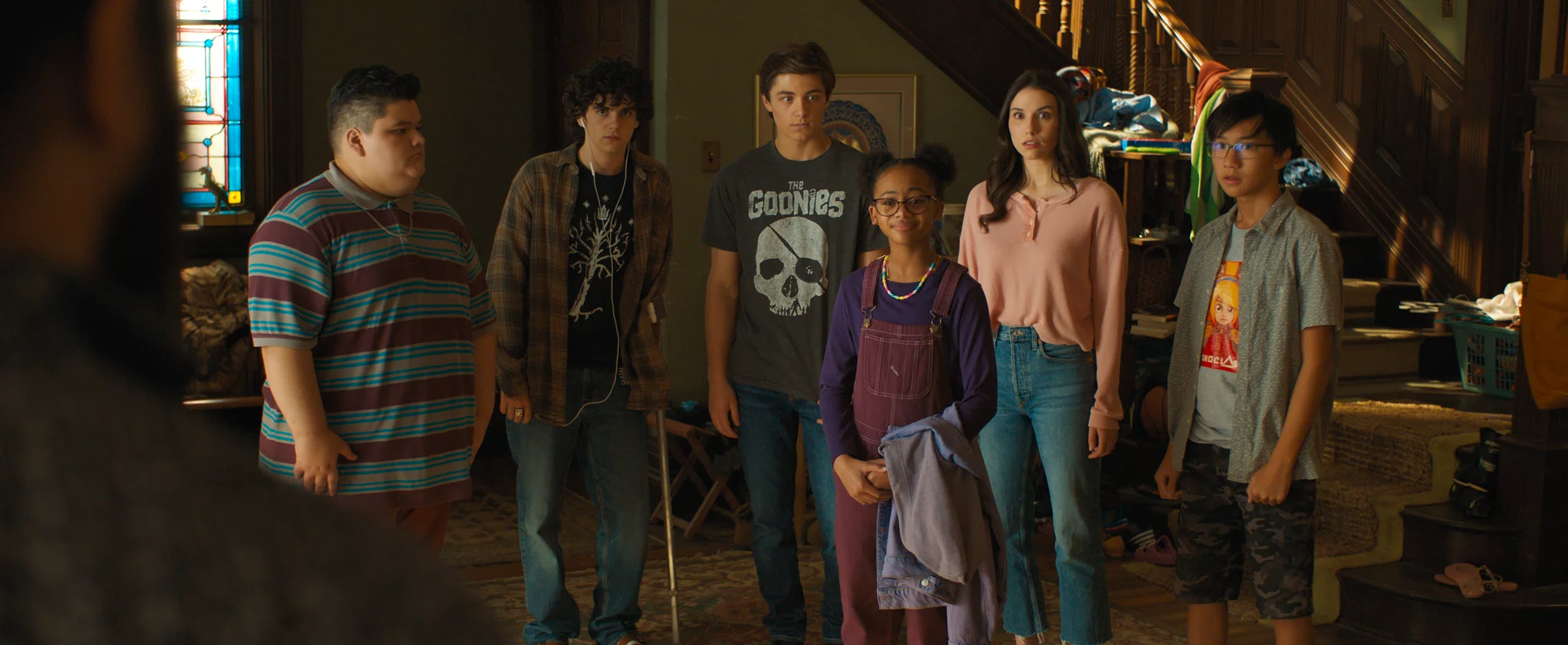 David F. Sandberg's second Shazam film is a reminder of how good a comic-book film can look. More picturesque than Ant-Man and the Wasp: Quantumania, with better effects, Fury of the Gods suffers from many of the same things, mainly building mythology; or trying to. Henry Gayden and Chris Morgan's script tries to cram so much into the story that the duo truncates the competing narratives to fit the whole thing into the run-time.
Had it not been for Sandberg and how Gyula Pados's camera frames the story and the characters, Fury of the Gods may have been a misfire instead of the flawed, joyously fantastical, and operatic tale it is. Sadly, for Sandberg and his team to achieve the grandiose, they must lose some of the charms I admired about the first film.
Gone are scenes like the one from the first Shazam!, in which Shazam (Zachary Levi) and Thaddeus Sivana (Jeremy Strong) float high above the skyline while the bad guy lays out his plan only to have the joke be, Shazam can't hear him. Instead, now we have scenes with characters such as Freddy (Jack Dylan Grazer) and the Shazam wizard (Dijmon Hounsou) eavesdropping on conversations whispered on the other side of the room.
Also, I'd like to briefly suggest to filmmakers that there are songs other than Bonnie Tyler's "Holding Out for a Hero" one can play during the opening sequence of superheroes doing heroic feats of derring-do. I appreciate the joke, but as catchy and delightful as I find the song, its usage in films and television is fast approaching trite and lazy. After all, Pat Benatar's "Invincible" or Bruce Springsteen's "Blinded by the Light" are right there.
All that aside, Fury of the Gods works primarily because of Sanderberg and Pados's blending of the magical and the real, though at times, the action scenes become little more than visual noise, and the perfect casting. It is challenging for a movie to be boring when half a film deals with three goddesses played by two living goddesses and one other on the ascent. I am, of course, talking about the three daughters of Atlas, Hespera (Helen Mirren), Kalypso (Lucy Liu), and Anthea (Rachel Zegler). 
Zegler should have been made a star after her splendid turn in Steven Speilberg's West Side Story; anyone able to shine that brightly while acting beside sentient mayo Ansel Elgort is a movie star, full stop. Perhaps, now that she is in a comic book blockbuster, as a literal goddess no less, next to the likes of Mirren and Liu, audiences will wake up. 
Grazer and Zegler form much of the heart of Fury of the Gods. Freddy is battling self-image issues, as what his Shazam self (Adam Brody) means for his real disabled self. I was left uneasy by the first film's revelation that all the kids get superpowers because of the implications of what it meant for Freddy's disability. But Fury of the Gods is at its most interesting Grazer is forced to face himself as himself without his magical powers. 
Coupled with Zegler's arc as a god hellbent on revenge against humanity for their exile and imprisonment by the human wizards, she slowly realizes that humanity may not be so bad if they produce someone as kind and loving as Freddy Freeman once in a while.
The film's kryptonite is that there's so much going on that Sanderberg barely has any time to let anything simmer. Gayden and Morgan's script often introduces one character arc, drops it for most of the film, and then jumps immediately to the payoff. Forget about being a movie of whole notes. Sandberg's Fury of the Gods is made up entirely of half notes; breathless and frenzied, the film wobbles as it sets up, moves on, and sets more stuff up, all while desperately trying to pay off themes and ideas it has at the very most paid lip service too.
The two biggest casualties were Billy Batson's (Asher Angel) fear of aging out of his foster home and Pedro's (Jovan Armand) struggle to come out of the closet. Billy's fear is called out by his adopted big sister Mary (Grace Caroline Currey), who knows how Billy feels as she also felt when she turned eighteen. This fear is at least addressed with Billy's almost pathological desire to do EVERYTHING as a family to the point that it's driving Mary and Freddy up the wall.
Pedro's sexuality is hinted at with the boy gazing longingly at a picture of a shirtless baseball player. However, nothing is mentioned again until the children are forced to come out as superheroes to their parents Victor (Cooper Andrews) and Rosa (Marta Milans). Pedro instead comes out as gay with Levi's Shazam looking over at him and saying, "We knew, bud. It's cool." I appreciate the moment as attempting to normalize an authentic moment, but it feels like it needed one more scene between the two moments.
Honestly, that's the feeling I had with most of Fury of the Gods. A sense as if there was a scene or two missing. Something that tied it all together.
But it's hard for me to hold a grudge against a movie with this much baseball in its radiation background. We're talking massive special-effects-laden fights with dragons and Lucy Liu inside Citizen Banks Park. I haven't seen a movie lovingly destroy a ballpark like this since Gamera: Guardian of the Universe.
I also appreciate how all in Sandberg and his team are with the fantasy elements. Unicorns that treat Skittles like ambrosia, dragons, labyrinths, magical staffs, God help me, I ate it all up. Fury of the Gods is flawed, but I didn't care. 
However, I wish Sandberg, Gayden, and Mogan had done more with Currey's Mary. She and Megan Goode as Darla's Shazam doppelganger get precious little to do. However, they get more than Ross Butler and Ian Chen as Eugene, who got little more than briefly playing the Captain Exposition role.
Victor and Rosa are all but forgotten until the last thirty minutes, wherein Cooper and Milans deftly carve out some emotional beats that pluck at the old heartstrings. For all its flaws, the actors make Fury of the Gods so damn fun.
Fury of the Gods even finds ways to utilize Honsou's Shazam, which, if ever there was an actor who appeared in a Speilberg movie that has never gotten the career so richly due to him, Honsou is one. He plays the wily wizard as a curmudgeonly mentor. His response to Darla's (Faithe Herman) "I love unicorns" of frightful and anxious "But unicorns do not love you" had me giggling.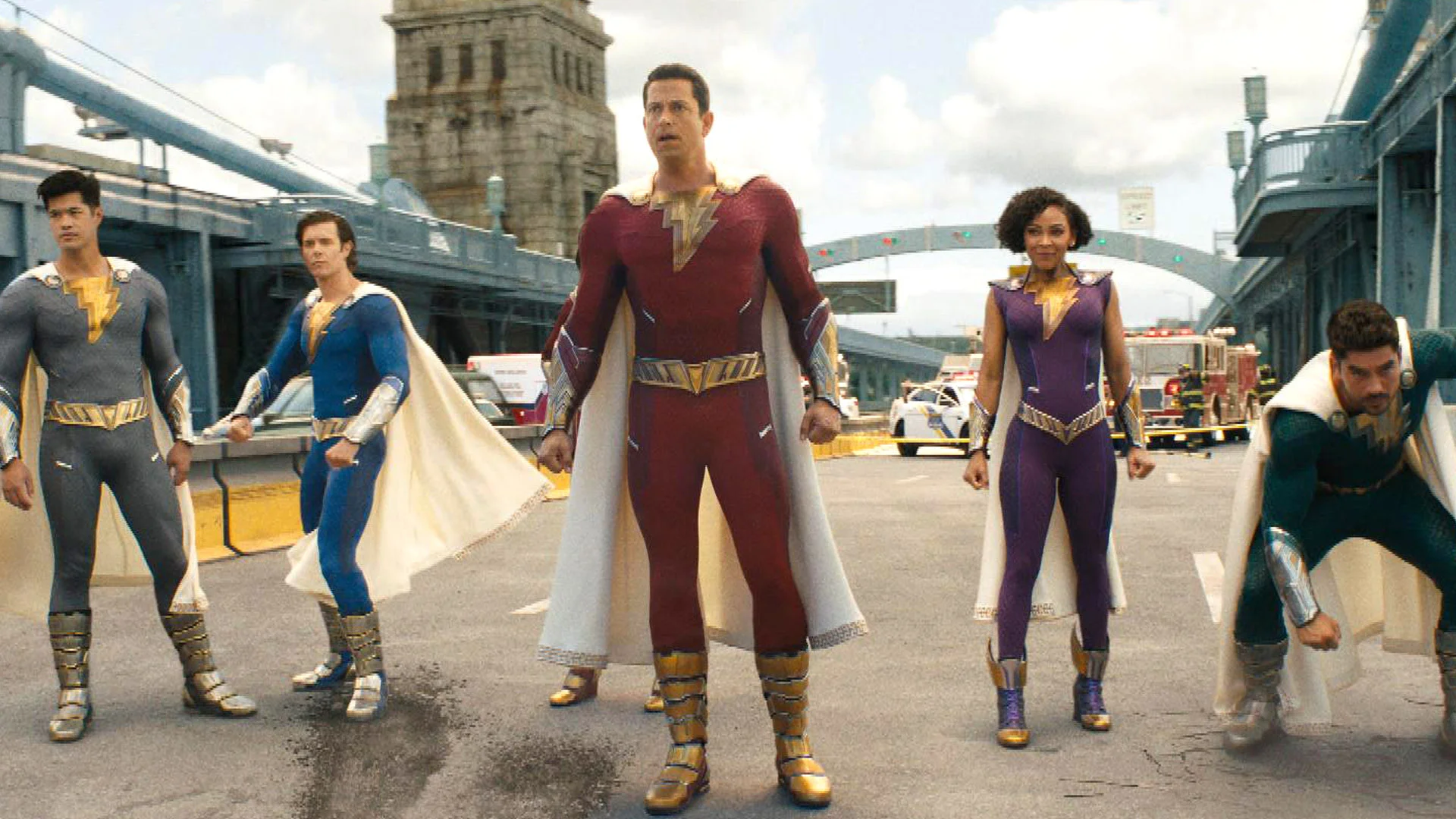 It's one thing to pack your cast with big names, but it's another to stack your roster with actors who are not only names but who can get the most out of a little. An actor's ability, like Milans's cradling Billy's face or Mirren's realization that her sister's rhetoric sounds all too familiar, can jerry-rig the necessary emotional beats together. More importantly, they need a director like Sandberg who can do what they are doing and, along with Michel Aller's editing, carve out a performance that salvages the studio-mandated narrative short-cuts.
Sandberg has amped up the darkness of the first film with Pados's camera, not shying away from people being skewered by giant scorpion stings and flung into buildings. Or teachers being mind-controlled into committing suicide. Gayden and Morgan's script is a true homage to the 80s, not in terms of aesthetic sensibilities, but in how dark movies from that time were unafraid of being.
Fury of the Gods is a reminder that a movie need not be a precision piece of craftsmanship to be effective or fun. It may be a sequel that feels like the third movie in the franchise instead of the second. Yet, at times it wrested a tear from this cynic's eyes.
Images courtesy of Warner Bros. Pictures
Have strong thoughts about this piece you need to share? Or maybe there's something else on your mind you're wanting to talk about with fellow Fandomentals? Head on over to our Community server to join in the conversation!