This past weekend the gang and I joined up with my in-laws to play Scooby-Doo Escape From The Haunted Mansion. Scooby-Doo is probably one of my favorite franchises of all time. It shaped me into being the true crime and mystery fanatic that I am. I went into this thinking I was about to play the perfect escape room in a box game with my family. I will be doing everything in my writing powers to make this spoiler-free. So enjoy a spoiler-free review! The game is playable solo, but we started with five players. I got to play as Scooby. This will matter a bit later on as far as my story goes but has nothing to do with gameplay. I say we started with five because by the end we were down to three.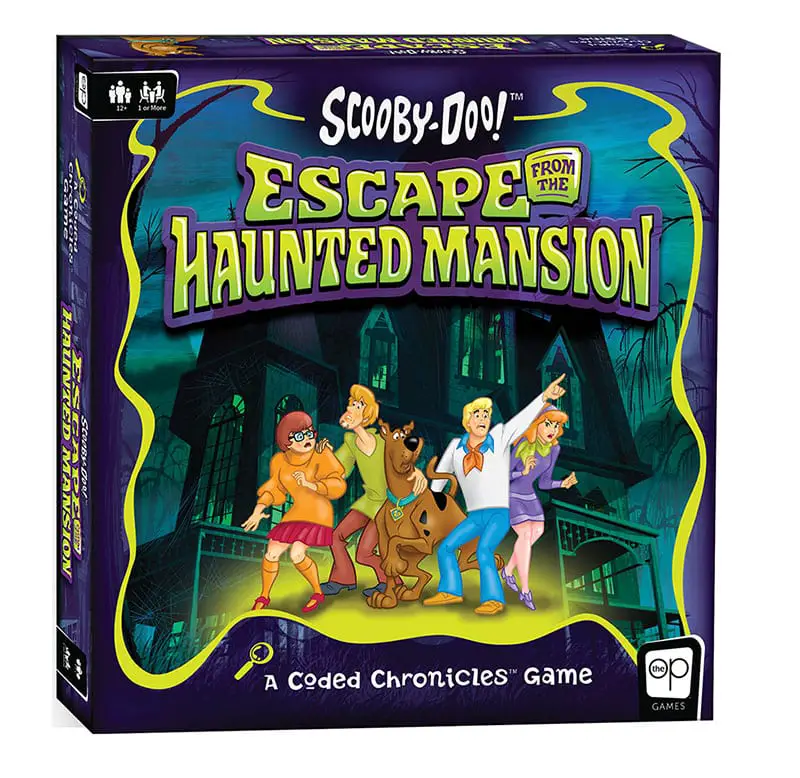 When you open the box, you find rules that tell you how to begin the game. You have five standees for the characters, five character books, some map tiles, some secret envelopes, and a large deck of tarot sized cards numbered 1-60 The game was well packed and opened away from the players like a pizza box. The presentation was really nice. It's a sturdy box and has that classic Scooby-Doo look and feel to it. I had never played a Coded Chronicles Game so this was my first attempt.
Three people at my table all read the rule book separately just to be clear on the rules. They're very simple but, oddly,  extremely unclear. We felt as a group need more of a guideline on how to play. This was the most challenging part of the game. The game has no turn order for the characters, so basically we all picked a book and a character to start exploring. You matched up numbers on your map tiles with numbers in a character book passage number, they are all, for example, Velma's book is labeled (1000-1999). If you see a number like 123, then inside of Velma's book you would look up 1123. Attaching your character's number before the clue number. This was pretty easy for us to do. We played all the through the game in one sitting, there is a chapter break up guide in the rule book if you want to play as two chapters. The first half with five people, and the last half with three people. Shaggy and Fred stopped playing because they didn't like the game and wanted to do something else they would enjoy. I would have stopped playing if my sister-in-law wasn't so excited to figure out who the bad guy was in the game! Her excitement gave me the strength to continue on, cause boy howdy, this game is rough and frustrating.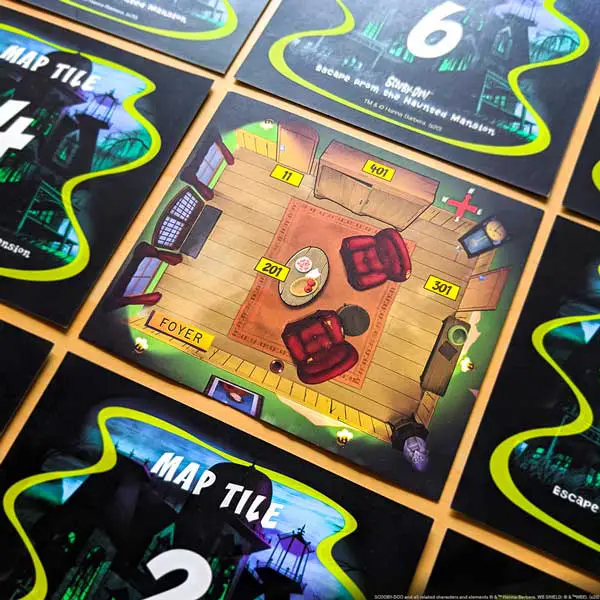 The game has no replay value, so make sure you are aware of that as you make choices in the game. The ending of the story may never change but some of the clues can change to give it a slight narrative variation. The clues are decent enough puzzles, but it's very frustrating to spend a long time on a clue and know you are correct but because of the art or a player's misunderstanding of something…you'll spend longer questioning yourself. One of the cards has sheet music that needed to be translated into musical notes. Some of us knew how to read music and after a few minutes of thinking we were all insane because we couldn't solve this, We used a clue on the back of the box to inform us that we were correct. That was really upsetting because it happened pretty early on into our games. This game suffered from extreme Ludonarrative dissonance, which is the conflict between a game's narrative told through the story and the narrative told through the gameplay. The envelopes had cool interactive pieces, but the disconnect was almost impossible to make sense of at times. 
The box says it is for ages 12+, but I'm not sure someone 12 years old would enjoy this at all. Certain characters did way more interacting than others and it really felt like Velma, Daphne and Fred did the most. At some points, you have to pull characters out of the game, so the rules tell you to share the characters as you play. This can get confusing as to who found what and where. Moving down from five players to three made it much harder to keep track of what characters located what and how to keep a correct timeline of events as they happened. We did spot a few clues where the text in the book didn't match the card visually and this was also off-putting. Overall I can only recommend this game to absolute die-hard Scooby-Doo fans to get. So many better Scooby games and adjacent RPGs are around now that, for me, the 30 dollar point is far too high. I wanted to love it but was super let down. It took us 3 hours to play the entire game. My guess is that would have been probably two hours if the game had integrated things better.
[rwp_box id="0″]
You can pick up a copy of the game on Amazon.