So let's just get this out of the way. No, I hadn't played Sagrada until recently and yes, it's been one of the most popular board games out there since its release. But there's a lot of those "essential" games floating around these days, and I still think it's important to try them out with a critical eye, especially when it's been a couple of years since they came out. Luckily, our friends at Floodgate Games sent me a review copy to check out (plus some expansions, which will get their own look soon), so lets dig into the dice-drafting game of stained glass: Sagrada.
What's In The Box?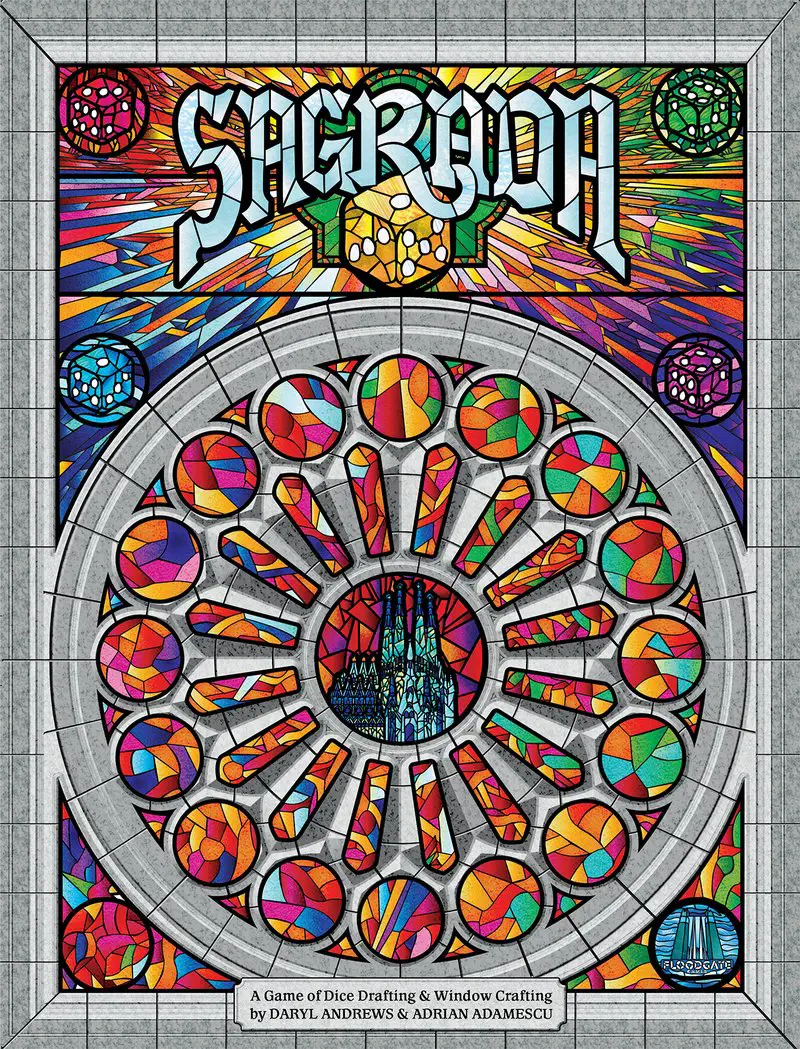 90 Translucent Dice (12 mm)
4 Player Boards 
12 Window Pattern Cards (80 x 90 mm)
12 Tool Cards (63 x 88.5 mm)
15 Objective Cards (63 x 88.5 mm)
1 Dice Bag 
1 Round Track 
4 Score Markers 
24 Favor Tokens 
Rule Book
It was clear to me when I opened the game up that the visual style of the game was a massive part of its appeal. Based on the real stained glass in the Basílica de la Sagrada Família cathedral in Barcelona, Sagrada has an eye-watering color palette that is bright and sunny without being garish. Cards and illustrations mimic the kind of notes and illustrations you'd find in an artists notebook, with an effect like charcoal to make it seem a little more medieval. Each of the player boards are made to appear like one of said windows, with the dice being placed into slots (I love proper slots) on the board. Those dice, by the way, are beautiful little math rocks that feel great to roll and use in the game. I mean it's a dice drafting game, you'd hope they put some work into the dice but hey, I'm sometimes surprised.
How's It Play?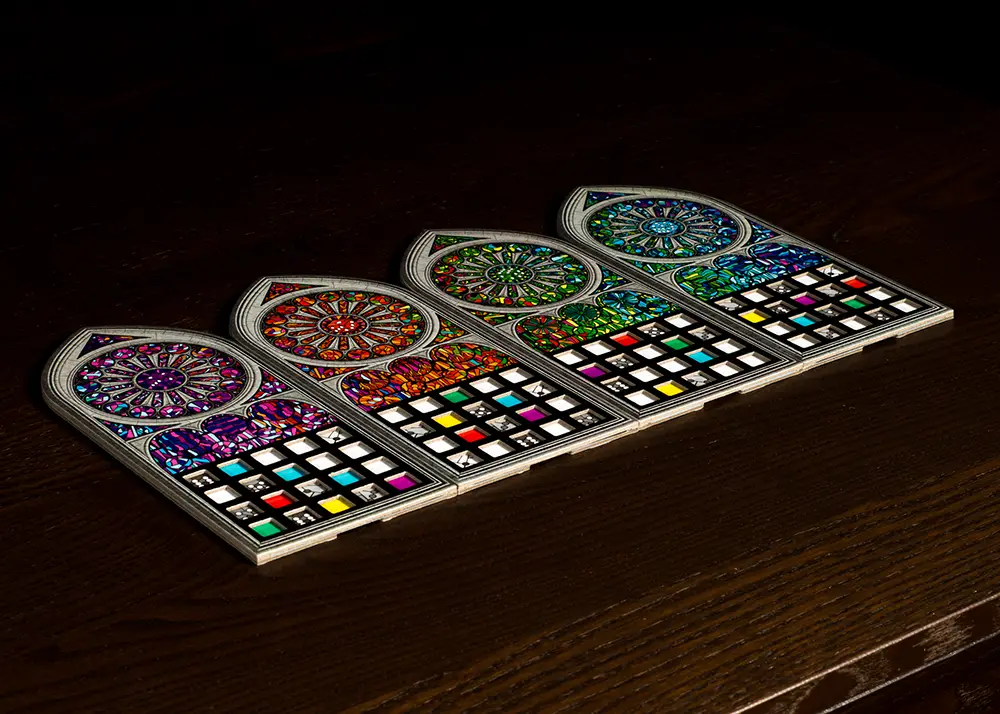 Sagrada's strength isn't really in its complexity and its popularity no doubt can be chalked up to just how simple the game is at its core. Dice are drawn out a bag, rolled, and then placed into a pool, from which players draft them in turn to place on their board. Each player has a unique board dictating what color or numbered die they need to place in order to score points. There's a good sized deck of these included in the game (they slot right into the boards, which is an awesome little choice component-wise) and as such there's a lot of replayability. You also aren't likely to be able to fill every single slot during the course of the game, so even playing the same card twice isn't going to guarantee the same game both times. The end goal is to have plenty of variety in your rows and columns while also aiming for the public goals laid out at the start of play.
What changes things up are the Tool Cards that players can purchase to use throughout the game using Favor Tokens, which are distributed at the start and help regulate difficulty. These Tool Cards aren't MASSIVE game changers, but they can be used strategically to improve your odds or help you make advantageous moves when the base choices aren't working.
The Verdict?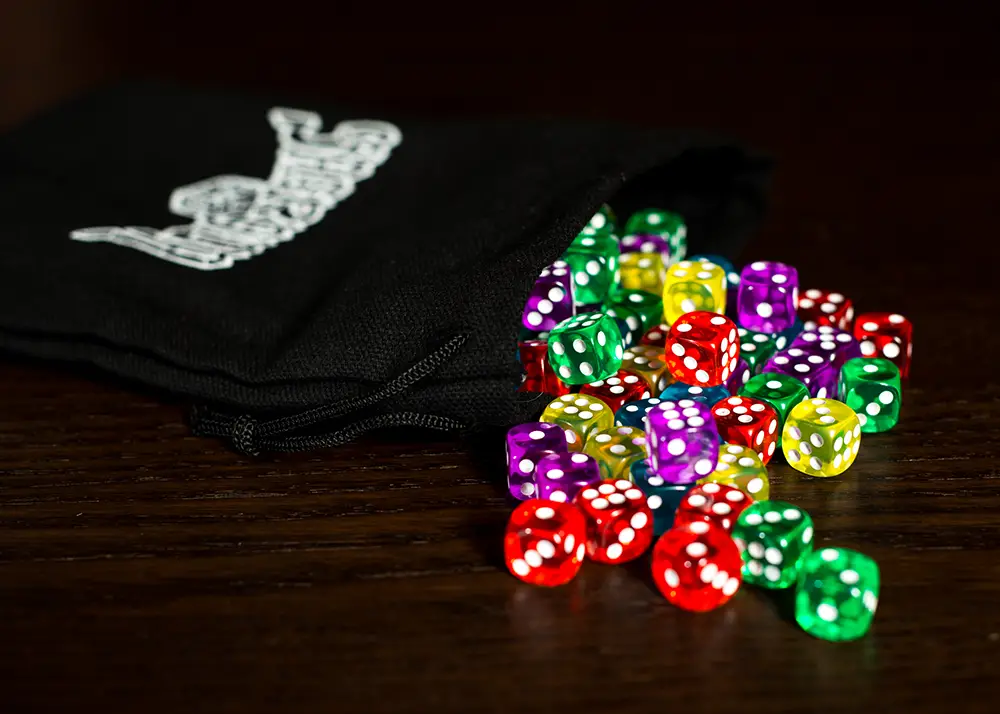 Sagrada is a competitive and pretty fast game, but it's not quite as stressful as some similar games can be. Part of that is the low level of player interaction, something I'm not always a fan of. It sort of felt like while we were working against each other, we weren't really. Passive aggressive competition at best (though, having worked with artists that is a little accurate.) Higher player counts got a little more involved but still things were more languid than I expected, which was honestly refreshing in its own way. It's also a great game for people who are more casual board gamers since the core mechanics are incredibly simple and the strategy is straightforward. If you're already hardcore into drafting or dice games, this probably won't blow your socks off. But if you want to get into that genre or just want to add variety to your board game night rotation, Sagrada is an excellent choice.
[rwp_box id="0″]
You can pick up Sagrada and its expansion on the Floodgate Games site, on Amazon, or at your FLGS, where it'll run you about $30. There's also a digital version for PC, Nintendo Switch, and Mobile devices from Dire Wolf Digital
Images via Floodgate Games
Have strong thoughts about this piece you need to share? Or maybe there's something else on your mind you're wanting to talk about with fellow Fandomentals? Head on over to our Community server to join in the conversation!