From developers Nightdive Studios and New Blood Interactive comes Rise of the Triad: Ludicrous Edition, a return of the classic first person shooter from 1994. Play a covert team sent by the UN to investigate cult activity on a mysterious island, and return to a time when gameplay meant 'shoot everything that moves' and not much else.
What Is This?
Rise of the Triad: Ludicrous Edition is not a remake, nor is it a reimagining like the recent Doom and Wolfenstein games. Like many of Nightdive's games, this is simply taking the 1994 classic, adding some features, and putting it on modern hardware. At present there is only a PC version, but console ports are on their way. 
Now, to be clear, that is not an easy thing to do. Getting old games to run on new hardware can be quite a feat, ask any PC gaming fan who grew up in the late 90s or early 2000s. Nightdive has gone to quite a lot of effort here. They've scaled it up to 4K and added cutscenes so that the plot is no longer trapped in the manual (era appropriate cutscenes, so more of a PowerPoint presentation, but still), a level editor, multiple options for the HUD, accessibility options, multiple languages, and more! They even added a brand new episode (level pack for you youngins).
It is blatantly obvious how much work and care went into getting Rise of the Triad: Ludicrous Edition up and ready for the modern era, while still retaining its roots. Still, if you were wanting a game that didn't look like it was made in 1994, you're barking up the wrong tree. Might I suggest the 2013 reboot of Rise of the Triad made by Interceptor Entertainment?
Gameplay
Normally this is where I'd start talking about the plot but…this is an FPS from 1994 released initially on a shareware model. The Ludicrous Edition may have added cutscenes to get the plot out of the manual and into the game, but ultimately it's still a very basic plot without much depth or twists. So, instead, let's just jump right into the gameplay.
Rise of the Triad: Ludicrous Edition…is a straightforward and accurate recreation of an FPS from 1994. If it's moving, you should shoot it. If it's not, you should pick it up. Due to the limitations of draw distance and geometry at the time, you're in a maze, and some backtracking will probably be necessary.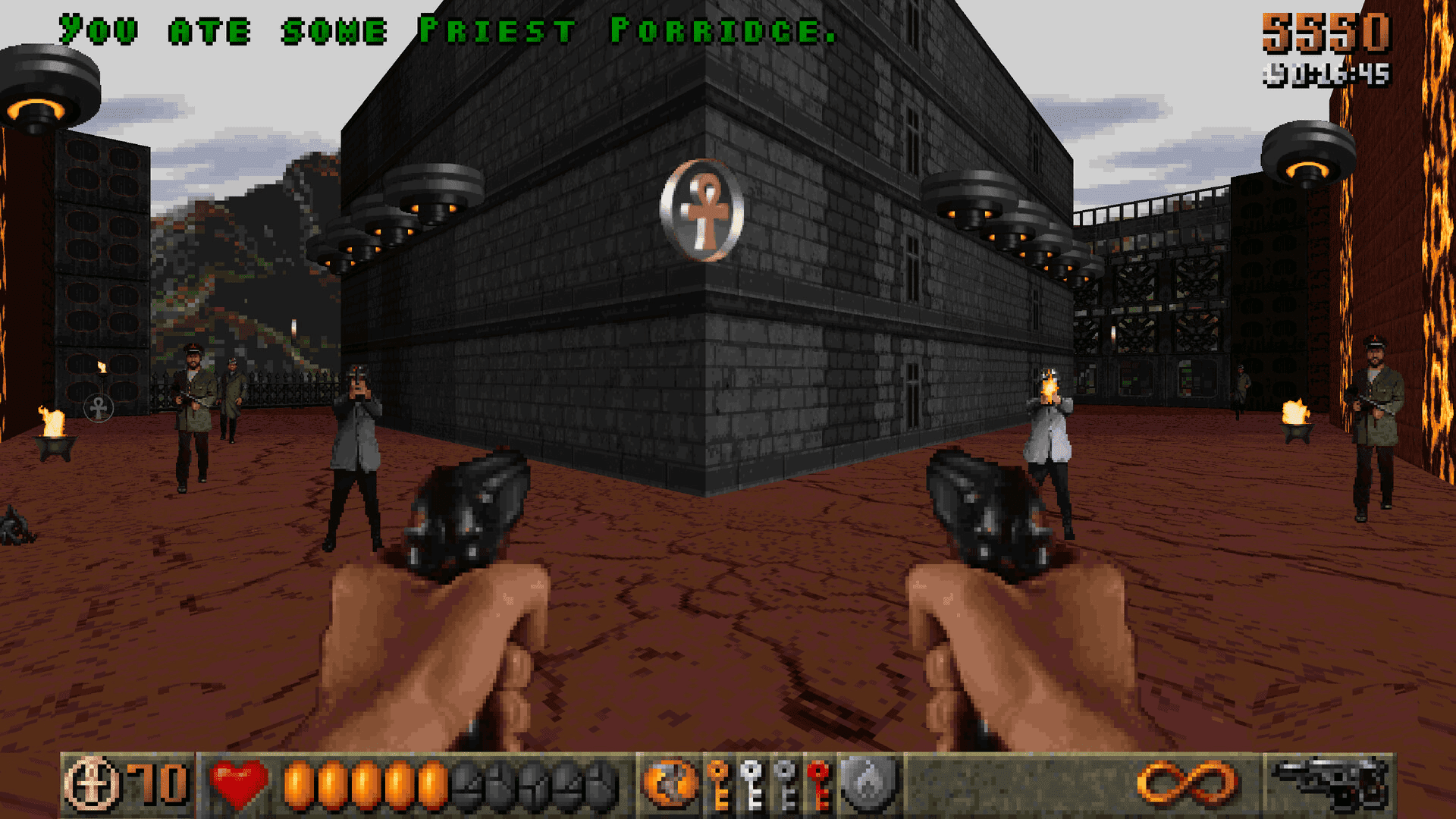 Now, I should be clear, the original Rise of the Triad was a deeply innovative game for the time. It introduced elevated platforms, jumping, enemies that play dead, poison gas, different missile weapons, adjustable violence levels, breakable windows, bullet damage to walls, and selectable player characters with varying abilities. There are even bounce pads you can use to collect little tokens like Mario, and the power ups include things like turning into a dog (more useful than you'd think). This is not some bog standard, low effort Doom clone. Indeed, in some ways Doom Eternal plays more like Rise of the Triad than it does the original Doom.
Now, admittedly, this is not a game without issues. The controls feel very slippery at first, like you're moving around on a field of ice rather than solid ground, and the bounce pads can wind up with you bouncing off the edge of the map and losing a life if you're not careful. And. well…it's an FPS from 1994. You're in a maze, enemies are everywhere and the graphics are muddy enough that it's not obvious where they are a lot of the time, and you're going to deal with some chaos and a learning curve if you're not already an expert in 'boomer shooters'. 
Final Thoughts
Still, with that being said, Rise of the Triad: Ludicrous Edition is a very fun time. Whether you were around when these games were what FPS meant, or got dragged into the genre by Dusk and its followers when this returned as a legitimate subgenre in its own right, you will find a lot to recommend here, and a good time overall. I had a great time, and cannot recommend this enough.
You can find Rise of the Triad: Ludicrous Edition on Steam or GoG for $20.
Review 0
Summary
Rise of the Triad: Ludicrous Edition is a faithful remaster of the 1994 classic. Upscaled graphics, cutscenes, and a new episode, among other features, give players good reasons to invest. However, being a faithful FPS from 1994 does have some quirks and limitations that might throw off unfamiliar players.
Images Courtesy of Nightdive Studios and New Blood Interactive
Have strong thoughts about this piece you need to share? Or maybe there's something else on your mind you're wanting to talk about with fellow Fandomentals? Head on over to our Community server to join in the conversation!