Dead Pets Unleashed is a narrative resource management game with feminist messaging. A demo of the game was released 16 September 2022 on Steam by developer Triple Topping, and currently does not have a planned release date on Steam (however, the cancelled Kickstarter campaign aimed for a June 2024 release). After stumbling across their TikTok, with on-trend videos promoting the game and it's demo release; I decided to 'unleash my inner demon' and play through this small piece of their slice of life experience.
Game play in Dead Pets Unleashed
The demo begins with Gordy, a thirty year old demon with attributes on her character sheet that emulate the perfect dating app profile you'll later make use of. Gordy loves long walks on the beach, she's a legendary bass player in her punk band Dead Pets Unleashed, and she might just be hungover right now. The band's studio rent is due and things are slightly prickly with Gordy's band mate, Jay. Gordy is irresponsible with her money, and this huge responsibility makes up a huge part of the game play demo.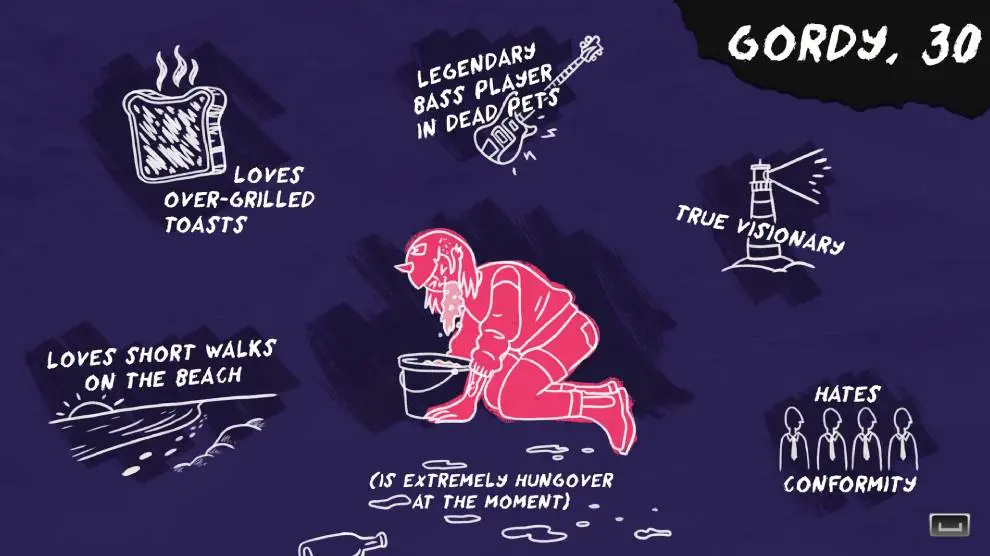 The demo for Dead Pets Unleashed achieves what it says on the tin. It emulates the sometimes tedium encountered while trying to fulfill our obligations. The combination of the diner, hot dog topping, and bass playing mini-games add a lot of fun to the story's narrative; while managing difficult choices with the little points (Gordy, band, social) and Demoney you do have. The game play captures the feeling of spiraling loss of control and stress as you juggle trying to achieve your dreams, despite some invisible (but very real) countdown in your life once you go 1 second past being 29 and 365 days old.
Reading the promotional materials for the game mentioned feminism and I immediately envisioned the vibrator, which feels like a major symbol for self and sexual liberation. I was not disappointed. Remember to wash your vibrators, folks. Watering Satan everyday (the cute little plant on the windowsill) gives you Gordy points, which just mirrors my hours of TikTok scrolling and following the reliance of my millennial peers on their little plant children.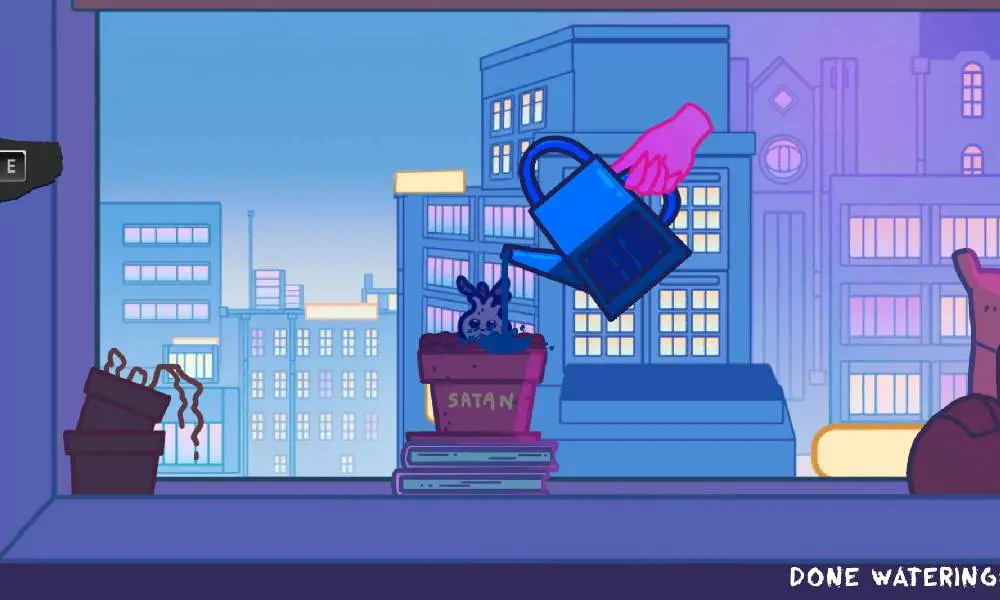 When playing with both a keyboard and compatible controller, the main game play and the mini-games were easy and pretty fun to play through. The diner and bass playing mini-games offer as little or as much challenge as you want. Serving the public and taking their orders in the diner was enough of a challenge without being too much of a mirror into reality, and the bass playing mini-game had a difficulty selection that felt appropriate for how much effort you really want to put into this game.
'Easy' mode was simple and got me through the narrative without feeling like a slog, and the hard mode really felt like an achievement to do well in. I enjoyed the mini-game breaks from the more simple side-scrolling and dialogue driven mechanic.
Dead Pets' game play feels like the summation of what I've seen in visual and social media about millennial Sisyphean struggles. You're suddenly in your thirties, time has flown so fast, and you're working a job you don't enjoy to support your dream that you were sure you would achieve by now.
How does Dead Pets Unleashed Look?
The use of purples, pinks, and blues in all aspects of the game's design reflect the current popularity of 'Cyberpunk' in gaming trends. From the actual Cyberpunk game, to other games like Stray that use similar colour palettes; the visuals of Dead Pets Unleashed show off an alternative and fantastical world that still feels extremely familiar. Touches of familiar fashion in Dead Pets Unleashed that I grew up with litter the main character's and the NPCs wardrobe. High-waisted jeans, beanies, combat boots, high top sneakers, and many more familiar pieces of garb signal the brain that the lives and experiences of these characters feel so distinctly millennial.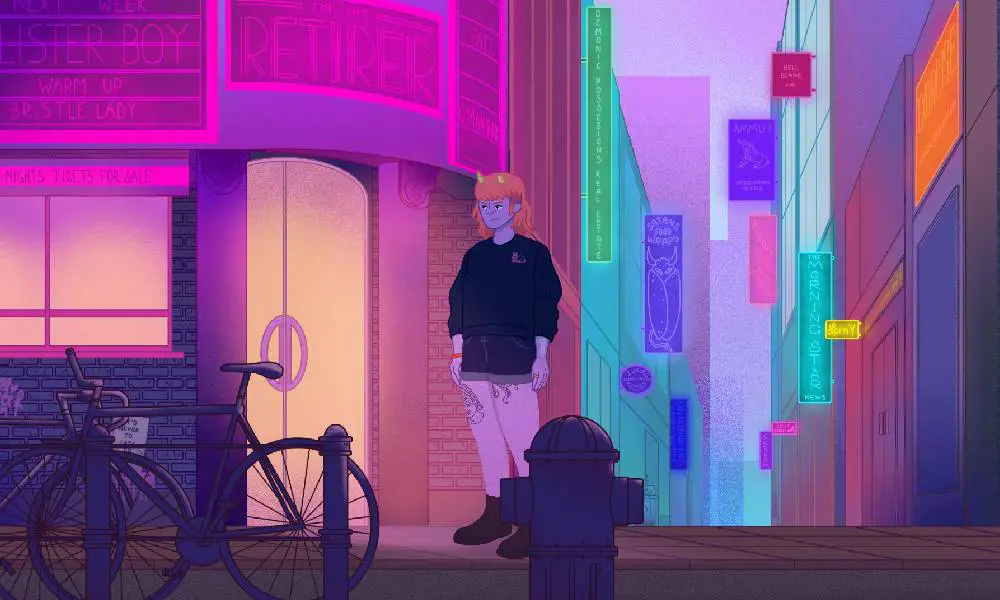 I recognise and thoroughly enjoy the 2D and cartoonish design. Triple Topping cited inspirations such as Bojack Horseman and Tuca, and it also felt like a throwback to Ugly Americans – which similarly featured demons and supernatural creatures in an alternate universe that is also similar to our own reality. Dead Pets Unleashed feeling quite comparable to a show I probably shouldn't have watched in my young teen years adds this mischievous atmosphere to my personal game play. I seriously enjoyed the art style of the game and appreciated how it added to the overall 'offbeat' and more adult narrative.
Music and Soundtrack
Triple Topping made use of Andreas Busk for the game and demo's audio and soundtrack. Dead Pets Unleashed is advertised as containing a punk music EP that is also performed by the voice behind the character Vel: Emma Knudsen. The music and vocals are simply rad. Emma Knudsen's voice fronting Dead Pets' in-game single I Own My Smile reminded me of Double Dare Ya by Bikini Kill, and the overall tone of the demo got me thinking about Paramore in my younger days. The music and soundtrack is punchy, bold, and effective in adding to the overall game play experience and feminist message.
Overall
Dead Pets Unleashed really captures the feeling of following your dreams from your early 20s to your early 30s, and how it can be difficult to 'grow up' appropriately in that time frame. While your peers seem to be further in life, or contemplating milestones you're nowhere near. There is a very recognisable experience about the fear of giving up on your dreams for societal expectations and everyday norms. It feels cathartic to try and reach for this dream despite the difficulties and realities, and that feeling is so strong even within a game demo that's one 'episode' long.
Dead Pets Unleashed
Summary
The demo for Dead Pets Unleashed is a great introduction for a wickedly fun game. Everything from the game design to the soundtrack seems well designed and thought out. I'm excited to play the full version when it does come out
Images courtesy of Triple Topping
Have strong thoughts about this piece you need to share? Or maybe there's something else on your mind you're wanting to talk about with fellow Fandomentals? Head on over to our Community server to join in the conversation!