It can be no secret that Carrie Fisher meant a lot to people around here, and in geekdom at large. There's a reason we called her "Space Mom". She was not only a producer of things we love, but someone who felt like one of us at the same time.
Yesterday's news of her passing affected many of us. We're her Space Children after all. Therefore, we'd like to take this moment to honour her and her legacy.
Is it weird that I first knew Carrie Fisher from Blues Brothers and not Star Wars? I imagine there aren't many of us. That's what happens when you grow up the only child of a mom who hates science fiction.
One of the best parts of the new Star Wars trilogy was the reemergence of Carrie Fisher. She showed up everywhere, and she was incredible. Funny, engaging, with a full life of ups and downs to make us care. Having her back on our radar would have been worth an awful movie. After so many years this remarkable woman returned to the spotlight. We were primed for some great years from one of Hollywood's biggest icons and most interesting people. Getting to know her again was a true pleasure.
Carrie Fisher may not have always lived an ideal life. She had her ups and she had her downs. None of that changes what a remarkable life she lived as an actor, a writer, and an icon to millions. We may have lost some great years, but we will always have the noteworthy life this woman lived. Rest in peace, Ms. Fisher. You will be missed by so many.
What can I say about Carrie Fisher? My heart is so heavy today that I don't know where to start. Source of teenaged confusion over my sexuality, feminist icon, fount of wisdom, spokesperson for mental illness. She's been so many things to me over the years and given me so much. Courage to stand up to sexism, daily doses of self love and acceptance, words to understand and talk about my experience with mental illness. And laughter. Lots of laughter.
She taught me princesses could be rebel leaders and take no shit from anyone. That being objectified and enslaved need not be the end of the story because you can fight back and win. She's my space mom and #momgoals. You could search the galaxy and only find a handful of female icons who have meant more to nerdy fandom at large and me personally. After such a shit year, all I can say is: Help me Obi Juan whoever the fuck you are, you're my only ho.
Carrie Fisher as an actor was part of one of the seminal fictional universes of my life and the world at large, which has had an immeasurable impact on my youth and on popular culture.  Carrie Fisher as a person was nevertheless so much more than that.  Not just a fandom icon, but a brilliant writer and speaker, with a beautiful soul that spoke truths that were both personal and universal. She opened up to her fans about her struggles, not worried about how it would effect her image, and brought to light so many issues that most prefer to ignore and pretend do not exist.
To the woman who was mother to an entire generation, there are few words that can properly bid her farewell.  Many will say "May the Force Be With You", and if anybody deserves that blessing it is her, but instead I shall say:
Carrier Fisher, you were our hope.
Rest in Peace.
It was really only in thinking about it today that I realized how important Carrie Fisher has been to me, nearly the whole of my life. I'm not only talking about the… feelings I felt some time around the age of eleven while watching The Empire Strikes Back, though they were important. Maybe even more important was my earlier childhood, when Princess Leia was the first "hero" in a movie that I really felt I related to. I totally could be like Leia. I could be brave, and a leader. So I went on secret missions to rescue various Cabbage Patch Kids from the Empire. My dad always hid them in the car, for some reason.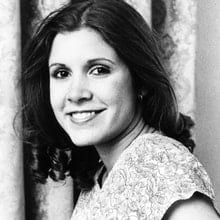 But as much as I identified with Princess Leia as I was growing up, the older I got, the more it was Carrie Fisher herself became important to me. I identified with her too. Her way of responding to the sexism and ageism she encountered with grace and humour should be a model for everyone on the internet ever. And did anyone else scream "yes, I totally get it!" when she described having "at least five feelings. Sometimes as many as seven." (It makes perfect sense if you're an INTP.)
All that being said, I know the greatest gift she gave me was her bravery. She gave me the courage to sneak into the garage to save Rose Katniss, and she gave the the courage to admit that, yeah, I have bipolar disorder too. Bring it on.
Thanks Space Mom, you made me who I am.
I've never been particularly good at talking about mental health. It's not so much a sense of shame or fear – though I'm sure there's an element of that – as it is a sense of uncomfortableness. I don't like the idea that if I spoke up about a mental health issue it might make someone uncomfortable, or "weirded out," or sad. It's something I think about a lot, and the reason I don't hesitate at all in calling Carrie Fisher a hero.
To anyone who suffered from mental illness and hesitated to speak up about it, Carrie Fisher was astonishing. She's spoken unflinchingly about her diagnosis with bipolar disorder, much like how she's spoken out against sexism and ageism. She never tiptoed around the issue, or brushed it off to the side. It was there, it was part of her (though not all of her), and she trusted that the world could and should deal with it. I get the impression that she did not give a fuck what other people thought of her, but never in a capacity that was cruel. She talked about mental health because it was important to talk about mental health, because it helped people to talk about mental health, and because it was true.
She was a survivor with a sense of humor. She was a person who pointed out that, by talking about bipolar disorder, young children who received the diagnosis could know that "Princess Leia is bipolar too." She was bright, funny, and honest, and she'll continue to be an inspiration. I'm glad she went out drowned in moonlight, strangled by her own bra.
"I outlasted my problems. I am mentally ill. I can say that. I am not ashamed of that. I survived that, I'm still surviving it, but bring it on. Better me than you."
I wish I had been one of those girls who, after first being introduced to Star Wars, put their hair into hamburger buns and ran around their house. I really wish I had seen that strong figure in Princess Leia, complete with her flaws and fallibility, and taken to her right away. But instead I was a girl with "Not Like Other Girls" syndrome. I not only tried to distance myself from the Smurfettes in my media, but often chose to dislike them.
Luckily Leia was a bit different. Sure, I didn't want her action figure after my first viewing, but it didn't take long for her to wear me down. For me to realize that these completely unabashed displays of authority and scorn were something unique for a female character, and even something aspirational. Even her flaws felt more accessible, more rounded. I remember my 8-year-old self thinking it was hilarious when her "dignified Princess" voice she used on Tarkin fell away with the snap of the fingers once her planet was threatened. She was a rounded character in a way that felt effortless.
It wasn't until years later I realized that was due to the authenticity of her actor, the late Carrie Fisher. I'm not sure even now I've been able to truly appreciate that impact on my life. She was a figure who was just so unapologetic for who she was, and given the crap she went through and faced, it's rather amazing that she even had the energy for it.
How many damned questions about the stupid, slut-shaming metal bikini did she have to weather? And yet somehow, she had the perfect answers to everything:
"To the father who flipped out about it, 'What am I going to tell my kid about why she's in that outfit?' Tell them that a giant slug captured me and forced me to wear that stupid outfit, and then I killed him because I didn't like it. And then I took it off. Backstage."
Feminist icon, Dutiful Princess extraordinaire…there's no descriptor that seems big enough. She will be missed, but may her force ghost hover over us all, reminding us to be our own, authentic selves.
Carrie Fisher was frankly a beautiful person. I didn't really appreciate her until this year. I heard she had this comedy career, and I remember her as Princess Leia, but she wasn't on my radar that much. Yet as I started to delve deeper into the Star Wars fandom, I started to like her as I started to appreciate Leia. Whether it be Julia's articles on Leia and Han's relationships, short interesting snippets from her biography, or even her clever Twitter response, it made me realize how awesome she was.
Princess Leia, her character, is my favorite Disney Princess. Analyzing her character is a rewarding task. Her dynamics as royalty, an ambassador, mother, and so much more. This character, buns and all, wouldn't be possible without Fisher. It's a part of her legacy that'll doubtless stay within pop culture for a long time. May the force be with her.
RIP Carrie Fisher: Drowned in moonlight, strangled by her own bra.
"It's hard for me to convey how I am feeling towards Carrie Fisher's passing because I've never been a huge Star Wars fan as it never featured heavily in my childhood. To be honest, I'm just starting to enjoy these more recent SW movies. What I feel towards Carrie is simply pure admiration. I started noticing her these past years and the way she talks and acts: it's shameless and it's beautiful.
I'm thankful that such a person was able to bring mental illness and addiction to the spotlight, making these things topics a part of conversations that don't have to be awkward or heavy. She brought this levity and humor to her tweets, always writing these emoji convoluted messages that took a minute to decode and they were always amazing. Jokes about her several personalities and feelings, Obi Juan Whoever The Fuck It Is, taking away exclamation points because she doesn't want others to know that she is eager to please… Carrie was incredibly relatable. She was the image that girls had to look up to even if it could have been through a better told story – she made it work.The same way I am glad that girls nowadays can have Rey, I feel happy that a past generation had Leia.
I also feel extremely sorry for the way she had to live her life post-Star Wars, being the aim towards so many guys's fantasies, embarrassing conversations and sexual remarks, enduring harassment from people who used to objectify her while young and dismiss her as she got older. It was with vitriol and bullshit like this one that Carrie had to go through and she absolutely had a great answer to everything: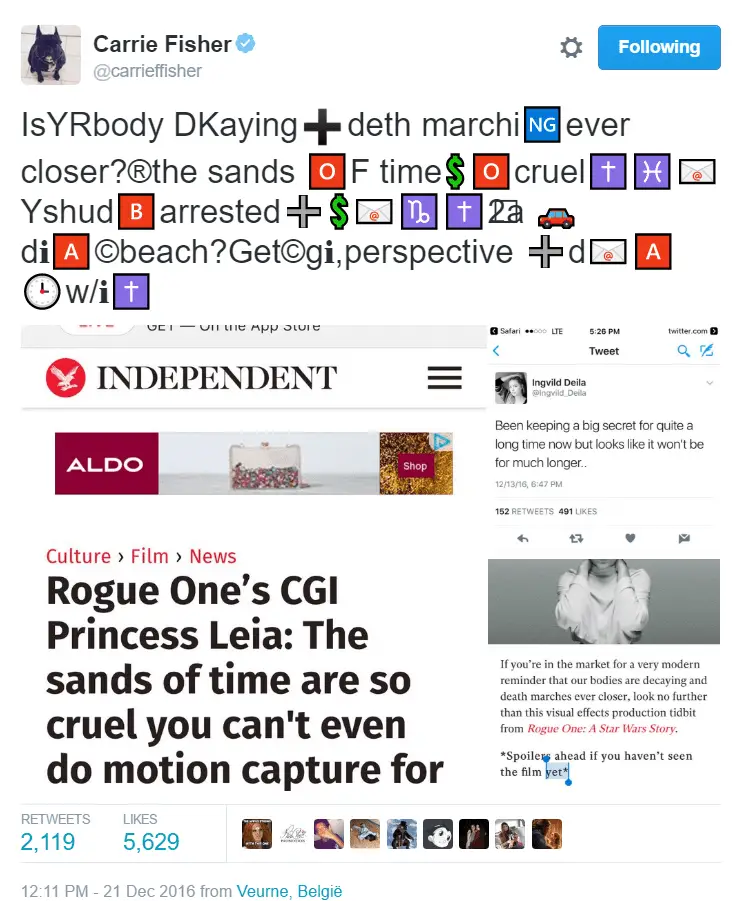 She suffered through Hollywood, but she did it honestly and full of jokes and that's what I'm gonna miss the most about the amazing woman that Carrie Fisher was."
Long before my fascination with the style and flair of French New Wave actresses, I had the image of a Space Mum, her elegance and vigour, constantly in my mind as I grew up. Dashed were the images of the damsel in distress, as now a princess was to me someone who took the reins and stepped up to the height of adversity.
Of course, much of this was informed by the character, but the image remained solid when looking at the woman herself. Her life was not an extension of the Princess, yet the Princess was but a facet of Carrie.
Thank you, Carrie, Space Mum and inspiration to not one, but many generations. Our heroes might be leaving us, but you only encourage us to become so.
It is difficult to say something about Carrie Fisher that has not already been said. Those who knew her best have already spoken, and my heart aches for them. I must first of all admit that I had no special appreciation for Miss Fisher until quite recently. I was a fan of the Star Wars Prequels for most of my life, and Leia only appears as a baby at the end of Revenge of the Sith. However, my time here with the Fandomentals, a few excellent articles by Julia, and a cumulative rewatch of all the Star Wars movies in preparation for The Force Awakens opened my eyes to the splendor that is Princess Leia Organa of Alderaan and through her the wonder that was Carrie Fisher.
Carrie Frances Fisher was more than just Princess Leia. Her honesty and openness of how she struggled in her life with addiction and bi-polar disorder, and always told through her rapier wit, inspired me in a way that few people can understand. Those of us who struggle with mental health find it difficult to relate with popular culture either because the depiction of mental health issues is unrealistic or because the celebrities who do struggle with it are written off as tabloid headliners or sad stories meant to engender pity. Carrie Fisher fired back at these stereotypes by brazenly confronting them and through it all she never became bitter or spiteful. She lived as she spoke, she was kind and she didn't hurt other people.
And she died as she spoke too, drowned in moonlight, strangled by her own bra.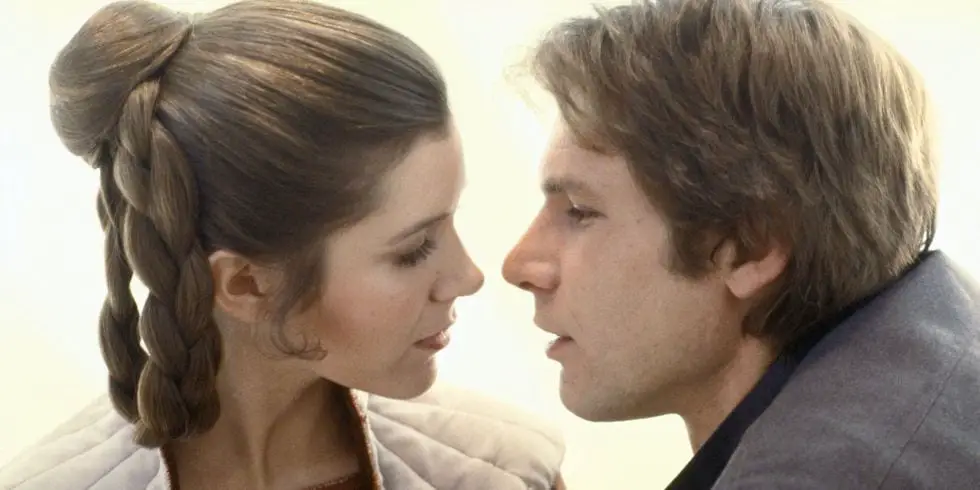 ---
Images courtesy of Disney and their respective owners