Kyle Shire is not what he appears to be. A longtime producer at https://www.thefandomentals.com/?s=Critical+RoleCritical Role, Shire stands a head taller than most other people at a convention with a full beard and big tattooed arms. But when you actually speak with him, he's the sort of guy who sprints between buildings just to not be late and who nearly cried when asked to autograph his game. That game, by the way, was Queen By Midnight, the debut design from Kyle and the newest release from Critical Role's Darrington Press. Recently launched officially after debuting (and repeatedly selling out) at Gen Con, it represents the biggest game yet released by Darrington. While checking the game out I had a chance to chat with Kyle about where the game came from and how he made it.
The competitive deck-building game pits players against each other as one of several powerful princesses in a magical free-for-all vying to become the new Queen of the Midnight Court. The former queen has died and in her last will and testament was to invoke what is called the Rule of Midnight. Which is that if the Queen does not have any viable successors, or if the Midnight Court deems her successors unworthy, the Princesses must meet in secret and battle. And at the stroke of midnight the Midnight Court will reveal who is the strongest and most worthy princess to become the new queen.
According to Kyle, the focus on Princesses comes from a lifelong love of Disney princesses and strong female protagonists as well as a particular incident with his niece:
"There's a little bit of a weird story with that. I was visiting my nieces in Texas. At the time they were 11 and 7. And I absolutely adore my nieces. I love them to pieces, but my youngest niece was playing with a ball that had a bunch of Disney princesses on it. One day she was just not playing with it anymore. And I was picking it up and was playing around with her and being silly and stuff and she said 'I don't want to play with that anymore.' And I asked why not? And she says, 'Princesses aren't cool. Princesses aren't strong.' And I just felt like I was witnessing an innocence die in her."
Kyle set out to create the game after being released from a previous job during the Pandemic, and it grew from a series of spreadsheets and ideas into the fully formed game it is now over the course of three years.
Each princess has certain powers they bring to battle as they compete across twelve rounds for clout and prestige. As time ticks by, the game begins to heat up and princesses begin to get more powerful and unlock different special abilities.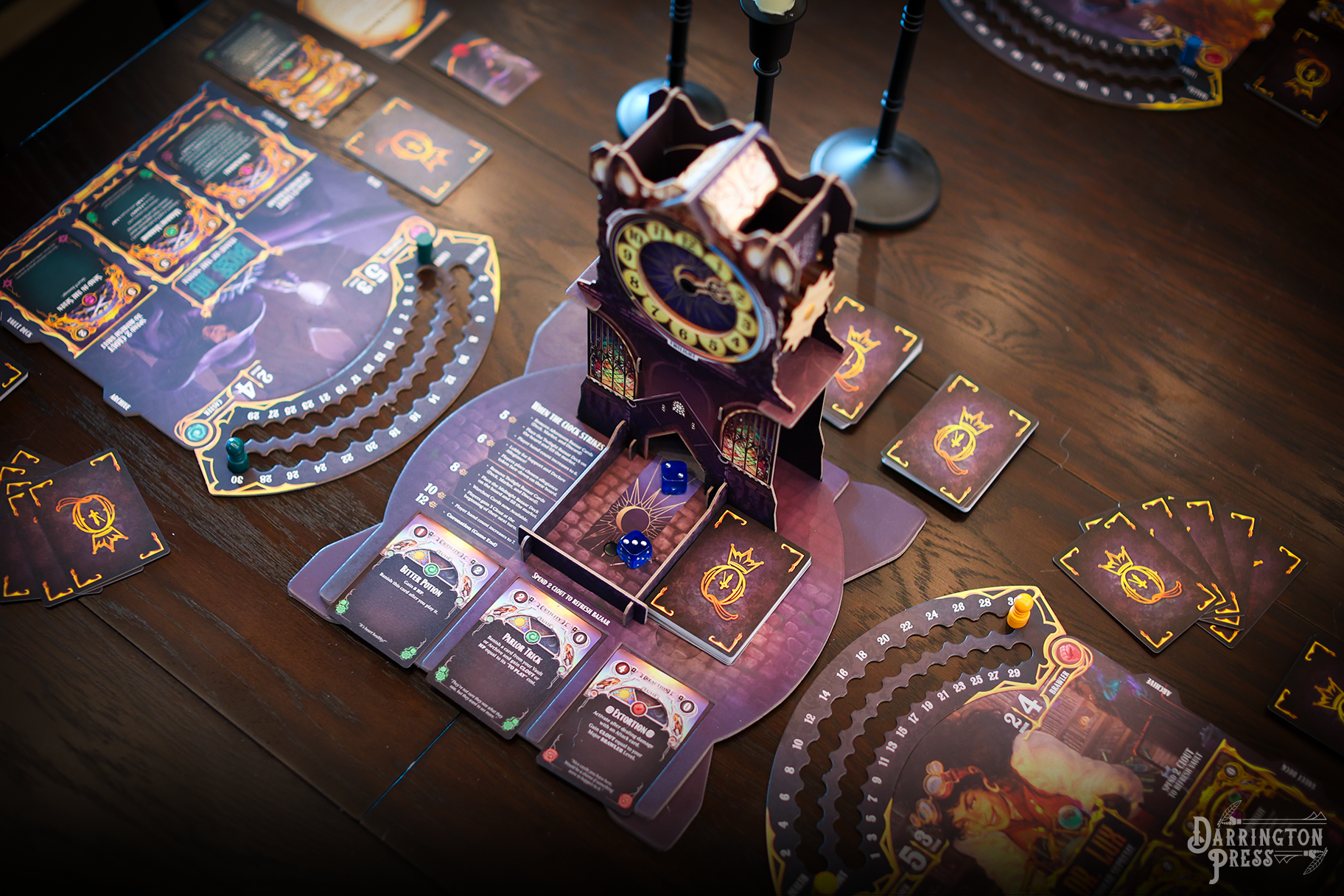 The showstopper "setpiece" of the game is, of course, the giant clock in the middle of the table that acts as both a dice tower AND a round tracker. Made of cardboard with wooden mechanisms inside, it takes a minute to setup but it's the sort of game piece you almost don't want to put away. According to Kyle, he didn't even plan on it being so elaborate. It was Darrington Press that, upon getting the game going, wanted to make it the big feature. And that level of care and production value is reflected across the whole game.
"Three years ago, this game was nothing more than a bunch of spreadsheets, documents, and fairly crude prototype materials. It is wonderfully surreal to not only see this game on shelves, but for it to also be the best possible version of itself while it sits on those shelves," Kyle has said. "Never in my wildest dreams did I imagine this. I am deeply honored and I hope it brings people a lot of joy."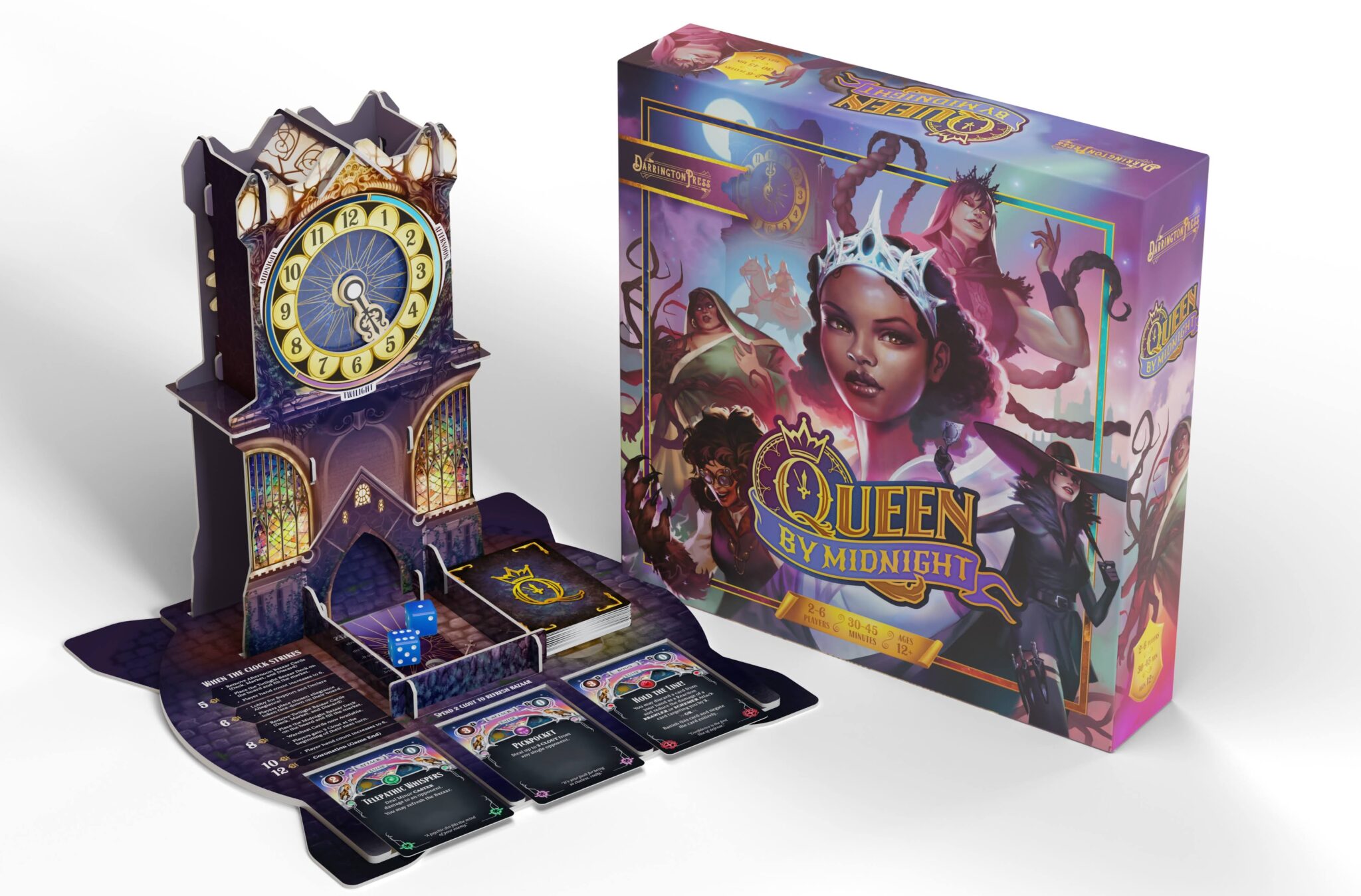 Queen By Midnight
Players: 3–6
Play time: 60–90 minutes
Ages: 12+
MSRP: $69.99 US
Creation and Design: Kyle Shire
Additional Design: Alex Uboldi
Graphic Design: Matt Paquette & Co.
Art: Ameera Sheikh, Michal Ivan, and Mike Pape
Editing: Travis D. Hill, Donald Behne, Darcy Ross, and Kaitlyn Money
Playtest Coordinating: Hank Finnin
Cultural Consultation: Christine Sandquist and James Mendez Hodes
You can pick up Queen By Midnight at your FLGS (where you can grab exclusive foil cards) or at the Critical Role Shop!
Images via Darrington Press
Have strong thoughts about this piece you need to share? Or maybe there's something else on your mind you're wanting to talk about with fellow Fandomentals? Head on over to our Community server to join in the conversation!