From Ravensburger comes the cutest most adorable most wholesome board game, I have ever seen! Pusheen Purrfect Pick embodies everything that people love about this cute cat and fun games for family and friends. Since it is, after all, Pusheen's birthday, I thought I'd take a look!
With two to five players, gather friends and other essentials from her house to bake, lounge, snack, and create meowgical moments! Be the first to get ten stars as you take snapshots of your weekend and you've won.
What's in the box?
Pusheen Purrfect Pick comes in a brightly colored box with a two-sided game board, a Pusheen token to move around the board, 76 essentials cards, 36 snapshot cards, and of course instructions. The figure is sturdy and the cards are all incredible quality as to be expected from Ravensburger. What I especially like about these cards is that they're a good size so younger players can use them too!
How's it play?
To play, choose one side of the double-sided game board; you can play in Pusheen's house or in the park! Lay out Essentials cards around the board. Essentials include Friends like Dragonsheen, Pusheenicorn, Mermaid Pusheen, Sloth, Stormy, and more. There are Items like gems, cupcakes, and hot chocolate. Finally Action cards let you do something special on your turn like remove cards, switch with other players, or move cards around.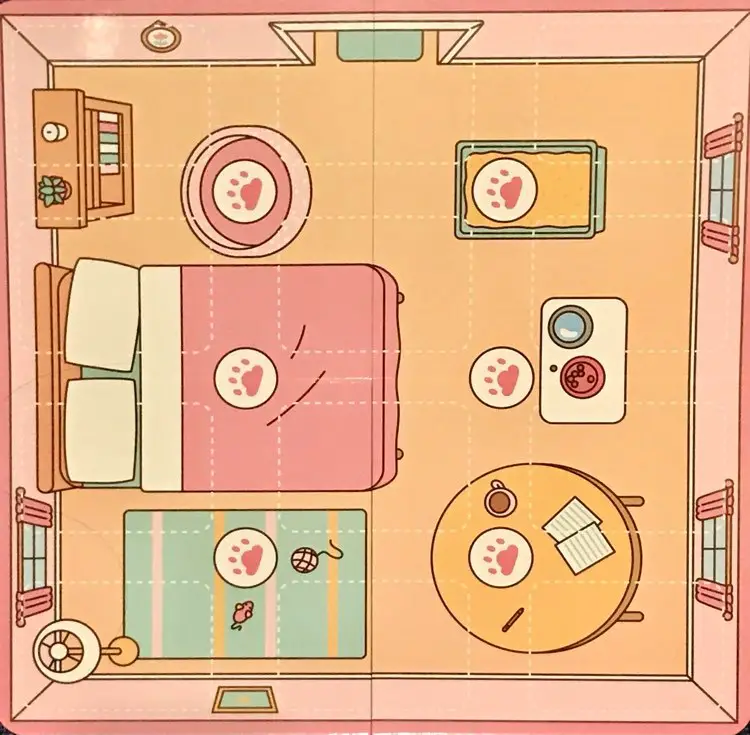 On your turn, you'll move Pusheen on the board, and either take one of the cards next to her or draw a card from the deck. As you collect Essentials, you'll be able to turn them in to collect Snapshots. Each Snapshot card is worth a certain number of stars. The first player to collect 10 stars wins. Snapshots can require one to four essentials so
Snapshots include activities like "snuggle up", "give a friend a ride", "ski trip" and similar outings.
The video from Ravensburger below shows how cute the game is and details the rules some more.
The Verdict?
I really enjoyed playing the game with my younger cousins. They didn't know Pusheen before the game but they were immediately charmed by the premise and though the game is listed for ages 8 and up, my seven year old cousin was able to pick up on the rules really quick. Always important when little kids are around!
What elevates this game from a simple "collect all the cards" task for players is that you do have to strategize a bit. Are you going for the snapshot card with a bunch of stars or aiming to get as many snapshot cards as quickly as possible? You also can't lay claim to a snapshot while you work towards getting the essentials so everyone could be working towards the same goal!
That makes this game easy enough for younger players while interesting enough for older kids and adult players.
Honestly even if there aren't kids around, this game is enjoyable. It's so whimsical and is as cute as all of the Everyday Cute comic products! I enjoyed just setting up the board for gameplay, that's how adorable this game is.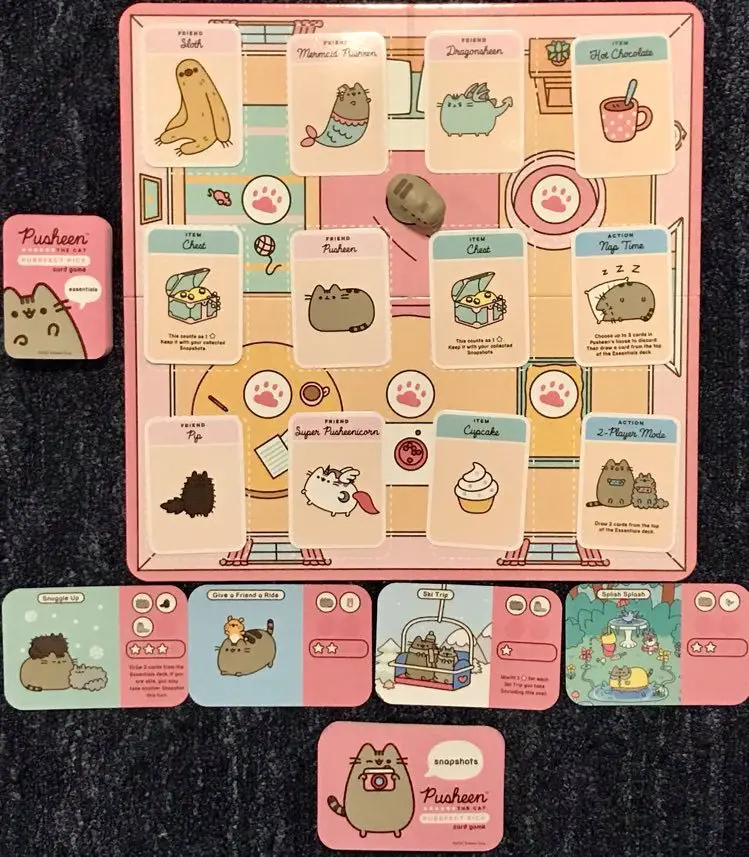 Overall, this game is super worth it for the Ravensburger quality and brightly colored game materials. Priced at $19.95 and is available today at Amazon and your FLGS, it is a bit higher than I would normally pay for a game like this but for the Pusheen touch it's worth it in my opinion.
Thanks to Ravensburger for the review copy of this game.
[rwp_box id="0″]
Images, video, and game courtesy of Ravensburger
Have strong thoughts about this piece you need to share? Or maybe there's something else on your mind you're wanting to talk about with fellow Fandomentals? Head on over to our Community server to join in the conversation!