Welcome back friends! We return to the world of tabletop gaming, and to the world of licensed card games! However, this time we're looking not at a quick and simple little thing based on a blockbuster video game franchise, but at Love Letter: Princess Princess Ever After, from Renegade Game Studios and Oni Games.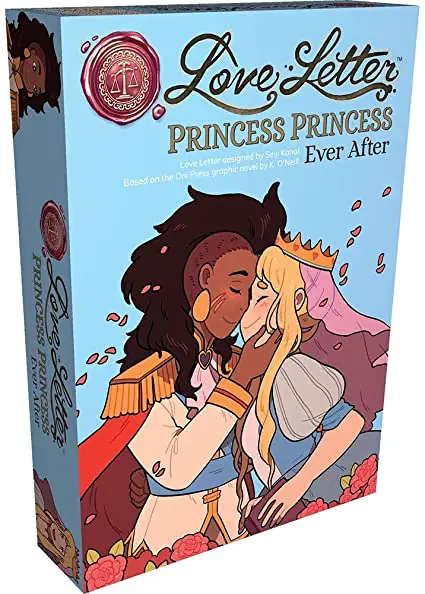 A spin-off of the acclaimed card game Love Letter, this is based on the adorable, lovely webcomic (that was later turned into a published graphic novel by Oni Press). The game is set as a pseudo sequel to the comic, in which you and the other players (up to six people can play the game in total) are seeking to get a love letter delivered to side character Princess Isadora. In a cute touch, referencing the nature of the comic, y'all are playing 'suitresses'.
The Make-Up of Love Letter: Princess Princess
Love Letter: Princess Princess Ever After has very little in the way of frills, since it is after all just a card fame. So its pieces are fairly simple and straightforward.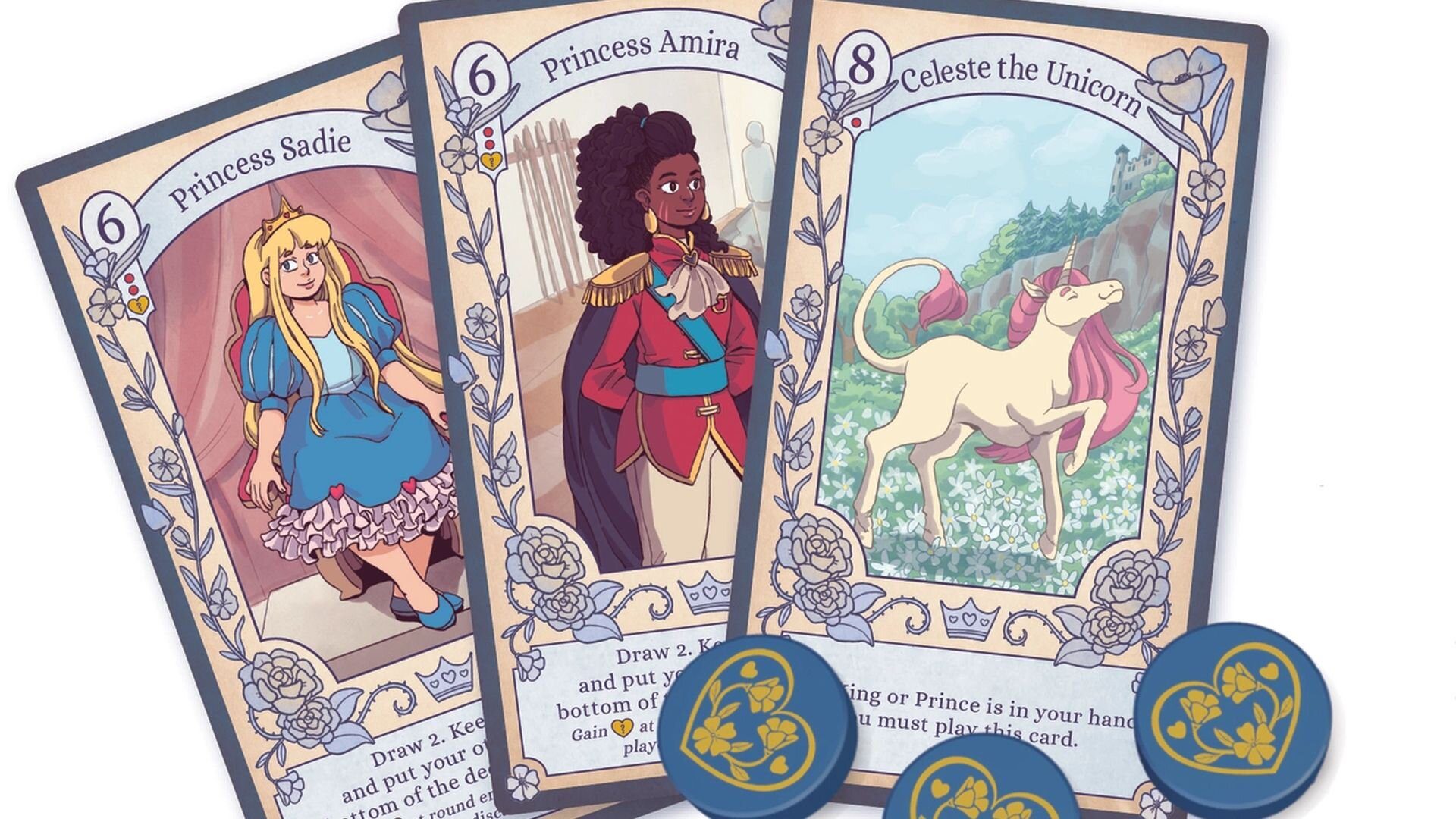 You've got twenty-seven cards and thirteen acrylic favor tokens. Six of these cards aren't even part of the game, but are instead reference cards to help the players. The remaining cards (all of which are tarot-sized, so a bit bigger than you might be used to), represent the various characters of the comic, and are how you play the game. The favor tokens are just there to help keep score. You could accomplish the same thing with a pen and paper.
Everything about the game is well made. The cards are gorgeous, the rules easily legible, and they hold up well. Likewise, the favor tokens are quite pretty to look at and very solid. Hell, even the box and rule book are lovely. Admittedly the rule book being the size of the cards makes it kind of hard to read, though I concede that it makes sense from a practicality standpoint, given the size of the box.
Playing Love Letter: Princess Princess Ever After
Playing Love Letter: Princess Princess is actually on the more complicated side of things, the straightforward contents of the box notwithstanding. Not absurdly complicated, to be clear. This isn't one of those card games. Still, it's more than, say, Uno.
The gist of things is this: at the start of play, every player gets one card handed to them, which constitutes their starting hand. Yes, your starting hand is one card. You then decides who starts, and the first round of play begins.
In Love Letter: Princess Princess, the card in your hand represents the person who currently carries your letter. The number on the upper left hand side of the card represents how close they are to the princess you're seeking to court. So you go around from player to player, and the winner is whoever has the highest-value card at the end, or whoever's left even holding a card, depending on how things shake out.
See, every card has an effect, listed at the bottom like a Yu-Gi-Oh card. These can be things like letting you draw more cards, or doing something that has a chance of forcing another player out of the round. In addition, some cards will gift you an extra favor token if you meet certain conditions.
The way the card effects work, and the way they bounce off of each other, adds a surprising amount of depth to the game. Plus, unlike most other card games, every card has an effect. Every draw is an opportunity to do something to another player or to gain an advantage. This admittedly does mean that luck has more of an impact on the game than strategy. There is strategy of course, in deciding which card to keep and which card to use, but the fact of the matter is that between resetting your hand every round and everyone else also having cards with effects, the luck of the draw is heavily in play.
At the end of every round, whoever met the win requirements gets a favor token, and then the character cards are reshuffled and play begins anew. The first to get a certain number of favor tokens (it varies depending on the number of players) wins.
Final Thoughts
Love Letter: Princess Princess Ever After is…wonderful. It's cute, it's well made, it's straightforward enough to grasp fairly quickly but deep enough to grab even the more invested card players. Those who are fans of the comic from which it draws will be delighted to have something else from this series, while those who aren't will still have a cute, queer card game.
I concede that that bias might be part of the draw for me. It's a WLW card game, how often do you see one of those? However, even without that part (because it's really just present in the box art and the 'plot' of the game), I still highly recommend this to anyone who wants to add something on the light and fluffy side to their collection. Give it a look, you won't be disappointed.
Review 0
Summary
Love Letter: Princess Princess Ever After provides a game with enough depth to draw in the more hardcore audience, but not so much as to drive away casual players. It has a cute design and is of high quality, though the reliance on luck and the chaos of every card having a special effect may disrupt strategic players.
You can grab a copy of Love Letter: Princess Princess Ever After from your FLGS or Renegade's shop, where it runs for $21.99.
Images and Review Copy Provided By Renegade Game Studios and Oni Games
Have strong thoughts about this piece you need to share? Or maybe there's something else on your mind you're wanting to talk about with fellow Fandomentals? Head on over to our Community server to join in the conversation!