Standing in the shadow of the last decade of teen drama, Peacock's adaptation of Karen M. McManus' One of Us Is Lying is nothing necessarily out of the box, but that doesn't mean that it isn't compelling. The first three episodes of the eight-episode series premiered on October 7th, and they follow four students as they try to figure out why one of their classmates died in front of their eyes, and why they were the ones set up to take the fall.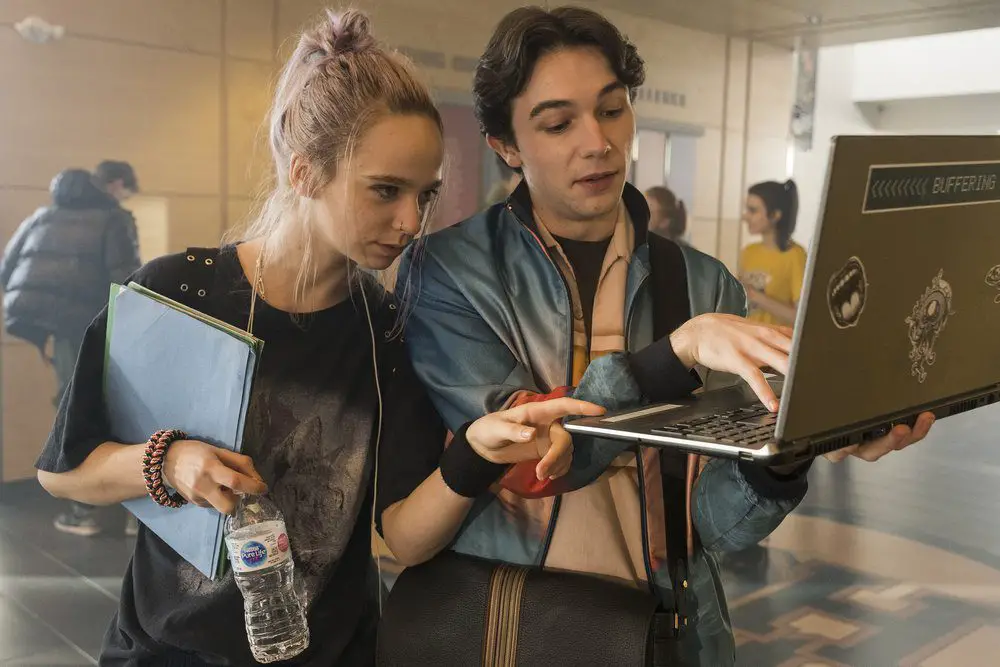 Okay Guys, Who Spiked Gossip Girl's Water?
One of Us Is Lying opens on the first day of school at Bayview high with the school's own personal Gossip Girl building up the exposure of four students in the coming week. Unlike other dramas with an anonymously run rumor mill, it is an open secret at Bayview that Simon Kelleher (Mark McKenna) runs the drama app About THAT. When Simon ends up dead after accidentally consuming water mixed with peanut oil in detention, Bronwyn Rojas (Marianly Tejada), Nate Macauley (Cooper van Grootel), Addy Prentiss (Annalisa Cochrane), and Cooper Clay (Chibuikem Uche) are all thrown into the suspect ring after his death is ruled a homicide.
Simon's death leads to an extra level of scrutiny on the group with everyone beginning to think that the stories teased on About THAT on the first day of school might have a reason for the group to take him out. In the midst of all this scrutiny, Bronwyn, Nate, Addy, and Cooper (a.k.a the Bayview Four) are trying to figure out how and why they were set up to be in this situation in the first place, all while trying to hold their personal lives and secrets together.
The group is not only faced with scrutiny from the student body and the police, About THAT is still posting Bayview gossip despite the fact that Simon has died. Their quest to figure out who may have killed Simon thus includes the question of who decided to take over his app posthumously.
Three Down, Four To Go
The multi-episode release strategy is a major part of what keeps the show interesting. The first three episodes all stand well enough on their own, but it's a lot easier to immerse the audience in the story when there are three hours of the story instead of one. It should also be said that for an episode that is meant to introduce us both to the four main characters and the multitude of characters in their periphery, the pilot does a decent job of giving everyone important enough backstory to solidly establish who they are.
Another nice touch is that throughout the first three episodes, the members of the Bayview Four often paired off with each other outside of what immediately makes sense. Addy and Cooper share a friend group, so of course it makes sense for them to interact, but Nate and Addy have a nice interaction in episode three that dives deeper into their personal lives. The same goes for Addy and Bronwyn, who have a bit of a contentious relationship but work together to uncover the odd similarities in how the group ended up in detention.
Okay But Can You, Like, Cry On Command Or Something?
Despite the successfully explored group dynamics, the story begins to struggle when it comes to revealing the secrets of the Bayview Four. Addy's secret infidelities and Cooper's status as a closeted gay man are obviously high stakes for them, and the show nails their anxieties and the reasons for it down really well. However, when it comes to Nate and Bronwyn, the stakes don't seem as high.
When it's revealed that Nate sold pills to a girl at Bayview who overdosed, it's a no-brainer that that's bad, but it doesn't hit as hard as when Addy or Cooper is exposed. Even when it turns out that Cooper's "exposure" is a false accusation that he uses steroids and not that he is gay, that still affects his status as a student athlete and jeopardizes how he lives his life in a different but seemingly equal way to his potential outing, at least in his eyes.
When it's revealed on About THAT that Bronwyn cheated to get her A in junior year chemistry, it has an effect on her internal view of herself, but nothing related to the secret happens outside of her family knowing the truth and telling her to keep her mouth shut. Her presence at Simon's death seems to affect her social standing at school more than the rumor of her cheating does, and in the end, a rumor without proof can't affect her dream of going to Yale.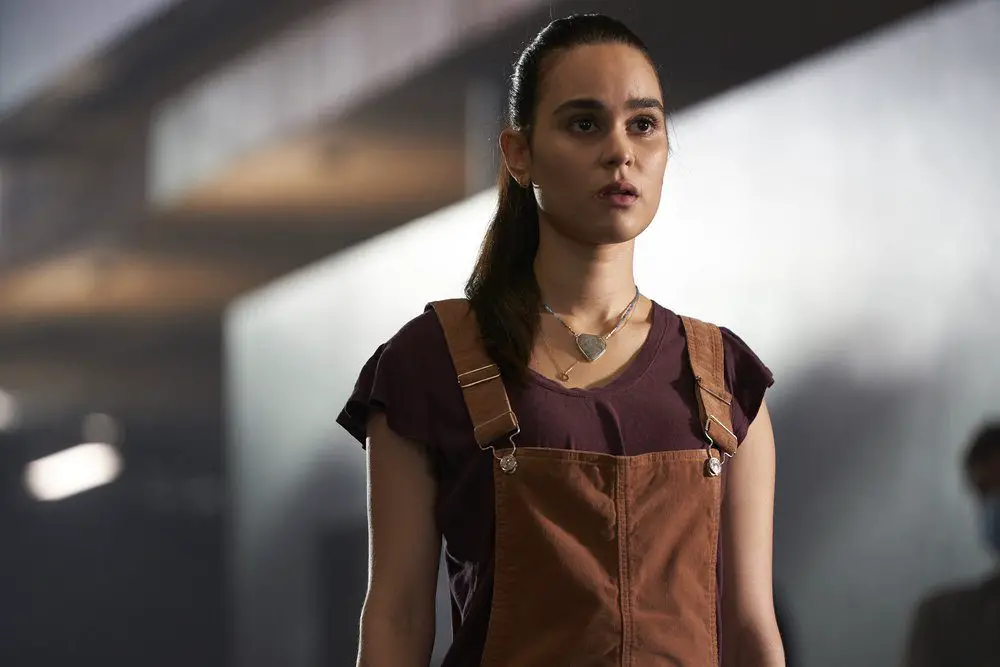 No More Love Triangles, Society Has Evolved Past The Need For Love Triangles
With regard to the characters that aren't a part of the Bayview Four, the majority are able to exist in the show without feeling out of place. Maeve (Melissa Collazo), Jake (Barrett Carnahan), Janae (Jessica McLeod), Kris (Karim Diane), and Keely (Zenia Marshall) all have important parts to play in the story. Even the minor characters in Addy's friend group add something to the mix, but the trend stops with Evan (Martin Bobb-Semple).
Evan and Bronwyn's romantic subplot feels like it's constantly being wedged where it doesn't belong, and her clear romantic tension with Nate is strong enough to stand as its own story outside of a love triangle. If Evan and Bronwyn were in an established relationship before the starting point of the story, their relationship would probably feel less out of place. Unfortunately for Evan, he feels like the only side character in the show that doesn't add anything of substance, at least in these first three episodes.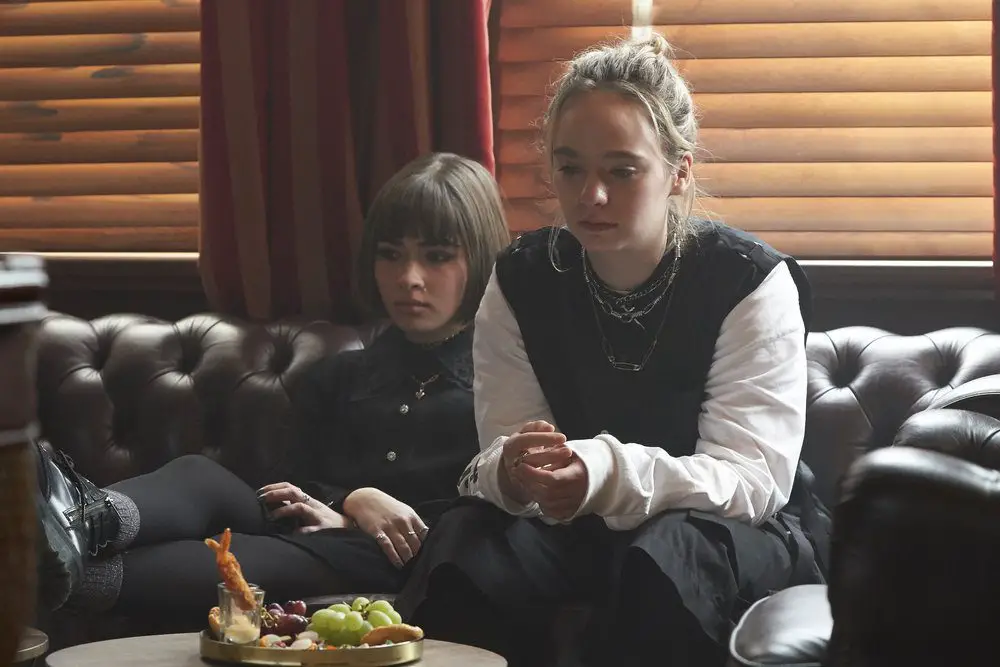 Rough Times Ahead for the Bayview Four
In the end, One of Us Is Lying isn't some extraordinary subversion of teen drama, but it's still an enjoyable show that will pull you in with the mystery and its characters. None of the Bayview Four are irredeemable, despite the varying levels of scandalous that their secrets are, and that stems from complexities not only show in them, but in the more minor characters as well. It's definitely going to be interesting to see those things expanded upon as the season continues, and I'm looking forward to seeing it all unfold.
Images Courtesy of NBCUniversal
Have strong thoughts about this piece you need to share? Or maybe there's something else on your mind you're wanting to talk about with fellow Fandomentals? Head on over to our Community server to join in the conversation!