Almost every show airing and show to air on The CW this year and next season is from already existing intellectual property. Of the currently airing in-season shows, all but three are adaptations, reboots, or spin-offs from something else. Not that any of the broadcast networks are completely original.
The chart below shows exactly how many shows have spawned in the last eight years on The CW that originated from already existing media.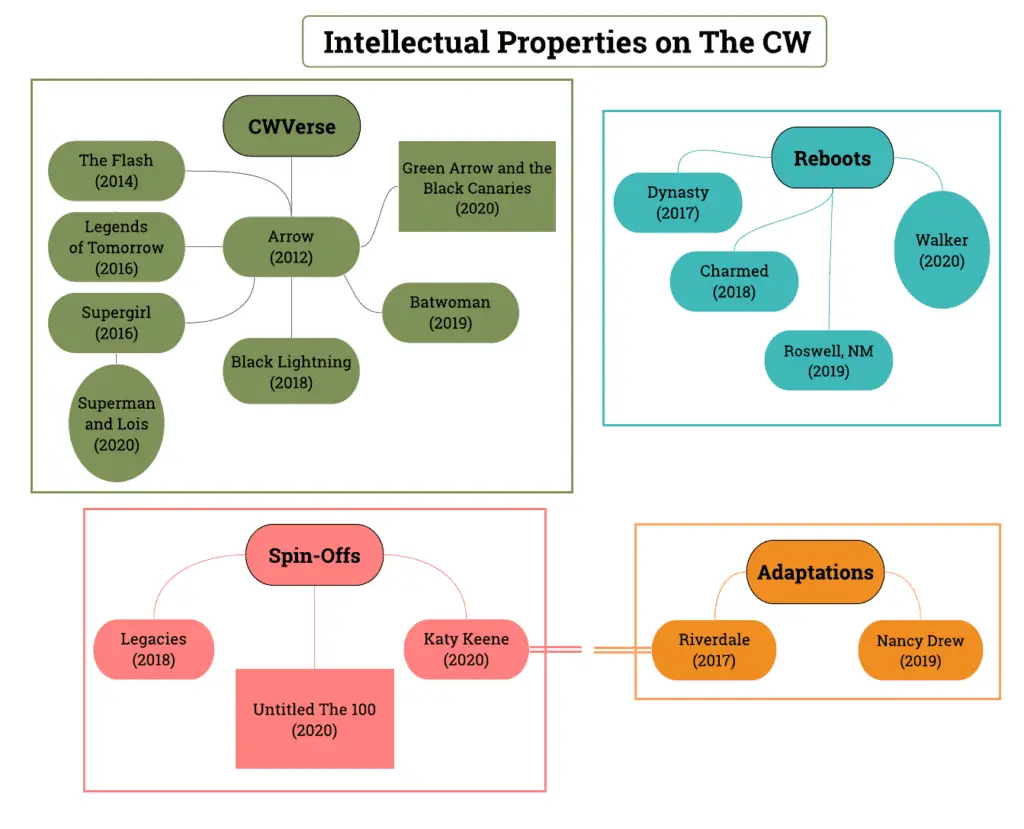 As you can see the only shows to not make the cut are All American and In the Dark. I did not put flagship 100 since it airs in the summer, but that too is an adaptation of a book series. In fact, since the official creation of The CW in 2006, more than half of their shows are IP series! (28 of 52 series.) If any of the Supernatural spin-offs had received a pickup than their very first show (started the year before the merger) would have a spot on this chart too!
Clearly franchises are an easier way to attract fans as ratings continue decreasing and costs continue increasing. The CW is not the only network to utilize this method, and one of their parent companies deserves half the blame for this trend. CBS currently has three franchises in NCIS, FBI, and the loosely connected Peter Lenkov Hawaii Reboot Party. I just made that up, I have no idea what CBS calls their Hawaii reboot world.
The longest-running drama with no competitor is Law and Order: SVU, one of six shows in the franchise to air (Hate Crimes is…dead). NBC also has its Chicago powerhouse on Wednesdays and ABC currently has its Grey's/Station 19 and Goldbergs universe. Finally, FOX is attempting to grow its 911 world with new entry Lone Star though I do not foresee that lasting. As of the 25th, eight of the ordered pilots and series are IP across all the networks.
Rousing Renewals
Earlier this January, they did their (mostly yearly) renewal spree. All thirteen of their series received renewals including series yet to air! Katy Keene even received an order for 13 more scripts and the network ordered Superman and Lois and Walker straight to series bypassing the usual pilot filming process. As Deadline mentions, there is the fear of a new Writer's Strike and the massive renewal and early script/series orders allows the network to have episodes ready to go should the strike occur.
Of course, the ominous pending strike is not the only reason for all the renewals. While Netflix is on the hook for all shows before fall 2019, the only way to fund new shows is if a new streamer picks it up for after the seasons air. For example, it's now common assumption that HBO Max will take all of the WB products (currently comics focused) and CBS All Access will take CBS Studios products (currently everything else). The dependency on new streaming partnerships is why they didn't order Glamorous, the show I was most excited to watch.
Since this year's newbies aren't available on their respective streaming sites until after the first seasons end, the network (and general audience via PR fluff) won't know how well they do on either streamer until close to the second seasons. Considering very few people are subscribed to All Access, I'm not sure CBS Studios shows will fare incredibly well in the next few years.
Who knows about the WB shows since they're literally all comics media (except the 100). Plus it's not public just how long Netflix is on the hook for the shows like Dynasty or All-American. Common sense seems to indicate the comics series will slowly die off one by one and as WB decides what to do with DC Universe, the synergy between HBO Max and The CW will grow. Stargirl is actually airing on the network in the spring after it airs on DCU!
Alas, in a world of diminishing returns and the network's entire purpose of advertising shows produced by WB and CBS Studios, independently created series are very unlikely to make the schedule. With two series orders, one already aired backdoor-pilot (GAtBC), and one to air (100), what else might The CW order? The majority of their scripts in development last year were also IP with a few original stories mixed in but pilot season this year is the slowest yet so the four slots could be anything.
The CW's dependence on IP series reflects its existence as the 5th network focused on a younger demo (though even its median viewers are aging out of the 49+ group) with heavy reliance on streaming revenue to make up for its lack of ad revenue. Adaptations, reboots, sequels, and spin-offs aren't going anywhere on this network, nor are they leaving the rest of broadcast.
At least there are less than four months before Upfronts 2020 and we find out which of the renewed shows is also canceled! Guess in the comments which shows you think are ending next season.
Images courtesy of The CW