[THIS ARTICLE CONTAINS SPOILERS FOR NEW AMSTERDAM SEASON 4 EPISODE 1 "MORE JOY"]
Ever since the last second of the season three finale aired, the latest season of New Amsterdam has been eagerly awaited by fans for the last three and a half months. Helen (Freema Agyeman) and Max (Ryan Eggold) are finally (FINALLY!!!!!!!!) together, at least for the foreseeable future. But, in true New Amsterdam fashion, there's a twist on their seemingly happy beginnings.
Satisfaction for Sharpwin
The premiere starts off exactly where the season three finale left us with Max and Helen finally (and I cannot express how long I have waited for this to happen) acknowledging their feelings for each other and getting together. Three seasons of pent-up sexual tension is a lot to live up to, but the show absolutely delivers all that fans of the couple have wanted, but it wouldn't be New Amsterdam without a catch.
Despite returning to New York in the season three finale, Helen still feels like she needs to go back to London to become the medical director of the clinic she volunteered at in her early days practicing medicine. Max, who has decided that he is all in for their new relationship, tells her that he's willing to do basically anything to be with her and support her, even if that means bringing Luna with him on international weekend trips. 
Helen also finally tells Max that she loves him (twice!!), but when it comes to figuring everything out, the two find that every time they would be able to see each other has some sort of scheduling conflict. The pair settles on the fact that while their situation is incredibly tricky, they'll be able to figure out how to be together somehow, and that's what really matters.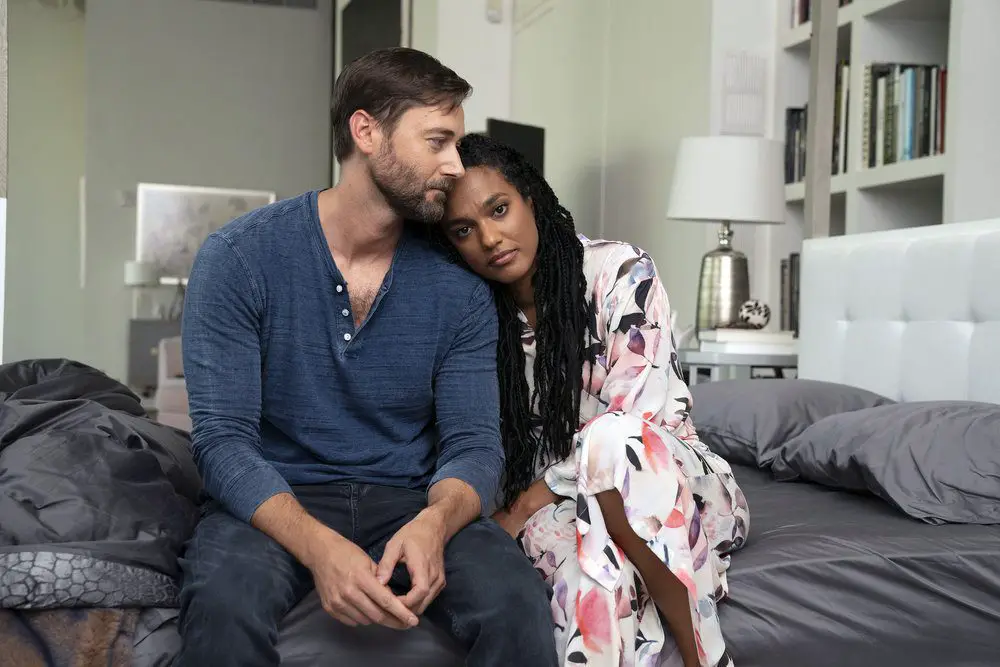 COVID is Over! Fires are Still a Problem!
The rest of the episode is woven in between the Sharwpin scenes and takes place three weeks later. The hospital has fully reopened after the COVID-19 pandemic has presumably been wrangled, which likely means that the effects of the virus on real-life won't be heavily impacting the show anymore. Everyone is back to working in person, and both Iggy (Tyler Labine) and Bloom (Janet Montgomery) have new groups of residents who are beginning their training. 
With everything going perfectly for Max, a wing of the hospital exploding into flames is exactly what he needs to screw up his day. With the fire determined as arson, Max tasks Iggy with creating a profile of whoever set the fire. This leads Iggy to seek help from Mary, a pyromaniac who is a former patient of Iggy's. Her analysis of the situation leads to the realization that the arsonist is burning down COVID wards because his wife died in the hospital.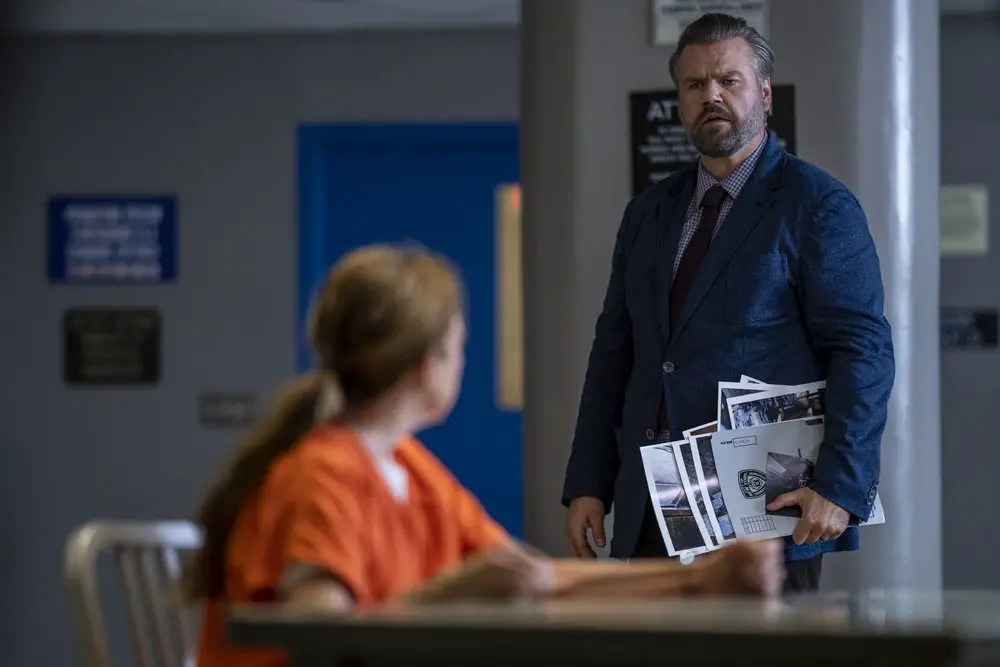 The Shortcomings of Being Your Boss's Girlfriend
Down in the ED, Bloom almost immediately outs her relationship with Leyla (Shiva Kalaiselvan) to her group of residents, something that they had explicitly agreed not to do until later down the line. Leyla is understandably upset about this, not only because Bloom blindsided her but because she's worried about any perceived favoritism poisoning her time in residency.
Bloom's final solution to all this is to publicly reprimand Leyla over leaving equipment where it doesn't belong, but it is clear that the conflict between them is far from resolved. That, paired with the implication that Bloom illegally got Leyla accepted to the residency program at New Amsterdam sets the stage for something a lot messier to come between the two.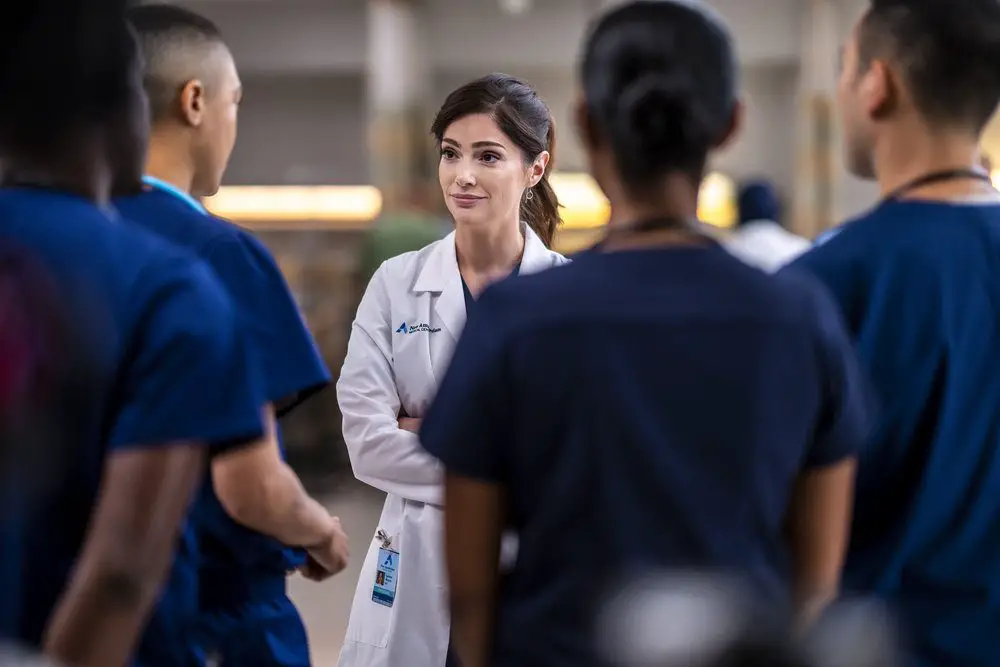 The Shortcomings of Being in Love With Your Boss's Wife
Reynolds (Jocko Sims), on the other hand, is still dealing with the fact that he's in love with Lyn (Frances Turner). The two have been forced to end their relationship while Lyn's husband is home (plus, he's Reynolds' boss, which obviously complicates things). While Lyn has accepted that things are over, Reynolds hasn't, and after he saves her from the second fire, he seems to think that there's still hope for them.
How Do You Replace the Best Person for the Job?
During all of this chaos, Max is interviewing Dr. Elizabeth Wilder (Sandra Mae Frank) as someone who could potentially take over for Helen as the Head of Oncology. While she manages to thrive in the heat of the crisis, she ultimately turns down Max's job offer. Despite how much she would love to work at New Amsterdam, she knows that Helen is irreplaceable, and she tells Max to not let her go.
Fresh off of a flight from London, Helen meets Max at their spot on the roof at the end of the day. Her trip to the UK had clearly dragged on her emotions quite a bit, but Max being Max is determined to make sure that everything works out. He tells her that she's his joy (!!!!!!!!) and that instead of trying to replace her, he's going to replace himself and follow her to London instead.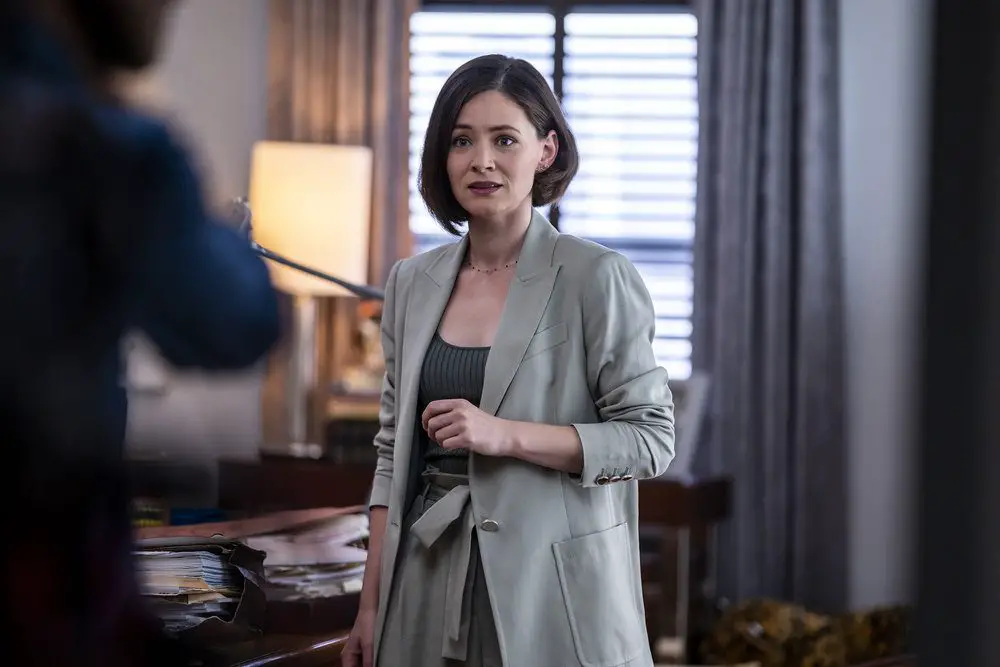 What's Next for New Amsterdam?
"More Joy" is just proof of New Amsterdam's staying power. The choice to move the fictional universe away from COVID-related tragedies is a good one, and it leaves room for more complex stories to be told without the fatigue of seeing real-life play out on screen for the second season in a row. It also adds another entry to the show's long list of diverse castings, with deaf actress Sandra Mae Frank joining in a recurring role that has her character poised as Max's successor.
There are tons of questions that are left to be answered for the rest of the season too: Will Max actually pack up and go to London, or will he start getting separation anxiety before he has the chance to leave the hospital? How long until Bloom and Leyla's relationship cracks under the many pressures of their circumstances? How exactly does Reynolds think he's going to continue his relationship with Lyn? Who was the psych resident the camera lingered on during Iggy's last scene? All in all, it's looking like this season of New Amsterdam is going to be a wild one, and we can only hope that Sharpwin makes it out in one piece.
Images Courtesy of NBCUniversal
Have strong thoughts about this piece you need to share? Or maybe there's something else on your mind you're wanting to talk about with fellow Fandomentals? Head on over to our Community server to join in the conversation!