If you're looking for a fun and easy-to-play game night activity for all ages, you might want to consider bringing Naruto themed Yahtzee to the table. It's played exactly like normal Yahtzee, and the theme appeals to– I'm sorry, I don't know who's big into Naruto these days. I'm like, ironically into Naruto. Are kids all into Boruto, now? Do they…do they even care about Naruto the first? Tell the children this is exactly like how Boruto Yahtzee would be, but Naruto-themed instead. They'll love it.
The key differentiator between Naruto and Regular Yahtzee is the aforementioned's ramen theme. Instead of just rolling dice to accumulate points, you can think of Naruto Yahtzee as an exercise of building a bowl of Ramen, like that one Filipino noodle-soup building game that was popular in 2018 or 2019 that I loved and was very bad at, because I did not understand the instructions.
I cannot stress this enough for legal reasons, Naruto Yahtzee is still very much inedible, and does pose a choking hazard if swallowed. It's just like Regular Yahtzee, in that way. Do not try to eat any part of this game. 
Do, if you're in the mood, order Ramen from a local business, or make your own at home with real ingredients. The game does leave you with a very noticeable craving for a hot soup, which is wild on my end, as I am actually not a huge fan of ramen as shown in the game and in the manga and in the show; you understand what I'm saying. Please don't take my copy of the game away.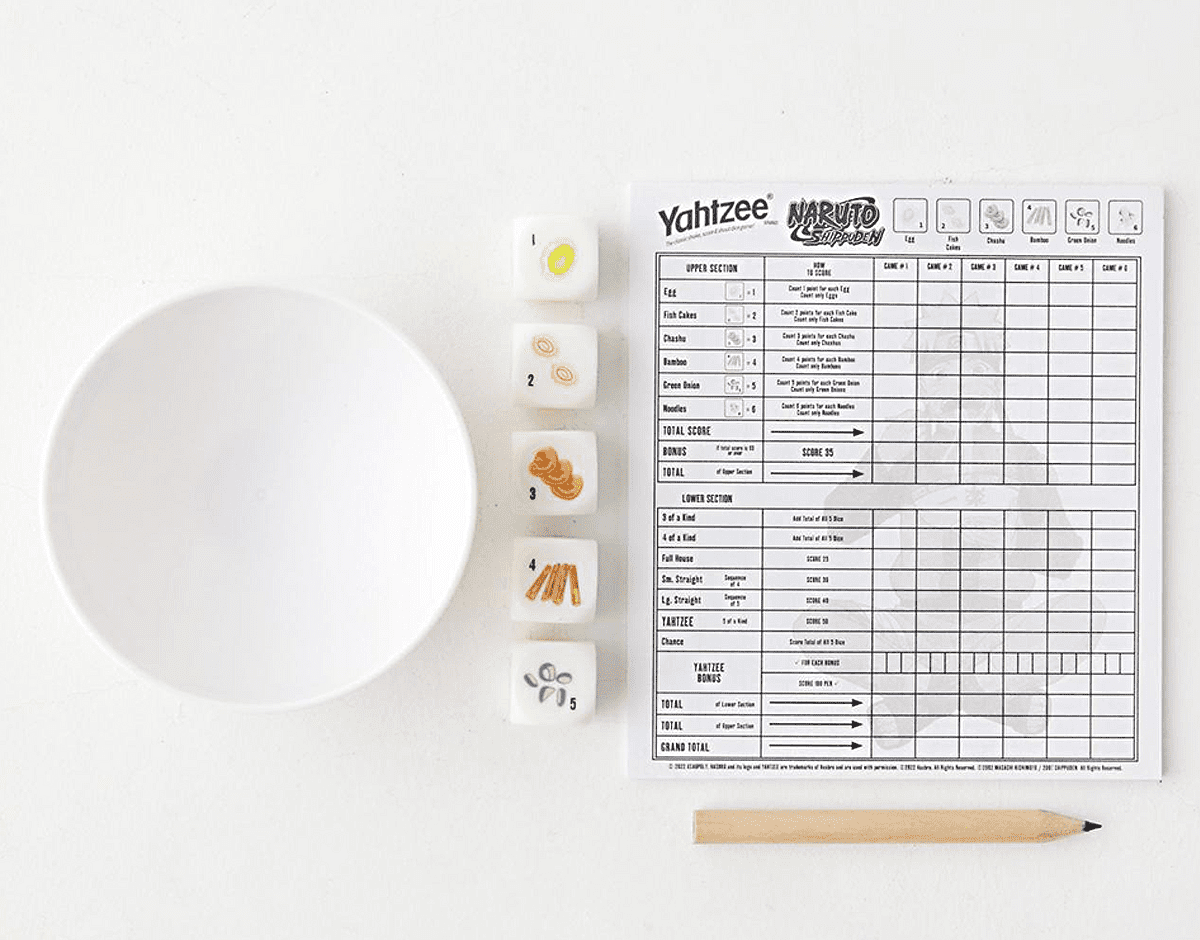 What's In the Box
The box comes with your typical Yahtzee Setup, but Naruto themed. The normal dice cup is now made to look like a bowl from Ichiraku Ramen, the in-world ramen-ya frequented by the once-titled character. The dice are all ingredients that would go into making ramen, with each food item corresponding to a number as follows:
1 = Egg
2 = Narutomaki (the fish cake from which Naruto gets his name)
3 = Chashu
4 = Bamboo
5 = Green Onion
6 = Noodles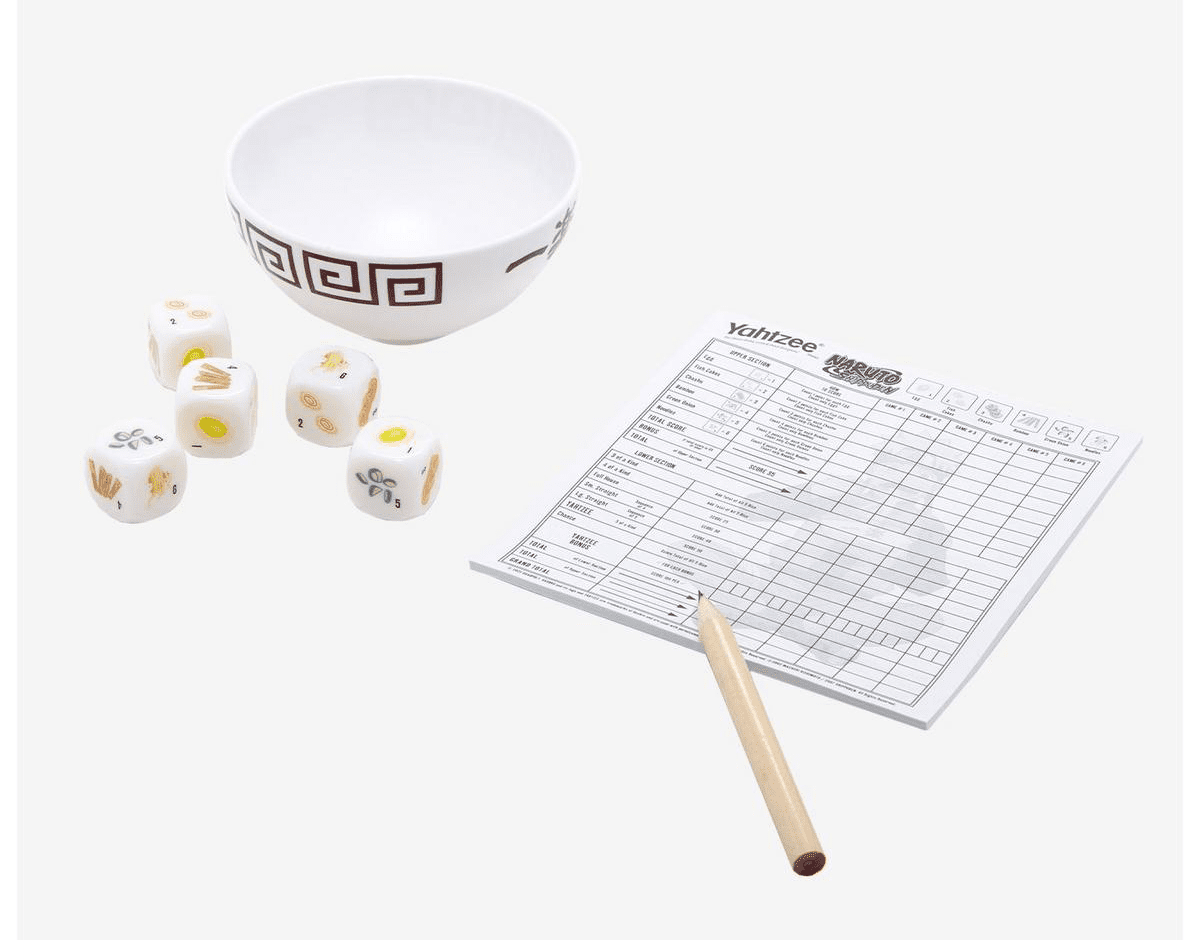 The score card remains fairly familiar to regular Yahtzee players, but each die has its corresponding food labeled in the "upper section."
Personally, I felt the dice cup and dice were all painted very neatly, with simple designs for the ingredients.
They look kind of like little bouillon cubes, and I feel comfortable saying that. Far less likely to eat a whole bouillon cube than say, a mint. You'd have to put it in water first, and then you'd be like, "Hey. This is a die. I can't make soup with this." And again, this is a joke, for the purposes of comedy and entertainment. Stressing once again that you should not put anything from this game set into your mouth, and additionally shouldn't try to melt the dice in hot water to make broth, nor for any other reason.
Gameplay
It plays like Yahtzee. No new rules needed.
The Verdict
I'm an ambivalent and lifelong fan of Naruto (think of me as locked in Naruto's house), but I have to admit that seeing that blond guy does bring some kind of joy to my heart — Boruto do not interact — and he is popular enough to entice people who would not normally play Yahtzee (see: me) to take up the cup and roll the dice. It's sold at Hot Topic (and other retailers). Cosplay not included.
Images Courtesy of USAOPOLY
Have strong thoughts about this piece you need to share? Or maybe there's something else on your mind you're wanting to talk about with fellow Fandomentals? Head on over to our Community server to join in the conversation!