Mystery Graphic Novel is one of Van Ryder Game's graphic novel adventure books that takes you on a "choose your own adventure" story that requires many of your own decisions to make it through. Van Ryder Games has produced several board games (Detective, Hostage Negotiator) in addition to their adventure books. In Mystery, you start the story as a new superhero trying to prove that you can handle gigs for superheroes, to one day become a famous superhero taking on the big jobs.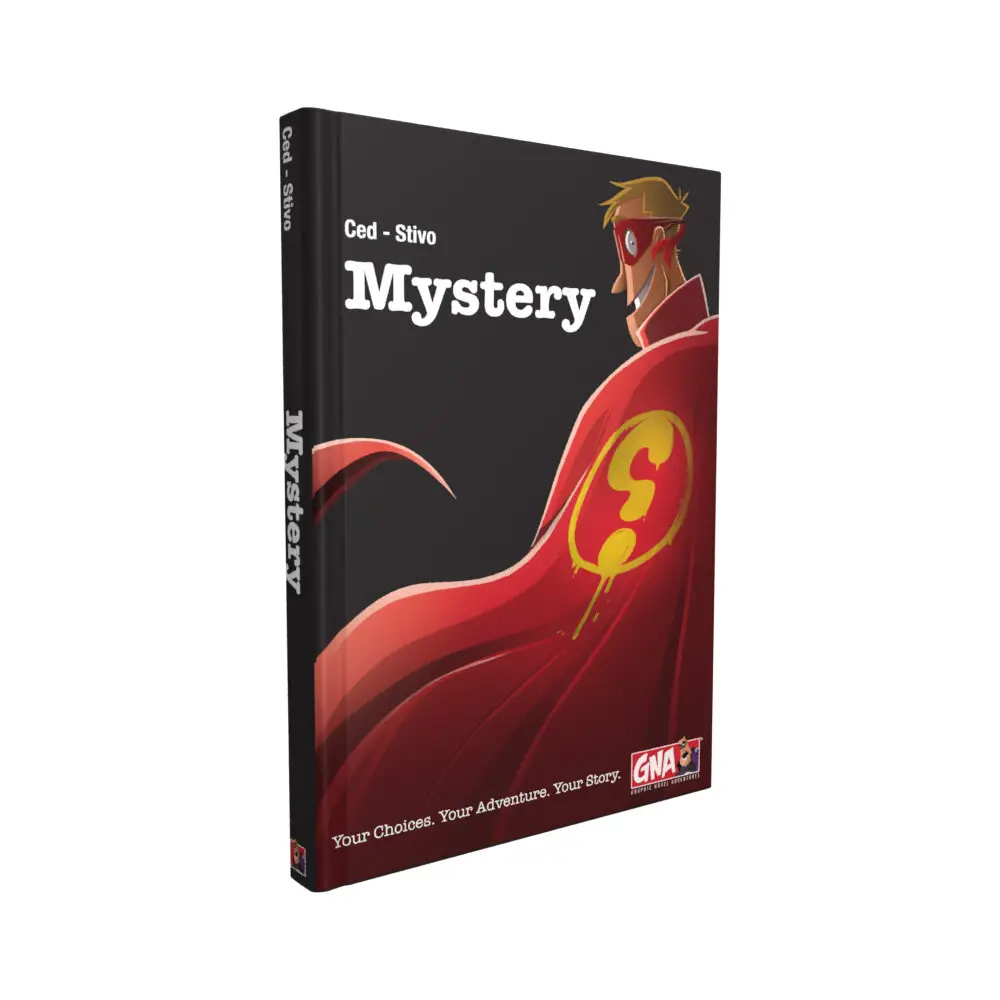 Specs
Hardcover
298 numbered pages
Illustrations, text, and QR codes included
How does it work?
The reader can either print out the necessary forms to mark up while playing or use a scratch piece of paper to mimic the necessary information that will change throughout the quest. In Mystery this will be a chart that includes 4 different special powers, flight, strength, super-senses, and super rich. Each of these can eventually have 5 upgrades completed in each power. To begin you will have 2 upgrades to spend on whichever power you would like to choose. Your powers will determine what happens in the story turning the page to a different scene if you have certain stats or if you don't.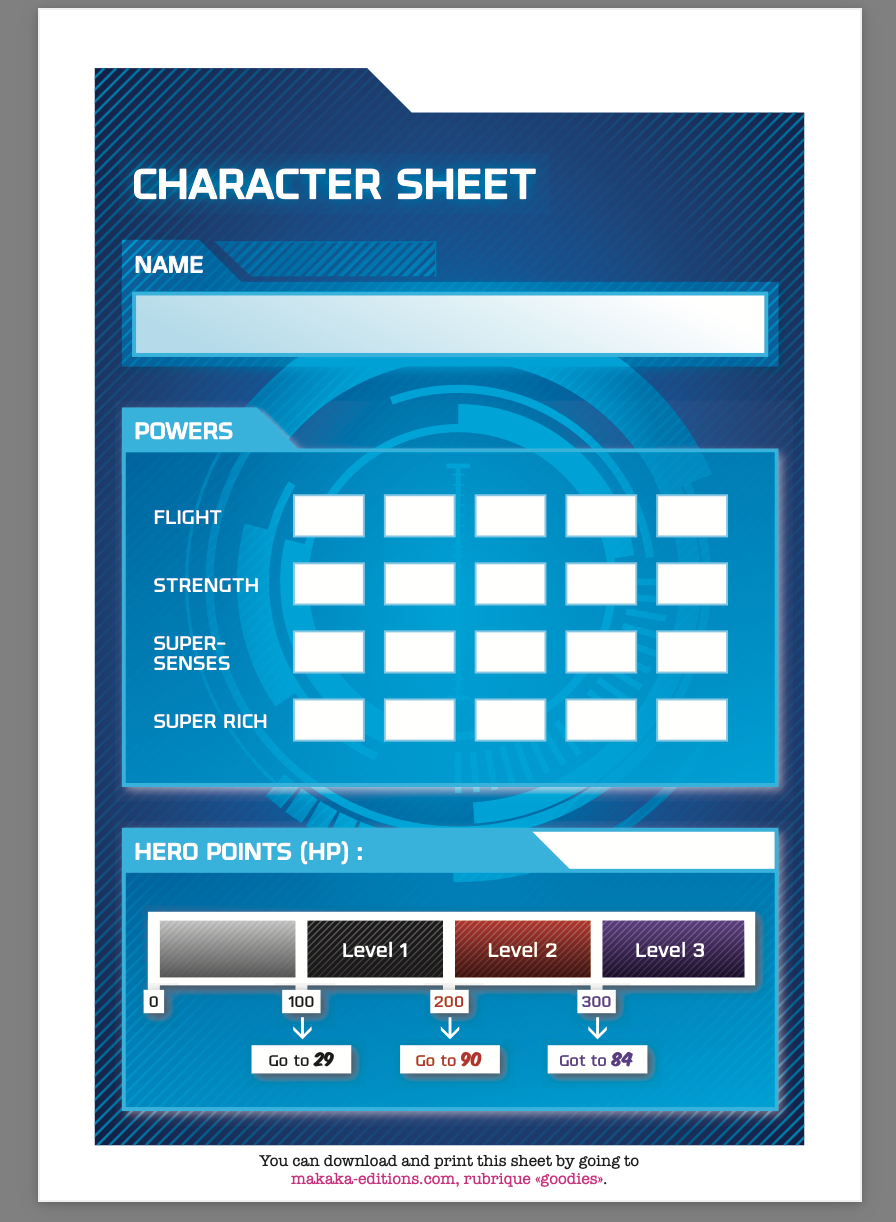 Players will come up with a superhero name and in addition will keep track of Hero Points (HP). As you gain HP you will be able to level up. At the beginning you can only visit certain locations shown on the map with blue numbers, once you level up you will be able to visit additional locations. When hitting level 1, you can go to the black numbered locations, level 2 to the red numbered locations, and level 3 to the purple-colored locations. 100 HP will be required to level up each time in addition to completing a specific task that you will most likely figure out eventually. 
As you uncover the story you will gain more powers, gain HP, level up, and visit new locations. Watch out as you will have many options as you turn the pages, making you decide to go through one of multiple doors. Or letting you explore the parking lot versus a dark alley, a dumpster across the street, or to enter the building you're standing next to. You most likely will be able to explore anything and everything you would like after some time, but some decisions might not give you HP but rather take it away due to your bad decision making or because you don't have the powers required to help in that circumstance.
The Verdict
It's not a mystery that we absolutely love this adventure "choose your own adventure" graphic novel. Me and my now 6-year-old have previously done the Pirates book and this one was a lot better for us. In Mystery you aren't just flipping page to page being lost in a maze not really knowing where to go except guessing on random places to walk and feeling like nothing is happening. Rather, you are visiting buildings, which makes it easier to know where you have been and where you haven't visited yet. Also, as you level up, you will move too different pages in the book, so the book isn't wide open at the beginning, rather you focus on gaining powers and leveling up to then discover more and more. 
The author found some clever ways to add additional paths, as you will visit people who might tell you about a trick on how to get to other pages. In Mystery this is done by visiting a page with a phone ringing in it. Normally you don't see any numbers by it so you can't do anything with it and you most likely ignore it. But after you know the secret, you will know how to answer it, sending you to another page to perform some superhero activities.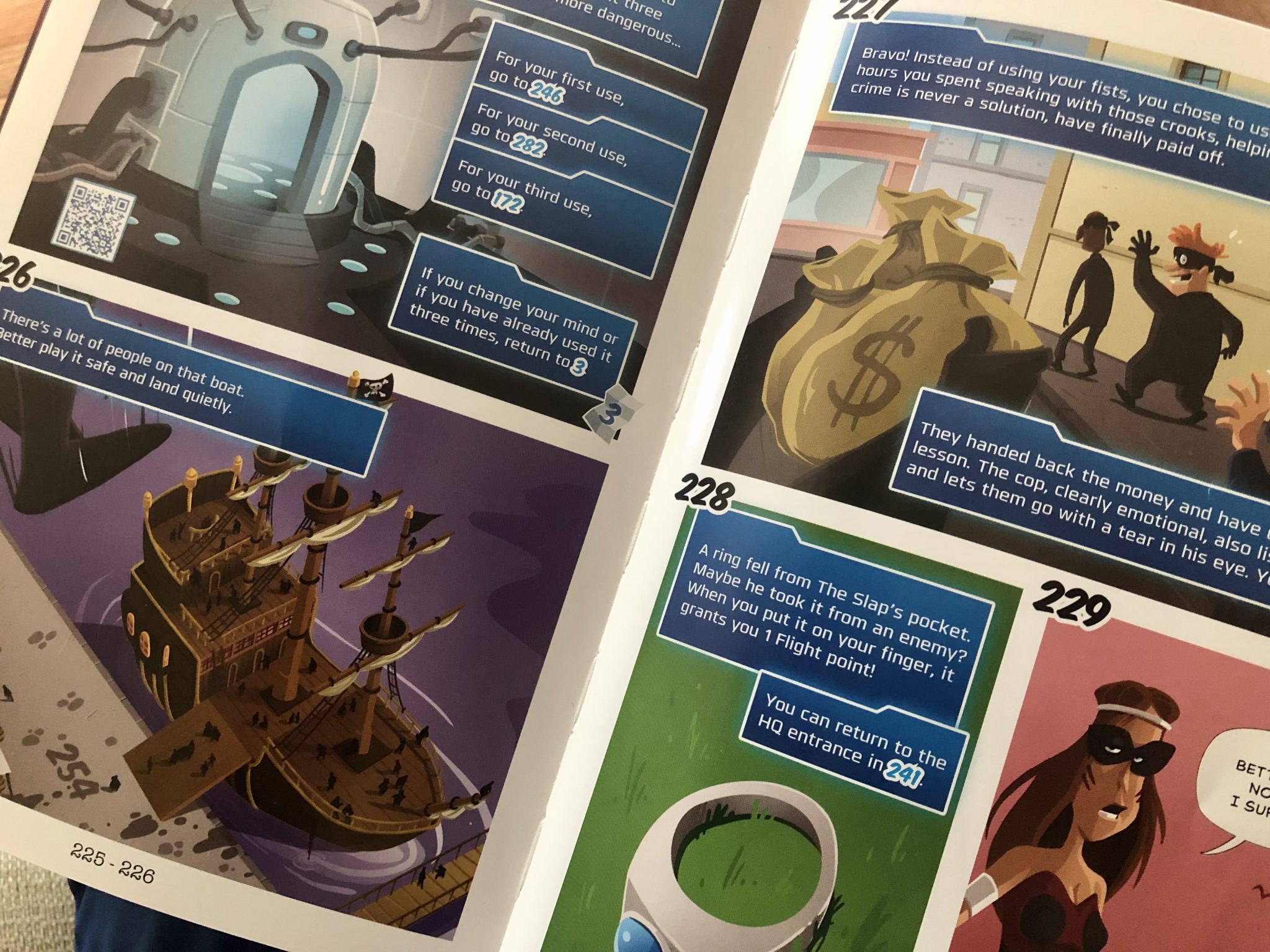 The author does a great job letting you gain powers, and if you ever get stuck you can visit a location to switch one upgrade from one power to an upgrade for another power. You most likely know of some places where you didn't have the right powers to progress through the story. Allowing this helps so you never get stuck, but use caution, you can only do this 3 times and some strange things can happen if you choose a certain number over another. 
My 6-year-old keeps asking me to continue "playing" this with her and it lets you save where you are at, as you just need to keep your paper with your stats, and you can also write down any notes to help you continue.
Overall, we have high praises for Mystery and what it offers, especially because it can be done with kids who love books, and this just adds to some great adventures for them to enjoy that is different than a board game and a story book. If all of the other adventure graphic novels are as good as Mystery, then you will be in for a real treat. But for now, Mystery was a better experience for us than Pirates. 
Images Courtesy of Van Ryder Games
Have strong thoughts about this piece you need to share? Or maybe there's something else on your mind you're wanting to talk about with fellow Fandomentals? Head on over to our Community server to join in the conversation!