My Shelfie is an abstract strategy game of tile placement into your plastic shelf. You just took home a new book shelf and need to fill it with your favorite items. Board games is first on your list, of course, but what else might you put on your bookshelf? Different tiles with different items will be used to slide into your bookshelf and score points according to their placement and goals in the game. The game is designed by Matthew Dunstan, and Phil Walker-Harding and published by Cranio Creations and brought to the USA by Lucky Duck Games.
What's in the Box?
1 Living Room Board
4 Bookshelves
4 Card Holders
12 Common Goal Cards
12 Personal Goal Cards
1 Bag
132 Item Tiles
1 End Game Token
8 Scoring Tokens
1 First Player Seat
How's It Play?
The goal for each player to fill up their bookshelf with different tiles. The orientation or placement of the tiles is paramount because you have goals you're trying to complete. Each player has an individual goal of specific locations on their bookshelf that want specific tiles, but also there are common goal cards that all players can score when completing these requirements. The game ends when a player completely fills up their bookshelf.
Again, personal goals are scored for how many locations that you match with a specific colored tile; the more you complete, the more points you score. The common goals are first come first served, as there is a pile of point tokens laid on that goal and whoever completes it first scorse the tile on top, which lists a number of points greater than the tiles underneath it. Lastly, adjacent item tiles score points. You want to group the colored tiles together the best as you can while also completing your other goals.
Players take turns in a clockwise direction and on your turn, you must take 1, 2, or 3 item tiles from the living room board. The tiles you take must be adjacent to each other and must form a straight line. Also, all the tiles you take must have at least one side free  at the beginning of your turn. You then place all your tiles in 1 column on your bookshelf, and you can choose the order.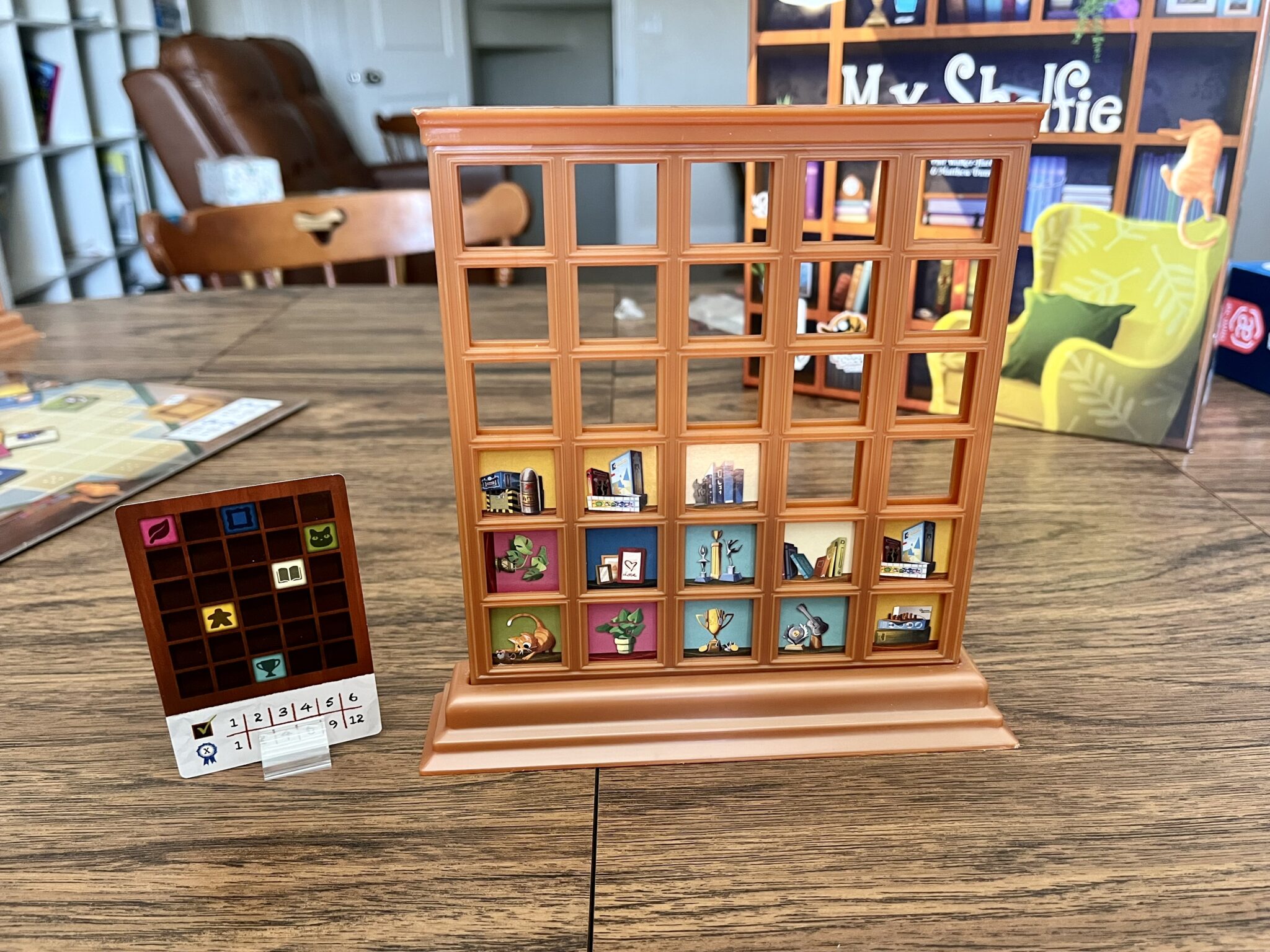 Whenever the board has 4 or less tiles on it after a turn, the is refilled with tiles from the bag. After a player finishes their bookshelf, the game ends and players add their points from point tiles from the common goals, points from personal goals, and points from groups of adjacent items that are of the same type. The player with the most points wins the game.
The Verdict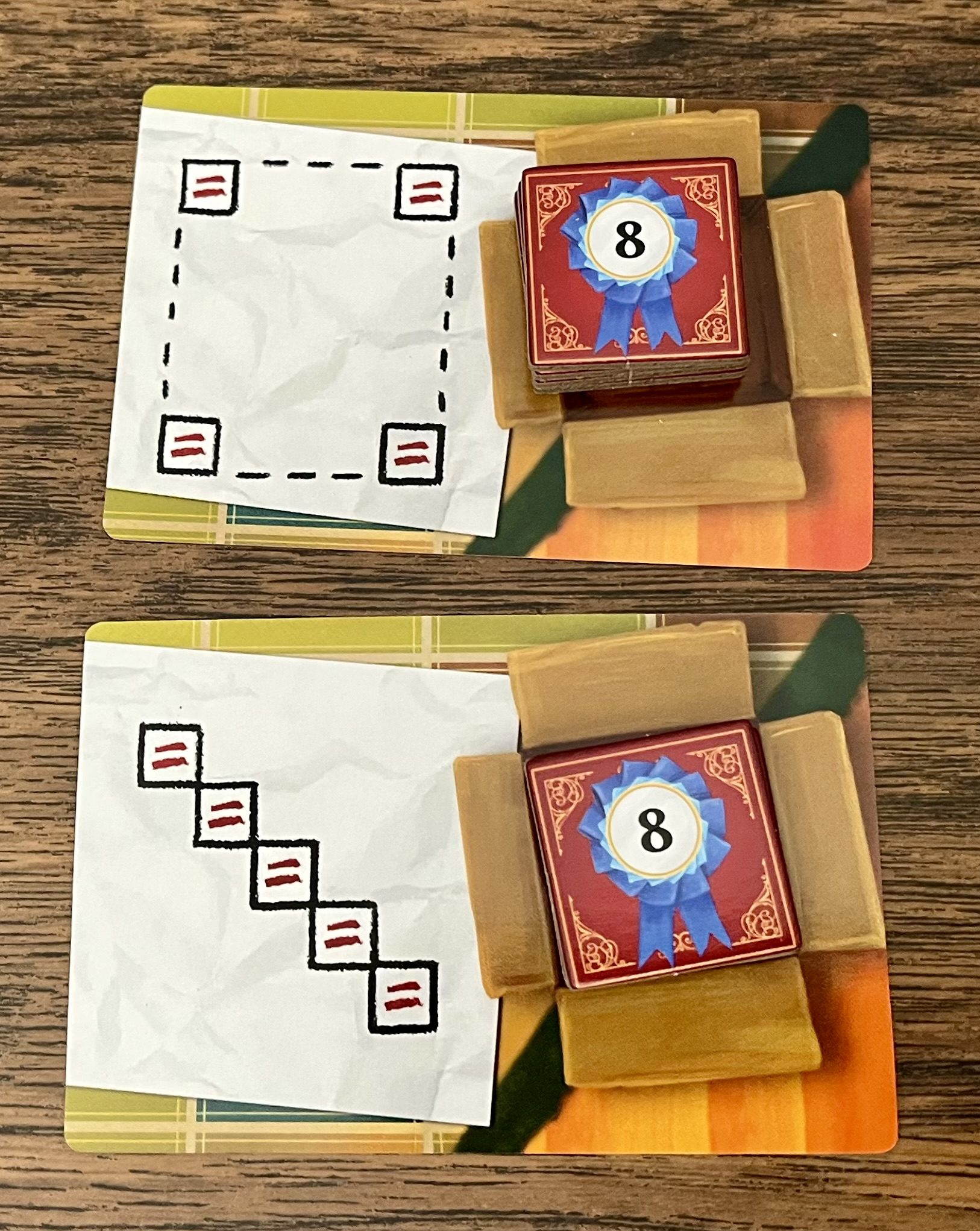 My Shelfie will be perfect for some, and maybe too light in complexity for others. The game is perfect for my kids and I. The game includes ways to choose tiles on the board that you want to place on your shelf. The strategy is balancing your choices so you can score the most points from the various goals. You want to overlap as many of these goals as possible when placing your tiles into your shelf. Manipulating the board in a way to give you possible options in the future is a more advanced layer to the design so you can eventually get the tiles you want.
We really liked the connect-4 tray where you slide your tiles into it. It gives you a satisfying way of actually doing something and actually filling up your shelf. The game could have done this by simply placing tiles onto a board that shows your shelf, but instead they decided to use the plastic shelves to give a more complete feeling of organizing your book shelf.
My Shelfie is simple enough to explain and understand. There is overlap between goals which can make the game feel a little more strategic. The goals might be great for my kids and for those who are more casual players, but for me, I'd like to have additional ways to score more points, more layers to the game so I can maximize points in several ways.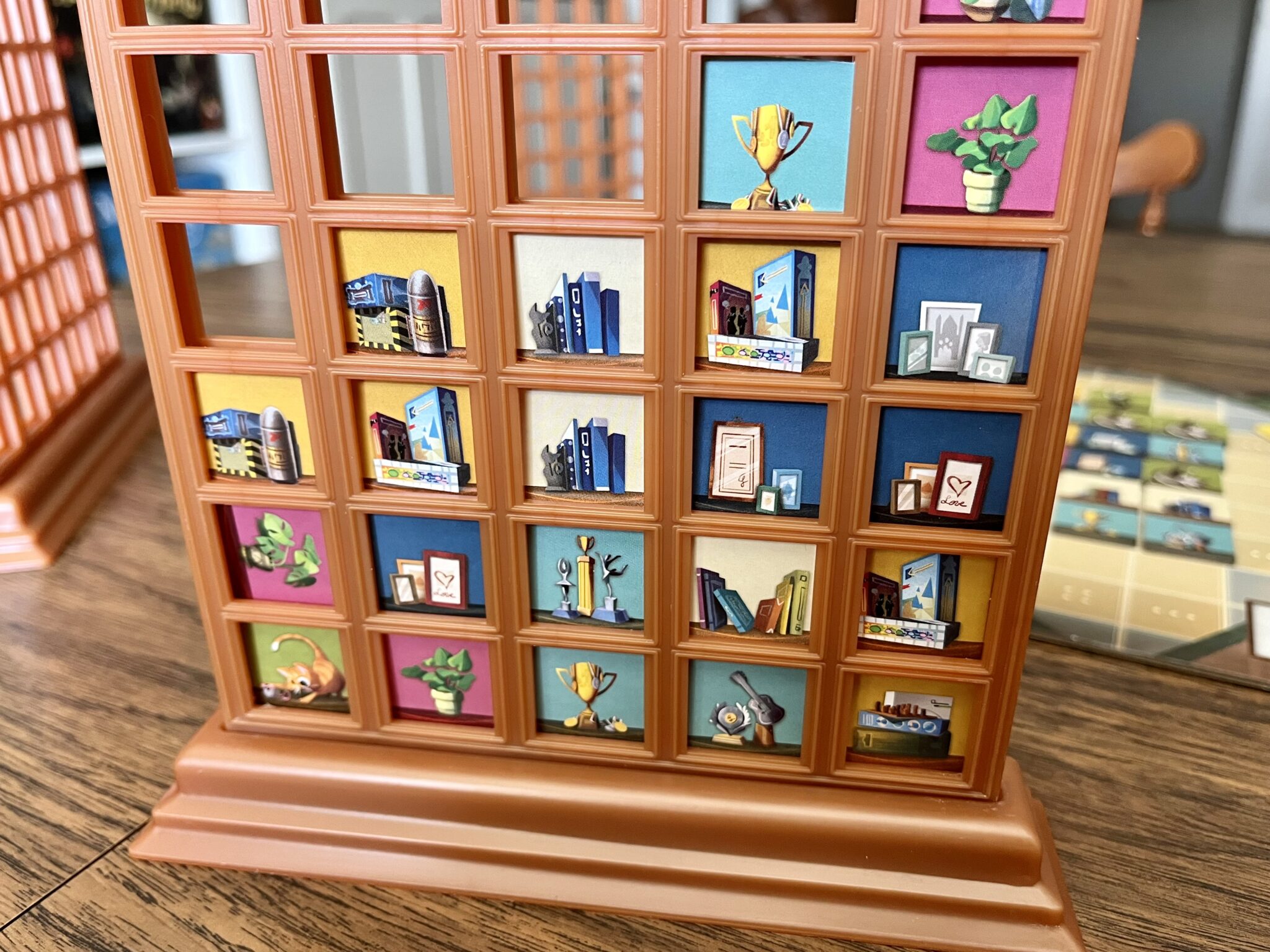 My Shelfie takes a very known connect-4 drop mechanic and mix it with some more modern tile placement design to the game to make it a very welcoming game for everyone. On top of that, the way you collect tiles adds to a more puzzle like and strategic game than just choosing whatever tiles you want. 
Images via Cranio Creations and Lucky Duck Games
Have strong thoughts about this piece you need to share? Or maybe there's something else on your mind you're wanting to talk about with fellow Fandomentals? Head on over to our Community server to join in the conversation!