My First Queer: Victorious
This article is part of the My First Queer series, a site-wide series of articles written by some of our non-straight Fandomentals contributors. Each will contain their thoughts on their first experiences with queer media and what it meant to them. Enjoy!
Hey everybody! Today I'd like to talk about a show that is very near and dear to my heart. One that I still love and rewatch to this day. And that is…the Nickelodeon sitcom Victorious.
…Yes, really.
So, for those who don't know, which I suspect is most of you since this show started eight years ago and was canceled six years ago. A quick summary: Victorious is about the shenanigans experienced by one Tori Vega (played by Victoria Justice) after she is accepted into a performing arts school in Hollywood. She meets a group of eccentric (by which I mean most of them should either be in therapy or a mental hospital) characters and works to become a pop star.
That's pretty much all the important stuff. Victorious is the opposite of serialized. Not only is there no overarching plot, there aren't even any two part episodes. To be fair, that is somewhat the norm for sitcoms, and a few characters do undergo development. Still, I readily concede that this show has not had a large cultural impact. In fact, if it does sound familiar to you that's probably because you were looking at the Wikipedia pages of some of its stars, most likely Elizabeth Gillies or Ariana Grande.
So, with that being said, why do I care? Why do I want to talk about a Nickelodeon show that got three seasons (technically four, but the fourth season was made by cutting the third in half so I say only three) and ended roughly half a decade ago?
Well, because Victorious holds a very special place in my heart as both my first fandom and my introduction to femslash. Both things that led to me being able to start my journey to realizing that I was A) trans and B) a lesbian. No joke. I…don't know where I'd be in my life were it not for this show. Maybe some other fandom would have come along and lit the fuse. Maybe I'd have come to these realizations in some non-media related manner. Or maybe I'd still be living as a desperately confused and depressed conservative cis guy. Who knows? The point is that while I wouldn't go so far as to say that Victorious saved my life, it did change my life, and I feel that that deserves discussion.
So, how did this happen? How did Victorious become so important to me? Well, this story begins with fanfiction (rarely a good sign). In Victorious one of the main characters is Jade West (played by Elizabeth Gillies) and she…she's just one of my favorite characters ever. I adore her. Jade is my ideal best friend.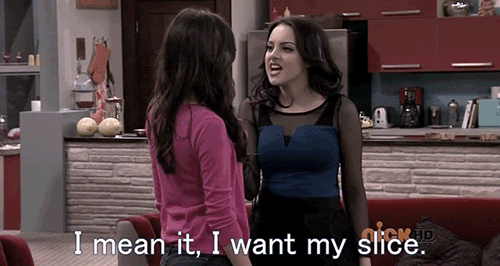 Anyway, Jade has a somewhat adversarial relationship with Tori throughout the series. I say somewhat because it starts out very antagonistic and softens over time from 'we can't stand each other' to 'we bicker a lot because that's what friends do.' And because snark battles are my favorite form of flirting, I started to ship the two. Of course, I didn't know it was called shipping at the time. I had no idea there was a name for it. I barely even knew what fanfiction was. I'd only recently discovered the medium around the time I started getting into Victorious. At the time, I didn't even know what Tumblr was. I'm not sure I'd even heard the term 'fandom' at this point.
So, there I was just looking through my new discovery, fanfiction.net (I believe my first fic was a Beetlejuice/Twilight crossover actually). I thought to myself, "Hey, I know romantic fics are a thing…I wonder if anybody else is getting the same thoughts about Tori and Jade that I am?" and clicked my way to the Victorious section of the site, then started adjusting the search filters.
I was very new to this whole 'fanfiction' thing, and just barely starting to fight back the homophobia instilled in me by my parents and their religion. So I figured that maybe one person wrote something, and it was probably going to be porn but at least it would be something. What I was not expecting was to find dozens of stories. Dozens that, as the show went on, would become hundreds. I was suddenly exposed to the fact that no, I was not weird for wanting to see two girls flirt and date and be happy together and fall in love and maybe kiss along the way. I was not alone. There were all sorts of people thinking the same things as me. Others were watching the exact same show and having thoughts similar to mine.
This was, as you probably gathered, mind blowing. The closest I'd come to gay before was the Sweeps Week Kiss that Heroes had in its final season (the only season I've seen actually), which I did spend a lot of time thinking about, but I thought it was just because it was 'scandalous'. It took me an absurd amount of time to realize oh hey, I wanted to be one of those girls. Like, I didn't piece it together until a while after I found out about the Jori (Jade + Tori) fandom, and a few others as well, which is why it's just a footnote in this tale.
Even after learning about femslash and that no, it wasn't all just porn, I still didn't quite piece everything together. I still just figured I was a straight guy. The implications of the fact that almost every ship I liked was WLW never really sank in. Just "La di da di da, I'm a straight guy who doesn't really like straight romances, and always chooses to play a female character in video games whenever it's an option, and who mainly relates to female characters, nothing significant about this!"
Yes, it would take me another two years to put the last few puzzle pieces together. And when I did, I did so largely thanks to, again, Victorious. Namely, at some point I discovered Tumblr. I know that it was first in the context of Jori, but I admit that the exact details of how and why escape me. It could have been a search result on Google, or a fanfic writer could have put a link in their notes segment. I don't remember unfortunately. But regardless of how it happened, I started trawling through the #Jori tag on Tumblr. This in turn lead to following links to the posters's blogs, which in turn lead to looking at other tags, and finally discovering the existence of transgender people.
No, really. I grew up in two very conservative states, to very conservative parents, and went to very conservative middle and high schools. Like, so conservative that when a student would defend gay marriage, the rumor mill would immediately declare that said student must be gay because why else would they be pro-gay marriage, and I just kind of accepted that.
By the time I was 18, the closest I had come to discovering trans people was clips of 'Sweet Transvestite' I saw in the Nostalgia Critic's Top 11 Villain Songs list and Bugs Bunny tricking dudes. My entire context was basically just jokes and dudes getting their rocks off by wearing panties. And that didn't really look like it was going to change until I started branching out on Tumblr. It's not really something that gets brought up at my home unless my parents are angry at me, and then it's just in the context of why I can't be trans.
The best analogy I've been able to come up with for the 'if you're trans why haven't you always known, or at least figured it out sooner like that kid on TV' question/argument is this. Imagine growing up and needing glasses. And I mean really needing glasses, like everything is blurry and kind of vague looking. But nobody you know has glasses, and nobody comments on your vision and the issues stemming from it. You never really see (ha) anyone discussing glasses in media, so you assume your experience is normal. And then one day you discover glasses and suddenly you have a context in which to view your issues, and a realization that no, not everyone has this struggle and yes, there is a way to deal with it, even if the problems stemming from it can't be erased.
In this analogy Victorious is the friend who notices your vision issues, and after realizing what's happening drags you to the eye doctor to get tested and get a prescription. Sure, they aren't the eye doctor, they didn't pay for the glasses, and they don't even wear glasses. But without them you never would have gone to the eye doctor and found out what the hell was going on.
Now, you're probably thinking 'that's a nice story Molly, but how's this relevant to me? Is Victorious worth any thought without all these emotions attached?'
I would say…yes. And I want to establish that I'm not running purely off of nostalgia and half-remembered memories. I did go back and rewatch a bunch of episodes when I was contemplating this article. To see if it still held up now that I'm an adult or if, like with most things I liked as a child (particularly live action Nickelodeon/Disney Channel shows), it was hard to sit through. And to my extremely pleasant surprise, it does hold up. Quite well honestly. It helps that Nickelodeon actually got some teen actors with experience; half the main cast had performed on Broadway already, and not in small roles either. This means even when the writing is off, they're able to sell it fairly well. As an adult, Victorious isn't even a guilty pleasure, it's just…a pleasure.
The plot is basic of course, with most storylines wrapping up by the end of the episode they were introduced in. But basic and bad are two different things. This frankly isn't the kind of show that needed complex plotting, or that would have been helped by it. Giving Victorious season long arcs would have required fundamentally changing what the show was.
Where Victorious shines (ha) is in its characters. In particular there's Tori herself. One particular problem that shows up in sitcoms, especially those made by the likes of Nickelodeon or the Disney Channel, is that the main character (if there is a clear main character) tends to be rather bland. They're the one we're here to root for ninety five percent of the time, so they're likely to come off as just sort of vaguely and generally flawed but not too flawed. Anger, jealousy, and other negative emotions can be expressed, but usually only at certain characters and in certain situations. But Tori gets mad at everybody at some point. It's not always justified anger either. The show goes out of its way to portray Tori as being in the wrong more than once. She has to be called out and apologize.
And at the same time, Tori is still a fundamentally good person. A flawed one, yes, but also a kind, helpful, and optimistic person. I know that 'likable but flawed' is a low bar, but you'd be surprised at how many sitcom protagonists can't clear said bar.
And then we have the other characters. There's Jade, who I mentioned loving earlier. She is the angry goth girl who likes dark and spooky things. On the scale of goth girls, I'd say her aesthetic is more important than it was with Sam from Danny Phantom, but less so than it was with Lydia from Beetlejuice. Her relationship with Tori is the only relationship that really develops throughout the series. And I'm not talking about relationship in a romantic context (not entirely anyway), I mean the way they treat each other and interact. This is largely due to the fact that Jade is the only one whose relationship with Tori is remotely antagonistic, and so there's a way for it to positively change.
Even without a romantic lens, I quite like the relationship between Jade and Tori actually. Both change the other—Jade makes Tori less of a pushover and more willing to stand up for herself, while Tori makes Jade kinder and more empathetic. Also, Jade's favorite movie is called 'The Scissoring.' and her social media profile is 'scissor love.' Make of that what you will.
As for the other characters, we have Andre (played by Leon Thomas the 3rd) who's the most consistently kind character in the series, though he doesn't handle stress well. There's Cat (played by Ariana Grande) who is…very spacey and should probably be on some medication. Robbie (played by Matt Bennet) is a nerdy, neurosis ridden boy with a rude split personality that manifests in the form of his ventriloquist dummy. And there's Beck (played by Avan Jogia), the closest thing to a straight man in the group being the calm, honest, and straightforward one (also the only one who never sings).
Okay, I admit that most of my praise has to have the caveat 'for a Nickelodeon sitcom' but let's be fair: compared to Two and a Half Men, The Big Bang Theory, or Young Sheldon, Victorious is freaking One Day at a Time (Netflix). And honestly, I really just enjoy the heck out of this show. And I won't pretend that my experiences haven't colored my appreciation.
Seriously though, Jori for life.
---
Images Courtesy of Nickelodeon
I like my women… competent
Criminal minds is a show that I enjoy watching despite sometimes watching it trough my fingers. It never fails to get my adrenaline going. One of it's many great traits is the selection and capability of present female characters, be it unsubs or agents. The lead women are versatile and different while still having a few common traits. Furthermore they're always competent and do the job the best they can.
The leader
Emily Prentiss is one of member of the team that was with them from almost the beginning. She went trough all the career steps, finally becoming the team leader.
Her being in charge was one of my favorite story lines. She earned that privilege with exceptional service and field work with various agencies. Her character replaced Aaron Hotchner as unit chief in season 12 after he resigned. It's wonderful to finally see a woman leading a team; it happens so rarely. She has a great deal of experience with many different cultures as her parents were diplomats. That's also how she speaks a few different languages, and it's a skillset that has helped solve quite a few cases.
While on cases, she' s rarely upset or lets her emotions get in the way, which is one of the reasons why she makes a great unit chief. She is level headed and calm and always factors many different scenarios into her decisions. With that being said she is also quick on her feet and can make split second decisions when she needs to.


While being calm and collected she still empathizes with the victims and their families and doesn't hesitate to sacrifice herself to protect others. She's not only a skilled field agent but also an undercover operator, which was shown in her stint catching Ian Doyle. That particular unsub also forces her to fake her own death without informing her team, with JJ and Hotchner being the only exceptions. She eventually reunites with the team in season 7 after the whole Doyle debacle was over.
She isn't with the BAU the entire time. As previously stated she also work with other agencies like the Interpol. Even if she isn't always with the team, she is referenced and talked about or pops up for a visit. Her work as unit chief hasn't always been smooth sailing either. She was reassigned after she pursued a case and went toe to toe with Linda Barnes, who disbanded the team.
The mother
Jennifer "JJ" Jareau is the only women on the team with a family. She has two sons with her husband Will, who was a police detective in New Orleans. The fact that JJ is a mother strongly affects the way she acts and responds.
Although she started working when she wasn't a mom, she always sympathized with the victims and their families the most visibly. Since she started as a police and media liaison, JJ was often responsible for contacting the families of the victims or their loved ones. She always did a great job while consoling them.
Her early role as media liaison made her the "media face" of the bureau, as she often spoke at press conferences. She was also responsible for choosing the cases the team would be working on, so her job came with a lot of responsibility. Her excellent work in that position was the reason for her reassignment and classified assignment. After her comeback in season 7, she made the change to profiler and her responsibilities were taken over by Hotch and Penelope. She is a skilled profiler, as even before she was one she was often crucial to solving cases and did that job even without the title. Her transition was also easier because she observed the team as their liaison.
She was one of the two people to know that Emily didn't die. As they are close friends. JJ was also the one who met Prentiss in Paris after her "death"." That close friendship is a recurring theme with the two characters, as Prentiss comes back when Jennifer is missing.
JJ has been trough tough times including the suicide of her older sister, her classified assignment, not to mention the toll the cases take. While she can wear her heart on her sleeve, she is also a skilled operator who will do anything for her family and for the people she loves. As my choice of calling her "the mother" implies, Jennifer is the one who takes care of all the team members. She shares a special bond with Reid, who is the godfather of her son Henry.
Finally, Jennifer is also a great leader, which was showcased when she replaced Emily Prentiss in the role of team leader. Although she has the ability to lead she doesn't aspire to be the BAU's chief. She's content being an SSA.
Baby Girl
The first thing that springs to mind when thinking of Penelope Garcia is her relationship with Derek Morgan, well, and her unique personality.
Penelope is a former hacker gone good who's now a technical analyst. Out of all the Criminal Minds characters, she's the most colorful one—literally. Garcia often offers comic relief and a sense of light and joy to the intense show, and is the one the audience can probably relate to the most if you exclude her computer knowledge.
She is very emotional and openly shows all of her reactions. It doesn't surprise anyone that she can't look at horrific crime scene photos; her office is filled with colorful and cute stuff because of the horror that fills her screens (that's what Hotch says to Strauss while describing the analyst). She also often speaks a bit too intimately when talking to team members, especially Derek. She gives him nicknames like chocolate thunder, etc, and he, in turn, calls her 'baby girl'. These would normally be considered sexual harassment (which was even addressed in a funny scene in episode 9×12).

But it never actually crosses that line because they have a mutual understanding that it's a consensual conversational choice. In fact, Penelope's special relationship with Morgan is what initially drew me to the show. There is just something in how different they are personality-wise while still being very close to each other and understanding the other perfectly that compelled me. And while my shipper heart never understood why the two never dated, I have to admit that sticking to a platonic relationship between these two was a great move.
She makes him laugh and calls him out on his BS. He grounds her and helps her focus and get the job done. Their close relationship is probably the reason why it took Garcia a long time to warm up to Luke Alvarez, who replaced Morgan after he retired. It was implied that Garcia and Morgan are still in contact despite him not being on the show; she is even the godmother to his son.
As previously stated, Garcia is a skilled computer expert and former hacker. Her work is often crucial to finding the unsub. While that is her primary job, after JJ's promotion she also became the liaison for the team. A job she shared with Hotch till he retired. The best way to describe her is that Penelope's character is the counterbalance we need to all the heaviness and seriousness of the show.

Criminal minds proves that we can have a show that perfectly balances it's male and female characters. It offers us a selection of women who all are intelligent, skilled, competent, educated, professional, and strong while staying human and showing emotions.
---
Images courtesy of CBS
Game of Thrones 3×06 Rewatch: The Fall
It's time for one of the famous Game of Thrones monologues in this week's installment of The Wars to Come, our rewatch project looking back over David Benioff and Dan Weiss (D&D)'s masterpiece to see where it slipped out of gear. Last week, we appreciated Bryan Cogman's use of book dialogue. This week, Kylie, Julia, Musa, and Bo examine some of D&D's iconic writing in "The Climb."
Episode Recap
It's a difficult week for our characters on Game of Thrones, and Sam and Gilly are no exception. They may have escaped the Night's Watch mutineers, but they're still a few days from The Wall, and traveling alone.
Bran is also traveling, though with his new companions in the Reeds; there's also new strife between Osha and Meera. The two women bicker since both feels the other is rude to them; this is quickly interrupted when a sleeping Jojen begins to have a seizure. Meera takes care of him through it—apparently this is a common side-effect of his green dreams.
Also traveling up north are Jon and the wildlings, who are planning on scaling the Wall. Ygritte tells Jon that she knows he didn't really defect from the Night's Watch when he killed the Halfhand. She doesn't mind that, but she tells him that they need to look out for each other, since they're both just soldiers on different sides of wars who don't truly matter to those leading the efforts. They climb the Wall with Tormund and Orell, though there's a moment where it seems like they won't make it, and Orell proves that he was more than willing to sacrifice them if it meant him making it to the top alive. When they finally reach the top, Jon and Ygritte passionately kiss.
Meanwhile, in parts still undetermined, Theon is yet again being tortured, this time by the man who pretended to free him. The man admits that he is a liar, and they "play a game" where the man flays one of Theon's fingers. If Theon begs him to cut it off, the man wins.
At Riverrun, two Freys deliver Walder's terms to make up for Robb's broken marriage. Walder wants Harrenhal, which Robb agrees to give after the war is over. He also wants Edmure to marry one of his daughters in place of Robb. Edmure initially refuses, but this is the only way to get Walder to agree to support Robb's efforts in taking Casterly Rock, so Robb, Blackfish, and Cat all persuade him otherwise.
Speaking of that now promised Harrenhal, Jaime and Brienne dine with Roose Bolton, since they are now being treated as highborn prisoners. Roose tells Jaime that he'll be free to go back to King's Landing, provided that he explains to Tywin that it was Locke acting independently when he cut off his hand. Brienne, however, has to stay behind, since she holds no value to Roose and he considers her a traitor. Jaime argues against this, but Roose tells him not to over play his…position.
Elsewhere in the riverlands, Arya practices her shooting with the Brotherhood without Banners when Melisandre unexpectedly rides up. She meets Thoros and Beric, and learns about Thoros resurrecting the storm Lord numerous times. She then gets the Brotherhood to sell her Gendry in exchange for gold. Arya yells at them for this, but they don't change their minds.
Finally, in King's Landing, the weddings between Tyrion and Sansa, and Cersei and Loras, are finalized when Tywin tells Olenna that he'll name Loras to the kingsguard—giving up all claims to Highgarden—if she refuses this offer. Loras likely won't mind, since his attempts to converse with Sansa demonstrate his supreme disinterest in the match. Cersei and Tyrion discuss their upcoming weddings with each other, and how they're unlikely to be able to get out of them. Tyrion asks once again about Ser Mandon trying to kill him, and it's revealed that it had been Joffrey, not Cersei, who gave the orders.
Resigned to his fate, Tyrion tells Sansa about their engagement, made all the more awkward by Shae being right there. Sansa is crushed. Littlefinger and Varys discuss these events in the throne room, since it was Littlefinger who spoiled the arrangements anyway. He tells Varys that he thrives on chaos, which is a ladder, and implicitly informs him that Ros is now dead, since she informed on him to Varys. We are then shown Ros, who was murdered by Joffrey with his crossbow, presumably wanting to try out killing for the first time.  
Is chaos a ladder? We are absolutely going to discuss that below.
Initial, quick reaction
Kylie: Aaaaand here's the Game of Thrones I've been watching for the past three years. Holy bajesus did this episode plummet right off the cliff faster than Jon and Ygritte. There's a few pieces that were fine, but the King's Landing plotline (and climax) is just a comedy now. Then we've got the return of torture porn, Mel's adventure of randomness, and a catty Osha and Meera. This was just…such a decline in quality.
Bo: They quadrupled down on the gratuitous violence here. It's the only impression this episode left on me. The hard dive into torture porn was unrelenting. You can tell they really want this to define Game of Thrones, too. I suppose it does. In the end Game of Thrones is the show of gruesome violence that punishes viewers for caring about anything and simply tortures for torture's sake, just like Ramsay. The ultimate example of which comes in 3 episodes.
Julia: I like the idea of show!Ramsay being some kind of personification of the show itself. The question then is, who are the Knights of the Vale?
The only thing this episode didn't have, in terms of Classic GoT Moves™ was making you like a character and then killing them horribly.
Musa: I was seriously just bored throughout this episode. There was so little about it that I felt in anyway compelled to be interested in. Even the infamous speechifying at the end was not enough to save it.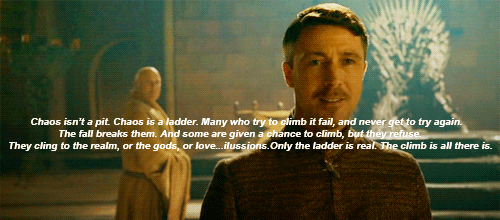 Kylie: I remember it being funnier, and less like word salad.
Highlights/lowlights
Kylie: I think my highlight was the Roose/Jaime/Brienne dinner. Those are three great actors, and you could tell that things were in motion with Roose that Jaime/Brienne were in the dark about. It also felt like there was tension, with Jaime insisting on Brienne accompanying him and such. There's not much to say beyond that; a solid scene in a cruddy episode.
Am I allowed to pick everything in King's Landing? I guess I'll pick Sansa's scripting if I have to focus in on one thing, where she's so oblivious talking to Loras as he's going on about fringed sleeves, and then is naively prattling to Shae who seems to know she's being dumb, and finally she's shown crying at the boat just as Littlefinger says, "Some are given the opportunity to climb, but refuse." Everything put together makes her seem like this unobservant, imperceptive, superficial dolt. Which is a charming 180 from the books.  
Julia: In the interest of lowlight diversity, I'm going for the stuff with Osha and Meera. I think it's quite indicative that they saw a plotline they thought was boring (their problem, in my opinion, not the plotline's) and decided to fill it out with two women snipping at each other for no reason.
I would count the Brotherhood selling Gendry, but I think that's mostly because I know what they'll do with it by season 7. They did seed that they compromise their principles because they "need the gold" after all.
Highlight… huh. I agree about the Harrenhal scene, I guess. Though I think the direction was a little too willing to laugh at Brienne in a dress, rather than, like, using her discomfort with wearing traditionally female clothes to develop her character.
Bo: Meanwhile, Loras Tyrell, promising knight who represents a young Jaime, knows more about fashion than Sansa Stark. Of course he does. He's gay. Get it. Everyone laugh because sword swallower.
I really don't have anything that stood out as a highlight. The Bolton dinner scene was fine. From a purely spectacle level, the Wall climb was pretty cool. That's all I have.
Theon's torture is my lowlight. Ramsay says all there is to say. This scene exists just to exist. It's just there to make us feel bad, just as he's only torturing Theon to hurt Theon. It's pointless, gratuitous, torture porn by every definition of the phrase. Ramsay also speaks the line that truly defines one of the key reasons I dislike the show so much, and the line that has caused millions to misinterpret what Martin wants to do with A Song of Ice and Fire. Shame on the torture scene. Shame on everything about it.
Musa: I'm going to have to double dip and say the torture stuff was my lowlight too. There's a lot to be said about the poor handling of Theon's torture. I'm sympathetic with the idea of not wanting to just leave the character and his story hanging for a whole season where he doesn't appear (though it's not like they wouldn't do exactly that with Bran later) but there doesn't actually seem to be anything worth exploring in what they show. Ramsay is a monster and Theon is being horribly brutalized after having done a lot of terrible things in his own way. That's basically about the gist of this plotline and they spend ALL SEASON on it.
A highlight is significantly more difficult to really pull out of my hat here. Honestly, aside from all the nonsense of that scene itself, I actually do enjoy the back and forth between Charles Dance and Dianna Rigg. I mention the actor's names instead of the characters because it's honestly really just the actors showing off their performance chops in a scene together rather than anything meaningful for either character that they're supposed to be playing. I don't know whether I want to fully believe Tywin is just THAT uncomfortable with the topics of menopause and homosexuality, but I definitely felt that I was watching an old straight white man being confronted by things that are not his forte and thus terrify him to discuss them openly.
Quality of writing
Bo: "Chaos is a laddah." "If you think this has a happy ending, you haven't been paying attention."
We could probably leave it there. This episode was full of grimdark nonsense that D&D love. I'm probably being overly harsh, but I just feel nothing but grimness and anger afterwards. The Tywin/Olenna and Varys/Baelish scenes are also prime examples of D&D thinking they're more clever than they really are.
Julia: You forgot "A sword swallower, through and through."
I think it's kind of amazing how obvious it is that the split of A Storm of Swords leaves both Cersei and Tyrion with nothing to do this season. So Tyrion is just asking random people who tried to kill him and Cersei is…sad she can't control Joffery? What Emmy worthy arcs.
Bo: Remember people saying they can't adapt A Dance with Dragons because it would be boring to have Tyrion wander Essos asking, "where do wh*res go?" every episode? I guess this is different somehow. Tyrion sitting around Meereen drinking and telling jokes was different, too. Somehow.
Kylie: I guess Tyrion gets married on top of drinking. Though why that particular conversation was put off-screen is beyond me. It kind of seemed like the one bit of natural tension there to be explored, since Sansa and Shae were both in the dark.
We have to talk about the climb monologue, since the whole damn episode is structured around it. Nevermind Varys and Littlefinger no longer bearing any resemblance to their book counterparts (this is why the spy vs. spy doesn't work!), but the content of the speech itself was complete drivel. "Some think about climbing, while others don't climb, and some only know the climb, and the realm is an illusion!" It sounds like some first year English major who just learned about post-modernism. The point is that chaos creates social opportunity, but he's still climbing the social order very much within the feudal framework. So…it's less "chaos" and more "unrest." Or even more simply, "some people profit in war." Menacing.
Bo: Which is exactly what I mean by D&D thinking they're more clever than they are. They love monologues like these, even when they're often complete nonsense. I suppose you could give them the benefit of the doubt in that this is only Littlefinger's view of the world, and that it's a view proven false when chaos does prove to be a pit that swallows him whole later. But do we really think that's what D&D had in mind with this speech?
Musa: The biggest problem with all the Littlefinger and Varys stuff is that they clearly outright state to each other stuff that they've done to try and thwart each other. In the books, they don't do that…because they don't want the other one to know what they're doing. And that, children, is how actual spies and political machinators operate. Littlefinger expositing to Varys that he KNEW ALL ALONG about Varys' scheme to give Sansa to the Tyrells and that he's also had Ros killed just gives Varys additional information.
Also another sighting of random Varys Marx, doing things "for the good of the realm," whatever the hell that's supposed to mean. No wonder that sends Littlefinger off into his nonsensical monologue, it makes just about as much sense as Varys doing things for the good of the abstract concept of "the realm."
Kylie: He was having Ros confide to him about Sansa boat logistics for the good of the realm. Duh.
Our 8th grade book report (on themes)
Kylie: I'm having a really hard time linking what Ygritte said to Jon to anyone else. From what I can tell, the best theme is, "everything is bad, and if you think it's good, you're dumb." In every plotline, maybe with the exception of Bran/Sam's, people are not having the best go of it. Sansa, Loras, Cersei, Tyrion, Ros, Shae, Edmure, Theon, Brienne, Gendry, and even mildly Olenna are dealing with some kind of terrible news this episode. Jon and Ygritte maybe ties in with her words about how everything's terrible, which is why they need each other, though they had a more uplifting ending to it. Still, acedia is in full swing here.
Julia: I think you can actually link the title and the speech with that, as eye rolling as the exercise is. And the Wall is a visual representation of this ladder that LF is speaking of, though why they chose to mix their metaphors here is a good question. Why can't chaos be a wall?
Bo: Jesus, why wasn't chaos a wall?! I doubt it helps the speech that much, but it would have been better than a ladder. I'd agree that the "chaos ladder" is the theme of the episode. We're seeing everyone try to climb it and how well (or not so well) the climb is going.
Except Ygritte, who just wants to step off the ladder and take Jon with her? What a wonderful metaphor for my interest in this show.
Kylie: I keep think of Turtle's "chaos is a catch-all." Go read that one, guys.
The Butterfly Effect
Bo: I'm not sure this fits here, but let's remember how Melisandre banged the audience over the head with foreshadowing about Arya that never actually comes to pass. I'd wonder if they were going to cram it into season 8, but they already removed Mel from Arya's list without any explanation. Game of Thrones does this a lot in the first 3 seasons, where they foreshadow future plot points or establish future conflicts, then randomly dropped them when season 5 rolled around.
And of course, acedia. Sooooo much acedia.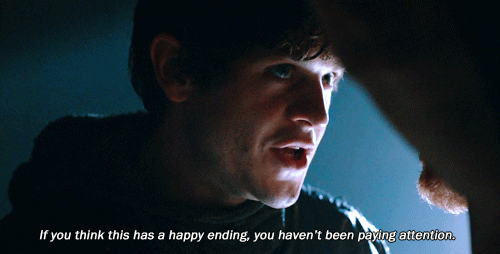 Julia: Maybe we're just supposed to think Mel is full of shit by season 7?
Kylie: I think they were setting something else up for Arya entirely this year, maybe thinking they couldn't just have her fuck around the riverlands for an entire season with The Hound, and certainly not spend two years in Braavos. This whole event puts Mel and the Brotherhood on her list, and then she just drops them off it by Season 5, deciding she's "forgiven them."
Something worth noting is that D&D stray further and further from using book lines, and begin to think of themselves as masters of iconic one-lines. Littlefinger and Ramsay both show that off here. I have to think if they had written the Jaime/Brienne tub scene rather than Cogman, I have to wonder if it would have still ended on the note, "My name is Jaime."
Bo: Considering their numerous changes to other lines, probably not.
Remember adaptation?
Bo: Good Guy Tyrion had to tell poor Sansa what's happening, rather than spring it on her come the wedding day like everyone else.
Kylie: I'm still confused why that was off-screen. And why Tyrion was the one to spring the news, now that I think about it.
I hate hitting on this every week, but Olenna's adaptation is just god-awful. Now we've progressed to her implying that Tywin had a gay experience because the Reach is so full of great allies?
Julia: I mentioned last week that that week's Olenna content was the second worst example of her being the official negotiator of House Tyrell. Well, here is the prime example of that nonsense. Maybe it would have made sense if she was yelling at Mace about his negotiating strategy, but Tywin actually had a meeting with her to discuss official marriages. During which she insults him to his face several times.
What even is patriarchy?
Kylie: Meanwhile, up north, can you tell me who is the best rabbit skinner of them all?
Julia: There's more than one way to skin a rabbit, Kylie. God, you're so judgmental.
Bo: It's hard to decide what they adapt worst at this point, but how they turned the Reach, the pinnacle of patriarchal medieval feudalism, into this anachronistic nightmare is beyond me. Did they just assume the entire Reach is like Renly since they followed him as king? I mean, Renly's not even FROM the Reach.
And I know I bang this drum a lot, but holy hell do they miss the point with Littlefinger, and his climb speech is exhibit A. Petyr Baelish is not a man creating chaos for chaos's sake, just to see what opportunities it creates. He deliberately causes havoc aimed at very specific goals. He doesn't pit the Lannisters against the Starks just to see what comes of it. He does so with goals in mind regarding Cat, and then Sansa. Reducing his scheming to, "lol chaos" would make book Baelish scream.
Also, the irony of Brynden freaking Tully trying to threaten someone into marriage. It's not completely against adaptation or anything, but it's quite funny.
Musa: I have a serious bone to pick with the change from it being maybe Cersei who possibly ordered Mandon Moore to kill Tyrion to it being definitely Joffrey who did so. They just keep on doing this thing where they continue to give Tyrion additional sympathy points while simultaneously taking menace and agency away from Cersei to give it to Joffrey. It ruins pretty much all three characters overall.
Kylie: Well Musa, that brings us to…
Carol Watch: who is Cersei this week?
Kylie: Poor Carol has done her best with Joffrey, but he went and tried to kill Tyrion and then she had no choice but to cover for him! Also, she's sharing in her misery with Tyrion and genuinely bonding about that. Yeah, we get some zingers like, "we could kill them" and calling Margaery a, "doe-eyed whore," but we all know Carol has a bad bark.
Julia: Well, Carol's character is hardly free of internalized patriarchy either. And who can blame her for being resentful of Marg, who's flouting all the rules and getting rewarded for it, when Carol spent all those years trying to make her marriage work and be a good mother and was still screwed over for it. Indeed she still has her dad trading her like a baseball card.
Poor Carol.
Bo: She loves her family so much. It's such a shame everyone tosses her aside when she just wants to protect them. How dare Tyrion question her about Mandon Moore? Lions need to stick to their pride.
Exposition Imposition: good or clunky?
Kylie: We learned that Jojen has seizures without anyone saying something, which is a good use of the visual medium. And I guess Sam explained highborn fire-lighting to Gilly. But in general, I'm just not remember a ton of exposition this episode. Which is probably more of a good thing than the alternative.
Bo: Yeah, the fact nothing immediately stood out as bad exposition means they at least did well here. Sam's song also does a nice job establishing more about religion in Westeros. Thoros described his life and newfound faith quite naturally, and overall the conversation with Mel imparted knowledge about the red priests.
Kylie: Yeah! Good on you, D&D!
How was the pacing?
Julia: This whole season's pacing is hilarious. I love how Littlefinger is still packing all his stuff six episodes in. And I've already mentioned how Cersei and Tyrion have had nothing to do.
Kylie: I feel like the people that actually have a full season's worth aren't in focus at all. Jaime and Brienne might be an exception, but the Night's Watch, Jon's new Wildling posse, even Bran and the Reeds (if they had wanted to bother building up characters) could have all benefited from more screen-time. It really is astounding how little happens each episode though.
Bo: Game of Thrones is so poorly planned. They clearly don't have a plan beyond the current season being written. That's how you end up with A Storm of Swords taking two seasons when it really shouldn't have. They should have bitten the bullet and dove into A Feast for Crows and A Dance with Dragons in the last third of season 4. We're supposed to buy the excuse that Feast and Dance would have been boring to adapt properly, though. We can't have multiple episodes of characters doing nothing!
There was no sex, baby
Kylie: Just some torture porn with both Theon, and then Ros's obviously sexualized death. Are we supposed to make something of the fact that Joffrey hit Ros in the same place Arya hit the strawman?
Bo: What is it with HBO shows and the taboo on men giving oral sex to a woman? Jon's weirdness about it brought back bad memories of The Sopranos doing a whole plotline about Junior Soprano being good at going down on his girlfriend but not wanting anyone to know.
Julia: And what is their weird thing about gay men not being able to pull off political marriages? And this idea that, like, they find all women so…boring or something, that they can't even have a conversation with them, even as just two people having a conversation.
I just remembered that the one thing Renly did say to Marg during their marriage is that he liked her dress.
Bo: They can't even get their stereotypes correct. I thought gay men got along great with women since they have so much in common, but not straight men? Wouldn't Loras and Sansa have a great time talking about gowns and weddings? I guess Sansa was too busy not being the least bit perceptive of people to notice.
Kylie: All I know is that as a bisexual, I have great conversations with everyone because of my sexual interest in 100% of humanity.
Julia: That's why the Dornish are the best conversationalists.
In Memoriam…Ros
Julia: The real death was any faith I had left in this show.
Kylie: Oh snap.
Bo: It's okay, Julia, you just need a good old-fashioned desperate resurrection to restore the corpse of your love for Game of Thrones. Just remember the old words they taught you.
Kylie: I think we're dancing around Ros's death because it's just so transparently voyeuristic. And gross. We didn't need it to characterize Littlefinger, or Joffrey, and it's just more of that punish you for caring. Ros showed concern about Sansa, well NOPE. Their shock-chasing is of the, "oh no, how messed up!' ilk, and this is a nice inception point.
Musa: Though overall, this episode seriously does a number on Game of Thrones's reputation as the show with lots of tits, dragons, and death. This episode barely had any of those things. So is it REALLY a real Game of Thrones episode, even?
Kylie: Not according to Ian McShane, though I'd say this can hang with the best of Season 6's wheel-spinning clunkers.
However, it's time for us to climb the ladder on out of this rewatch for now. We'll be back next week for some bear pit shenanigans, but we're curious to hear your thoughts on this week in the meanwhile. Again, we closed on King's Landing. Is it just the bad taste in the mouth that keeps on giving? Tell is in the comments, and we wish you good fortune in The Wars to Come.
---
Images courtesy of HBO
My First Queer: Evil Queens
This article is part of the My First Queer series, a site-wide series of articles written by some of our non-straight Fandomentals contributors. Each will contain their thoughts on their first experiences with queer media and what it meant to them. Enjoy!
Looking back at the other My First Queer articles, I have to say my experience is going to be rather different – but then again, each of those was different, too, and the experience is varied. Still, mine differs in the way that it is much more focused on attraction, instead of the more generalized realizations of queerness or powerful stories of love.
The second is definitely because there were none to be had. The first is, perhaps, because I grew up in a very liberal household. I knew about the existence of the the letters of the LGBTQIA acronym — except queer itself, I guess, because it doesn't really have a Czech equivalent — probably by the time I started middle school, and certainly by the time I was fifteen. There was no need to discover the idea of queerness.
What was an entirely novel concept, on the other hand, was the idea that it could somehow relate to me, or to anyone close to me.
After all, in most media queerness was — and still is — only incidental, something that happens to the side characters, and as everyone is a protagonist of their own story, I never considered that it would be something to touch me in person. When I try to think of the first piece of media where I encountered a non-straight relationship, it's difficult. I have been reading fantasy intermittently since I was eleven. Some of that fantasy probably contained background queer characters in a casual way that went well with my general expectations of "this is something that exists somewhere in the world but doesn't concern me in any way".
I do remember the first book where a non-straight relationship was at least a little bit prominent: the Witcher Saga by Andrzej Sapkowski. If you know Sapkowski or have read the books, you know it's not…exactly an ideal introduction into the world of queerness. The protagonist — or one of the protagonists — of the book, Ciri, runs away from an attempt on her life, almost dies in the desert, and finally joins up with a band of outlaws. The first night with them, she is molested and almost raped by one of the men. One of the other women stops him…and then slides into bed in his place.
This is the beginning of Ciri's first romantic relationship, which ends with her lover/rapist being brutally murdered by a man who then proceeds to enslave Ciri. So, you know. Not exactly the pinnacle of representation, and definitely not something you would want to model your romantic life on.
Sapkowski's books have other mentions of wlw, too: the long-lived sorceresses being bored of their relationships with men and so trying women for a time until they discover it's not any better. That caught my attention a little more.
I loved everything about Sapkowski's sorceresses. Powerful, beautiful and arrogant, I can say with the benefit of hindsight that however over-the-top and mired in sexist stereotypes, they were a combination of my life goals and my wife goals.
However narcissist that sounds, the kind of person I want to be has always been similar to the kind of person I want to have, be they women or men, because I've always been more fan of the concept of "marriage of true minds" than "opposites attract." That probably didn't help with making matters clearer, since it provided a comfortable excuse for why I cared about them so much: I wanted to be like them.
The most important part, though, is that the sorceresses weren't really queer. They were still predominantly depicted as straight, focused on the men and interested in them, and their gayness was only incidental, and always connected to men. That, combined with my real-life experiences, likely shaped my views for quite some time. Because the thing is, there was a lot of wlw women around me, but either none of them identified as bisexual, or I didn't know they did. Just like in Sapkowski! Sleeping with both men and women was just what all the really cool girls did, right? And men found it hot.
What an amazing view to absorb.
Sadly, it held through my actual first experiences with women, and of those around me. Looking back at it, it was insane. A good friend of mine was in a relationship with a girl, they even got fake-married, but I still thought of her as straight and didn't take it seriously. After all, it was just a couple of gals being pals. In bed.
In short, Sapkowski was the piece of media during my adolescence that got the furthest in having me engage with female queerness, and it did not go very well. But there was another way my identity as a straight girl had the potential to be eroded. Not with explicitly queer women, but with (assumed) straight women I simply found hot. And boy, were there plenty.
Like I said, Sapkowski's sorceresses hit me exactly in my weak spot. I have always been fascinated by the "evil queen" archetype. If I lived in a country where Disney animated fairy tales were the standard entertainment for children, I'm pretty sure my first queer would have easily and decidedly been Maleficent and the Evil Queen from Snow White. As it is, I only came across them later, and Czech fairy tale films don't really have any properly evil queens to speak of, for some reason.
So as it was, my first glimpse of this was Circe.
I had a retold-for-children version of Odyssey when I was little, and it was my favorite book. Odysseus was an amazing hero and everything, but there were also beautiful illustrations in my version, and the women in those illustrations were really pretty. Particularly attractive was the evil sorceress who almost defeated Odysseus (and totally would have if he hadn't cheated by getting help from the gods). She was a-ma-zing.
Not too long after, there was an encounter with Disney after all: I had a book version of Aladdin, and in Aladdin there was Yasmine. In particular, Yasmine in her slave outfit. Yeah, I know.
Looking back at it, I can hardly see for the amount of cringe I'm doing, and I could write dissertations on the orientalization and sexism specific to what can be found in those scenes. But my seven year old self didn't know anything about that. I just knew that there was, you know, something about Yasmine in that outfit, being so clever as she pretended to be willing to rule alongside Jafar.
I mostly thought it was because she was wearing red and I liked red. Like I said, I was seven.
The next step on this way was the evil queen from Never-Ending Story 2. I remember always being frustrated when she pretends to be good in the middle of the film, because she lost like half of her sex-appeal – though again, I wouldn't have put it that way when I was probably about ten at this point. Then came Sapkowski, and my love for his sorceresses. And around the same time, there came the most important stepping stone from the realm of media on my way to self-discovery: Monica Bellucci.
I honestly don't remember how I first came across her. It must have been online, because going through her filmography, the only things I really recall seeing her in are the Matrix films, and before that I was only aware of Asterix and Obelix. And I distinctly remember thinking when it came out, as a connoisseur of the animated version: yeah, she's a good fit for Cleopatra, she's hot.
So, somehow, somewhere, I discovered Monica Bellucci, and I was immediately smitten. To this day, I consider her effectively the epitome of female beauty.
I was fourteen when Matrix Reloaded came out, and I really enjoyed the scenes with her. A lot. In fact, they probably make me recall that film in a much more positive light than it deserves.  Soon after this, my computer was stuffed with all the pictures of her I could find, mostly of them lightly erotic. Hilariously, yes, I still believed I was straight.
I could continue listing all the other movies I saw with impressive evil queen/femme fatale types in them. Snow White and the Huntsman was a disaster of a movie. But the Queen, oh, the Queen! Well, I think you get the idea.
At any rate, Monica Bellucci was the first woman I have ever seen that I looked at and thought, yes, I want to have sex with her. Not even this, though, was enough to bring any change in how I understood my sexuality. Looking for the media that helped with that, the first media that actually included a healthy queer couple… That would be fanfiction. When I was over twenty, maybe even closer to my mid-twenties.
Yeah.
To be fair, if I had a varied romantic life in the years between, I probably would have figured things out sooner even without any books to help, but as I began dating my husband not too long after my Bellucci-induced awakening, that rather limited my exploration.
The fact still remains, though. It took twenty years of reading to come across a wlw couple worthy of the name. And it required fanfiction.
I read a lot, though I didn't seek out queer books – I probably didn't know that was a thing, to be honest, and if I did, I wouldn't have searched them out anyway. I was straight, remember? But I read a lot, and varied things – detective stories, fantasy, literary fiction. In none of that did I come across a proper wlw relationship.
The first "femslash" fanfiction I read was a bunch of stories from the Harry Potter universe. It was mostly sexual relationships, combining various Hogwarts girl into pairs and seeing what happened. While fun, it didn't do much to convince me to take my own preferences too seriously.
I can't actually pinpoint the one story that did that. What I do know, though, is that as I moved from my reading from HPFF to FF.net and then to AO3, the number of wlw relationships that appeared in my reading increased. Though they were still mostly background relationships, they were at least treated more seriously than what I was used to.
Little by little, the stories chipped away at my denial. But I still can't help to think that had Sapkowski been less of a sexist clown, and had two of his powerful women been badass wlw queens who ruled the Lodge of Sorceresses, I could have figured everything out so much easier.
In fact, that sounds like an AU fanfiction someone should write.
---
Images courtesy of Dimension Films, CD Projekt Red, Dargaud Films, Bounty Books, and Fabrizio Ferri