The long-awaited film "sequel" and stand-alone film to the Australian Miss Fisher's Murder Mysteries released worldwide in March and immediately had the fandom talking. Miss Fisher and the Crypt of Tears follows our favorite private detective, The Honorable Phryne Fisher (Essie Davis) in London and the British occupied Palestine as she saves a young Bedouin girl, Shirin (Izabella Yena) from prison and solves multiple murders along the way.
Based on the show based on the novels by Kerry Greenwood, the film picks up some time after Miss Fisher has left for London to take her father back home. It also provides both the old and new audience a conclusion wanted for years about Phryne's relationship with Detective Inspector Jack Robinson (Nathan Page) while leaving it open for future movies. (Spoilers to follow!)
Though she's saved Shirin, everyone assumes Miss Fisher's died in a train accident. This point simultaneously brings us to the main relationship drama in the film and context for why we don't get to see other original cast members for more than one scene. The only recurring character to receive multiple scenes, is Aunt Prudence (Miriam Margoyles). Still, for the brief moment that we get to see Hugh, Dot, Bert, and Cec (telling Jack about her death), it's enough to set the audience off in waiting for Jack and Phryne's reunion at of all places, her funeral!
Unfortunately for criminals everywhere and (fortunately?) Jack's mental health, Miss Fisher did not die and she flies right into her funeral shocking everyone. Plus Lady Lofthouse lets Phryne know that Jack knows about the Maharaja.  For new viewers to the franchise and the film, it's impossible to imbue all of the tension between Phryne and Jack quickly so marrying Phryne to a Maharaja indicates to the old and new audience just why Jack is frustrated and probably did not go to London to follow her (as asked of him in the series finale). If this was a long-awaited season four there would be no reason to marry Phryne to a man when she's always made it clear marriage is not for her and they could have just picked up where they left off in the finale.
Personally I think the addition of the Maharaja was pointless especially when the reveal is that Phryne is acting as a beard for his safety which doesn't matter because he's killed off-screen anyways (and this after making the Alexander the Great story hetero)! Obviously the writers wanted to create a second level of tension between fiercely independent Phryne and Jack beyond his devastation after thinking she's died (for the second time, by the way), but Phrack never needs more tension. Their whole relationship has been UST from the start! Though Page plays the resentment oh so well.
The film is a lot of fun and considering it was made on an extremely small budget (partly due to an incredibly successful Kickstarter), has enough drone shots (no really there were more than enough of these shots) and special effects to imply otherwise and digs deep into the tropes expected from films in the Indiana Jones and Lawrence of Arabia vein.
There's running after disappearing bad guys in the rain! Fire! A curse because someone stole treasure from Alexander the Great! Phryne even gets stuck in quicksand in the desert! Multiple chase scenes! Drama between brothers! An astrolabe! The audience can't trust anyone! A cave-in! And the reveal is that the BUTLER DID IT! (Well, some of the murders…)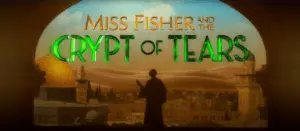 Intertwined with all the tropey-bits is the amazing acting from Davis and Page fans have come to appreciate, an actual mystery (or two) that needs solving, and the resolution of the will-they/won't-they between Phryne and Jack five some years in the making (well far less in the Miss Fisher world). All this is set to a beautiful backdrop of late 1920s London and Palestine (filmed in Morocco), everyone in beautiful costumes, and a lovely soundtrack.
Which brings me to the Phrack relationship and what most fans were really waiting to see this movie for. After an hour and thirty minutes of back and forth with Jack (understandably) being pissed off at Phryne and relieved she's alive, and solving two separate murders and a massacre, Phryne and Jack finally come to a consensus about their relationship. Which is to say that Jack doesn't need Phryne to marry him, rather he just wants her heart, since she's had his. Fortunately for him and all the impatient fans, he's had hers since a long time ago!
Though the question of since when will be left to fandom to hash out in fanfic and meta. Considering Jack's scenes start with him crying in the car to her funeral, telling her that he's done with her, and not wanting to help her (though he ultimately does), it's a relief to see them on even footing after 34 episodes (though we do get a few patented Jack leans in the film). Phryne too is allowed to work through her frustrations about the whole situation since she does in fact care about and love Jack.
Finally and unrelated to Phryne and Jack is my appreciation for the writers for not using racist tropes usually found in films set in this period and location. Shirin is a fully-realized character and a smart one too (which makes sense as Miss Fisher does not suffer fools) and so is her mother (who was murdered before the film starts). Considering the way dead mothers are usually treated in media, it's a breath of fresh air to get to see her interact with Shirin multiple times via flashback as well as the other Bedouin women.
If we're fortunate in getting a second film, I hope it's a reunion film with Phryne and Jack returning to Australia and seeing all their loved ones. There has to be a time where the actors for Hugh, Dot, Bert, Cec, Mac, Jane, and Mr. Butler are more available! (Why didn't we even get a mention of Mac or Jane?!) Just set it firmly in the thirties and give us a mystery at home before it's wartime!
Though I have a couple of questions for the writers, Miss Fisher and the Crypt of Tears leans (hah) heavily into tropes in delivering an enjoyable and fun movie with enough of an open ending for a future movie or two, and closure for both long-term fans and one time viewers of the film. What we get is an entertaining murder mystery with a lovely dose of angst and romance, all without losing the true heart behind Miss Fisher and her social justice conscience with a side of screw British colonialism!
You can watch the film on Acorn.TV (which is currently offering 30 days free with the code "FREE30") as well as the entire show.
(Updated to correct a mistake about the Maharaja of Alwar.)
Image courtesy of Every Cloud Productions