Medusa Serves Up Sanvers and Lena Luthor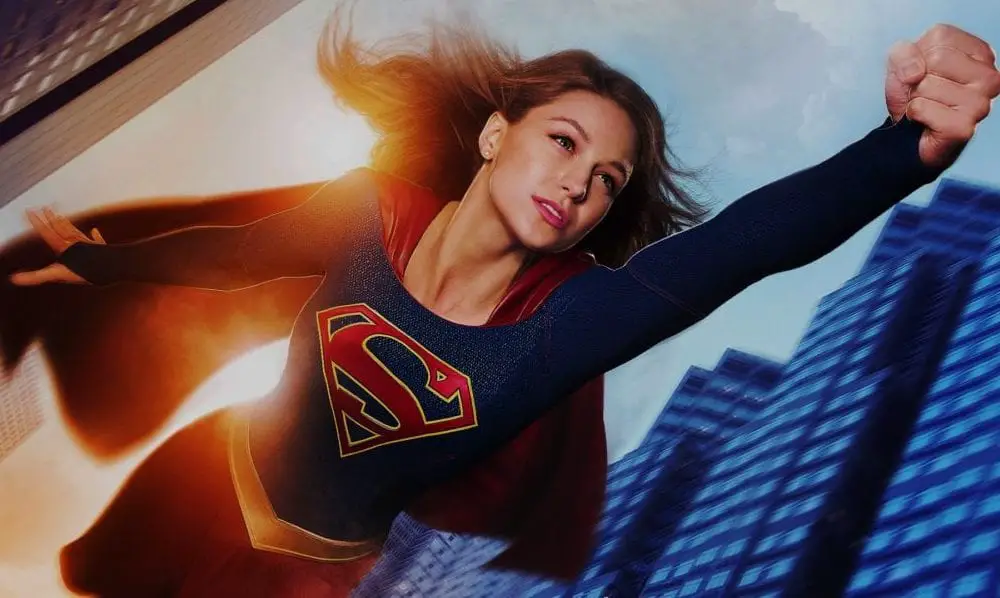 Supergirl Season 2 Reviews: Episode 8, "Medusa"
Finally. It's here. "Medusa", the Thanksgiving episode of Danvers' family awkwardness in all its glory. Gretchen and Elizabeth have been waiting for this episode ever since clips of dinner came up, and we weren't disappointed. James attempts to play on Kara's kindness regarding keeping The Guardian secret, Mon El awkwardly tries to win over Eliza and hit on Kara, and Alex tipsily interrupts them all to come out but is interrupted. Poor Winn, he's a champ for going not once, but twice. Will he have the courage to come back next year to the annual Danvers Family Thanksgiving Disaster Dinner? We can only hope.
And if that weren't enough, the universe decided to send all wlw and Supergirl fans a neatly wrapped package of delightfulness, kick ass storytelling, and lady loving. With The Guardian subplot neatly shelved, we got more time to focus on J'onn's illness, Kara's continuing struggle with her parents' mixed legacy, Sanvers, and Lena Luthor being awesome. What more could we ask for?
Quick Recap
Thanksgiving begins with Kara zapping the turkey while Winn and James argue about who ought to tell Kara about The Guardian. Alex warns them off, planning on coming out instead of them stealing the moment (she's kind of tipsy at this point); Kara misinterprets Mon El's intent to charm her mom with him hitting on Eliza (ewwwww). Kara's not going for this "Mon El likes her" thing. The 'thankfulness portion' is as awkward as we could hope for but is interrupted by a rip in the space time continuum.
Kara plans to 'sneakily' interview Lena about Cadmus and Lillian. Lena opens up about how she is Asami Sato always falls short of her mother's expectations. Mon El runs into Cyborg Superman at the bar as he is planting a bomb with an aerosolized virus to kill the aliens. Alex urges them to bring in Eliza to help determine how Cadmus was able to target only alien physiology. Lena proves she's not working with her mother by asking her what she's up to and threatening warning her about Kara sniffing around. Kara asks Mon El if he is interested in her (love the awkward, just not the ship), but he collapses due to the virus before they can finish the conversation. Eliza explains the virus is from Krypton, and Kara realizes they hacked into the Fortress of Solitude. At the Fortress Kara learns that her father created the virus to protect Krypton from potential invaders. Meanwhile, Eliza is super supportive of Alex being gay (excuse us while we go ugly cry in the corner for a while).
Kara talks with J'onn about her struggles with her parents legacy and he exposes that M'gann's blood has poisoned him. She then heads over to L-Corp to prevent Cadmus from getting their hands on an isotope that would make the virus capable of wiping out every alien in National City, only to meet Cyborg Superman. Kara saves Lena from Cyborg Superman, but Maggie is wounded in his escape. Kara agrees to ask Lena for help as Supergirl. Lena flinches at the accusation that her mother is behind Cadmus and sends Kara away.
Alex sews up Maggie; they have a heart to heart. Mon El kisses Kara, and she looks… confused? Back at L-Corp, Lena gives her mother isotope 454. Kara and J'onn confront the Luthors as Lena sets off the canon to prove she's 'really a Luthor'. Kara chases down the rocket as J'onn morphs into a White Martian to fight Cyborg Superman. The rocket explodes raining Medusa down on National City. Psych! Lena switched out the isotopes and Medusa was inert (THAT'S OUR GIRL). Eliza synthesizes a cure as well as healing J'onn. Mon El doesn't remember kissing Kara so she pretends it never happened. Maggie brings over pizza to Alex, confesses she likes her, and they make out (*hearteyes*). Barry and Cisco pop into Kara's apartment to ask for her help.
Best Quote: "Keeping a secret doesn't agree with you sweetie…Does it have anything to do with Maggie? You mention her a lot. Oh my beautiful Alexandra, why is it so hard for you to tell me?…Why would your being gay ever let me down?…Alex, look at the life our family has led. Look at me, look at your sister. I don't think you believe I ever expected you to have a regular life. You were always going to be different Alex, because you were always exceptional, and I love you however you are."—Eliza Danvers
Thoughts & Feelings
So that was a goddamn gift. We could start anywhere, but we'll start with Alex coming out to Eliza, as we've been eagerly awaiting this conversation for weeks.
Thank god it happened in private, when Alex didn't have to cope with everyone staring at her drunk alongside the obvious anxiety she has about disappointing Eliza. Instead, we get the intimacy of Alex's raw honesty about her fear of letting Eliza down. Just about every wlw has this fear at some point, that their love for women will disappoint their parents. That they won't have a 'normal life' like their loved one's wanted, and have to live knowing they've disappointed them. Eliza's responded perfectly. She supported Alex as a person and acknowledged her fears without making the discussion about herself. We've seen shows turn moments like these around into the family member's hurt that the queer person didn't trust them, so we appreciate that Eliza stayed focused on validating Alex's personhood and her love for her.
Eliza's full, enthusiastic support for Alex functions as a foil to Lillian Luthor's broken relationship with Lena, much like it did for Cat and Katherine Grant last season. Where Eliza supports Alex no matter what, Lillian bluntly tells Lena she liked her less than Lex, then turns around and tells her to get over it because no parent loves their children equally. Um, excuse you Lillian, have you met Eliza Danvers and J'onn J'onzz? Apparently not (pun intended).
The show continues to draw parallels between Lena and Kara, with Lena's feelings about her mother mirroring Kara's about her own parents. As Kara herself points out, she knows what it feels like to cope with parents who let you down. Kara also has experience with a villainous family member attempting to force her into joining their ideological campaign (Astra), so she can relate on multiple levels. Someone get these two girls a coffee date so they can have a thorough heart to heart.
On a related note, Kara learning that her father created a weaponized virus brought us back to last season when Kara struggled with realizing her mom was more than just a hero. She's struggling with legacy and learning that parent's aren't always the black/white beings we believe them to be. It's a poignant moment because Kara hasn't thought as much about her father's role as a scientist on Krypton, and we get the impression that Kara was much closer to her mother and aunt than she was to her father. Facing that his legacy is as mixed as her mother's brings out just how complicated her heritage is.
At the same time, the scene elucidates Kara's growth as a character since last season. Rather than rage and scream, she took time to think and integrate it into her self-perception. She's clearly distraught, but she's better equipped to cope with the revelation after having dealt with her mother and Astra last season. And she chose to talk with J'onn instead of let it build up inside, which is another really effective coping skill. We want to hug her because of the pain, but we're so proud of her character growth. They followed up on that with Kara having the most gut wrenching moment of fear when the rocket exploded. That split second she thought all the aliens, including Space Dad J'onn, were going to die, broke us in pieces.
But then Lena happened. God. Damn. Lena Luthor is a fucking badass. Lets sit down and talk about how perfectly Lena Luthor saved the world. First off, they doubled (tripled?) down on the Asami Sato parallels with Lena Luthor. We'd gotten that vibe before, but the initial confirmation that Lena was not currently working with her mother in her sketchy Cadmus dealings and was actively suspicious brought the point home further. The visible antagonism set us up perfectly to believe Lena would never work with her mother. They followed up with Kara being the one person to stand up for Lena in the DEO. When her perceptions are seemingly undermined the very next scene with Lena and Lillian our souls hurt.
We were all set to bitch about lack of motivation to lead her this soon down the villain path and inconsistent characterization when she agreed to help her mother. After she turned the key, we were all set with pitchforks. Then. THEN. It was an elaborate ruse to save the city. Boom. We can overstate the importance of this moment.
Aside from the brilliant narrative set up this season, it encapsulates what we'd wanted for Lena since the premiere: Lena steps up as a hero for National City. Supergirl once again revisits the theme that one's choices determine their hero/villain status, not their family (see Winn and Kara). More than that, Supergirl successfully aided a Luthor—the one everyone else believed was doomed to be a villain like her brother and mother—in choosing the light and becoming her own hero. The younger sister of one of the most notorious DC villains chose her better angels. Epic. Beautiful. Shipping and queer representation aside for the moment, this is the kind of storytelling we live for.
And now for what you've been waiting for: so much for slow burn Sanvers. We were 100% invested in slow burn Sanvers. We were so ready. And you know why? We wanted Alex's coming out to be about her. We didn't want to rush the ship because we wanted Alex to come out for her own sake, not for Maggie. The great thing is that the acceleration didn't shortcut any of that.
"When you first suggested that I was gay, I denied it. Then I thought that it was just about you; I mean, how would I not like you? But you know, deep down, I think I wasn't comfortable that that was my new normal. But it is my new normal, and I'm happy that it is. Because I, I don't know, finally I get me. And now I realize that it wasn't about you, but it's about me living my life. So, thank you."—Alex Danvers
Alex labeled herself gay. She accepted herself and being gay as her "new normal" (her phrasing, not ours). She's happy about it. We'll say that again: she's accepted that she's gay and is happy. Is it quicker than we expected? Yes. But we're not complaining because Alex got her time, and she is certainly old enough to know the rest of herself well enough to adjust to her New Normal quickly. She got to come out to Kara and Eliza and be supported. She got to voice her frustration to Maggie and express her disappointment. And, she got her time to realize that coming out was more than Maggie. As with Maggie supporting Alex as a friend, Alex got to care for Maggie with no strings attached. She wasn't expecting Maggie to change her mind or express her interest. She thanked Maggie just for being there to support her with no pressure for Maggie to change her mind.
Thankfully for us, Maggie did.
Our hearts exploded. Tumblr blew up. There was a massive disturbance in the wlw force, and we loved every second of it. Can we mention Alex stitching Maggie up? And how supportive and happy Maggie looks as Alex is talking? And then Maggie having the courage to go talk to Alex on her own? Seriously. Maggie has a pair on her. Alex basically gave her the equivalent of the "I'm trying to get over you" speech and she responds by bringing over pizza, complementing Alex on her 'cute' pj's (we're dying), and then telling her she likes her. If they're going to torpedo the slow burn, this is the best way to do it.
"Life is too short, and we should be who we are. And kiss the girls we want to kiss."—Maggie Sawyer
The torpedoing of the slow burn might be a disappointment to some who enjoy that trope, but we propose that Supergirl's completed arc for Alex actually is the better direction to go in, especially considering the media landscape of the last year. There was something very heavily meta about Maggie taking a shot to the shoulder and realizing there's no real compelling reason for her and Alex to delay a relationship if they both like each other. While the arc is short in a literal sense, that it occurred across a mere 4 episodes, it was complete, which is infinitely more important than the arc being long.
We know that the slow burn is probably the biggest trope of the femslash world, but its existence is deeply rooted in diminished or non-existent payoff. This was the core of Elizabeth's jaded ambivalence to the Sanvers ship early on, despite always being on board with the idea of it being canon. Femslash ships often don't sail out of the harbor as a complete package, but rather one plank at a time that the fandom has to assemble into a boat themselves somewhere else down river in the Kingdom of Fanfiction. When you say slow-burn, season(s) long queer coding with ambiguous payoff come to mind. What people often call a slow burn is often just a really thin breadcrumb trail, and the starving wlw fandom will absolutely eat up even the thinnest of offerings. We are so used to making due with the crumbs, we are often baffled when a television show offers us the actual cake instead.
What Supergirl has brought to the table is not so much a giant, polished, fancypants bakery cake with fondant icing and spun sugar accents, but a small and delicious homemade cake made with love from scratch. There is something uniquely organic about the way this ship was scripted, and the writers made choices with it that are clearly informed by real-life wlw experiences. The entirety of the final scene between Alex and Maggie, from the little "probably" to Alex point blank asking Maggie to confirm that she likes her, is something too specific and too pitch perfect to have been guessed at by an outsider. Like Cat Grant's drunken anecdoting in Season 1's "Red Faced", Supergirl has a particular talent for weaving in female stories far too perfectly nuanced and accurate to have been pulled out of the ether of an outsider's imagination. The show likes to demonstrate that it not only listens to the audience it actively courts, but it is specifically aiming to impress that audience and reflect the image of that audience.
Perhaps the most uplifting aftereffect of the night was the number of women on Tumblr saying, "This is what it feels like to have our stories told." It is certainly a new and foreign feeling, but it is also finally starting to feel like a good one. And unlike pleasant wlw surprises San Junipero and Wynonna Earp, this season of Supergirl was not written and filmed prior to the brunt of the Spring Slaughter got underway; in some ways, it almost feels written in *response* to it. It's sort of difficult to ignore, really: Maggie is wearing quite a visually obvious and hefty bullet proof vest, and explicitly survives a survivable gunshot wound. It is pleasant to have a gunshot launch a ship instead of sink it, for once. Maggie's words to Alex were very difficult to view in any other lens than being direct meta commentary on life being too short to waste on slow burns and queer coding, just freaking kiss the girl.
The show made the decision to have Maggie and Alex's conversation be the emotional finale to the episode, framing it is one of the most important plots to address and resolve prior to the mid season hiatus. Supergirl sees your mid season finale cliffhanger deaths, and tells them to get fucked take their business elsewhere.
In a television landscape of slow burns or thin storytelling, Supergirl actually breaks the mold by allowing the ship to move forward at a faster pace. In Elizabeth's veteran wlw opinion, this pacing and arc is far more true to real life wlw relationships than the six season slow burn. There is a certain unspoken urgency to queer relationships of any nature, because the unfortunate reality is that the world stacks the deck against us. Because this struggle is the most outwardly demonstrative and easiest for The Straights to visualize, it is usually the viewpoint that gets expressed, often with a lack of understanding as to *why* queer relationships move so quickly. Even in the safest of havens in the most progressive of american Pacific Northwest cities, hate crimes can and do happen. We as queer individuals don't tend to screw around with relationships, especially as we get older, because no matter how safe we feel, we are always acutely aware of how illusionary that safety can be.
While Supergirl has made the *very* deliberate decision to not make this the crux of its queer narrative (thank Rao), keeping that quick pacing makes the relationship really strike home without being a painful reminder of the reality we live in. Supergirl is the purest kind of escapist fiction; the kind that women rarely get to experience, let alone queer women. Like San Junipero, it stands alone not because it features a wlw romance: it stands alone because it is a piece of genre fiction that just so happens to feature a wlw romance. And also like San Junipero, Supergirl proves that you can include a coming out story without making the romance *about* coming out.
It's well crafted, kind hearted, pure intentioned, and subversive in its realness. If you are part of the wlw community and have not jumped on board the good ship SS Sanvers, treat yo'self. It will warm your heart and put a smile on your face, we promise.
As much as we loved just about everything about this episode, we do have some nitpicks questions. First, the virus. If it is supposed to kill all non-Kryptonians, why doesn't it kill humans? From a Kryptonian perspective, humans are alien invaders (or potential invaders), so it ought to have killed all the humans in the bar as well. We understand from a storytelling perspective this isn't possible, as Cadmus needs a way to kill aliens but not humans. A dialogue tag explaining it had been altered to not harm humans would have gone a long way to making this work better.
Second, Cadmus itself. Lillian better be thankful that there is no UN equivalent setup to deal with anti-alien attacks. The kind of genocidal attack Lillian attempted to enact is an act of war. We know that the president is an alien, so Cadmus' attack is at the very least an act of terrorism and treason against the US. They're no longer thugs robbing banks; they're a threat to national as well as global security. We wish Cat were here to ask the hard question of why the US is not cracking down on or disavowing this kind of terrorism to avoid retaliation from alien species' who would not take kindly to casual genocide. Perhaps James needs to walk his handsome butt back into his office and get working on that, since he is the head of Catco now. He seems to have forgotten completely that he has a day job.
Finally, we must briefly address the awkward elephant in the room: the kiss between Kara and Mon El, and how hilariously perplexed Kara seemed by it. Her expression fell somewhere between politely disinterested and flat-out confusion; it is really hard to understate how utterly awkward this scene was. That was the most excruciatingly long, boring kiss we've seen this year. Though only a few seconds long, it felt like years. It was a feeling quite akin to the one you get when someone sits much too close to you on the bus and you have to stare out the window intensely like an awkward teen in an indie film. It was the perfect time to check our emails.
At the end of the episode, Kara makes an effort to talk to him about the kiss (which, sidenote: we love that Kara has learned to be emotionally assertive!) and he claims to not remember it. Kara looks… we want to say distraught, but it was still definitely in the ballpark of confused. We were a bit surprised at her choice to pretend it never happened, given her instant, but still polite, shut down of Winn in S1. While the writers could be trying to keep hope alive, it's just as likely to us that Kara is trying to protect her friendship. Or maybe she's asexual and having an epiphany of her own? One can dare to dream. This ship has all of the flair, flavor, and spice of Wonder Bread.
Random Thoughts
Alex came real close to saying 'bullshit' instead of 'hijinks'
The response to Kara claiming she could be sneaky was perfection >>
We have always hated the "a mother always knows" line as a way to force a woman to acknowledge feelings for a man who she professes no interest in. If she says "there's nothing there" why not just let it lie until she figures it out herself?
So much Supercorp feels. It's got OTP soulmate material written all over it.
We are here for all the Kara/J'onn scenes. He's such a good Space Dad.
We're intrigued by the lady Darth Vaders looking for Mon El.
They confirmed English is Mon El's second language, but we still don't know when/how he learned it.
Space Dad kept trying to die and that upset us. Thankfully he's all better now.
We really hope the show addresses Alex's issues with alcohol. We get needing a drink for courage, but she was pretty drunk at dinner (a beer, a fifth of whiskey in the freezer, and a glass of wine?), and she's had a couple of scenes drinking in the Maggie aftermath the past few weeks.
Three cheers for seeing Eliza Danvers in her scientific element!
In Conclusion
We had a lot to say. #sorrynotsorry. Granted, there was a lot to process in this episode. Like so many this season, it deserves a rewatch to even more fully appreciate the gift we were just handed. (We'd probably have even more to say.)
The characters continue to impress us with their depth and nuance, and it's safe to say that not having The Guardian plot line gave more space for the other subplots to breathe. As much as we hate to say "we told you so" to the writers, we will. We were huge James fans in S1 and both of us were Karaolsen shippers, so our frustration with James comes from a place of love. The Guardian just isn't working for us, and this episode proved that it's not a necessary subplot this season. If ever there was a time when National City needed a strong, investigative mind asking the hard questions about Cadmus and their threat to the city, and the world, it's now. Go do your job, James.
Cadmus' "Earth is for the humans" is an on point villain stance given our current political climate. It's a timely theme to be exploring as our society struggles with the increased visibility of hate and bigotry. We need Kara and team Supergirl to show us how to overcome hate with hope and xenophobia with love. We're hoping that the rest of the season continues to ramp up the human/alien tension with Kara caught in the middle of the ideological war. What Cadmus did tonight could not be construed as anything other than an act of war and since we know the president is an alien, we expect a response from the US government at the very least. Perhaps Cat can come back to help James with messaging? (Though he actually deserves to be fired.) That would be nice.
We can't end this review without mentioning Maggie being shot one more time. Not only did she survive without major injury, the scene led not to a death, to a romantic moment culminating in Alex getting the girl. Screenwriters take note, this is how you do midseason finale drama. No need to kill us queer ladies for Drama™ or for Shock™ or whatever. Kara's moment of taking care of Maggie warmed our hearts too, because even if Maggie hurt Alex previously, whoever is important to Alex is important to Kara. Anyway, this officially means that both canonical queer ladies have been shot wearing bulletproof vests. If that's not an enormous 'fuck you' to the BYG trope and the Spring Slaughter, we don't know what is. Thank you Supergirl. Just thank you. For everything.
Next up, the crossover! Looking forward to what our other site authors have to say about The Flash, Arrow, and Legend of Tomorrow!
---
Images courtesy of CW
Honest Conversations and Unfortunate Insensitivity on Cloak and Dagger
Content Warning: This review discusses suicidal ideation and attempted suicide, as depicted on the show. 
Last week's episode of Cloak and Dagger ended with Tyrone and Tandy together and finally ready to discuss why exactly they have new superpowers insistent on bringing the two of them together.  Both their lives have been tossed upside down, and the only consistent thing in the tragedies of both their lives is each other. Maybe it's time to sit down and talk about it? That's exactly what "Call/Response" did this week. Unfortunately, to mixed results.
Time to Talk
"Call/Response" continued Cloak and Dagger's attempts at interesting episode structure by weaving together forward plot momentum in and out of the previously mentioned conversation between its heroes. This conversation lasted through the entire episode as Tandy and Tyrone hashed out what their powers are, what they do, how they experience them, and what their dreams from last week meant for each of them. These two had a lot to talk about.
For a good 90% of this conversation, I liked the direction of it. The honest and open-ended nature was refreshing. For the first time since they acquired their new powers, they held nothing back regarding what had changed, what they were going through, and how it affected them.
It moved both characters appreciatively forward. Even better, you could see how the conversation positively affected both in the scenes from the next day, when both acted on everything they discussed. Cloak and Dagger thus did a good job timing subjects of conversation with next-day action. Like you'd expect, these scenes were not exactly subtle about it, but so long as the point is made what does that matter?
Through their conversation, Tyrone and Tandy finally started acting against their instincts. They challenged their perceptions of the world. Tandy made an honest effort to learn about her mother's boyfriend Greg and found out he was genuinely interested in her mother and trying to help. She made an effort to embrace the hope she always rejected before. Her experiences have shaped her towards cynicism in everything. Life is a giant scam where everyone uses everyone else to get ahead, and you see this in her own method of making money. For her to open her mind to the possibility of Greg proving her wrong was a significant step forward.
Tyrone faced his own challenged perceptions, naturally based around his brother's murder and murderer. He considered Tandy's argument about his place in the world and where his privilege truly stands, as well as the destructive path his actions led him down. The failed trip to the police station was one important step, but the truly important moment was his field trip with his father to Otis's old Mardi Gras Indians stomping ground.
(By the way, add another cool twist on New Orleans culture to Cloak and Dagger's credit.)
Through this trip, Tyrone found new perspective on his father and brother, as well as his own anger. His father stressed the importance of finding a channel for his anger. And he might have found his way via the suits the Mardi Gras Indians create, and the taking on of his brother's unfinished suit. Tyrone needs this outlet and focus for his anger. He struggled with it throughout the first three episodes, even to the point of trying to shoot Detective Connors.
Even better, all this character development provided the biggest plot movement yet.  Tandy's determination to get along with Greg led to direct involvement in the Roxxon lawsuit he represented her mother in. It also led to Roxxon killing Greg for presumably getting too close. There should be no escaping the consequences of Greg's death. Tandy's mother will suffer. Who knows whether her determination to take the corporation down will wax or wane. Tandy herself visited the burned office to retrieve documents from Greg's safe, so she certainly won't let this go.
Tyrone's plot movement was not so direct, but still meant something. He learned of his brother's training to be a "Spy Boy" for the Redhawks, a role in Mardi Gras parades involving moving ahead of the Big Chief but was described in this episode as someone responsible for scouting the unknown to seek oncoming trouble. The unfinished suit Tyrone adopted also largely resembles the signature look of Cloak in the comics.
And of course now you also have to wonder if Roxxon will involve themselves with the Redhawks.
There was definitely a lot of good content in this episode. At this point Cloak and Dagger is close to establishing a base quality that this episode certainly matched. Unfortunately, the end of the episode left a real sour taste in my mouth. One reason due to plot, and another for some poor handling of a very sensitive subject.
Insensitivity and Stalling
You saw the content warning, so let's dive right in. The episode-long conversation between Tandy and Tyrone breaks down at the very end, when conversations about privilege turn into insults and eventually lead to Tandy admitting to suicidal thoughts. In his anger, Tyrone tells her that if she wants to die so badly, she should just do it.
The next day, in the aftermath of Greg's murder, Tandy restrains her hands and feet and jumps into the ocean, clearly planning on killing herself. She eventually resurfaces when her powers trigger and she cuts the ropes binding her hands.
I will say this: my final judgment will depend on how this is handled moving forward. Right now it feels like a really cheap use of suicide. There are some things you must always take care to portray responsibly when telling your story, and this did not feel like a particularly responsible way to handle Tandy's thoughts of ending her life. I worry this was nothing more than an attempt to end the episode with high drama, and that the distasteful implications are unrecognized.
Now, we do need to see where it goes from here. If Tyrone recognizes the terribleness of what he said and apologizes for it, and there's a genuine effort to understand the mistake he made, this can pass by without issue. And it's not like the idea that Tandy might have suicidal thoughts came from nowhere. Considering her immense survivor's guilt and lack of connection, I can certainly understand how thoughts of suicide enter her mind. Thing is, I don't think you can just throw it out there, have a main character yell at her to just go ahead and kill herself, have said character try, and then move on from it. It all happened so quick and dirty that I can't help but feel like it may have just been there for drama.
I hope it's needless to say that using suicide just for drama is an awful idea.
Cloak and Dagger needs to follow up respectfully on Tandy's attempt. Suicidal tendencies are a serious concern that must be handled delicately and with a purpose. And unfortunately, this is an easy fallback too many shows rely on without the proper care needed. I hope Cloak and Dagger doesn't.
My second, lesser, and plot-related concern is the argument that led to Tyrone's insensitive words. Namely that, to me, it came completely out of nowhere. The two of them spent the entire episode having  a calm, respectful discussion. Even sensitive subjects between the two caused little drama. Then all of a sudden a piece of genuine advice blows it all up and leads to an unnatural argument over privilege. Which leads to Tandy mentioning her suicidal thoughts and Tyrone's comment.
This development renewed my worry from last week over these two being kept apart too long. It seems clear that the real, ground-shaking forward movement on Cloak and Dagger won't take place until Tandy and Tyrone unite. "Call/Response" spent 90% of its runtime heading in this direction. Then it all fell apart.
I certainly understand how a conversation over privilege could lead to heated tensions, especially with backgrounds like Tandy and Tyrone have. Still, this felt so artificial. It almost felt like Cloak and Dagger attempting a superficial, ham-fisted discussion of privilege without any real meat. The main goal seems to be keeping the two main characters apart. It's the absolute worst attempt the show has made regarding the privilege debate. Scenes like Tyrone walking into the police station and looking around, only to find a sea of white faces, speak volumes more than this conversation did.
While we're certainly not back where we were at the end of the second episode, we're a little too close for comfort. Both characters seem like they will tackle the plot alone. And you know they will tackle it ineffectively. The whole idea (at least to me) is that they won't truly make progress until they team up. I'm also reaching a point where I will start to distrust the moments where they appear ready to team up if this goes on for too long.
In one moment, they undid a great deal of the work the 40 minutes before hand strove hard for.
I'm all for character development, but here's hoping Cloak and Dagger avoids this mistake in the future. And here's hoping Tandy's suicide ends up as more than a way to create drama feeding this mistake.
Other Thoughts:
I was delighted when Greg turned out to be a good guy. Damn shame they killed him in the same episode he turned out as such.
Tandy's mother is seriously tragic. I worry we're heading in a self-harm direction with her as well.
I also loved learning more about Tyrone's father, Otis. He seems to harbor a lot of the same barely repressed anger that his son does. I hope we get more of him and his history with the Redhawks.
Roxxon is still paying for the rights to the plot of ocean with the collapsed rig. This suggests to me that whatever gave Tyrone and Tandy powers still slumbers beneath the water.
Sometimes Tandy and Tyrone have some really good banter…and then sometimes I wonder how it can be so off.
---
Images Courtesy of Freeform
The Expanse Wanders Among The Wreckage
The Expanse is on its penultimate week, and with an episode called "Fallen World," showed us the aftermath of a disaster.
Recap
When the episode starts, Holden is unconscious, so Bobbie picks him up and they head towards their shuttle. However, she realizes the speed limit might have decreased after her commanding officer threw the grenade last episode, and tests it. Turns out she is right. They get out and stabilize Holden. However, many Martians and Earthers are both dead on their ship, as the quick deceleration was a massive shock.
Naomi survived, but her skiff is no longer able to move, so she abandons it and steps into space. Drummer and her first officer are both pinned by heavy machinery, and have to cooperate to get out of the situation. Anna wakes up and goes through her ship, watching the scores of dead people. Those who are bleeding severely are lost as well, since in zero gravity, there is apparently no way for the blood to drain. One would expect they'd have some sort of vacuum pumps for that, being a space-faring civilization, but whatever. Anna is horrified and offers her help, being a trained nurse.
Holden's brain scans show frenetic activity, but he's not waking up. A MCRN soldiers feels like Bobbie is more loyal to him than to them, and suggests she kills him, because dying might be the best fate for him right now.
Drummer and her first have now gotten to the point of sharing life stories and singing together, since they are out of viable solutions for their situation.
When Clarissa wakes up, she think she successfully killed Tilly. But as Anna is helping fix her broken arm, Tilly contacts Anna on her hand terminal. Anna goes to find her, and Tilly tells her what happened before she dies. Clarissa, meanwhile, escapes the ship just as Anna catches up with her. She is left screaming that, "she cannot escape, only beg for mercy."
Naomi arrives at the Roci and finds Alex, mostly all right, and Amos, who was hit in the head with a heavy tool and so is less alright. Drummer's first starts coughing blood from his punctured lungs. For some mysterious reason, Drummer decides that means she should sacrifice herself, even though from what we have heard, doing so gives him a really low chances of survival. Still, she moves the machine back onto herself, freeing him, and he calls for help.
Clarissa reaches the Roci and manages to get inside. Naomi hears the impact and goes to check what is wrong. Clarissa tries to kill her—of course she does—but Anna, who apparently followed Clarissa, saves Naomi.
Drummer's first, after hearing about the large number of wounded they have, gives the order to spin the drum of the ship, creating artificial gravity. They are unsure it will work, but they manage successfully. The first, who is not the captain, then opens a channel to other ships around them and invites everyone to transport their wounded to their ship.
MCRN seems to have more stupid ideas about how bad it is they are being saved by the "skinners," apparently a name for the Belters. Bobbie effectively tells him he is an idiot and goes to see Holden, who woke up, and now tells her he had a vision of the end of everything.
Review
Overall, this was another good episode with solid pacing and clear progress forward. But there were still plenty enough things left that bother me.
First and foremost among them would be the storyline happening aboard the Martian shuttle. For one, the MCRN marine was acting completely ridiculous. The Expanse has always had trouble with depicting the less open-minded military types with any nuance, but this might be a new low. In particular, I am talking about handing Bobbie the gun to shoot Holden.
It made no sense at all in context: their orders were to bring Holden in. I don't expect MCRN tortures their prisoners, so the argument with "might be the best for him" hardly made sense. Most of all, it felt like a test for Bobbie, but if so, it was a test of a kind I'd expect to see in Star Trek Discovery's Mirror Universe, not among the Martians. The Expanse show adaptation has always depicted the Martians worse than the books do, and this continues in the same vein. Bobbie is gaining the very uncomfortable overtones of being the "one good apple."
On the other hand, Bobbie's own role here was scarcely better, particularly her strange obsession with Holden. She is acting like they became best friends in the first half of this season, which is definitely not something I noticed. No matter how ridiculous the marine's desire to have Holden shot was, he was perfectly right that it looked like Holden was controlling the protomolecule. We know it was because Miller was controlling it for him, but Bobbie doesn't.
At the same time, it doesn't follow she would immediately jump to the conclusion that Holden is a villain. He could be controlled by the protomolecule. In fact, he was, to a degree. Or, he could have simply gone insane. Once again, he had in a way. There are many possible explanations that don't lead to wanting to have Holden executed, but which at the same time don't lead to Bobbie insisting to her marine crew that, "Holden wouldn't do anything wrong."
It is doubly irritating because this is Holden of all people, everyone's personal favorite white boy. Of course she would be all up in arms about him. Meanwhile, women of color were in danger or outright killed left and right this episode.
Speaking of which, Drummer. On one hand, when we first saw the situation she was in, I was worried it would develop into a mutual attempt at killing the other and saving themselves. I am truly, deeply grateful it didn't. And even the idea of her sacrifice could have been a brilliant one, really, in the right circumstances. The way it played out here, however? Just after it is implied her first has a low chances of survival, without any particular indication that she is in serious trouble herself? It just feels very much like, "all right, the brown chick was the captain for a bit too long, time to give it to a white guy."
The scene between them was acted excellently though, I have to grant them that much. Naomi was very good this episode as well, and were her Rocinante boys.
The one character who continues to be a disappointment is Anna. Her very last intervention was badass to be sure, but it's not the kind of strength I expect from Anna. She's not there to beat people over their heads. And until that moment, she was as insufferable as before. The most ridiculous moment was shouting after Clarissa. I understand she was meant to be upset, but it just looked stupid. Tilly repeating Anna was "very good at this," meaning her pastoral duties, only made me roll my eyes once more. Show, don't tell, please. At this point, such assertions about Anna are about as convincing as all the characters telling Tyrion he was clever on Game of Thrones.
The season finale next week is a double episode. At this point, I feel like it can go in many different directions, and I am all impatience to see which one it goes for.
---
All images courtesy of SyFy
Reverie Sows the Seeds of Doubt
Last week's episode of Reverie ended on a cliffhanger. Mara realized that she wasn't actually at her late sister's house, talking to her late niece (she was actually pretty sure on that last one). This leads to an obvious question: where was Mara, really. Unfortunately for her, she was in the middle of a road, with a car on its way. Before the car runs her over, Mara is saved by a mysterious man who knows her name. Turns out Mara's savior is Oliver Hill, who claims to be suffering from de-realization as well. Hill has been following Mara, out of supposed worry. Before Oliver was a concerned stalker, he was a founding partner of Onira-Tech. He has something to explain to her, but he needs food first.
Oliver Hill V. Onira-Tech
Reverie spends about half of the episode providing two arguments for what's really going on. Oliver argues that Reverie 2.0 is inherently flawed. He claims that he and Mara, being the two people who have spent the most time in Reverie 2.0, will be representative of the general population. In his version, Charlie is Onira-Tech's unthinking bodyguard who hates Oliver. The medication that Mara has been given is supposedly useless (which is not a great message, especially when paired with Mara's previous trashing of her meds). Oliver tells Mara not to tell Onira-Tech about their conversation, but that lasts for about 3 minutes. Mara is scared and she needs answers, and she tries to test Oliver's claims against Onira-Tech's personnel.
On the other hand, Onira-Tech claims that Oliver Hill was unstable. Charlie claims that Oliver is dangerous. Paul shows Mara Oliver's brain activity, explaining that he had issues before Reverie 2.0. Alexis tells Mara that her partnership with Oliver was founded in a romantic relationship. That relationship went badly, and Alexis doesn't want to be defined by that failure, hence his erasure from the company. 
By the end of the episode, Mara agrees with the latter form of events. She seems to be finally persuaded by Alexis' detailing of her and Oliver's romantic partnership. However, it's not clear that the narrative agrees with Mara. Mara doesn't know where to turn, and Reverie loves drawing tension from that. It thrives off of Mara's (and the viewer's) disorientation.
It's certainly clear that Oliver has other plans, since he offers to buy a Reverie system at the end of the episode.
Episodic Woes
This episode also included a client of the week. Part of the reason the Onira-Tech team started out the episode on edge was a theft within the building. Someone stole a copy of Reverie, and modified it into a form of "Dark Reverie." The "Dark" version doesn't have restrictions. Our client of the week, Glenn, is using it to plan a heist. Since last week's episode involved a bank robber, it's likely Glenn needed the jailbroken version for the detailed specifications.
Glenn is a man with a stereotypical form of OCD. He avoids daylight, and hates the color blue. In a twist that should not surprise the viewer, Glenn doesn't want to commit the heist for himself. He's been watching the single mother and son across the street. The son has a rare disease, and Glenn wants to save his life with a trial drug. Despite mostly living inside, Glenn's motivation is that he feels like part of the pair's family. This entire plot feels like a math problem. Sick kid + adult with stereotypical OCD + moral heist = episodic plot.
Glenn offers to sell out "Dark Reverie" sellers and give his system back on one condition: help him do the heist. Mara complies, but Charlie and Monica have other ideas. Instead of letting Glenn steal the medication, they make a deal with the medicine company CEO. The heist goes through, but is spinned as a test of the company's security system. Glenn gets the meds for the kid, and doesn't get a felony on his record. Smiles all around.
Conclusion
Reverie's season arc plot wildly outstrips its episodic plots. This week's episodic plot was probably the worst so far. However, the arc's plot twists easily, without feeling gimmicky.
---
Images courtesy of NBC