Pride Month is rapidly approaching and Marvel Comics has revealed all of this year's variant covers after a few months of teasing.
Celebrating Pride all month long, these variant covers will grace comic stands each week of June with incredible depictions of LGBT+ heroes from all corners of the Marvel Universe including longtime icons, rising stars, fan-favorites, and recent breakout characters. While Werneck captures the joy of Pride Month with characters paying tribute to Ballroom culture and gay nightlife, Talaski showcases the power of Pride Month with character's strength and resilience on full display in striking portraits.
All six characters featured are currently impacting the Marvel mythos in ongoing series, limited series, upcoming launches, and more! Here's the lineup of heroes highlight and the comics where you can currently find their stories:
·       Rachel Summers, aka Askani, the daughter of Jean Grey and Scott Summers from an alternate future, longtime Phoenix host, and overall mutant powerhouse, is currently fighting alongside Captain Britain in the pages of Betsy Braddock: Captain Britain!
·       Aaron Fischer, aka the Captain America of the Railways, debuted in 2021's United States of Captain America as a protector of fellow runaways, and after recent appearances in Captain America: Sentinel of Liberty, he'll star in his own upcoming Marvel Unlimited Infinity Comic!
·       Black Cat, Marvel's greatest thief and one of Spider-Man's fiercest allies, fans can catch Felicia Hardy clawing her way through villains and committing legendary heists in her latest series, Mary Jane & Black Cat, and in the pages of Amazing Spider-Man!
·       Fang, aka Daken, son of Wolverine, former X-Men villain, and one of mutantkind's deadliest warriors, has served Krakoa bravely in team books like X-Factor and Marauders and this summer, he'll be on the frontlines of FALL OF X in an all-new ALPHA FLIGHT series!
·       Escapade, the breakout mutant hero from last year's Marvel's Voices: Pride, is currently learning how to use her one-of-a-kind powers and proving herself amongst the brightest heroes of the X-Men's next generation in the limited series New Mutants: Lethal Legion!
·       Web-Weaver, the most fabulous hero in the Spider-Verse, slayed the runway and super villains alike in last year's Edge of Spider-Verse and after recent appearances in Spider-Man and Marvel's Voices: Spider-Verse, will headline his next solo adventure in this year's MARVEL'S VOICES: PRIDE!
"The category is PRIDE! It was so fun to make these three covers. My idea was to put the characters in a Ballroom setting, living the best moment of their lives to remind ourselves to do the same. We're beautiful the way we are and we deserve to shine and be happy," Werneck said. "I'm so thrilled to be part of Marvel's Pride celebration for a second year, this means a lot to me! I really hope fans enjoy these covers as much as I enjoyed making them!"
"I love comics, and it's always exciting when I get to draw these characters, but it becomes an honor when it's for my community of Queer comic fans," Talaski said. "What makes getting to draw Aaron, Rachel and Daken special is that they're all LGBTQIA+ characters from across 40 years of comics so it feels like I get to make something, not just for longtime fans, but for new ones as well."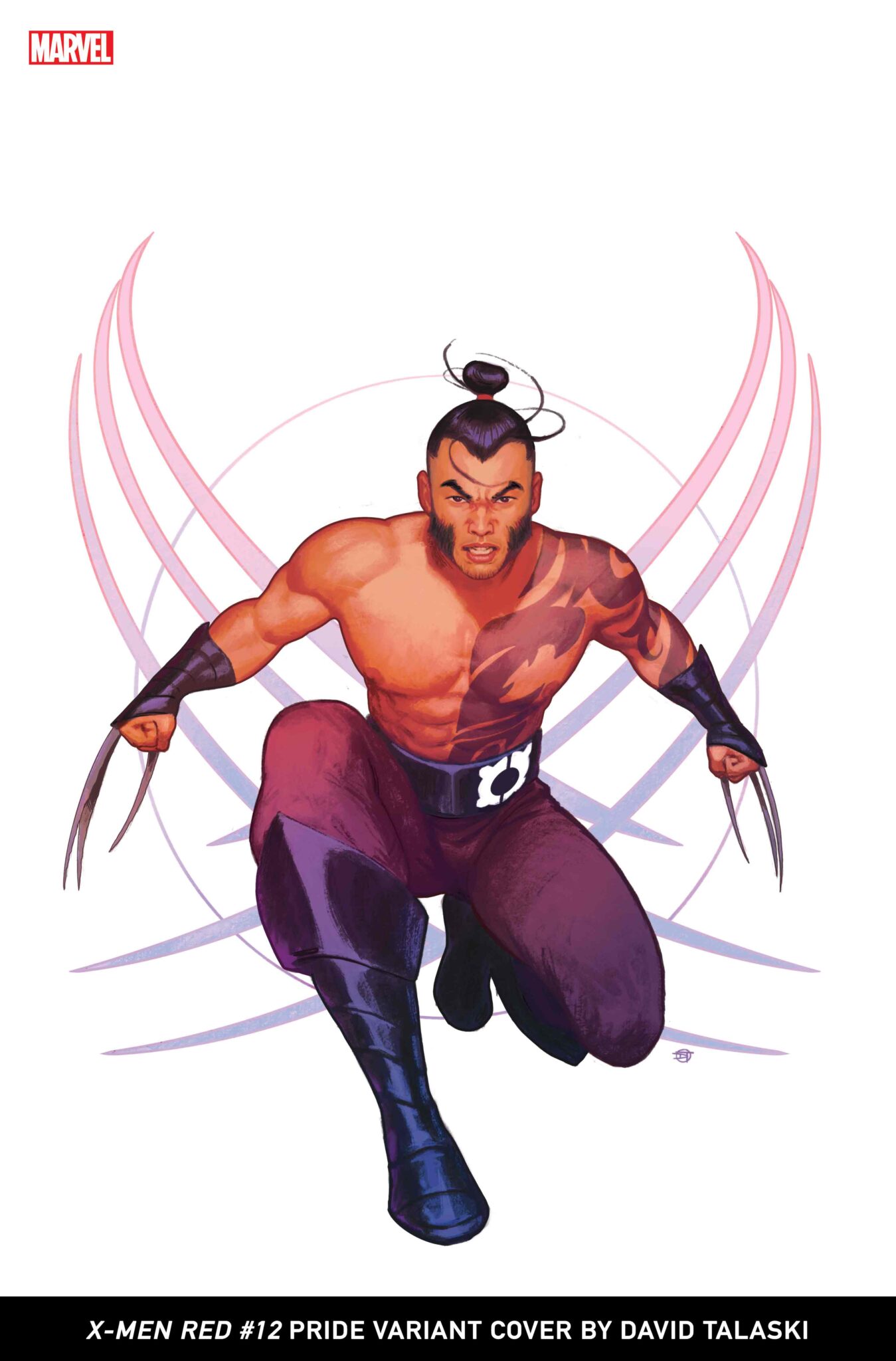 But it doesn't end there!
Marvel's Pride Month Celebration will once again extend to the galaxy far, far away by spotlighting LGBTQIA+ Star Wars character, many of which star in Marvel's current line of Star Wars comic series. Across seven variant covers, fans can see artwork of Doctor Aphra, Sana Starros, and more.  Drawn by a lineup of LGBTQIA+ talent, these covers bring Pride Month to your local comic shop with trade dress that features a bright rainbow burst and a special Star Wars progress logo. We co
Here are the characters featured in this year's collection:
·       Cinta Kaz & Vel Sartha, the pair of brave rebel operatives, make their leap to comic books for the first time ever after their debut in last year's original Disney+ series, Andor.
·       Doctor Aphra, the breakout Marvel Comics icon who is currently headlining her second solo series!
·       Domina Tagge, head of the powerful Tagge family with a vicious vendetta against Doctor Aphra that's currently playing out in the pages of Star Wars: Doctor Aphra.
·       Just Lucky, a highly-skilled assassin who at times finds himself aligned both with and against Doctor Aphra in Star Wars: Doctor Aphra.
·       Kantam Sy, a young Jedi during the High Republic era and a determined padawan of Jedi Master Yoda.
·       Magna Tolvan, a former high-ranking officer in the Galactic Empire who has since switched sides and found romance with Aphra.
·       Sana Starros, the no-nonsense smuggler has a past with both Han Solo and Doctor Aphra, and is currently starring in her very first solo series, Star Wars: Sana Starros.
"As a gay kid obsessed with Star Wars — I'm old enough to have seen the first movie in theaters when it came out back in '77 — I could never have dreamed that not only would I be able make artwork for the universe itself as a working adult, but that I would be drawing LGBTQIA+ Star Wars characters to celebrate Pride!" Jimenez told StarWars.com. "The very idea would have blown my seven-year-old mind. What an extraordinary opportunity and a real gift to be a part of expanding the Star Wars universe in a really vital way."
Check with your local comic shop regarding availability and pick up all of this year's MARVEL PRIDE VARIANT COVERS this June. And don't miss out on enjoying an extraordinary collection of LGBTQIA+ stories written and drawn by LGBTQIA+ creators in a new installment of MARVEL'S VOICES: PRIDE on June 14! For more information, visit Marvel.com.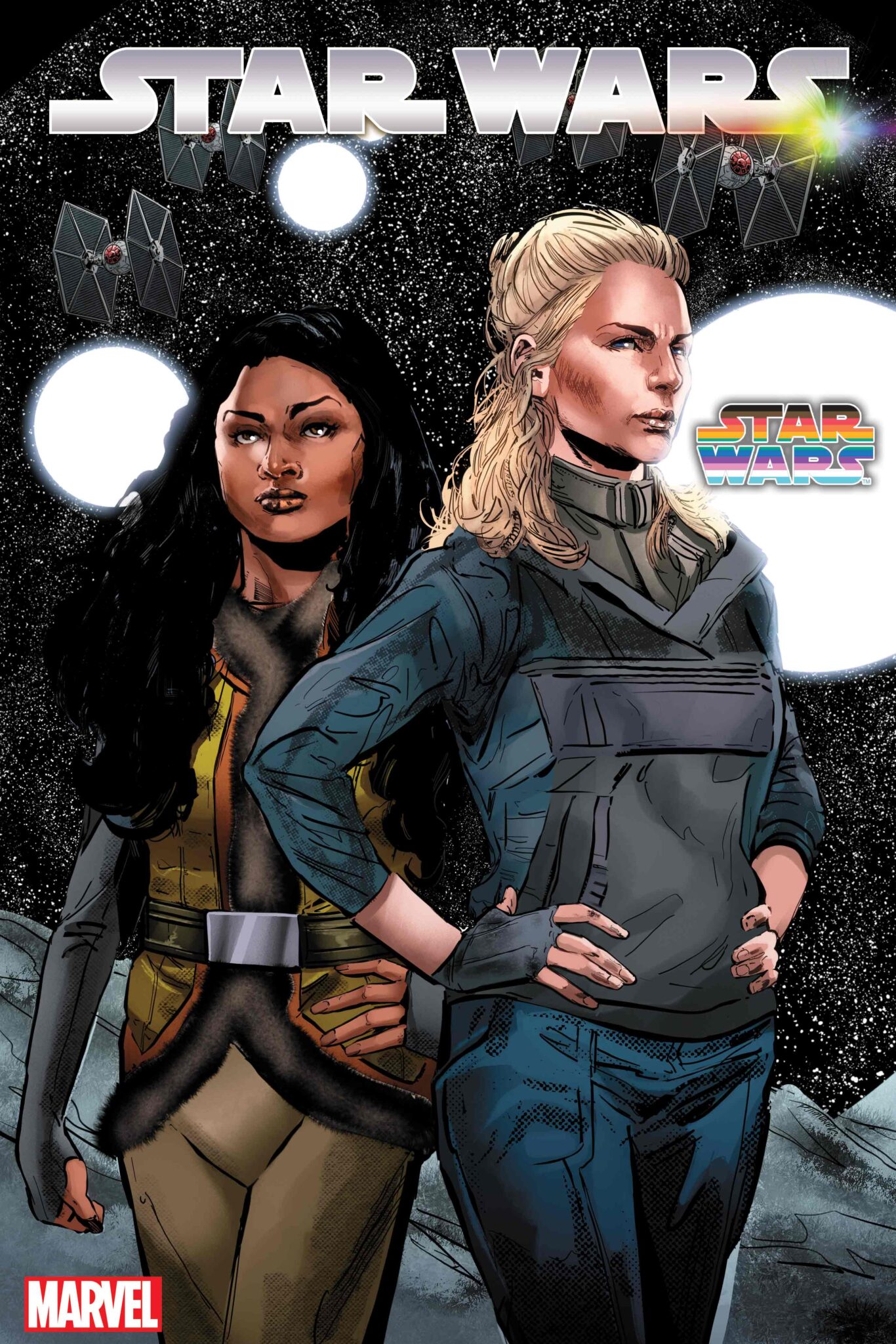 On Sale 6/7
IMMORTAL X-MEN #12 PRIDE VARIANT COVER BY DAVID TALASKI
X-MEN #23 PRIDE VARIANT COVER BY LUCAS WERNECK
STAR WARS #35 STAR WARS PRIDE VARIANT COVER BY PHIL JIMENEZ
STAR WARS: YODA #8 STAR WARS PRIDE VARIANT COVER BY JAVIER GARRÓN
On Sale 6/14
AMAZING SPIDER-MAN #27 PRIDE VARIANT COVER BY LUCAS WERNECK
CAPTAIN AMERICA: COLD WAR OMEGA #1 PRIDE VARIANT COVER BY DAVID TALASKI
X-MEN RED #12 PRIDE VARIANT COVER BY DAVID TALASKI
STAR WARS: DARTH VADER #35 STAR WARS PRIDE VARIANT COVER BY LUCIANO VECCHIO
STAR WARS: SANA STARROS #5 STAR WARS PRIDE VARIANT COVER BY BETSY COLA
On Sale 6/21
AMAZING SPIDER-MAN #28 PRIDE VARIANT COVER BY LUCAS WERNECK
STAR WARS: BOUNTY HUNTERS #35 STAR WARS PRIDE VARIANT COVER BY LUCAS WERNECK
STAR WARS: THE MANDALORIAN SEASON 2 #1 STAR WARS PRIDE VARIANT COVER BY PAULINA GANUCHEAU
On Sale 6/28
STAR WARS: DOCTOR APHRA #33 STAR WARS PRIDE VARIANT COVER BY PHIL JIMENEZ
Images via Marvel Comics
Have strong thoughts about this piece you need to share? Or maybe there's something else on your mind you're wanting to talk about with fellow Fandomentals? Head on over to our Community server to join in the conversation!