I can honestly say that Philip K Dick is one of my absolute favorite authors of all time. Using the medium of science fiction, he forces us to confront questions of morality. Right and Wrong, Good and Bad, these are not so simple in his world, a world of grey instead of back and white. Having never read the novel in which this Amazon series is based off, I set off to tackle the second season of The Man In The High Castle.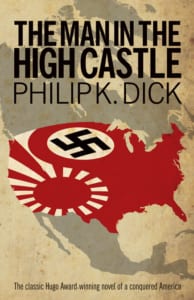 The Man in the High Castle has become one of Amazons most streamed television shows, and considered a success in that area. I'll try to focus less on the actual events in terms of not spoiling it for the rest of you, but just giving my thoughts on the season as a whole.
The first season of TMITHC started off slow and kinda hard to get into, but focused on the development of a world in which the Axis powers won World War 2 through the eyes of several different characters. The main ones being Juliana Smith, a women currently living in the Japanese Pacific States (The west coast of the United States) and Joe Blake, a Nazi double agent working to destroy the resistance trying to take down the German Government controlling the east coast.
Although the first season shined with great action sequences, and was overall well done pacing towards the later half of the series, the show has always struggled with character development. I found that it became too focused on creating ideals of moral ambiguity and forcing the audience to question whose side they stood on, that the development of key characters in all areas was slow and unassuming. Trying to accomplish this with plot twist and hidden secrets is fine and dandy, but when we don't care about the characters in the slightest, it doesn't matter how M. Night Shyamalan you get on us.
Season two definitely suffered from the same problem, especially with the two "main characters". Juliana and Joe were pretty connected in season one, and I was excited to see them separated at the beginning of season two. I was hoping this would allow for each of them to solidify their place in the show by really tackling who they are as protagonist. However this wasn't the case. With all the twist and turns of alternate real realities (A sub plot involving Tagomi, a Japanese official that I still don't understand fully) and the death of Hitler, the show never really bunkered down and made me feel for either of them.
This isn't seen just through them though, Nazi agent Smith and ex-boyfriend of Juliana Frank also suffered in the second season. Though honestly saved by phenomenal acting by both parts, the writer just didn't do enough to make me care. Smith had a redemption arc in this season relating to his disable child (A no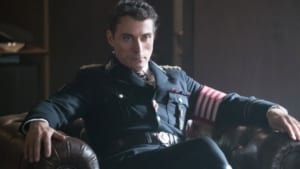 -no in the Nazi-run USA) and the writers just expected me to forget how he GASED ALL OF FRANK'S SISTER'S FAMILY. This man was evil, and committed atrocities all over season one and you expect me to just cheer for him because he has to choose between his government or his son? I j
ust couldn't buy it. My issue with Frank was that, although I loved how his character progressed, the end of his downward spiral from ordinary man to freedom fighter was sidetracked by his subplot involving forgery and Yakuza members. I wanted it to focus less on the death of his family, and more on finding other ways to drive him. Death of family is cliche and I see so much potential in this character.
The other problem I have with the shows second season was the pacing. I liked it in season one, not so much here. The plot lines felt rushed, there was action and chaos and plot twists simply for the point of shocking the audience into watching, and overall the story felt forced. I felt like I was just along to see how it all went down, but never really got blown away by the deep implications of what the story should most likely be about. Dick was an author who made you ask questions, this show simply made you wonder if it was better suited for a 40 minute cable slot.
However, even with all its faults, I still admit I kinda enjoyed watching it. The story was fun, the drama that was well done really made you want to finish, and the world building was phenomenal and very subtle. I had high hopes for the characters though, and I shall remain salty until they are redeemed.
The show hasn't been picked up for season 3 to the best of my knowledge, but I will say I am interested to see where the story will go on. It has so much potential, and I can only pray that it truly blossoms into the complex character driven program that I know it can become.
---
Images courtesy of Amazon