Lothlórien, Tolkien, and Time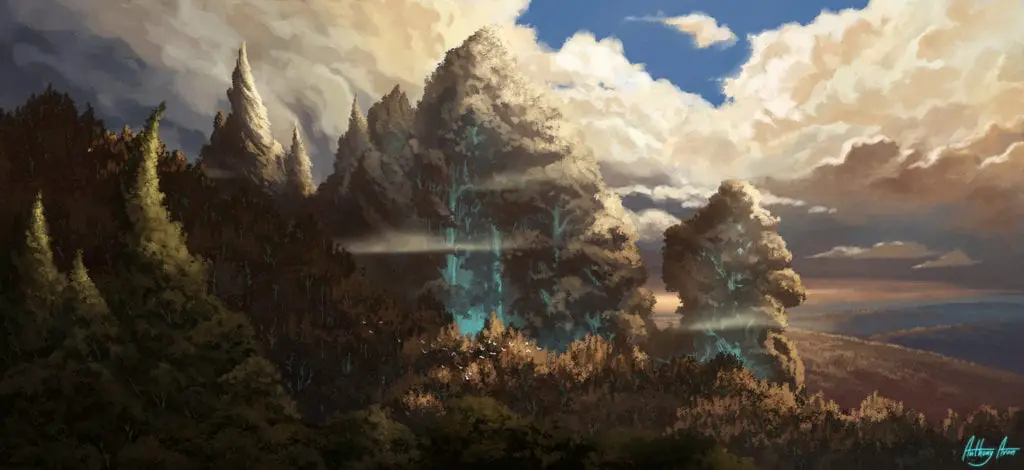 Lothlórien is an inverse of Moria. The latter was darkness and sharp stones, the promise of hidden threats and fire from the deep. Lórien is bright sun on golden leaves, waterfalls likened to gentle lace, the promise of protection bracketed by cool and healing waters. It would have been easy for Tolkien to leave the contrast at that. The Golden Wood could have provided the Company with a much-needed respite after a brutal three chapters culminating in Gandalf's (apparent) death. But instead we get "Lothlórien," an odd, layered chapter filled with beauty, sadness, and a persistent sense of strain.
Lothlórien and Time
The Lord of the Rings has been permeated with oldness. Oldness is associated with power, with magic, with a sense of majesty. There is the Old Forest, the old age of Bombadil, the ancient remnants of old cities and civilizations scattered around Eriador, Arnor, and Hollin. Lothlórien at first seems to be another iteration of that:
It seemed to him that he had stepped over a bridge of time into a corner of the Elder Days, and was now walking in a world that was no more. In Rivendell there was memory of ancient things; in Lórien the ancient things still lived on in the waking world.
Lothlórien is old, a piece of the Elder Days remaining intact as time flies by and inflicts its damage on the rest of the world. It's a refuge, a safe space, a shadowless land surrounded by shadows and wolves. But it's also more than that:
Frodo felt that he was in a timeless land that did not fade or change or fall into forgetfulness. When he had gone and passed again into the outer world, still Frodo the wanderer from the Shire would walk there, upon the grass among elanor and niphredil in fair Lothlórien.
Lothlórien isn't just old, it's literally timeless. Tolkien's world is so overripe with nostalgia – it's everywhere, permeating almost everything. It makes perfect sense that its magical epicenter is one in which nothing is lost to time.
"As they did so the South Wind blew upon Cerin Amroth and sighed among the branches. Frodo stood still, hearing far off great seas upon beaches that had long ago been washed away, and sea-birds whose race had perished from the earth."
Everything is in Lothlórien. It's a place where everything exists and nothing expires, a world impervious to loss.
Lothlórien and Sight
 It's also a place of clearer sight. When Frodo stands atop Cerin Amroth and looks around the woods around him, he twice – in a very short number of sentences – references the insufficiency of language. Instead he thinks of the sharpness of the world, how its oldness and immediacy make it seem like something entirely unique:
All that he saw was shapely, but the shapes seemed at once clear cut, as if they had been first conceived and drawn at the uncovering of his eyes, and ancient as if they had endured forever. He saw no color but those he knew, gold and white and blue and green, but they were fresh and poignant, as if he had at that moment first perceived them and made for them names new and wonderful.
It's a very Neoplatonic way of envisioning an idealized world (and Tolkien, as a Catholic, was probably well-versed in this sort of Neoplatonism that was originally popularized by early Christian writers like St. Augustine and Pseudo-Dionysius the Areopagite). It calls to mind the philosophy that the individual objects of the world are simply reflections of ideal forms. And Frodo seems to catch a glimpse of these forms in Lórien. It's telling that when he touches a mallorn tree, he's struck by the fact that he does not view it through the lens of a gardener or a forester or a carpenter. He simply views it as a tree.
Lothlórien universalizes the world – it takes the specific and the unique iterations of something and overlays them, so a tree becomes Tree, green becomes Green. By picking up this approach Tolkien was able to create a landscape that is both intensely tangible and strangely ethereal.
Lothlórien and Strain
 Of course, none of this is quite true.
Take a look at the last two pages of "Lothlórien" and it's easy to come away with the idea that Cerin Amroth and Caras Galadhan are a verdant, shimming paradise, far removed from all strife. But if this were ever true, there are signs throughout the chapter that this view is increasingly filled with cracks. There is evidence of strife everywhere in Lothlórien, to the extent that the woods are ringed by armed scouts and all of the bridges into the land have been destroyed. Orcs are skirting the borders and making inroads into the forest. Climb a tree and look to the east, and within sight is the dark smear of Southern Mirkwood and the tower of Dol Guldur.
The attitude of the Elves of Lothlórien is not much more promising. Haldir is presented as an outlier for showing any interest in venturing in the outside world or learning much about it. They have a distrust of outsiders – especially dwarves – that is so intense that they insist blindfolding poor Gimli despite the fact that he's traveling with another elf and the man who is engaged to Galadriel's granddaughter. Despite the fact that Lothlórien feels more 'magical' than Rivendell, there is the sense that it comes at a cost. Everyone who lives within its borders seems to be constantly striving to maintain it, and to know that their task will ultimately fail.
The Value of Nostalgia
 Also: for a timeless land where everything lost seems to still exist, Lothlórien has a real thing for nostalgia and the persistent awareness of sorrow. Take Haldir, speaking to the Company as they are walking through the Woods:
"Some there are among us who sing that the Shadow will draw back, and peace shall come again. Yet I do not believe that the world will ever again be as it was of old, or the light of the sun as it was aforetime. For the Elves, I fear, it will prove at best a truce, in which they may pass to the Sea unhindered and leave Middle-earth forever. Alas for Lothlórien that I love! It would be a poor life in the land where no mallorn grew. But if there are mallorn-trees beyond the great Sea, none have reported it."
Haldir's attitude here is so interesting to me. There's the sense – always, with the Elves – of fading away, of their time coming to an end. That the world will never again be as beautiful as it used to be. It explains some of their flippancy – they're dicks again in this chapter, scaring the Company on purpose then laughing at them. It's a silly comparison but they're a little like Middle-earth hipsters, laughing at these men and hobbits who are jumping onto the bandwagon so late in the game, never knowing what it was like at the start.
But at the same time Haldir expresses such a genuine love of his home. Even when contemplating sailing across the Sea – where presumably some of that "light of the sun as it was aforetime" may be present – he doesn't seem excited. What's the point without mallorn trees?
I'm also very intrigued by how valuable this sense of nostalgia is, or how Tolkien conceived of it when he wrote it. Most of the stories that come from the golden age to which the present elves look back were really terrible. Take the tale of Nimrodel and Amroth that Legolas sings of at the start of the story. He himself admits that it is "long and sad, for it tells how sorrow came upon Lothlórien." In brief, it's a story about how Nimrodel insisted to her lover Amroth that they flee from the dangers encroaching upon Lothlórien. On their way to the sea the lovers get separated. Nimrodel was never heard from again; Amroth cast himself into the sea.
It's a sad story, and features a Lórien not noticeably different than the one in The Fellowship of the Ring.  Most of the stories of the elder days of Middle-earth and Arda are deeply sad.  The Silmarillion is not a happy book.  I'm curious, then, as to what that says about the Elves' views of the past and their attitude towards the changing nature of Middle-earth. They seem wistful of the past, unconcerned and incurious about the future. I'm unsure at this point how Tolkien would have felt about this.
Aragorn
Speaking of Middle-earth's future: this is a good chapter for Aragorn. He steps up to the plate as the company's new leader in Gandalf's absence, managing to convince a grumpy Boromir and a proud Gimli to make their way further and further inside of Lothlórien. Though it's not explicit here, he is such a nice counter to the Elves. Aragorn's ties to the past make him a prime candidate for nostalgia about the glory days. But Aragorn seems to have very little interest in such thoughts. While he undeniably appreciates the beauty of Lórien it's accompanied by a care and interest for Middle-earth's future as well.
He also gets to be the star of the chapter's rather beautiful closing lines:
"Here is the heart of Elvendom on earth," he said, "and here my heart dwells ever, unless there be a light beyond the dark roads that we still must tread, you and I. Come with me!" And taking Frodo's hand in his, he left the hill of Cerin Amroth and came there never against as living man.
The long flowing sentences provide a sharp contrast to the brusque, short sentences that closed out "The Ring Goes South," "A Journey in the Dark," and "The Bridge of Khazad-Dûm." Even better is the sudden intrusion of omniscient narration in the last line. Tolkien almost never uses this in The Lord of the Rings and so it stands out rather jarringly. It's a nice way to suddenly destabilize the reader's sense of time at the close of a chapter about a place that is timeless. 
Final Comments
In a lot of ways – especially in the early conversation between Boromir and Aragorn about the Wood's peril – Lothlórien is akin to Faerie. Both are perceived as beautiful and dangerous, pockets of the world where time and space seem to shift. I wonder if the contradictions inherent in Lórien come from the fact that Tolkein was pulling from both his own Catholic background as well as a pagan / Celtic concept of fairy stories.
I like the way that the Mirrormere from the chapter's opening pages foreshadows Lórien. Both involved idealized pictures of the past, both involved idealized views of nature. It also sets up a nice tension where – in a chapter where elves and dwarves are constantly snipping at each other – the two peoples appear to have quite a bit in common.
I do genuinely like many things about Peter Jackson's adaptation of Fellowship but Lothlórien feels off to me. The movie is all darkness and deep, blurry blues. Tolkien's description is bright yellows, greys and golds. Perhaps it would have been difficult to convey the proper tone on film, but I do miss it the book's color palette.
Legolas and Gimli both have a good chapter for their characters. It's fitting for Gimli's character that he would be so outraged at a bunch of elves refusing to admit the legitimacy of his word:
"I will go forward free," he said, "or I will go back and seek my own land, where I am known to be true of word, though I perish alone in the wilderness."
"You cannot go back," Haldir said sternly. "Now you have come thus far, you must be brought before the Lord and Lady. They shall judge you, to hold you or give you leave, as they will. You cannot cross the rivers again, and behind you there are now secret sentinels that you cannot pass. You would be slain before you saw them."
Gimli drew his axe from his belt.

(Of course Gimli drew the axe from his belt).
"Alas for the folly of these days!" said Legolas. "Here all are enemies of the one Enemy, and yet I must walk blind, while the sun is merry in the woodland under leaves of gold." I love this line from Legolas. It starts off seeming so noble and open-minded, but then you realize he's pretty much saying "It's such a bummer that this war means I can't look at the trees." Elf princes are so entitled these days.
Samwise! Sam is fucking relentless. He follows Frodo to both the Mirrormere and up a tree in Lothlórien even though no one invites him. I love him for it. And I was happy when he finally got an explicit invite up Cerin Amroth with Haldir.
Prose Prize: Lots of pretty descriptions of trees here. Take your pick. I do quite like this passage though: "As they did so the South Wind blew upon Cerin Amroth and sighed among the branches. Frodo stood still, hearing far off great seas upon beaches that had long ago been washed away, and sea-birds whose race had perished from the earth."
---
Images courtesy of Antonio Maletin, Jian Guo, and Ted Nasmith.
Once again before starting this article I must once again confess that I do not own Faerie Tale in its original langage. This shouldn't be a problem for the following article which as more to do with the story than with the style of the book. Nevertheless because of it some names might sounds strange. I apologize for the inconvenience.
There is nothing worse, speaking of books, than getting utterly disappointed by a book that seems written for you. The other day, when I pitched the story of Faerie Tale to my best friend, he asked me playfully "why are all the books you are reading always so you?". And that is true. On paper, Raymond E. Feist's Faerie Tale had everything to please me. Folklore, slightly gothic ambiance, horrific set-up, fantasy, a focus on a coming of age story, an entrapment situation… Everything! I even read it in the best mental conditions possible to welcome the story warmly.
And yet as I progressed in the story, an increasing amount of elements irked me. Until the final of the mystery of the ex-owner of the house was reveled. I wasn't just irked at this point. I was laughing. Laughing because what I was reading was laughingly bad.
In the end if I were to grade Faerie Tale I would give it 5/10 because there were things I really like so it doesn't deserve to be under average. And I wanted to like this book. Still, after my encounter with the laughingly bad twist I came back on everything that irked me about Faerie Tale. It's not good and it doesn't deserve more than the strict average.
But maybe there is more to Faerie Tale. Maybe it isn't a disappointing book after all. Maybe it simply aged poorly.
The plot
The Hastings in Fairy Land
Faerie Tale follows an American family, the Hastings, relocating to the father's hometownin the 1980's. The Hastings are five. Phil, the father, is a popular screenplay writer. Gloria, his wife, was a actress without real career who dropped everything to take care of her sons. Gabbie, Phil's daughter from a first marriage, is a young college student who came to spend the summer with her father. And finally there are the twins Sean and Patrick. The Hastings are rich, in the case of Gabbie crazy rich. Is it important to the plot? Not really. If anything, it makes the Hastings will to endure what is thrown at them weirder. But it allows the initial situation and its mention a lot (A LOT) so I figured I should mention it.
Thanks to their sweet sweet money, the Hastings bought the house and land of an eccentric German who passed away without heir. On the land stands the Hill of the Elven King, a place, which in the local legends, is renowned for hiding the faerie court. Of course, as it turned out, it isn't a legend and the fairy living there are trapped and want nothing more than to be free. And for that they are more than ready to manipulate the Hastings into helping them (I guess they are also doing all that they are doing because they are fairies and therefore assholes).
After several very severe incidents (Gabbie being nearly rapped, the family cat being gutted, Sean being swapped for a changeling) the Hastings (let's be perfectly honest Patrick and Phil) helped by some secondary characters (all men) defeat the evil fairie. They also make a pact with the less evil one and the status quo is restored. The world is saved.
Still, the international secret organisation that secretly rules our world makes everyone forget everything about what happened, except for Patrick and Sean. Then, the Hastings are magically manipulated into moving back to California.
Everything for Nothing
Here you already might see one of the issue with Faerie Tale. What was the point of the books? We have five main protagonists and two are virtually unchanged by the 370 pages of development they just undertook. Gabbie has development (and I will come back to it later), but it isn't linked to the faerie business. So if we exclude the twins, what was the point of the story?
Most of the characters, who weren't really interesting to begin with, didn't progress because of it. The villains—who are unnamed, unseen, and whose goal was already reached at the beginning—have already won. It wasn't scary. It was mildly distracting (I might be harsher with my books that I am with my TV-shows, but it's like that). And it didn't have any sort of profound meaning.
So yeah, the plot of the book has its issues already. But that's not the only problem with Faerie Tale.
The Myths
Being a story of urban fantasy (rather rural fantasy… please someone stops me) Faerie Tale deals with myths that are real.
Fairies as archetypes
One the things I really liked in Faerie Tale is that the fairies are fairies. They aren't human and don't have a human sense of morality. Their essence isn't the same as ours. And frankly it's refreshing. Considering the current craze around fairies in YA where the fairies are mainly pseudo medieval humans with powers and a penchant for misogyny, I am delighted to be facing creatures that are really different and troubling.
The fairies in Faerie Tale are archetypes. They play a role and when they have been beaten, another steps into their shoes assuming their role to the point of taking their identity. They are immutable. And they are monsters that are egoist and takes pleasure from human inconvenience and misery. Some of the members of the fairy courts are humans, but they are humans who have suffered the corrupted influence of the fairies for years. They are unhappy, twisted, wrong, etc.
So, Feist did create an interesting fairy court. The only complaint I have is that it is made pretty explicit in the book that the degree of horror inflicted on the Hastings is linked to the will of the fairy to break free. Meaning that if the master plan wasn't set into motion, the family would just have suffered harmless pranks. None of the pranks they suffer in the book are harmless (except one) and they are all linked to the master plan. Which leads me to believe that this fairy court is super lazy on a daily basis. But that's just a detail.
One folklore to rule them all?
My main issue with Faerie Tale is the refusal to explain where the fairy court stands in a complex cosmology. I mean the book states that fairies, as conceptualized in Ireland and Germany, exist. Apparently Christianity might be correct too, since Christian prayers are efficient against fairies. But what about other religions that have different folklore traditions (Islam, Judaism)? Are their prayers efficient against fairies, too? Do their folkloric monsters (Djinn, Golem) exist too? The story explains how the fairies were brought to America, but what happened to creatures from the various Native American folklores? Did they ever existed? Or is this a case of 'Germano-Celtic culture was right all along and every other belief is superstition'?
A good example of that is the presence of White Ladies in Faerie Tale. You see, in France White Ladies are probably one of our most famous folklore creatures. The issue is that they aren't fairies. They are revenants. They announce death (or they might lead to yours if you see them, it depends on the legend you are considering). The myth is old and persistent. The Louvres and Versailles were and still are known to have their White Lady. The current urban legend of a vanishing hitchhiker has been fed in France by the White Lady mythos (most of these stories in France are about women who warm you about the place they died leading you to your death or avoiding it, it depends).
So when I saw the White Ladies of the books depicted as sexualized fairies in a fashion reminiscent of the Brides of Dracula, you have no idea how disappointed I was. "They suck" was my honest reaction.
To be perfectly honest, the issue I have with Faerie Tale's lack of a complex cosmology that refused to acknowledge the diversity of myths might have been enhanced by the fact I read Neil Gaiman's American Gods just after. Still, there is something missing here. And it's annoying.
Conspiracy theory
If I tell you a story put fairies and a conspiracy theory together, you might answer me that doesn't sound like a good mix. And you are right. As a general rule, I am not a fan of conspiracy theories. I think they are way of shifting the blame from the actual people responsible for the situation to someone else (sometimes a disadvantaged minority) and preventing systematic changes. I also think that they are often anti-science. If we add to that our current political context of fake news and post-truth, I would find any story cheaply relying on it distasteful.
Unfortunately that's what Faerie Tale does. The ex-owner of the house was a member of a secret organization using fairy magic to rule the world. The members of this organization are super rich and super powerful and they use all this power to remain secret and keep the fairies from hurting humanity. Wait… Are they the good guys? No, they aren't because they are still a secret evil organization that rules the world for its own gain and that's all… They just want to be rich and powerful. They are the GAFA without internet and with pixie dust.
They are uninteresting. They are unoriginal. They don't add a lot to the story considering that all their influence undoes the story. From a storytelling perspective, they are useless, stereotypical, and dumb. This is the laughably bad distasteful part of Faerie Tale.
The Characters
Faerie Tale's characters aren't unforgettable. Far from it. Every time I sensed something interesting could be done with one of them their potential was utterly wasted. But I will focus on two main issue in this section
Money, money, money
Thank you Faerie Tale for making me feel like Lady Violet Crawley.
Never would I have thought that a book about fairies would talk so much about money. Never would I have thought that characters could talk so much about money without having their story center around it. The Hastings are rich. Gabbie is more or less the equivalent of an heir to the Rockefeller fortune. Despite that they are presented as humble people. I mean, the book tells us they are humble and they do welcome everyone in their home.
But everyone must be ready to hear about how much money they have. Phil explains to a perfect stranger (let's be honest, he spoke to him twice before this) how much his daughter is rich. They have their own lawyer, their own agent. They can pay a doctor to came to a study specifically for them… But rest assured that they don't spoil their children and raise them to value real life. They just allow their daughter to drop out from college because she won't have any problem starting again later. They buy a house on a whim. They postpone their children's extravagant fancies to teach them rationality. They dropped a promising career because they don't think the story they were writing was good enough…
You know normal stuff from normal people who aren't literally made of money. How did they get this money? Well Gabbie inherited it. Phil wrote extremely popular movies fro Hollywood. What are they doing with this money? Phil is doing normal things for an 80's American: not paying taxes that would finance public universities, public healthcare, etc and indulging in an lifestyle of over-consumption. Gabbie is buying horses and an expensive car (paying for her little brother's treatment) and not learning how to do anything significant for the companies that create her fortune. Relatable stuff that will definitively make them sympathetic to an average audience.
Sure, it could be forgotten in the narrative. But they talk about money all the time! This is ridiculous. You just want to shake them violently and scream "You are rich idiots without real problems who put their children at risk and need to move out of the bloody estate!".
This constant mention of the Hastings's fortune ended up making them despicable in my eyes.
Female characters
Sexualisation
Faerie Tale has a deficiency of female characters. If I had to give a percent of the gender balance of the book, I would say that 65% of the characters are men and 35% are women. To gives you an example, there are four named doctors in this book, the four of them have dialogue, all of them are men. Among the fairies, four of them are women. All of them are sexualized and none of them really have an agency linked to the master plan. The three most important fairies are men. And despite Gabbie having a strong sexual reaction to them, none of them are describe in any way as sexualized as the female fairies are.
Wasted potential
Among important female characters, we have Gabbie, Gloria, and Phil's university mentor. Let's start with the last. The first thing of importance to note is that I have forgotten her name. But let's put that aside. this character could be an interesting one. Indeed, having a woman scholar who guided several male characters in their literary/professional progression is pretty progressive. Having men being inspired by a woman's work and ethic is great. It's a nice reversion of the "I don't want to fuck him, I want to be him" trope, and I think it essential for boys and for girls to see it done more often in media. However, your devoted servant would argue that it isn't that well done here.
Phil's university mentor has a maternal relationship with both the men she has tutored/is tutoring. She even misses the true calling for one of them: being a dialogist. And of course the person who notices this oversight is… a man. In general, she doesn't do a lot of mentoring despite the evident respect both her students have for her. A huge missed opportunity.
Now to Gloria. Gloria isn't a bad character. Once again she had a lot of potential. She is the only one of the adults Hastings that feel there might be something deeply wrong with the estate. She even witnesses a fairie's activity, which allows her to connect with Patrick after Sean's disappearance. Clearly, or at least from my point of view, Gloria was built to be the parent who ultimately assists/saves Patrick in his quest to get his brother back. But in the end, it's Phil who gets the mission of finding his sons. Phil, who never showed any instinct for the supernatural and who had no progression—no real mental progression—linked to it. Why from a narrative perspective is Phil chosen to go and saves his sons? Well I guess it's because that's what fathers do, while mothers fall into a hysterical state…
Gabbie
Finally, let's discuss Gabbie. Gabbie is an 18-year-old woman currently studying in California. We have already discussed Gabbie's financial situation so we won't do it any further here. There are a lot of things done properly with Gabbie: a subversion of the spoiled rich girl trope, a good relationship with her step-mother, a positive treatment of the rape attempt she suffers, and a positive depiction of her sexuality. Still, no character infuriates me as much as Gabbie.
Gabbie has two important arcs that are connected: her love story with Jack and her relation with her mother. You see, Gabbie's mother married Phil young. They had a bad year professionally and Gabbie's mother also broke with her family, who didn't approve of her lifestyle (she was disinherited). Then Gabbie was born and her mother changed her profession to journalism, more precisely to be a war reporter. She then decided that her career was more important than her daughter and husband, leading to her leaving Phil and not taking care of Gabbie. Here I must emphasize that Phil also put his career before his daughter and Gabbie was left to her maternal grandmother, who raised her.
Now that her grandmother is dead and she is an adult, Gabbie has bonded with her father but not with her mother. Partially because her mother, too caught up in her career and in her importance for the "American left" (yes, that phrase in the book; take it as you want because I really don't know what I am supposed to do with it), hasn't extended any hand for her daughter to grab. Therefore, Gabbie's arc deals a lot with her coming to terms with her insignificance to her mother.
This is once again an incredibly important narrative to explore. Once again, it's a gigantic wasted opportunity. The career of Gabbie's mother is constantly denigrated by the book. Her principals and ideologies are ridiculed when Gabbie learns that her mother is to marry a French millionaire (who is also a pedophile since he hit on Gabbie when she was 15) that she should normally hate if if she wasn't a total hypocrite. As a consequence, Gabbie has no trouble with and no regret leaving at her mother behind her since she is irredeemable. Indeed, none of the reasons Gabbie's mother had to abandon her daughter have any sort of value. (Note that Phil, who also left his daughter behind for his career, has to be a decent human being to be allowed back in her life with open arms.)
Therefore Gabbie has no trouble to make the decisions she ends up making. She decides to marry a man she has known for 5 months (her first sexual partner if I might add). He is an aspiring writer being tutored in college by the same tutor as Phil. She also decide to stop her studies for now. Does she have a better idea of who she wants to be as a person, except than being Jack's wife? No, but I guess it's okay because she is going to be someone's wife; what else could she aspire to be? In the end, Gabbie rushes into marriage without knowing who she is, with a man who is a younger version of her father (yes, Jack even admires Phil). She is making exactly the same choices her mother did, but she'll be fine because she is being a good sport about it, unlike her mother.
I can't even begin to explain how much I despise this narrative. Even if it hasn't directly touched me, the idea of coming to term with one's insignificance to one's mother is something that has influenced a lot of people I love in my family. I can guarantee you that it's not fixed by making all the same choices as your mother but not being a total hypocrite about it. People are complex, yes, even people who abandon their children. They can't be summarized by using two overused cliches, and the impact they had on you can't be brushed aside by simply reducing them to these overused cliches. Besides, do I have a to explain why I find it distasteful to see a woman bloom in domestic bliss when her mother is vilified and mocked for pursuing a career? No? Great!
The Twins
The twins, Sean and Patrick, are the saving grace of Faerie Tale. Not only are they the more connected to the fairy court, they have the most interesting progression as characters. More Patrick than Sean but still. Patrick is a shy little boy that ends up finding the courage to save his brother. Sean learns that he can rely on his 'weaker' brother and shouldn't lash out at him because they both have strengths and weaknesses. By teaming up, they save the world, kill the villain, and free their perverted double. And of course for all of that, they are graced by the capacity of remembering what happened.
All in all, the twins' story is a well-crafted, interesting storyline. I just wish I didn't have to suffer the rest while reading Faerie Tale.
Conclusion
As you have probably gathered by now, I didn't really enjoy my read. But while thinking back on Faerie Tale, I came to the realization that I might be part of the problem. Raymond E. Feist is an incredibly popular author. The last time I went to a bookstore, one of his new works was heavily advertised (I mean, as much as a fantasy book can be in France). I don't doubt that he has great qualities as an author.
A quality he can't have though is creating a book that pleases the taste of a public that will be born 8 years after its original publication and will only read it 30 years later. Nothing is ever perfect, and age is never tender. Trust me on this, even fine wine that isn't properly preserved ages poorly. This doesn't absolve Faerie Tale of its mistakes. But I must be honest.
When it was first published in 1988, Faerie Tale might have been an above average book. It might have introduced a new concept: a sort of gothic horror based on fairy tales taking place in our time and adding an 'international context' to it. But everything I saw Faerie Tale trying to do, I have seen done better in other books since then. Time has been cruel to Faerie Tale, and, unfortunately, I paid good money to discover that.
---
Image Courtesy of Doubleday
Kel Commands in Squire, Pierce Prepares
Kel commands, and Pierce readies her for the trials of the next book, and for the rest of her life. Published in 2001, it deals with a lot of complicated, intersectional issues, in a mostly contemporary way. It's one of the Pierce's most progressive books. Squire covers the next four years of Kel's training as a squire, and her Ordeal. The Ordeal looms over Kel as the prospect of knighthood draws ever closer, along with the challenges post knighthood.
Spoilers for Squire and all of Pierce's previous books. Content Warning for mentions of sexual assault.
What Happens?
The First Two Years
Squire begins three months after Page ends. Kel visits the Chamber of Ordeal, and has a vision of never being picked as a squire. Almost immediately afterwards, Raoul approaches and asks her to be his squire. Kel accepts, and Raoul sets her up to ride with the Kings Own, the segment of the army he leads. A town summons the Own after an attack by bandits. In the hunt for the bandits, Kel kills one of the centaur bandits and rescues a baby griffin. Because of griffin magic, she needs to care for it until Daine explains to the parents that Kel didn't steal him.
Caring for the griffin, tilting, or 'flying' lessons with Raoul, riding with the Own, and command lessons fill the rest of that year. Kel's crush on Neal vanishes in the year they spend apart. Later, the Yamani delegation arrives, with Princess Shinkokami. Or, as Kel knows her, Shinko, a friend from her childhood in the Yamani Islands.
That fall, they discover the identity of the man who orchestrated Lalasa's kidnapping is Joren. The magistrate deems him guilty, but because Lalasa is a commoner, the only payment is a fine. Kel's outrage leverages Jonathan and Thayet begin changing that law. When Shinko and Roald meet, it's very awkward, and they don't know how to talk to one another. Kel engineers a gathering to loosen them up and get them to actually talk. Cleon kisses her afterwards, and Kel doesn't know how to react. During Vinsen's Ordeal of Knighthood, the Chamber  forces him to feel the beatings he gave two women. Afterwards he confesses publicly to their beatings, and to the rape of another woman. When Joren takes his Ordeal, he dies.
The Last Two Years
All through these years, Kel approaches the Chamber, and receives visions when she touches the door. They're always horrible, but eventually she grows somewhat immune. In the spring, the court leaves on Grand Progress, to introduce Shinkokami to the realm as their future princess. A knight insults one of Kel's companions in the Own, and she challenges him. She wins, and another conservative immediately challenges her. Eventually, Kel tilts against Wyldon and loses. But she commands respect on the tilting ground, winning seventy percent of the time.
Raoul chafes against the trappings of the progress all year, and takes every opportunity to avoid the fuss. Kel and Cleon eventually come to an understanding and begin dating. Kel has a frank conversation with her mother and gets a contraceptive charm, though nothing comes of it. Daine finds the griffin's parents and Kel returns him.
In Kel's fourth year, Raoul and the King's Own go north, to where war broke out between Scanra and Tortall. Kel spends the summer there, and commands a squadron in a fight with a metal machine. At the end of the summer, she and Raoul head to Corus for her Ordeal. Kel passes her Ordeal, but before it ends, the Chamber shows her who made the metal machine. She sees him with other machines and with a pile of dead children. The Chamber commands her to fix it.
After the Ordeal she meets Alanna. Alanna reveals she was the one who sent Kel all the mysterious presents. Alanna and Kel have a heart to heart, and the book ends with Alanna giving her a final gift. A sword that Kel names Griffin, and mentally prepares for the trials of the future.
Kel Commands…
Respect
Yes, yes it's a cliched term, but it's true. Over the four years of being a squire, Kel commands respect from a lot of people. Part of it is being so in the public eye as a member of the Own, as Neal pointed out. Part of it is also her successes in tilting during the Great Progress. But the fact remains, Kel earns respect through her actions in this book.
From Former Enemies
The first place that this really shows up is after her tilt with Lord Wyldon. She looses, and he knocks her out of the saddle. He rides over to her afterwards, gives her a hand up, advice, and asks if Joren caused any trouble recently. It's a completely cordial conversation. Pierce reinforces that cordiality later, after the Midwinter where Vinsen and Joren fail their Ordeals. Wyldon retires afterwards, and Kel goes to confront him and argue against his retirement.
After an exchange about Joren, Vinsen, and how he almost derailed her page training, Kel still reaches out. "You're the kind of knight I want to be.' He regarded her with the strangest expression in his eyes. 'I am not,' he said. 'But that you believe it is the greatest compliment I will ever receive." (285). Kel's compliment and everything Wyldon saw of her over six years of training changed them both. Kel always respected him, she didn't like him because he never treated her fairly, but she respected him. That respect and her excellence managed now commands his respect for everything she's done. That 'strange expression' is the face of someone given a compliment from someone he once reviled and now respects.
Another unnamed conservative knight also apologizes to her after a tilt. He says he misjudged her, and that he was wrong. It's only one other person, but it's a sign of some slow change for the better.
From New Allies
The respect Kel now commands shows up in women as well. After her second tilt with Wyldon, where she looses but isn't unhorsed, she wakes in a tent. There are three pre-teen girls waiting there for her, and they want to be pages. She gives them all the advice she can. When she thinks the Ordeal will kill her, she thinks of them. Kel thinks her dying in the Ordeal will stop their dreams of being knights. But she doesn't die, she passes the Ordeal, and now there's the chance that others can come after her.
This also shows up in Alanna and Kel's conversation after Kel earns her shield. Alanna reveals she gave Kel all the gifts she could from a distance. Then she proceeds to shower Kel in compliments.
"And you went so far beyond what I hoped, for the next girl page, and squire, and knight. All those tournaments, and those girls in the stands, right down by the field, watching you hungrily— … I had the magic, don't you see, … But you, bless you, you are real. … They swore they'd take up archery, or riding, or Shang combat, because you had shown them it was all right. I was so proud." (388).
It's quite possibly my favorite scene in the whole series. Alanna and Kel speaking as equals, and Alanna's recognition for all Kel did for Tortall. It's beautiful, and transcendent, and shows what representation means for the disempowered. Kel's success earned her respect, both from those who opposed her, and those who wanted to emulate her.
Command
Kel commands leadership positions through her personality. Raoul explains it to her, that first winter. He lists the four different types of warrior. Heroes, knights, soldiers, and commanders.
"Commanders have an eye not just for what they do, but for what those around them do. Commanders size up people's strengths and weaknesses. … Other warriors will obey a true commander … You've shown flashes of being a commander. … My job is to see if you will do more than flash, with the right training." (120-121).
That paragraph summarizes the entirety of Kel's character arc, and what differentiates her from Alanna. Alanna is the standard hero, but Kel is a commander. Kel learns from Raoul how to command a large troop of men. Before they head north, she helps him select candidates for training in the Own. He puts her in charge of the resupply before they go north. He teaches her tactics, strategy, how to inspire loyalty in her followers. And Kel learns quickly and well.
Kel's lessons in command culminate during the summer they spend guarding the border. A band of Scanran raiders attached a merchant caravan, and Raoul, Kel, and several squadrons of the Own rode out. Raoul stations Kel with Dom's squad, and a Scanran injures Dom. Raoul puts Kel in charge of the squad. She faces some resistance from one of the other men, but when the killing machine shows up, she's able to lead them to victory.
A less extreme example is how she manages Roald and Shinko. Kel notices a problem, pulls together the right people to deal with it, and gets them working together. Yuki, Neal, and Cleon get them there, and Buri and Raoul start them talking. It's not leading an army into battle, but the interpersonal things that make or break a relationship.
Intersectional Feminism in Squire
Feminism
A lot of the focus in this book is the empowerment of women. To no one's surprise, Squire has many feminist themes. It extends further than Alanna and Kel's conversation about the impact Kel's life has on others. Further than the three young girls who want to become pages themselves.
To no one's surprise, it begins with Lalasa. In the dedication to Squire, Pierce acknowledges Gloria Barbizan and Dorothy Olding, "strong businesswomen long before women's liberation." Before Kel goes to with the Own, we see Lalasa, and Kel thinks of her, "They had both changed since their long, frightening walk down the side of Balor's Needle six weeks ago. Kel thought that Businesswoman Lalasa was a treat." (25). The description of Lalasa as a businesswoman and her new brisk nature shows the end of Lalasa's timidity that so often irked Kel in Page.
Kel also develops many female friendships in this novel. She stays friends with Lalasa, but to her former maid she adds Buri, Shinko, Yuki, Thayet, and Alanna. Buri talks with her after Vinsen's confession. Kel felt guilty about not reporting him after the attack on Lalasa. Buri tells Kel that, "Three nights a week your Lalasa closes her shop early, … She teaches city girls — commoners — holds, blows, and kicks that will help them to escape an attacker. She learned all that somewhere." (273). That shows the ripple effect that Kel has, not just on noblewomen who can now be knights. But now common women have someone that can teach them to defend themselves. Kel taught Lalasa, and Lalasa now teaches others.
Racism
The Bazhir
While not a major thread of Sqire, it's something that's important to address. This book has the most information about the Bazhir and their current status since Woman Who Rides Like a Man. It's not as thorough as that novel is about Bazhir culture, but it's more respectful because of that distance.
One of the first mentions of this is that the King's Own has the best Bazhir representation of all the country, at one third. A Bazhir tribe adopted Raoul as one of their own, and that made things easier. Kel mentions spending time with the Bazhir several times, and spending time with Bazhir women after tilting practice. She also never comments on their face veils, or the removal thereof, which makes it better than Alanna's reaction to their veils. Kel is also familiar enough with the Bazhir that she can identify different tribes on sight, also a positive sign.
It's not perfect, but it brings back this thread that might be forgotten in a story less considerate of intersectional feminism. It's almost two decades out of date, but it's trying.
The Yamani
In the past two books, I've always debated whether or not to talk about Yamani culture. But now is the correct time, since we now have actual Yamani characters. I've also flip-flopped on my opinion on whether the Yamani influence is a good thing or not. It had something of exotification of Japanese culture in it, but re-reading this book solidified that for the good.
One of the things that made me feel better about the Yamani culture in this series was the acknowledgments section. She mentions Iris Mori as someone she spoke to about Yamani names and weapons. Presumably she talked about other things as well, and you can tell there's research as well. Actually talking to the people that you're attempting to represent in you book is the bar you have to cross, and Pierce crosses it here.
That being said, it's not perfect, and the exotification is still there. Shinko's former future mother in law is my only large complaint. Kel treats the potential abuse she could have done to Shinko as a joke. "Just think' she said slyly, 'no one here will expect you to be the slave of your mother-in-law." (138). Kel jokes about the differences between Yamani and Tortallen culture in the hypothetical here. But Shinko reinforces this and makes it uncomfortable by talking about how she was betrothed before Roald, and her mother-in-law to be was horrible. It's uncomfortable and the introduction keeps it couched as a joke.
Classism and Politics
At Joren's trial, Kel discovers that the only punishment for kidnapping a maid is a fine to the mistress. Understandably, she's extremely upset. Eventually she, Raoul, Thayet, and Jonathan are in a room together. Jonathan and Thayet talk about the difficult balancing of politics and what happens if they go too far. The conservatives will succeed, the mages attack, the priests preach against them, or the commoners will burn the city down. It's the most honest about politics the entirety of Pierce's work has been. Eventually Thayet says they can use Lalasa's story to stir up emotion to generate a change. The two rulers swear to start the process of changing the law, if Kel doesn't challenge Joren. Kel agrees.
Afterwards, Raoul and Kel talk over a quilt the griffin ruined. Raoul talks about why Jonathan and Thayet wanted to change the law. It ranges from it's a bad law, to Jonathan wanted to get Kel on his side. Raoul says, "You should keep in mind that he probably wants you to be confused about him.' Raoul shook his head. 'He wasn't this complicated when we were pages." (173). People change, and politics changes people faster than time does.
But sometimes, even politics doesn't stop people from doing what's right. Kel needs two knights to instruct her before the Ordeal, Lord Raoul, and Duke Turamont. Also known as the Lord Magistrate, and the one who decreed she could take the big exams, and who tried Joren. He even sits with her during the vigil, because he doesn't want anyone to interfere, even though he's a conservative. He commands respect because he's conservative because he doesn't want anyone to say that she cheated, or for anyone to interfere. Kel thinks about the duty she owes to the realm and what those words mean during her vigil.
"Or was [the realm] other things: a little girl with a muddy doll, Burchard of Stone Mountain livid with grief and rage, a king who admitted a law was wrong, Lalasa in her bustling shop with pins in her mouth. … Duty was what was owed, good parts and bad, to keep the realm growing, to keep it as fair as life could be kept. Duty was an old man, snug in his fur-lined robe, snoring lightly somewhere behind her." (377-8).
It's one of the best descriptions of what a government is supposed to do that I have ever read. You shelter the people, even those that disagree with you because that's the social contract. You fix the laws when they're wrong, and you try to create better ones for the people that need them. Make the laws as 'fair as life could be kept' and you will have a good government.
Conclusion
Kel commands the story in Squire, and there is nothing that can take that from her. She finishes her training, and Pierce sets her up for the conclusion to the quartet. All of these elements resonate with the books that came before and the ones that will come after. Kel's commands as well as she does because of her actions in Page and First Test. Wyldon grows to respect her because of her duty to Lalasa, and her excellence in his war games.
The years Kel spent in the Yamani court always influenced her. We can see through her pages, several of whom are either Bazhir, or mixed race, that the Bazhir are more accepted than before. All of these elements, the ways that Kel interacts with those around her, will be significant in Lady Knight. Pierce wrote a book in the early twenties that we can still see as largely progressive, and it's because of Kel's basic personality being lightyears ahead of her peers.
---
Image Courtesy of Random House
Queer Steampunk Fantasy Meets Murder Mystery in Raven, Fire and Ice
Steampunk seems to be making a comeback in fantasy literature—or maybe it never left and I just haven't been paying attention. Regardless, I've been seeing more and more queer steampunk fantasy in particular, which has got to be exciting for queer fans who love the genre and have always wanted to see themselves represented. The latest to cross my desk is Nita Round's Raven, Fire and Ice, the first in her Touch of Truth Series. If you're looking for a trio of fleshed out queer protagonists to root for and aren't afraid of blood, this is one to check out.
A Brief (Spoiler Free) Run-Down
Lucinda Ravensburgh sees the truth in everything she touches. When Captain Magda Stoner of the airship Verity, asks for her help in a very strange and messy crime, Lucinda cannot refuse. From that moment on, Lucinda's life is changed forever. She discovers, no matter what the obstacle, nor the troubles they encounter, finding the truth is paramount.
The Good Stuff
As difficult as good queer representation is to come by, finding queer poly representation in fiction can be next to impossible. That Inevitable Victorian Thing blew me away with its ending (I have yet to read The Fifth Season but it is on my reading list). So, needless to say, when I find books that have queer poly dynamics, I'm thrilled beyond measure.
In this regard, Raven, Fire and Ice did not disappoint. Thus far in the series, Lucinda, Magda, and Ascara are still exploring their dynamic, but I adore the subtext and tension between the three of them. They're unique, well-rounded, and well-fleshed out female characters. One fleshed out queer female protagonist is a blessing, but three? That's a feast!
Imagine, if you would, the best final evolution of Sansa Stark possible (from the A Song of Ice and Fire books of course, not the show). Then give her Brienne of Tarth and Asha Greyjoy (also from the books) as her right- and left-hand women. Then make them all queer and potential lovers in a poly threesome and you have Lucinda, Magda, and Ascara. Lucinda's charisma, empathy, self-confidence, and skill serve her well as the primary protagonist. Magda's stoic calmness and sense of justice make her an ideal second, and Ascara's sly comments and more impulsive behavior act as an excellent balance to Magda's more measured approach. When you put all three of these ladies together, you can see just why they work so well as a team, both in terms of their quest and romantically. In short, I love these ladies and can't wait to see more of their adventures together.
The mystery surrounding the blood is well done, and I loved the investigative plot thread. Round clearly knows how to write crime, even crime of a more magical nature. Fantasy setting plus a murder plot? Yes please. It's two of my favorite genres put together, and now that I've seen it, I want more stories with these elements together.
Nita Round uses Lucinda's magical 'truth seeing' to good effect in developing that plot thread, which is a joy to read because the idea behind psychometry, as she calls it, is fascinating. While on paper not that much different than, say, the way 'seeing' someone's memories worked iZombie, Raven, Fire and Ice didn't feel the same at all reading it. Round took an idea that's been done before in other media and made it her own in a really compelling way. That's the mark of a good writer: someone who can make an 'old' idea feel new again.
Potential Drawbacks
While Round's scripting of the criminal and investigative scenes worked beautifully, I found some of the magic-focused scenes confusing. The scene toward the middle of the book where Lucinda interacts with a new tower in particular left me a bit vague on what exactly had happened. Granted, certain action elements and implications of this scene seemed to have been left intentionally mysterious—perhaps to be fleshed out in one of the sequels?—so I'm not sure if my confusion was intentional on the author's part or not. However, there's a fine line between 'air of mystery because magic' and 'I have no idea what just happened.' For me, certain moments fell too far into the latter, but your mileage may vary.
The book also has a few pacing issues, mostly due to the magic-oriented scenes. The final confrontation, a magical one, felt rushed, especially after all the buildup in the preceding pages. I'm also a bit confused on the action beats. They could have been fleshed out a bit more, which would have drawn out the encounter in a more satisfying way.
Then there's the previously mentioned scene with Lucinda and the Raven tower. On the one hand, the specific scene with Lucinda and the tower is absolutely necessary for the plot to progress the way it does. At the same time, it also feels like an aside, especially in hindsight. It puts the main murder mystery plot on hold for several chapters, and I think pacing suffers as a result. Once again, this might be a mileage may vary issue. If you're as much invested in the magic as the murder, it probably won't bother you. Since I was more heavily invested in solving the crime, such a long detour didn't work as well for me.
This scene in particular also raises the issue of the racial dynamics in the book. Before you rush ahead, I will say there's nothing horribly racist about the book. However, there are some dynamics that, while I'm absolutely certain are unintentional, still aren't that great. The malevolent power behind the crimes committed in the book, Sh'Na, comes from Africa, specifically Egypt. The first follower of Sh'Na that we meet is a black boy, and the other adherent is also racially coded as non-white. With few other primary characters of color, this didn't sit well with me.
Neither did Lucinda, a white woman from the Angles (the book's analogue to England), coming to Ame'Rica (yep, that's the US) and gaining control of a magical tower while all the tribes coded as Indigenous Peoples stood around and cheered. It had an undertone of the colonialist white savior to it that, again, is likely unintentional but still uncomfortable to read.
To my mind, deeper worldbuilding could have balanced these two unfortunate dynamics. We know that this world is a future remnant of some kind of global disaster plus magic. But, we have little knowledge of how that disaster shaped geopolitics or racial/ethnic identities. Did societies fall back on a kind of isolationist tribalism that could explain how separate the Victorian-style cities are from the Indigenous-coded populations? Are the Angles analogous to colonial England or something less squicky?
What we do have worldbuilding wise paints a tantalizing picture of a new, different world, but it isn't enough to not fill in the blanks from history in a way that leads to unfortunate implications for racial dynamics. An explicit primary protagonist of color, or two, would have gone a long way as well to balance these dynamics as well. Having the Indigenous-coded populations be more racially diverse could have also worked well to minimize the sense that Lucinda is a white savior coming into a predominantly non-white culture and 'taking over' their magic.
Final Score: 7/10
Raven, Fire and Ice features robust and well-written trio of female protagonists in a unique setting that combines steampunk fantasy with a murder mystery. While certain plot threads worked better than others for me, it is an overall engaging read and I look forward to the sequel. I especially hope that the sequel addresses some of the more unfortunate implications in racial dynamics. Again, none of them felt malicious. It's mostly about juxtaposition and context, not the content per se. I think that a few tweaks could have done much to minimize them, and I'm more than willing to wait and see how the next book deals with Sh'Na and the Ama'Rican nomads. Rather than dismiss it outright, I recommend reading it for yourself. There's still plenty to enjoy about it!
About the Author
Nita has been writing all of her life in one form or another and loves telling stories. In fact, her head is so full of stories she is grateful to let them out to play. Once out, more stories jump in to fill the space.
When not writing, she loves being outdoors in the garden, walking the dog on the heathland and forests of Cannock Chase, or visiting site of places of interest and national heritage. Any other free time is spent reading, cooking, and drinking wine. She is an avid gamer, with such classic tabletop games as "Dungeons and Dragons," and "The Call of Cthulhu," to name a few. She also likes making flavored alcohol, and her damson gin has been blamed for many a headache. No one has yet learned to say no though.
Nita Round can also be found on Facebook, Twitter, Pinterest, and even has a channel on YouTube. Make sure to visit her website, too!
—
Raven, Fire and Ice is available for purchase on Amazon and Barnes and Noble.
—
Note: The author of this review received a copy of the book in exchange for a free and honest review.
---
Images Courtesy of Nita Round and Regal Crest Enterprises