In a world with endless games, there are some that just rise above the rest. Black Oak Games' Knot Dice is one such game.
Ostensibly a game about creating beautiful Celtic knot designs, the original twelve games and seven puzzles, plus newly released games and puzzles online make for truly endless playability. A Kickstarter success story, there's something in Knot Dice for every player.
What's in the box?
We received the green Knot Dice and expansion set for a fair review, and I focus on the original Knot Dice in the review below.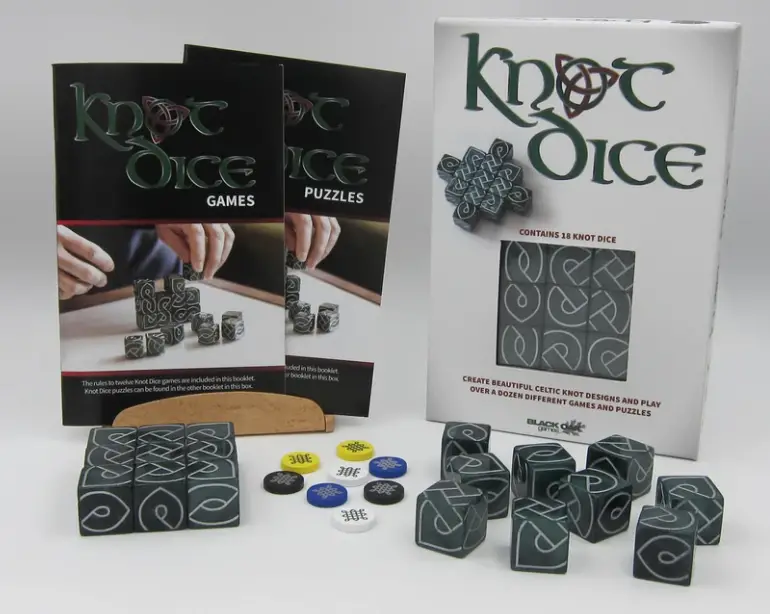 Knot Dice also come in a bright royal blue, while the green is a bit more subdued but just as gorgeous. Each box contains 18 oversized dice, 8 wooden tokens, and two rulebooks. The expansion set contains 26 more knot dice with three new designs, 4 new tokens to increase the player count in some games to 6, and more puzzle and game variants.
How's it play?
The games book contains 12 games playable with one to four players depending on the game. The puzzles book has 7 puzzles playable alone but more fun with others.
Each game and puzzle has a different outcome. You can work with others to complete the largest Celtic knot design that you can, complete designs over several rounds, and complete designs on a vertical wall of dice.
There's also fast-paced competitive games where you try to complete your designs faster than the other players or slide dice into a grid to complete knot designs per the rules.
Puzzles include completion options, transformation where you take a completed design and then make it another completed design in as few turns as possible, create symmetrical designs, build three dimensional shapes with complete designs on all faces, and slide the dice around to form the longest possible path in the fewest possible turns.
Clearly, there's a lot to do with just 18 (or more) dice! Plus if you don't want to do any of the above, you can just create pretty designs at your heart's whim and leave them on your table as décor.
Frankly you could bypass all of the above and just do what you want, the designs are so pretty.
The Verdict
For $35 and shipping or $45 (for the expansion set), the price of the dice and endless playability included, Knot Dice is worth the purchase. Each game is a lot of fun to play and I spent hours setting the dice up to see what each game and puzzle might feel like. They've clearly been designed with love, and the production of the dice is top notch without any sharp edges or imperfections. I might even buy the blue set myself to go really over the top with the dice on my coffee table and to play with friends.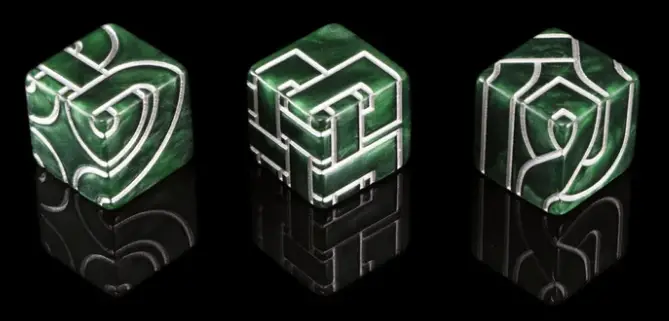 Images courtesy of Black Oak Games.
Have strong thoughts about this piece you need to share? Or maybe there's something else on your mind you're wanting to talk about with fellow Fandomentals? Head on over to our Community server to join in the conversation!