What do you do with your eccentric collection of avant-garde art? Put it in a public show of course! Avant Carde from Resonym (Surrealist Dinner Party, Phantom Ink) is a deckbuilder where you build a collection of stunning cubist artwork and assemble the best exhibition that you can to gain money to keep buying new art.
Available to back now on Kickstarter, Avant Carde promises beautiful art and a whole lot of fun!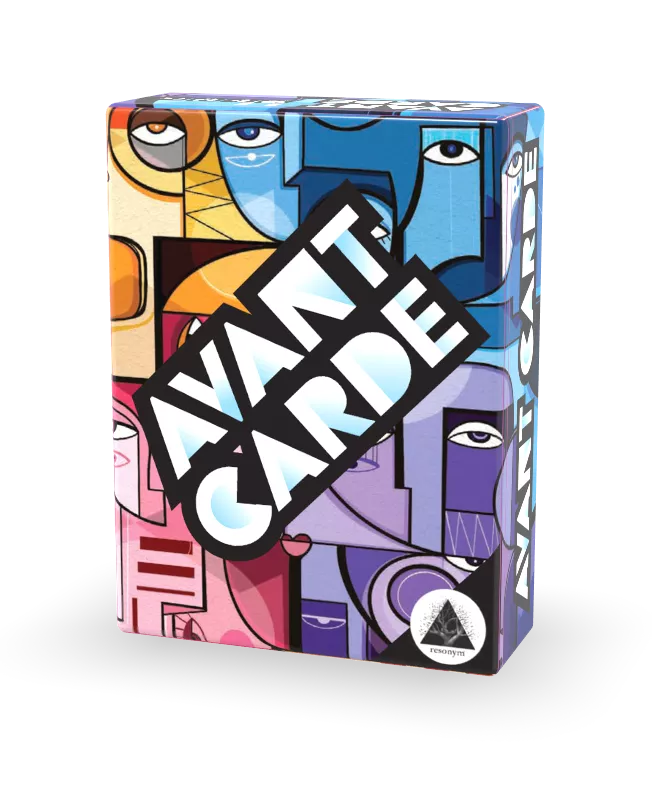 What's in the Box?
Though I was sent a prototype, there are already photos available of the final version, so I include those here. Still, the prototype version was just as high quality as Resonym's other published games. I was a huge fan of the unrolling card boxes. I can't imagine the final version won't be just as solid as their previous games.
Avant Carde comes with 166 cards divided across gallery cards, 5 starter card decks, a hidden gem token, 5 change tokens, a first player token, and 18 advanced patrons, and a rulebook.
What's really cool about this is that the cards are stored in boxes that unroll and also serve as the play area for each type of card.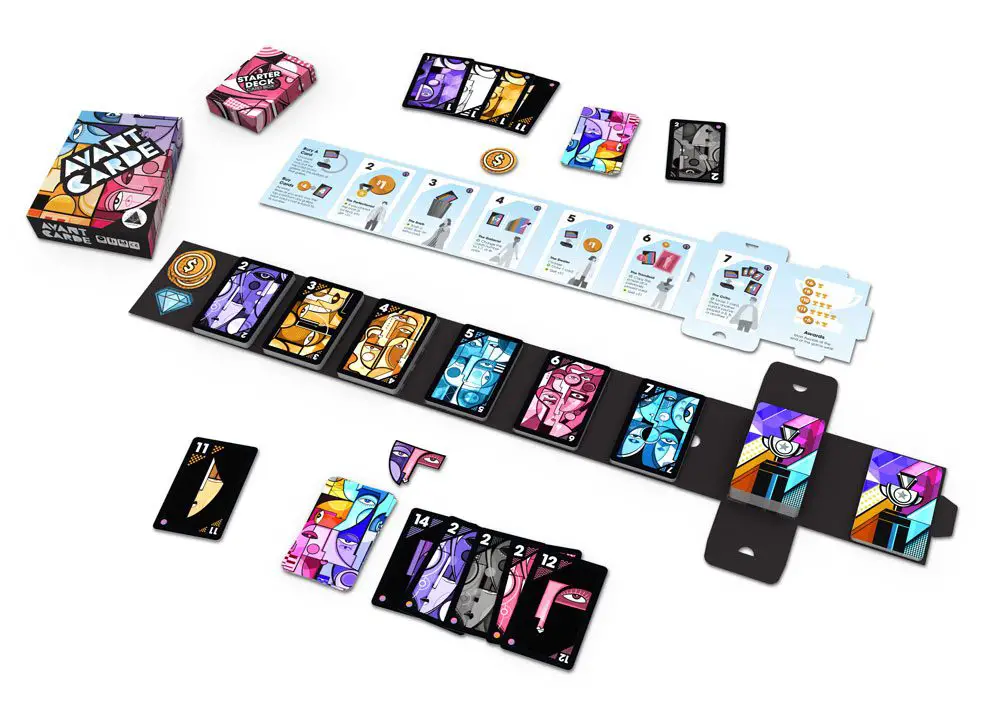 Avant Carde might be the prettiest deckbuilder that I've ever played. The colors are vibrant and the illustrations by Ishita Banerjee are so fun.
The cubist design is also delightful, and I love the dedication to art playing a role in multiple Resonym games. The rolling design also makes cleanup a breeze, and the box itself is not super large, making it easy to travel with and set up wherever you have a flat surface.
How's It Play?
Gameplay is simple and easy to understand once you've read the rules, which is something that I'm always looking for more of. If it takes me forever to set up a game and learn how to play it, I've already lost interest. In Avant Carde, each player receives a starter deck which includes 10 cards randomized and with a two colored symbol to help distinguish them from the gallery cards.
The gallery card stacks are placed across the gallery box. These are the cards that you and your competitors need to buy to build your deck. Finally, there's a patron box that allow you to use their powers to do something specific. The way this works is that each round, there are two parts.
First, players choose cards to play from their hand of 7 cards. Cards you play must match the color or the number of the previous card that you played. The more you play, the more money you make as each card is worth $1. Once you've all played what you can, you discard the cards in your hand. Don't worry though, you'll get to create a new hand shortly. During this process keep track of the cards that you're playing because patrons each like a specific type of painting. When you play a card with that number, you can use one of their powers.
Patron powers with a lightning bolt can happen as you play the card and those with the fast forward symbol happen when you buy cards. There are three different sets of patron cards, which increase the challenge in the game.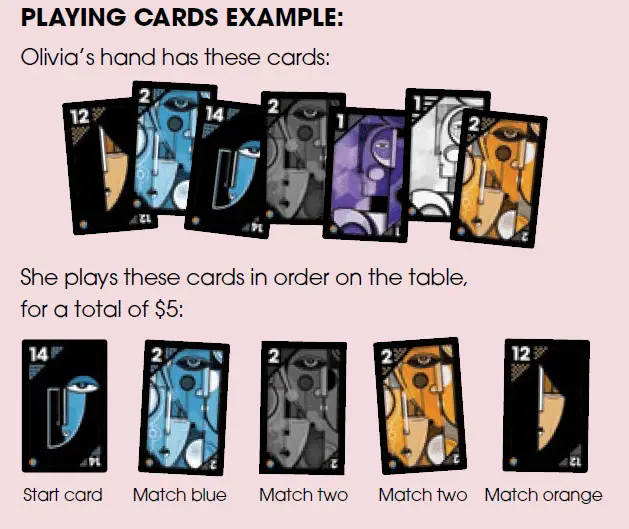 During the second part of the round, each player gets to buy cards with the amount they made from playing their cards. If you made at least $6 then you get an award, and the person who has the most awards at the very end of the game will win.
There are also two other actions that can be taken in the second part of the round. You can bury the top card of any gallery stack on the bottom or if you don't spend all your money, take $1 change token (only if you don't already have one) and then you can spend that in the next turn. However you can't take a change token at the end of that turn.
Once you've bought the cards that you want, you place them on top of the discard pile. Then you draw the 3 cards from your starter deck and 4 from the discard pile, which is shuffled and becomes your new deck. Play continues until the Awards run out, though once that happens, all players get to finish their turn that round.
Verdict
Just like Surrealist Dinner Party, I had a delightful time playing with my friend. We got really competitive and there may have been some slight yelling involved, especially when we were trying to figure out some of the original rules (which have been beautifully streamlined in the final version of the rulebook). I'm really excited to play again with the final version of the patron powers too since the other two decks create all sorts of chaos in Avant Carde.
The powers are also designed for maximum shenanigans. For example, when you play a 7, you draw a card from your deck. If you played a 5, 6, or 7 before the first 7, you can draw another card. You can then play a card if it fits your placed cards and ostensibly just keep going, forever. Or at least until you run out of cards.
When my friend and I played, he was able to draw four times in a row because he had a hand mostly of 5s and 6s, it was frankly ridiculous in the best way. The patron powers then provide for a lot of unexpected moments which keep the game fresh each time.
Resonym continues to deliver with really simple concepts, that in execution are an absolute delight. Who else is going to create a game based on cubist art? Only Mary Flanagan and Max Seidman! I would totally print off one of the cards as a poster, they're that good.
Backers can grab a copy for $20 or upgrade their pledges to a Kickstarter Exclusive Edition that includes a London microexpansion for the patrons for $9 more. This Kickstarter edition also includes 5 metal change coins which is a lovely extra.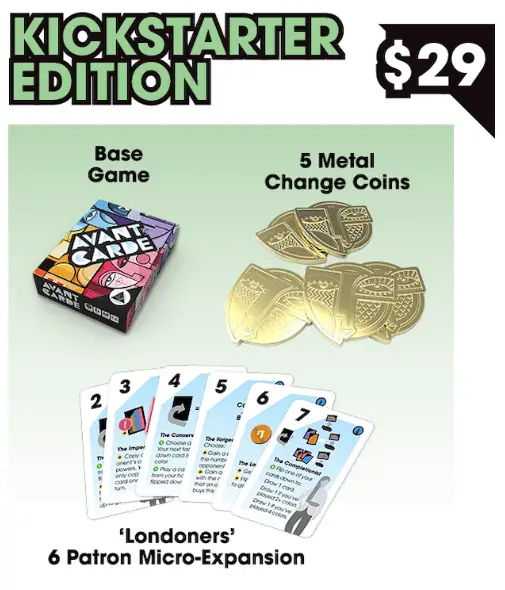 If you enjoy the chaos that comes from power-ups in Uno, strategizing, and beautiful art in deckbuilding, Avant Carde is the game for you!
Images and review copy courtesy of Resonym
Avant Carde
Summary
Avant Carde is a simple but compelling deckbuilder designed around cubist art and creating the best exhibition that you can! It's a lot of fun and offers endless replayability.
Have strong thoughts about this piece you need to share? Or maybe there's something else on your mind you're wanting to talk about with fellow Fandomentals? Head on over to our Community server to join in the conversation!