If you enjoy dungeon crawlers then Karak from authors Petr Miksa and Roman Hladik, distributed by Thames and Kosmos is the game for you! Though created for kids, Karak is fun for players of all ages and each game is truly unique because the players themselves create the dungeon each time. With six different heros to choose from, players get to do something differento9 each time that they play.
What's in the Karak box?
Karak comes with 80 dungeon tiles one of which has a dragon face, 6 hero figures with stands, 6 hero cards, 5 inventory sheets, 25 HP tokens, 1 bag to hold the 73 monster and 10 treasure chest tokens during play, 2 dice, and 1 curse token. As expected from a Thames and Kosmos produced game, everything is really well done.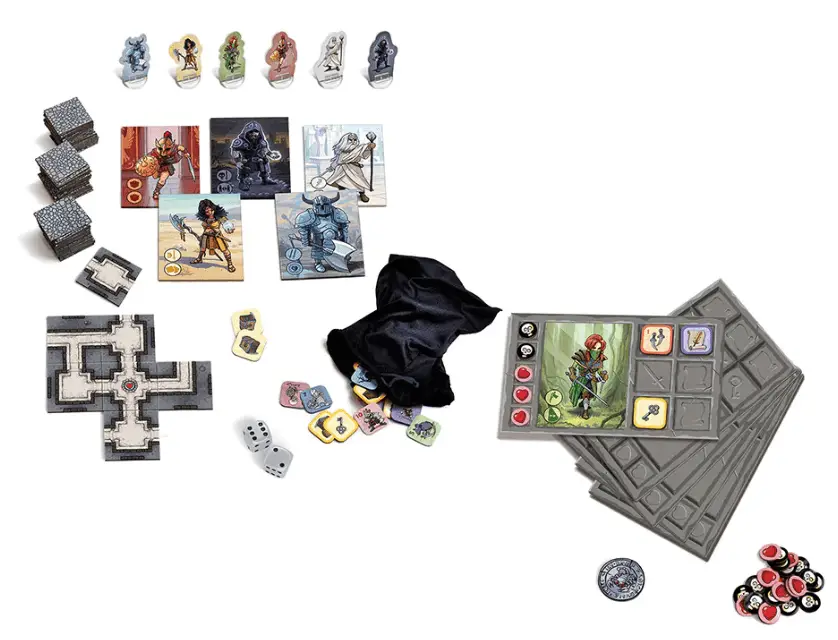 There was a slight residue to the square pieces that hold the various contents to be pushed out by the player before the first game, but it's likely from the laser cutter so I just wiped everything down!
In the box itself, there is the usual insert to hold the different pieces and I found this to be one of the most useful inserts in a long time! The dungeon pieces fit super nicely and the provided bags hold the remaining pieces just fine.
I stuck the hero figures onto their stands in one of the empty slots and this way I don't have to do much to reset for new games! As someone who really hates setting up convoluted board games, this is a plus. The art itself is also so fun and the heroes actually have personalities even though all you get is the hero cards and the descriptions in the rulebook. (This way if you want to truly RPG there's something to go off.)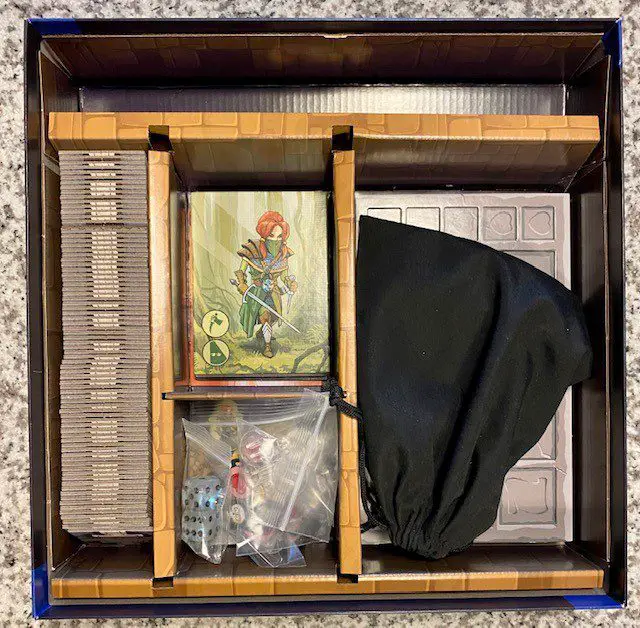 How's It Play?
Gameplay in Karak works like most dungeon crawlers. Likely named after Al-Karak, a castle in Jordan, the game is set in Karak the dragon's castle, or its dungeon anyways.
Rising over a desolate wasteland, the castle dungeon holds rats, skeleton kings, warriors, and turnkeys, a giant spider, the fallen (souls of previous adventurers), mummys, and of course the dragon! Though there is a chance to loot daggers, swords, and axes, find magic flames or a portal of healing, and to find keys for treasure chests during the adventure.
Each hero also has two skills and actual lore described in the rulebook. For example, Taia, the oracle has foresight and can gains 1 strength to her roll if she fights an enemy directly after the first move of her four moves per turn. She can also pull two tokens from the bag of monsters and treasures, deciding which to play, and which to return to the bag.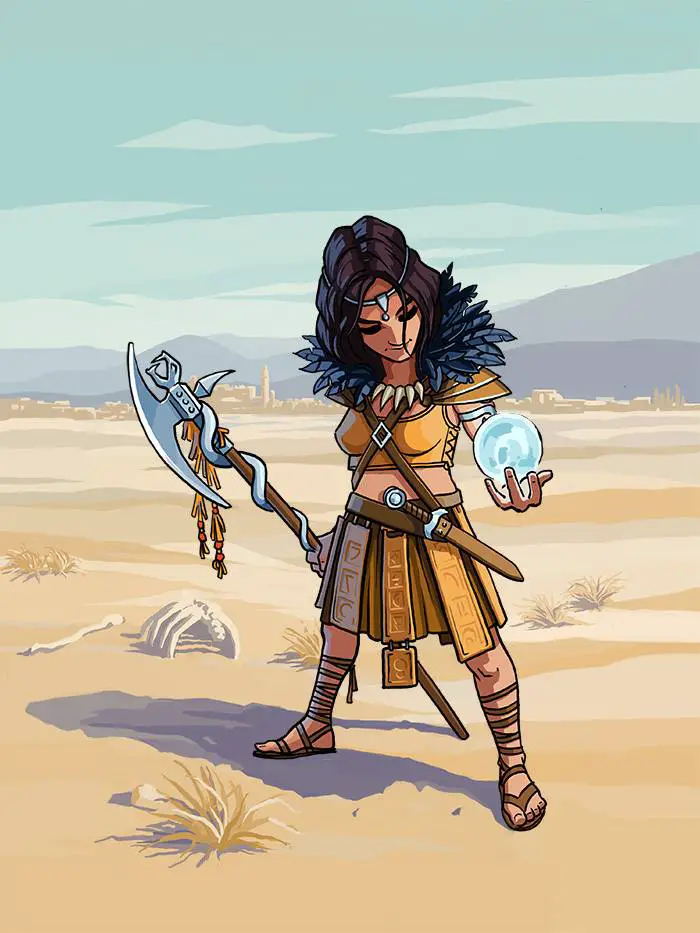 Growing up in the shadow of the castle, she felt a poison spreading throughout the land of her ancestors, all because of the dragon beneath the castle. From a young age, she was able to see glimpses of the future, but over the years she was able to use that ability to her advantage.
Players can also become cursed if a player defeats a mummy and that player chooses who to curse. The cursed hero cannot use their skill but can still play through the game. If the player finishes their turn on a tile with the healing fountain, their curse is removed, and they have their HP resstored.
Once the game ends after the dragon has been slayed, the player with the most treasure wins!
The verdict?
Honestly, I'm not sure why you can't just have six players with the added pieces necessary to play for the six heroes, and if you do have a sixth player, you can just make five heart tokens.
Though the information about each character is short, it adds depth to what would otherwise be a simple dungeon crawler and lets kids (and their parents) get in mindset of each character.
Small touches also make a huge impact in this game like the inventory sheets where players place their hero card, HP, and items picked up during the seige of the castle. It's a simple thing, but the sheets themselves are great quality and even have markers for the two weapons a hero can carry at once and other items, evoking an inventory.
Karak was a lot of fun and since I love the idea of role playing, but am terrible at it, it was the perfect bridge between something simple that a newbie can play and a hardcore TTRPG player will still enjoy.
You can pick up Karak at Thames and Kosmos, your FLGS, or Amazon for $39.95!
Karak
Summary
Karak is fun for all ages and allows for endless replayability for two to five players.
Images and review copy courtesy of Thames and Kosmos
Have strong thoughts about this piece you need to share? Or maybe there's something else on your mind you're wanting to talk about with fellow Fandomentals? Head on over to our Community server to join in the conversation!