Do you enjoy heists? Cats? A Mombshell character with a morally grey backstory? Then Cat Fight has everything you're looking for. Witty, fun, and engaging, this new comic mini-series comes from writer Andrew Wheeler (Sins of the Black Flamingo) with art by Ilias Kyriazis (Collapser).
We follow Felix, our daring gentleman thief who's overflowing with charm, cunning and confidence. Those qualities might be to his own detriment because he's found himself owing money to the less-than-gentlemanly white-collar crime types. After a string of failed heists, he finds himself in need of a big payday. On top of his current woes, his estranged grandmother, Nana Kitty has been calling.
Nana is his only family after losing both his parents as a child, but growing up with her wasn't all sunshine and roses despite her considerable fortune. She was always globe-hopping, leaving him behind. That is until she kicked him out, seemingly for stealing a vase. Even years later, he hasn't spoken with her.
But that changes when she sends her majordomo, Claude, to invite him for lunch. Forcibly invite him to lunch. Nana Kitty isn't all she seemed to be. Felix might have learned how to be a thief from his mother, but his mother learned from Kitty. The real reason she kicked him out wasn't because he stole, but because his execution was sloppy.
Kitty was an infamous cat burglar in her youth. In the years since her husband passed, leaving the family near destitute, she built a new crime empire. Recruiting promising thieves in need of guidance, she gave them tutelage, a place to call home, and a cause to belong to. The Kit Kat Crime Syndicate (amazing name) lives by a code. Steal from the rich, give to the poor…, and keep enough for themselves so the wine cellar is always stocked. (As Kitty says, 'Laws are written for the poor. So I stay rich.')
But now there's a target on Kitty's back. Someone is coming after her and she wants Felix's help. But before he can give an answer to her proposition, things get complicated.
Cat Fight promises a suave and dangerous heist adventure with a cast of colorful characters, literally and metaphorically.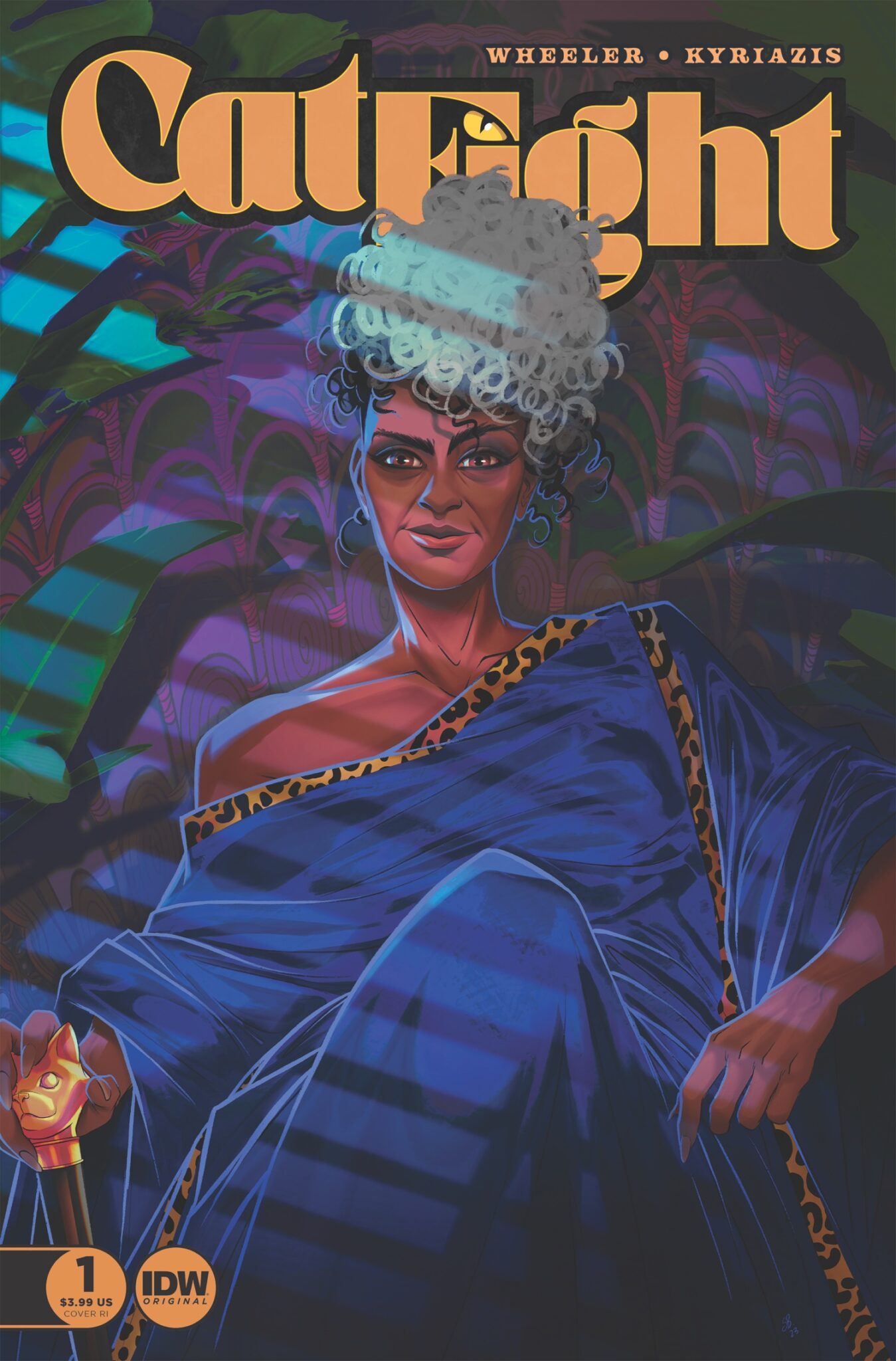 Written by ANDREW WHEELER
Art by ILIAS KYRIAZIS
Cover A by ILIAS KYRIAZIS
Cover B by MORGAN BEEM
Retailer Incentive Variant Cover by ALEX MOORE
Retailer Incentive Variant Cover SWEENEY BOO
Retailer Incentive Variant Cover VERONICA FISH
On Sale 5/31
Images and review copy via IDW Publishing
Have strong thoughts about this piece you need to share? Or maybe there's something else on your mind you're wanting to talk about with fellow Fandomentals? Head on over to our Community server to join in the conversation!t