Halloween falls on a Saturday this year, which for some reason means it's a great time to party and celebrate the spooky time (as best as we can considering). But for others, that means it falls on D&D night, and players might not be in the mood for regular D&D adventure on the spookiest night of the year. What do you do if this happens? Well we have you covered, with five of our favorite horror-themed one shots currently on offer from independent creators. All of these also came out in 2020, and they represent a new and diverse group of TTRPG creators working to change how we play the game. There's also a Halloween Sale going on for both the DM's Guild and DriveThruRPG, meaning it's the perfect time to pick some of these up for year-round spooks and spectres!
Released to coincide with Rime of the Frost Maiden (see our full review here), And The Dogs Started Barking is a mystery set in the Icewind Dale that can stand-alone or work into the broader campaign of Rime. The center of the mystery is The Lamplighter, a monstrous enemy who draws on Friday the 13th, Halloween, and The Texas Chainsaw Massacre while still having the icy chill flavor of Icewind Dale. It takes the slasher flick out of the movies and onto the tabletop, and is a must-play for any fan of the genre.
A sillier entry into the DM's Guild spooky canon, the two Night of Fright adventures are loving parodies of Scooby-Doo and similar mystery solving cartoons. Players take on the role of five meddling kids (and a talking gnoll) that comprise Mystery LLC, each a direct reference to a pre-existing character that we obviously can't name for copyright reasons.Each of them also represent a new subclass the creators accidentally created, with the best one obviously being the Bardic College of Snacks. In the first adventure, the gang investigates a haunted mansion while in the second, they have to save a town's harvest festival from the attack of the Lich's Ghost. They're tropey, goofy, and hilarious little adventures perfect for groups who love the classics, or might be on the younger side.
Put a little history in your Halloween in this Celtic-inspired one-shot set in the Shadowfell. Samhain Eve does a fantastic job of playing with tonal shifts, going from an exciting and rather silly party with Queen Mab to a dark and twisted cosmic horror story that blends the Lovecraft Mythos with the Fey in a truly unique manner. The amount of research into both influences that the author did is obvious as well, with some deep cuts scattered around for horror fans to pick up on. It's also more roleplay oriented than others on this list, making it a great pick for groups that want to talk the horror down rather than, say, stab it with something (though there is some of that).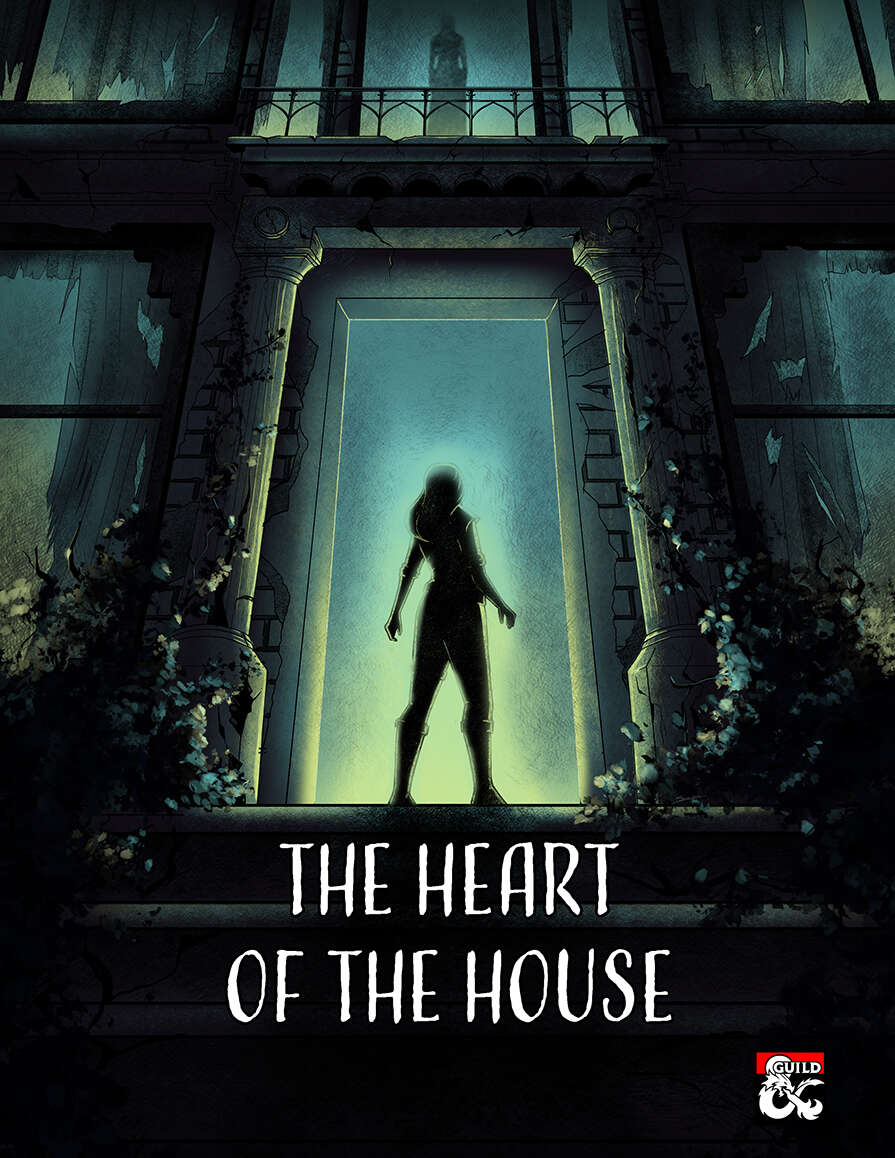 Can't have Halloween without a classic haunted house story! An obvious homage to The Haunting of Hill House, this adventure turns the haunted house ITSELF into a monster, one that draws people in to feed on their memories. Players will enter the house and must battle their way to its heart without losing their memories. There's a LOT of cool stuff in this one, which really is more of a short campaign than a true one-shot. It's got mysteries to solve, lots of atmosphere, and the horror is as visceral and psychological as it gets. Heart of The House is a great experience for players who want to dig deep as roleplayers while still getting spooked out of their minds. And also fight an evil house, because who doesn't like fighting evil houses?
This one's a bit of an odd duck out of this list because it doesn't…really fit into the existing world of D&D, instead chopping and screwing the setting around to use the 5e rules to tell a neon-tinged YA thriller that kicks off the Summerhaven setting. It even adds a more difficult "Teen Pulp" mode that limits the magic of the world and takes the PC's down a notch by turning them into much more helpless Commoners. It's funny and very tongue-in-cheek, but also incredibly scary when it wants to be. And it just absolutely oozes character, from the stark illustrations to the weathered look of each page. Knife To Know You is also the quickest adventure on this list, as it's supposed to kick off a much longer project that is in the works. But as of now, it's an excellent game to try with your group over a bucket of candy and a mug of spiked cider. And don't forget the music!
Images via DriveThruRPG, The DM's Guild, and their respective owners
Have strong thoughts about this piece you need to share? Or maybe there's something else on your mind you're wanting to talk about with fellow Fandomentals? Head on over to our Community server to join in the conversation!