Ramadan Mubarak! Good Lookin' Home Cookin' in the Call Me Cera universe from Toadhouse Games is here!
Play as Jessica and Amira, childhood best friends, running their dream food court during the busy month of Ramadan. It's up to the player to decide if their friendship will withstand the pressure or if the stress of running a business together shuts down the food court for good!
Good Lookin' Home Cookin' is the perfect appetizer (heh) to this visual novel universe with incredibly well written and designed characters who show us that we can all get through hard situations, together. There's even a no music option for folks who don't listen to music during Ramadan (or at all) which is incredibly thoughtful.
The bite-sized, barely hour long vignette follows best friends Amira and American Jessica who want to show the citizens of Fernweh (pronounced Fern-Vee) that halal food can be enjoyed by anyone, year round. However, as one of Fernweh's only halal options, every Muslim family orders their iftar meals from the GHLC food court putting pressure on Amira (and Jessica) to perform.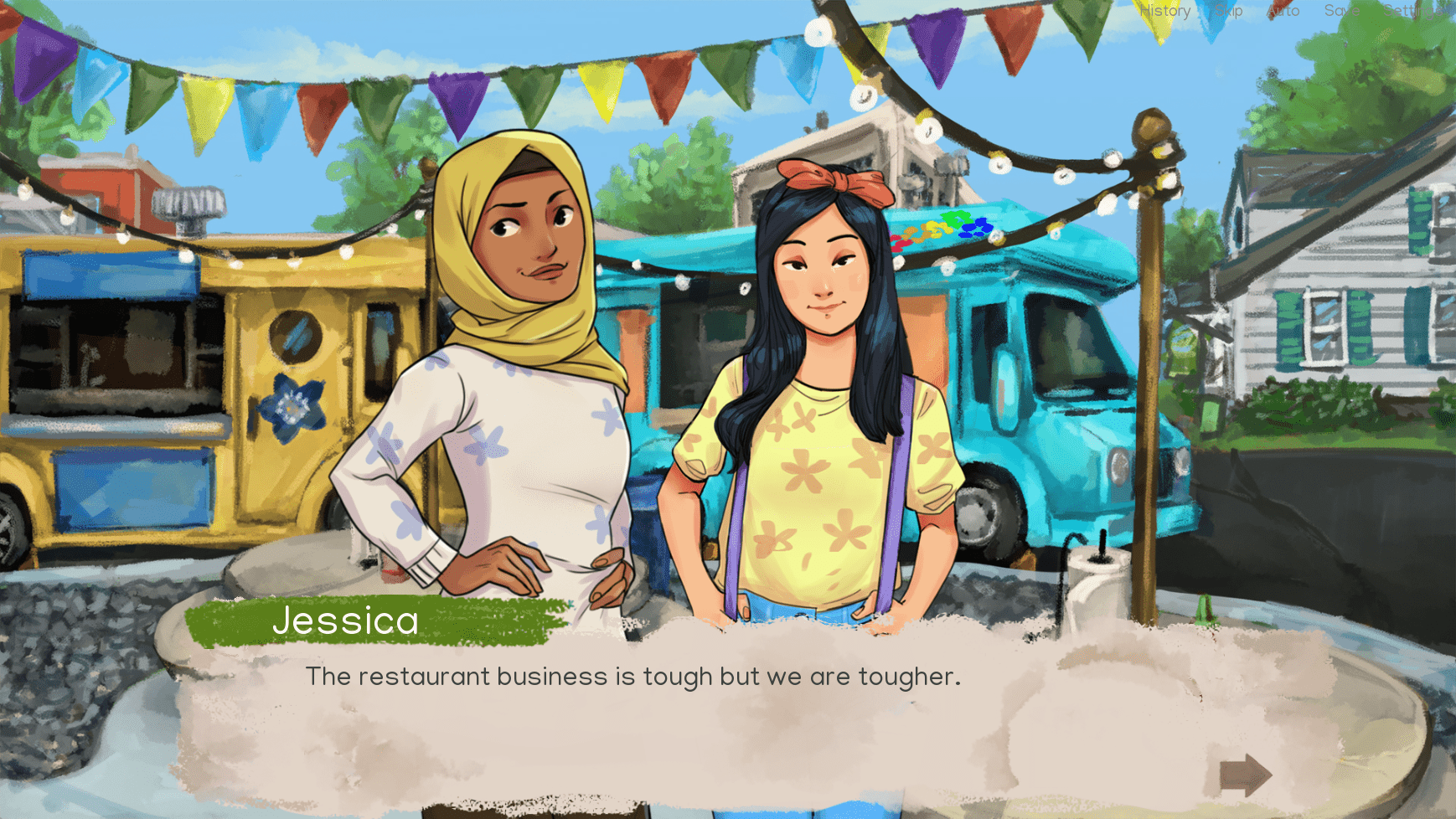 What sets this game, and its extended universe apart from so many others is the dedicated focus to, as Toadhouse Games puts it:
Creating games that destigmatize mental illness and cover themes associated with self care and living authentically. We believe it is important for everyone to learn how to take care of themselves, be kind to themselves and others, and do what brings them joy.

Toadhouse Games
Thus, while the game begins with the player getting to know Amira and Jessica as they prepare for the evening iftar and making sure all their orders are in, it becomes much more about Amira and Jessica's stress and negative self-talk. At one point in the game, she checks social media (oh no) and finds out that some of the Muslim families weren't happy with their meals. Even though their first customer gives them a good review (especially due to the free boba tea from Jessica), Amira takes the criticism to heart and is very hard on herself. This leads to a fight between Amira and Jessica who blame one another for genuine mistakes.
Mind you that same first customer was confused about halal potatoes which was simultaneously so relatable and also incredibly laughable.
Elsewhere, Jessica's parents had helped with the seed money for the food trucks so Jessica too is under pressure to live up to her parents and her own expectations, making the fight between friends incredibly relateable and honest.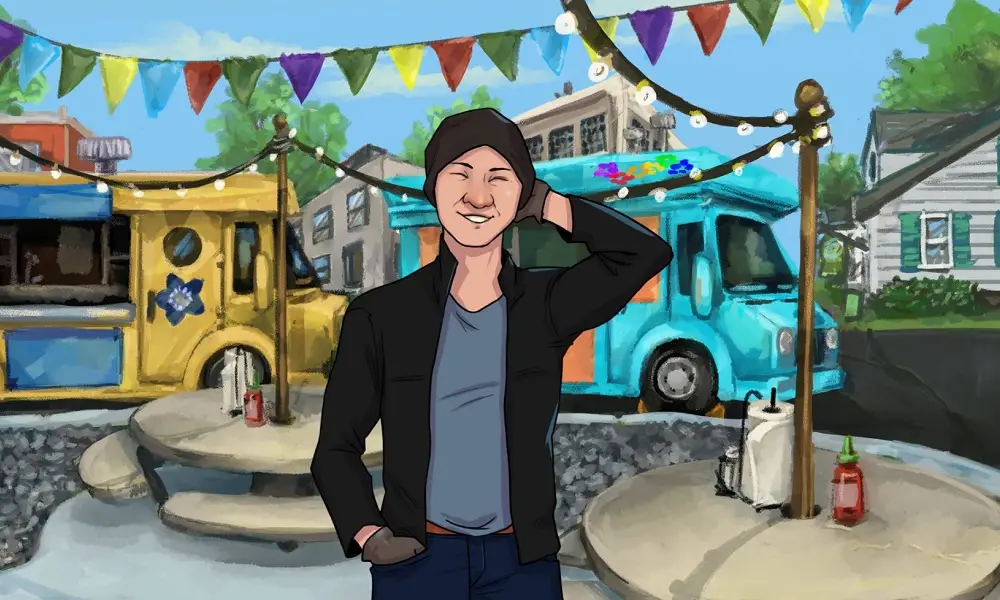 Fortunately, Jessica and Amira have friends around to support them through a clearly stressful time. Kenta who provides some of the ingredients for the Good Lookin' Home Cookin' food trucks sits and based on the player can talk to Amira and help her work through some of her feelings or leave after dropping off their order. Obviously, talking to Kenta is the better route and Amira ultimately realizes where her and Jessica are the same and how to move forward.
On the other hand, Jessica also receives advice from Imani, who owns the local café and as another business owner is perfectly situated to help Jessica realize where she herself went wrong and how to handle her own intense reactions during the fight.
I won't spoil the various endings but just know that if you want a beautifully illustrated and wholesome snack-sized visual novel, Good Lookin' Home Cookin' and the upcoming vignettes are absolutely perfect for any visual novel player!
As a Bangladeshi and hijab wearing woman, seeing Amira (who is Pakistani) was so amazing and the Ramadan context immediately drew me to playing the demo, but I finished it because the story was engrossing and I really wanted Amira and Jessica to make up! The joking from Jessica's Umma that Amira and her were romantically involved was one of the best parts of the game because it reveals what players can expect from the remaining games and the LGBTQIA+ and diverse community of Fernweh. Umma's texts always being in Korean is a lovely touch.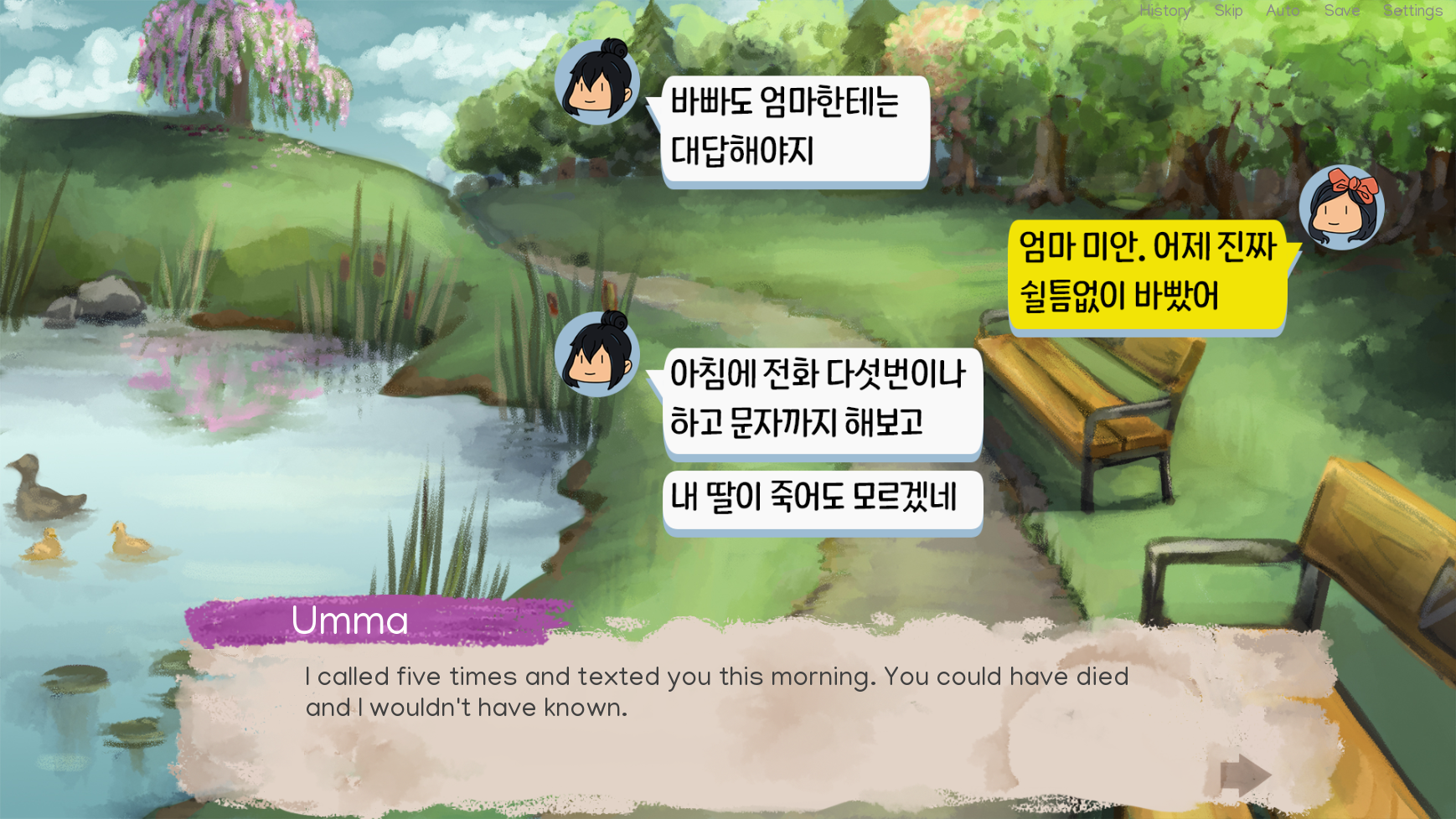 It's clear that the team worked with consultants, sensitivity readers, and playtesters to craft a truly inclusive and realistic representation of the characters and community without falling into stereotypes about Asian people and their hopes and dreams. (Though, I definitely felt Amira's stress!) It's so rare to see people who look like and/or are from similar backgrounds as me in visual novels and I'm super excited to see what the remaining vignettes and full game bring.
The next vignette, Roll for Confidence is planned for a Summer 2021 release and follows Sophia, who dreams to be more like the character she roleplays: confident, self-assured, and unafraid of confrontation. Cultivating Habits provides another chance to get to know Kenta as he tends to his garden while Tealightful Introductions is about another new character, Billie and finding family.
These vignettes lead us to Call Me Cera where Cera, new to Fernweh learns to cultivate meaningful friendships as she navigates her anxiety with a therapist. CMC arrives in 2022 and is available to wishlist on Steam. I for one can't wait for the rest of the series.
You can download Good Lookin' Home Cookin' on Itch.io now and find Toadhouse Games on Twitter!
Images courtesy of Toadhouse Games
Have strong thoughts about this piece you need to share? Or maybe there's something else on your mind you're wanting to talk about with fellow Fandomentals? Head on over to our Community server to join in the conversation!