AEG, or the Alderac Entertainment Group if you're not into the whole brevity thing, has been running since 1993, beginning as a vehicle for the games magazine Shadis (which featured then-president Jolly Blackburn's Knights of the Dinner Table comic) before getting into RPG's like 7th Sea and CCG's like Legend of the Five Rings. It's board game division is by comparison quite new, started only ten years ago in 2009. Since then, they've made quite a name for themselves on the hobby market with games like Tomb, Smash Up, and Thunderstone. They've been quite busy this year, despite their announced reduction in game production, and at GenCon announced their newest titles hitting store shelves soon.
Retail Price: $39.99
Release Date: August 2
Tiny Towns is one of AEG's most discussed titles this year. Up to 6 players can participate in the race to become the "Master Builder" by managing their resources and town density to get the most points. It's fast-paced and incredibly fun, but with more depth than one might expect from such a cartoony title. The fun of Tiny Towns is that you can actually play it alongside Youtubers and celebrities  like Geek & Sundry, Gaming Rules, and Crits Happen. As part of their Annual Big Game Night, they had over 100 people play Tiny Towns all at the same time! Released on August 2nd, the game can be found at your FLGS or on AEG's store.
Retail Price: $39.99
Release Date: July 19th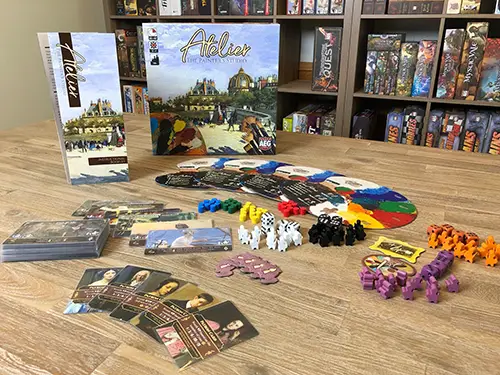 An early summer hit for AEG, Atelier is a fast-paced game centered around set collecting and dice rolling. Players take on the role of an artist managing a studio, who must use their studio assistants to gather paint and create beautiful works of art for their patrons. It's pitched as an entry-level worker placement game, with many of the mechanics of the big Euro games but with many aspects streamlined and simplified for ease of understanding. The game is especially noteworthy in that it actually features real art by the 19th century masters, licensed for use by AEG from four different museums. Atelier has made it's way onto store shelves, and can also be found on AEG's store.
Retail Price: $49.99
Release Date: June (Delayed)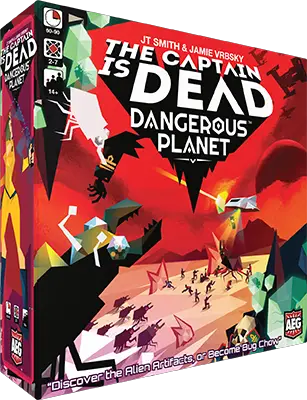 The Captain Is Dead is AEG's love letter to Star Trek and other classic sci-fi tales of explorers in peril. But rather than focusing on a heroic captain leading their crew to victory…the captain is dead. It's up to the Scotties, Worfs, and Datas of the world to step up and help their crew find their way our of their predicament. In Dangerous Planet, the crew finds themselves trapped on a bug-infested world and their captain, their third one in a row, recently devoured by giant insects. Using their shuttlecraft, the team has to collect alien artifacts and escape the swarming bugs before you join your ill-fated captain in death. The game has heavy influence from Starship Troopers, and mixes exploration with tower defense as you defeat the chitinous horde. There's a whopping twenty playable characters in the game, each with their own abilities and skills. They're going to have a tougher time of things, however, because they're no longer on their ship. You'll have to make do with the limited systems of the shuttlecraft in order to accomplish your mission and survive. Set for release back in June and slightly delayed, the game should be on shelves and online very soon.
As a bonus, it was announced that next year's instalment of The Captain Is Dead will feature their version of Star Trek's Mirror Universe. As always, the captain will be dead, but it won't be an accident. It's be MURDER!
Point Salad
Retail Price: $19.99
Release Date: August
AEG doesn't make a lot of super-hardcore games, but generally aims for a family friendly approach that anyone can participate in. Point Salad is emblematic of their approach, with a simple concept that's fun and fast to play. In this game, players have to mix different vegetables together to make salads and score points, each with their own scoring. It's built on card drafting and is super colorful and easy to learn.
Released as part of AEG's Big Game Night, it will be featured again at PAX Unplugged and at local Big Game Nights around the country, as well as at your FLGS.
Retail Price: $24.99
Release Date: August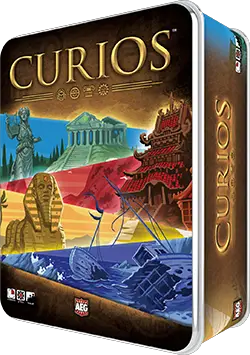 Another worker placement game, Curios adds a unique deduction element to the mix as players take on the role of archaeologists gathering artifacts to sell to discerning collectors. But the prices of items can shift, and players won't immediately know if the artifact they've discovered is trash or treasure. You must use your revealed cards and those of your opponents to deduce the value of your booty. Much like Point Salad, Curios will feature at Big Game Night after it's launch earlier this month.
Retail Price: $24.99
Release Date: First Week of August
A card drafting game localized from a successful Taiwanese game, Walking in Burano tasks players with developing their storefront alongside the canal in Burano, Italy. Players must match up the colors of their storefront to build it up. Once it hits three stories, they can select a tourist or citizen to place opposite them on the canal, earning them points.
Retail Price: $59.99
Release Date: October
While the official launch of the game will be at Essen Spiel, AEG previewed their newest big game at GenCon by turning their whole booth into an African savannah on Sunday. Designed by John D Clair, the game is what AEG has dubbed an "ecology builder," where players work to shape the world as they see fit, molding the landscape and habitats and choosing what species die and which species thrive. It's a simultaneous play game that's massive in scope, and it's clear that AEG is very excited for it. After it's official release at Essen, it'll hit shelves in October
Retail Price: $64.99
At once an update, collection, and re-release, Valley of the Kings: Premium Edition collects the original deck-building game and its expansions Afterlife and Last Rites together in one box. But it's not just a repackaging. The box has been redesigned, and its contents have been changed with bigger cards and new art as well as some brand new mechanics like  the Pharaoh cards. 
Recently Kickstarted, Valley Of Kings will enter fulfilment in August and enter wide release later this year.
Cat Lady: Premium Edition
Retail Price: $29.99
Release Date: October 4
Another addition to the growing genre of cat-themed board games this year, Cat Lady: Premium Edition will be an update of the 2017 card drafting game. Just like the base game, players can get toys, costumes, and more for their cats while also keeping them fed. The Premium Edition adds new mechanics like new stray cats to adopt, wooden tokens for the various resources, and even the ability to put your own cats into the game as cards.
Keep an eye out here for all the latest from AEG and the world of tabletop, and don't forget to check out AEG's Big Game Night at your local game store.
All images via AEG