Gold has fascinated humanity since its discovery ages ago. It's been used by everyone from Egyptian priests to Roman emperors, for everything from status to technical innovation. Wars have been fought over it, entire civilizations were created and crushed just to have it.
It shouldn't be any surprise, then, that we're still talking about it today, even in the world of video games. Modern Storyteller has a new take on gold, though, with their breakout game, The Forgotten City from modder Nick Pearce. We were lucky to get a review code for the game in return for a fair review!
A fascinating story wrapped in time-warping mechanics? Count me in.
The Origins of The Forgotten City
In the mod, players could play through an entirely new hours-long storyline that explored a buried city well below the South West corner of the game's map. It was massive for a mod and featured not only a completely new story, but also a unique orchestral track and an international cast of voice actors.
Finding his passion in this mod led him to create Modern Storyteller and dedicate himself to telling emotional, fun games that can drive the industry forward. The Forgotten City – the original reimagining of the mod – is their first game.
The Forgotten City's Fascinating Lore
The Many Shall Suffer For The Sins Of The One.

– The Golden Rule
The Roman Empire, 2000 years in the past. A city buried deep beneath the Earth. A city free of sin. A city where gold is not a prize, but a price for breaking the law of the land.
Notice that I said "law" instead of "laws?" There's only one. The Golden Rule states that if even one citizen lies, steals, cheats, or otherwise commits a sin, then the entire city will be laid to ruin.
2000 years in the future, you arrive at the city and discover that something horrible has happened. The ruined streets are lined with golden statues, and beyond a door lies a mysterious portal. Stumbling through it, you discover that you've landed in the past, on the day of the city's destruction.
What happened here, that caused the citizens to be so brutally punished for a single crime? Who broke the Golden Rule, and who set it in the first place? And how did you get here at all?
Using the power of time travel, you have to discover the answer to these questions and more or be trapped in the loop forever.
Graphics and Voice Acting
One of the most instantly stunning parts of the game is the graphics. The Forgotten City is gorgeous, with excellent lighting and beautiful character models that pay homage to Skyrim's style while developing an atmospheric mood that's all its own.
From dappled marble halls to decrepit and terrifying ruins (and a few more surprise style changes), the settings are incredibly detailed and fun to explore.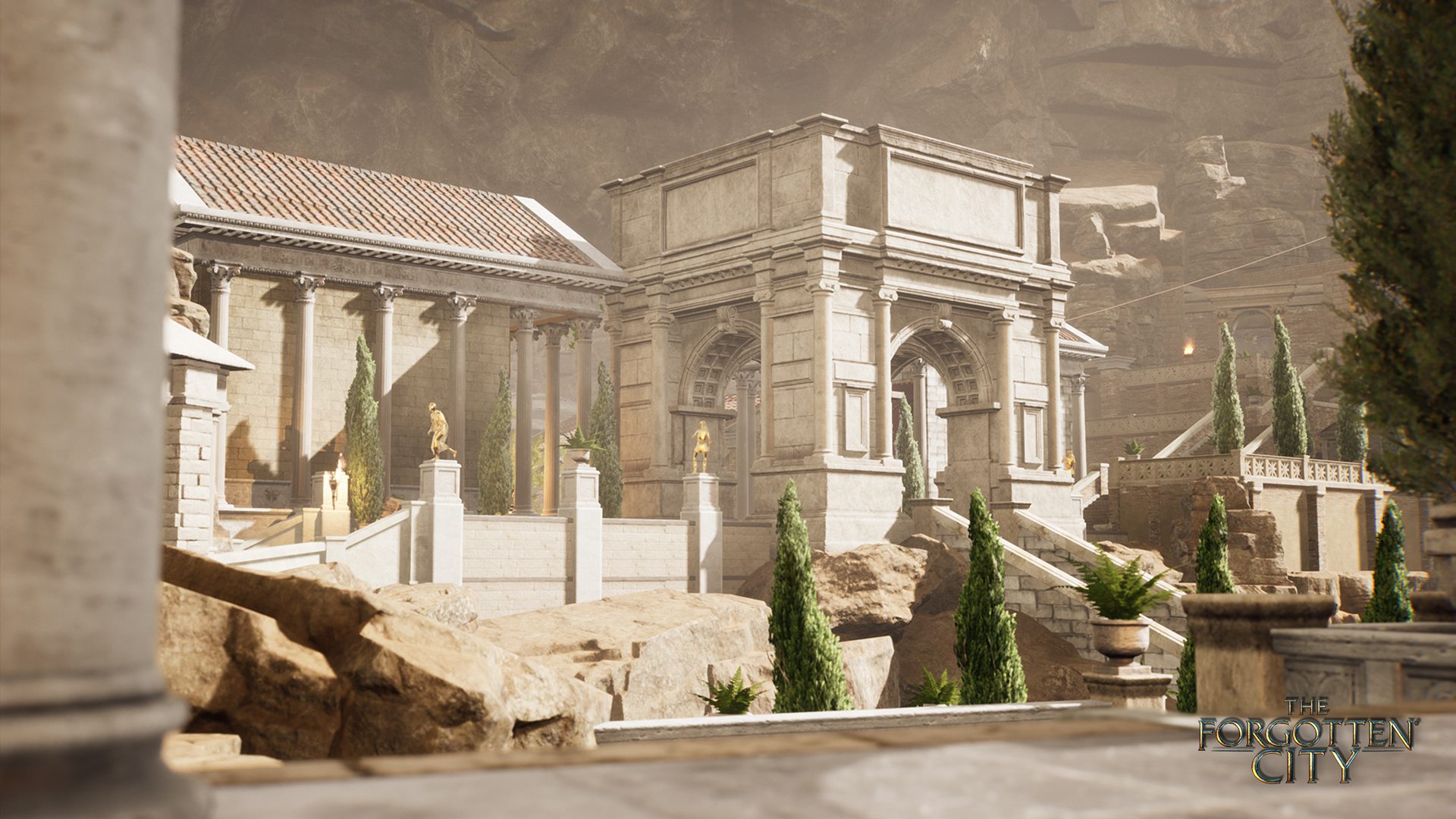 The characters don't just look good, though – they sound amazing! Every character is professionally voiced by a critically-acclaimed international cast for every line of dialogue, which adds so much personality and individuality to each one.
Gameplay and Mechanics
The Forgotten City is an immersive role-playing mystery. The game can be solved either by reasoning, charming, bribing, or straight-up murdering your way out – and there are four different endings to explore.
You can choose from multiple different backgrounds, each of which offers unique advantages to the game. For instance, Archaeologists understand Roman culture and language, while Soldiers are equipped with a gun and brutal investigation tactics. We (my much-more-game-savvy SO and I) recommend starting with Archaeologist – for us, it made exploring the city and learning all the lore we could much easier.
Of course, one of the coolest features of The Forgotten City is the time loop mechanic. Inevitably, someone will break the Golden Rule, triggering a fast-paced race to the portal so you can try to save the day again. It's like Groundhog Day in ancient Rome, and you're Billy Murray. You have to use the loops to learn the patterns of the day, and uncover everything you can to try and escape, and discover who's behind it all, which is ridiculously thrilling and fun even after multiple playthroughs.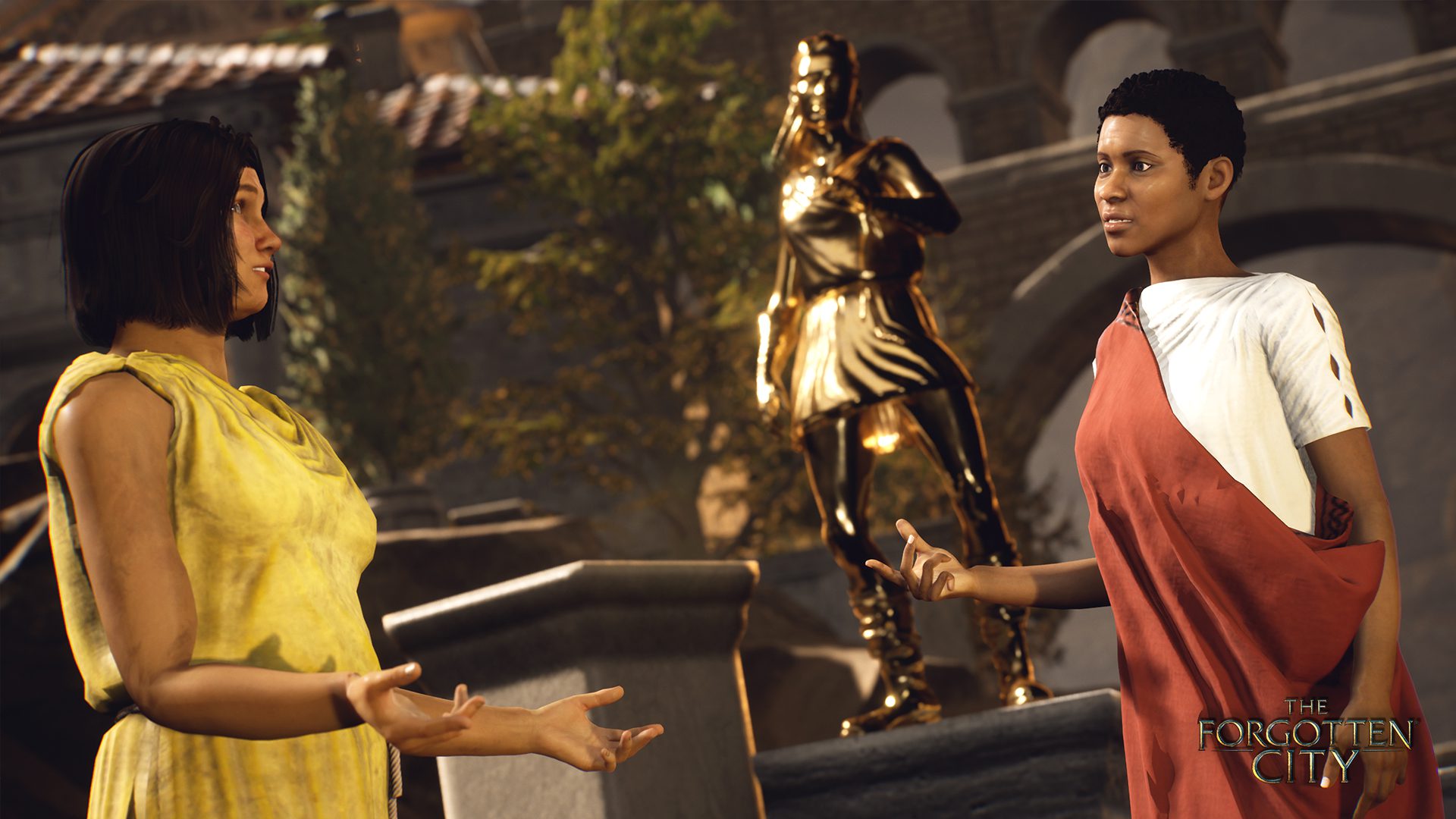 The game is jam-packed with richly detailed and believable characters that you come to know, love, and understand through the loops. From unexpected leaders and star-crossed lovers to powerful politicians and a wandering mad woman (who's definitely not so mad), the city feels like a real place with its own culture and daily life, making you want to save them even more.
There are all kinds of achievements to unlock, including one for completing the game in the least number of loops possible and one for completing it as quickly as possible. We found that it was hard to put the game down, and ended up clocking more than 20 hours of gameplay to get everything we could out of it. We're still going back and enjoying new things.
Conclusion
The Forgotten City is a great dark mystery, full of adventure and horror, and even supernatural intrigue. It's well worth the cost, giving you hours and hours of enjoyment and tons of replayability. It's well-written, excellently acted, and fascinating.
The Forgotten City was released on July 27, 2021, and is available on PC and consoles.
The Forgotten City
Summary
The Forgotten city is well worth the money for a deeply involved role-playing adventure.
Images and review copy courtesy of Modern Storyteller
Have strong thoughts about this piece you need to share? Or maybe there's something else on your mind you're wanting to talk about with fellow Fandomentals? Head on over to our Community server to join in the conversation!