If had made a guess about what might happen in the next two episodes of Couple-ish, I would never have predicted that Dee (portrayed by Kaitlyn Alexander) would not make an appearance in either episode at all. Yet here we are two weeks later, still yet to find out what's going on inside the head of our hero. I'd be disappointed if it weren't for all that the rest of the cast has to offer.
Couple-ish is spreading its wings and branching out further than the last, making it clear that although Dee is bound to play a significant role in the story to come, it's not just about them. Season 1 was certainly generous with its screen time but Season 2 is setting itself up to be known as an ensemble work. If you missed the Season 1 recap and debut episode review, catch up here.
Episode 2, titled "A Formal Introduction" finds Sharon Belle's Rachel struggling to keep her head above water on her first shift in Dee's mother's flower shop. This really isn't her fault given the difficult customers she's confronted with from the get-go. One such odd interchange comes courtesy of a cameo appearance by fellow Carmilla alumnus Annie Briggs, whose humorous but brief appearance sparked much excited chatter from fans in the comments section on Youtube.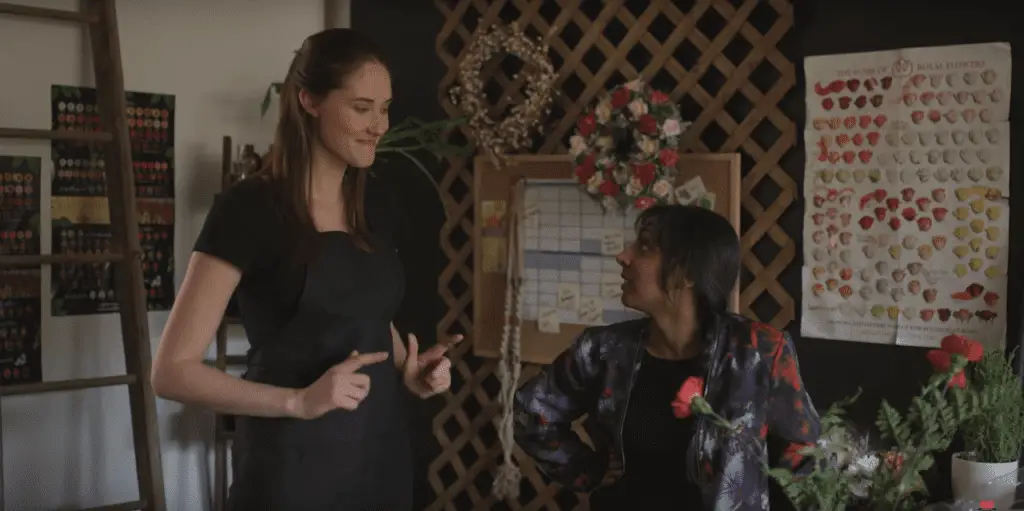 As Rachel flounders with a handful of ribbons and flowers, having clearly never in her life encountered a bouquet, in walks her lifeline: Cal (played by Premika Leo), a tiny yet commanding human with highly appropriate dress sense (yes, she's wearing a flower-patterned jacket to her florist job). In essence, the opposite of Rachel. (Although some credit to Rachel for no longer constantly wearing hats indoors like she did last season.)
Cal introduces herself to Rachel with the self-descriptors of Taurus, tomato-hater, and student buried beneath 60k in debt and counting, making me immediately want to know more. But alas these episodes are only 4 minutes long and Cal has flower deliveries to make. Until next time.
Episode 3, "Fairytale Couple Seeking Audience", continues along with the plot setups and introductions. Next up, it's Amy (Mercedes Morris), back in front of the camera but this time with a new channel to call her own. And surprise surprise, it's not a solo vlog but a couple's channel. Amy introduces us to her new girlfriend Jaime (Diana Chrisman), and while the two have a cute chat and conjure up some clear chemistry, there's something…a little suspicious going on.
Although Amy introduces Jaime to us like she's a new face, Jaime is a bartender at the same place Rachel worked at and actually featured significantly in Season 1 Episode 20. During a conversation at work, Rachel told Jaime that she and Amy were just friends. Jaime revealed that she had a little crush on Amy, prompting Rachel to let her know that Amy would be at the bar that night. She even gave Jaime some advice of both the encouraging and warning nature.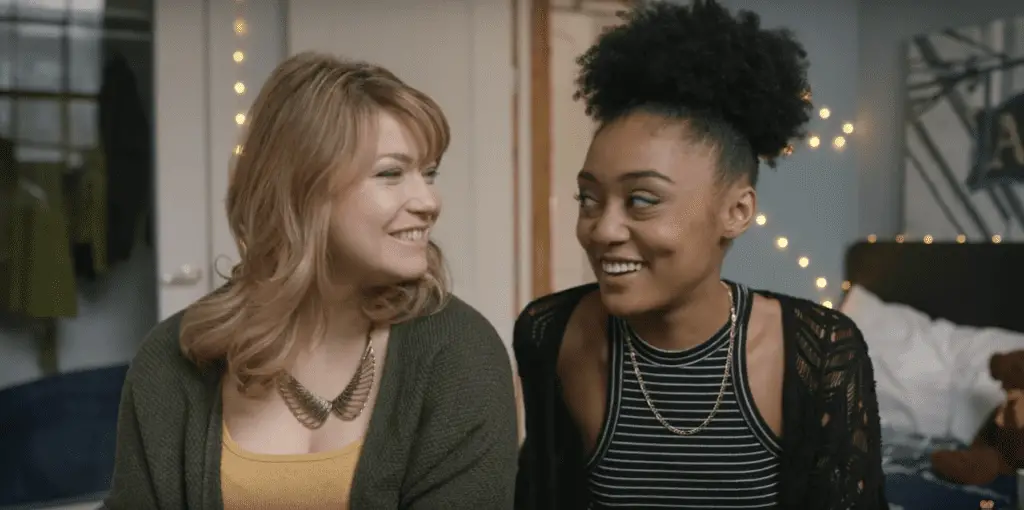 According to Jaime's account in this new episode of how the couple met, things went well and Amy returned to the bar two nights later with flowers. What Jaime obviously doesn't know is that said flowers were originally bought for Rachel … until Amy found her kissing Dee instead. So, are things still complicated in the Couple-ish world? You bet.
We sort of imagined that Amy might wind up dating a cute British bartender but this isn't exactly what we had in mind. And although she and Jaime are undeniably completely adorable, the backstory means this relationship is on some pretty rocky foundation. Time will tell where it winds up, but let's hope that there's more to Jaime and Amy than a well-invested rebound. Then again, perhaps the evidence that any combination of a ship name for them just sounds like "Jaime" is a hint that this isn't meant to be.
Tune in next fortnight for another Couple-ish recap.
---
Images courtesy of Youtube