Floodgate Games, publisher of the award-winning Sagrada, have announced that they've added an new series of games to their lineup. Blitzkrieg!, Caesar!, Dogfight!, and several yet-to-be-announced titles in the 20-minute Series are available from Floodgate Games effective immediately.
While exploring a departure in theme from current titles, fans of Floodgate will find several familiar qualities: 
Easy onboarding and lighting-fast turns, 
Deeply strategic gameplay 
Emergent storytelling
Strong two-player experience, and more! 
Each of these games in the 20-minute series has a head-to-head design and the current releases are thematically set during historically significant conflicts. Blitzkrieg!, has players take on the roles of Allied or Axis powers during the second world war in several tug-of-war style battles by land, air, and sea. Caesar!, sets the players in the roles of Caesar or Pompey, vying for control of areas within the Roman empire. Dogfight!, just released with this acquisition, puts each player in the cockpit of a world war one biplane to see who will emerge as the best flying ace! Each of these games uses a variation on a token bag pull-and-place gameplay loop. Knowing what has been played and what is still available to your opponent is a critical strategic consideration in each of these titles. While similar in gameplay flow, each of these games brings a fresh feel from the others – their specific designs make the mechanics and theme uniquely shine for each. All three titles were previously released by PSC Games.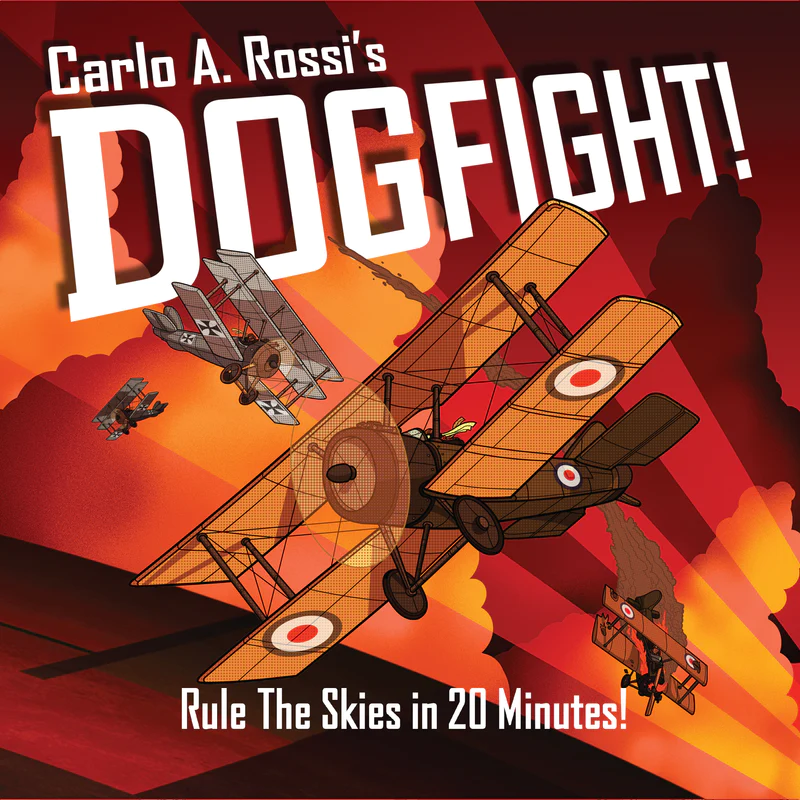 "I was immediately hooked by everything about this series–the gameplay, the presentation, the value these bring to the hobby–and I'm thrilled that I have the chance to add such strong titles and talented designers to our roster." – Ben Harkins, Owner of Floodgate Games.
 
Blitzkrieg! and Caesar! designer Paolo Mori has dozens of successful games to his name including Ethnos (2017), Pandemic: Fall of Rome (2016), and Libertalia: Winds of Galecrest (2012/2022), and industry veteran Carlo Rossi brings the speed and intensity of a biplane battle in Dogfight!.  Floodgate is looking forward to supporting these games and expanding this series alongside such talented designers. 

Carlo A Rossi is the designer (or co-designer) of Bug Hunt (2021 CMON), Arkham Horror – Final Hour (2019 Fantasy Flight), and The Mysterious Forest (2016, IELLO, nominated for the kinder spiel des jahres) –  "I've always been fascinated by fighter pilots and the daring aces that were first among them during World War One. When I first had the idea for Dogfight!, I knew that I wanted to capture that sensation of playing your opponent as much as you were playing the game. Making each plane have a unique set of tokens really gives the impression of the many possible pilots' skill sets. I'm really excited that Dogfight!, has landed with Floodgate Games! I just know they're going to do great things with it!"
Images via Floodgate Games
Have strong thoughts about this piece you need to share? Or maybe there's something else on your mind you're wanting to talk about with fellow Fandomentals? Head on over to our Community server to join in the conversation!