Hey y'all! Today we're returning to the wonderful world of gaming. But, in a twist from my last few articles, we're not talking about tabletop games. No, we're going digital! We'll be looking at Firegirl: Hack 'n Splash Rescue DX, developed by Dejima and published by Thunderfull Games.
More specifically, we'll be looking at the DX port of the game, a version put out for consoles after the game's initial PC release from last year. The DX port boasts improved gameplay, but since I never played the PC version I confess I can't talk about that element. We'll be treating Firegirl: Hack 'N Splash Rescue DX as its own thing, as if it were the first version.
With that said, let's get started!
What's It About?
Firegirl Hack 'N Splash DX is set in a city where fires are being caused by monsters made of living fire, who roam around and cause destruction. We didn't start the fire, the monsters did! You play as the titular Firegirl, a rookie firefighter whose father was himself a firefighter before he died in action. Your quest is to restore the fire department to its former glory, the institution having lost respect and funding, and save the city.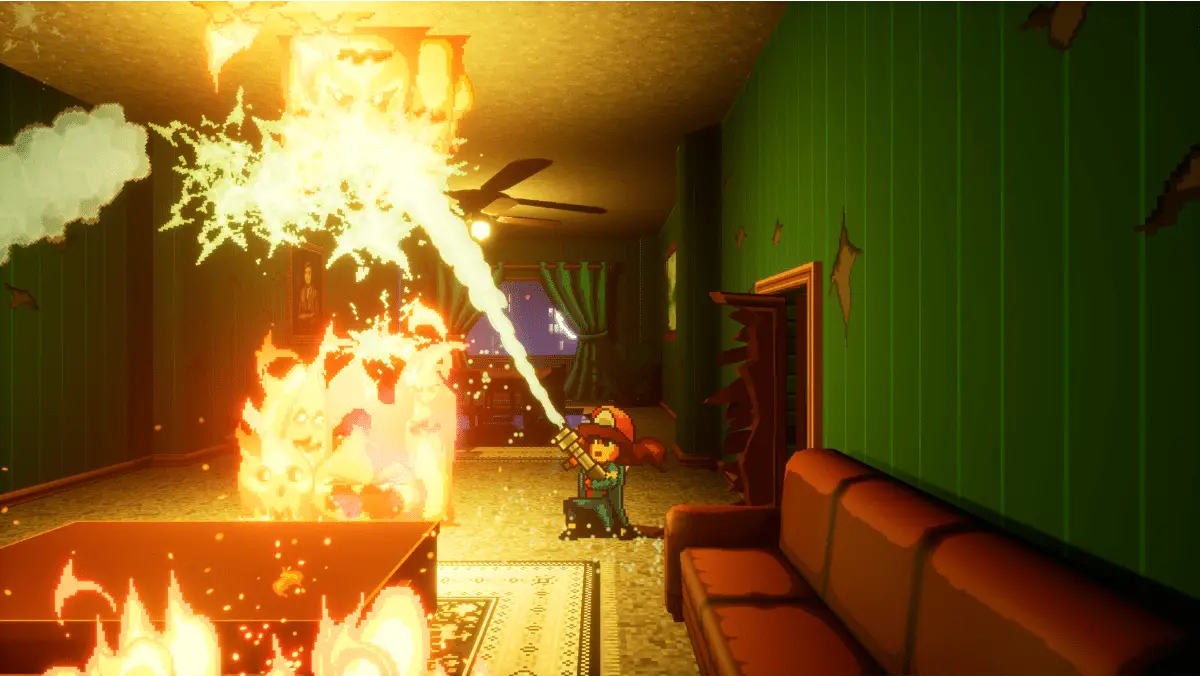 Along the way you'll meet new characters, recruiting them to work in the firehouse and providing upgrades in the process. Not everyone you meet will help you of course, but some will. These will allow you to last longer in levels and make it further, which is good because…well…we'll talk about that in a minute.
Gameplay
The gameplay is driven by the character concept, which is always nice to see. Mario has basically no connections to being a plumber, but Firegirl's a firefighter through and through. Speaking of Mario though: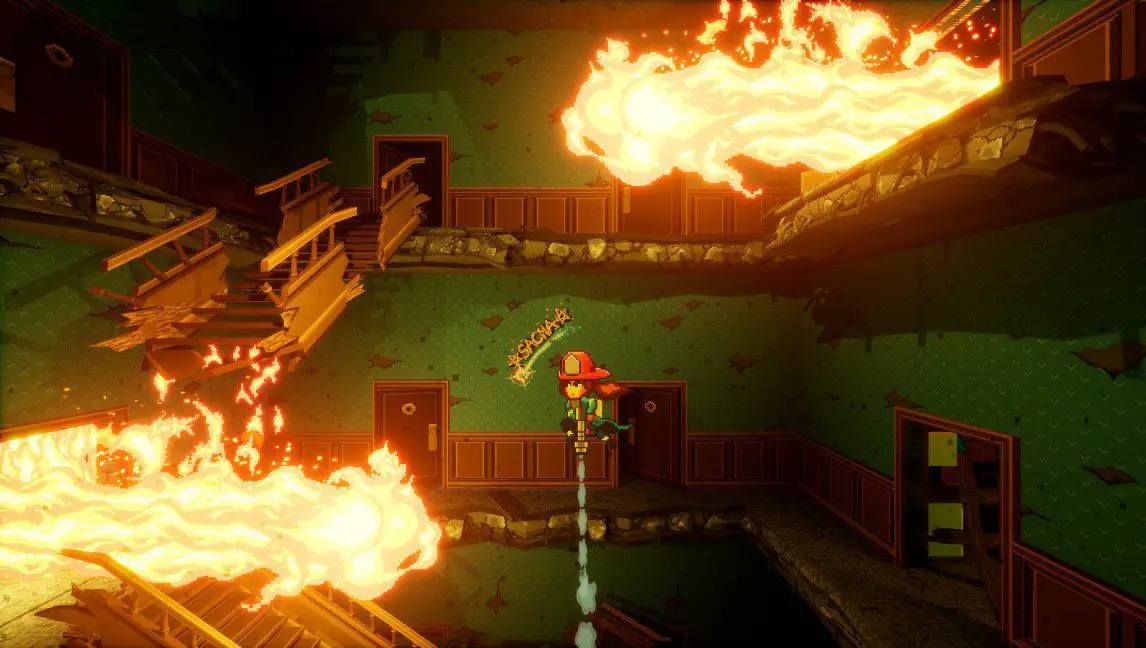 Your main tool in this game is your firehose. You'll use it to defeat the fire monsters, but also to jump higher or to slow your descent. The very first person you rescue is a plumber, and she'll offer you upgrades for the hose, which you'll want to invest heavily in. Your other tool is your axe, which you'll use to hack down doors and piles of debris. Hence the title Hack 'N Splash.
Now, you'll only have a limited amount of water (there is an upgrade to get yourself unlimited water, but it's so pricey that it'll be a while before you can get it), so you'll need to carefully weigh your choices. You'll need the water to jump and to prevent fall damage, but you need it to douse the fire monsters as well.
Every fire monster you put out will add precious seconds to your timer, allowing you to spend more time searching for survivors and more time to get out. So you can't just ignore every fire monster that doesn't directly threaten you, but you don't know when or how often you'll need to jump or fall so you might not necessarily want to douse all of them.
Firegirl: Hack 'N Splash Rescue DX does have pick-ups, water refill jugs, and first aid kits, but unfortunately the levels are procedurally generated, so sometimes you'll find enough, sometimes you'll have a surplus…and other times it'll be extremely stingy and you'll be in a panicked state. This also means you can't learn the layout and get better whenever you lose all your health and have to restart the level.
And you're going to die…a lot. Firegirl is unforgiving with its difficulty, in a very arcade style sort of way. This is not a Dark Souls comparison. The difficulty doesn't come from the enemies themselves as much as the amount of stuff to deal with and the fact that you can only get hit four times (not including first aid kits, which are much less common than water) before having to completely restart the level.
Which, to be one hundred percent clear, isn't a bad thing. There's something to be said for throwing yourself at a level over and over again, grinding out cash until you can get enough upgrades and personal practice to clear it. But there's no difficulty settings, so don't go in expecting a carefree hero fantasy either.
Presentation
Firegirl has an…interesting visual style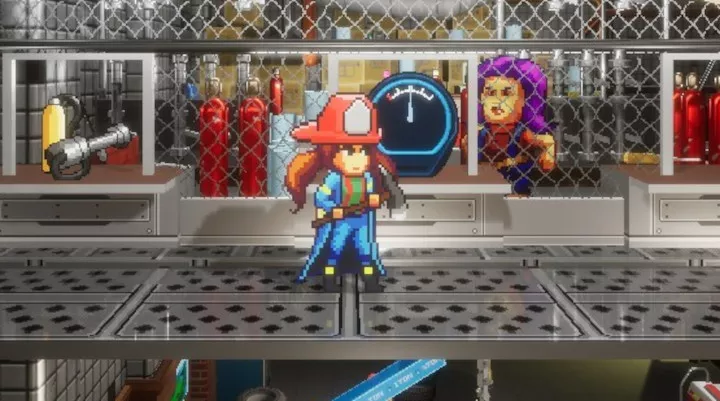 As you can see above, the characters themselves are pixel art, while the environments are 3D. This results in a contrast that isn't bad but is definitely…interesting. Still, the pixel art is good, the monster designs are solid, and the 3D is solid. Graphically the game is nothing special, but it's also nothing bad.
Sound design wise, the game is very good at sound effects. The crackling of fire, the splashing of the water, the sounds when you pick stuff up, it's all solid. The music is…fine. It's all pleasant, all well crafted. However, I'd be lying if I said I actually registered any of it while I was actually playing. Which is fine, the music isn't the point of the game. Still, it's worth noting all the same.
Ultimately, the presentation for Firegirl is…fine. It gets the job done, and has clear talent and effort put into it. The focus was clearly on the gameplay though, which I can hardly fault.
Final Thoughts
Firegirl: Hack 'N Splash Rescue DX is a solid game for those seeking a challenging action platformer. While light on story and character, the gameplay is all in, and the effort put in is evident. At $17.99, and a presence on pretty much every platform, it's a fair price and easily accessible. So, if this sounds like a game for you, give it a try!
Firegirl: Hack N' Splaxh
Summary
Firegirl: Hack 'N Splash Rescue DX is a solid, if heavily gameplay focused, experience. Gamers who like a challenge and aren't too fussed about plot will enjoy it, and the low price makes it fairly accessible.
Images courtesy of Dejima and Thunderfull Games. Thanks to Thunderfull for providing review material.
Have strong thoughts about this piece you need to share? Or maybe there's something else on your mind you're wanting to talk about with fellow Fandomentals? Head on over to our Community server to join in the conversation!