Feather is a small indie release made by Samurai Punk, and when I say small, I mean SMALL. You fly around as bird, of course, but unfortunately that's kind of… it. You just fly. But, with the Explorer Update out, I got the chance to check the game out and give what thoughts I could.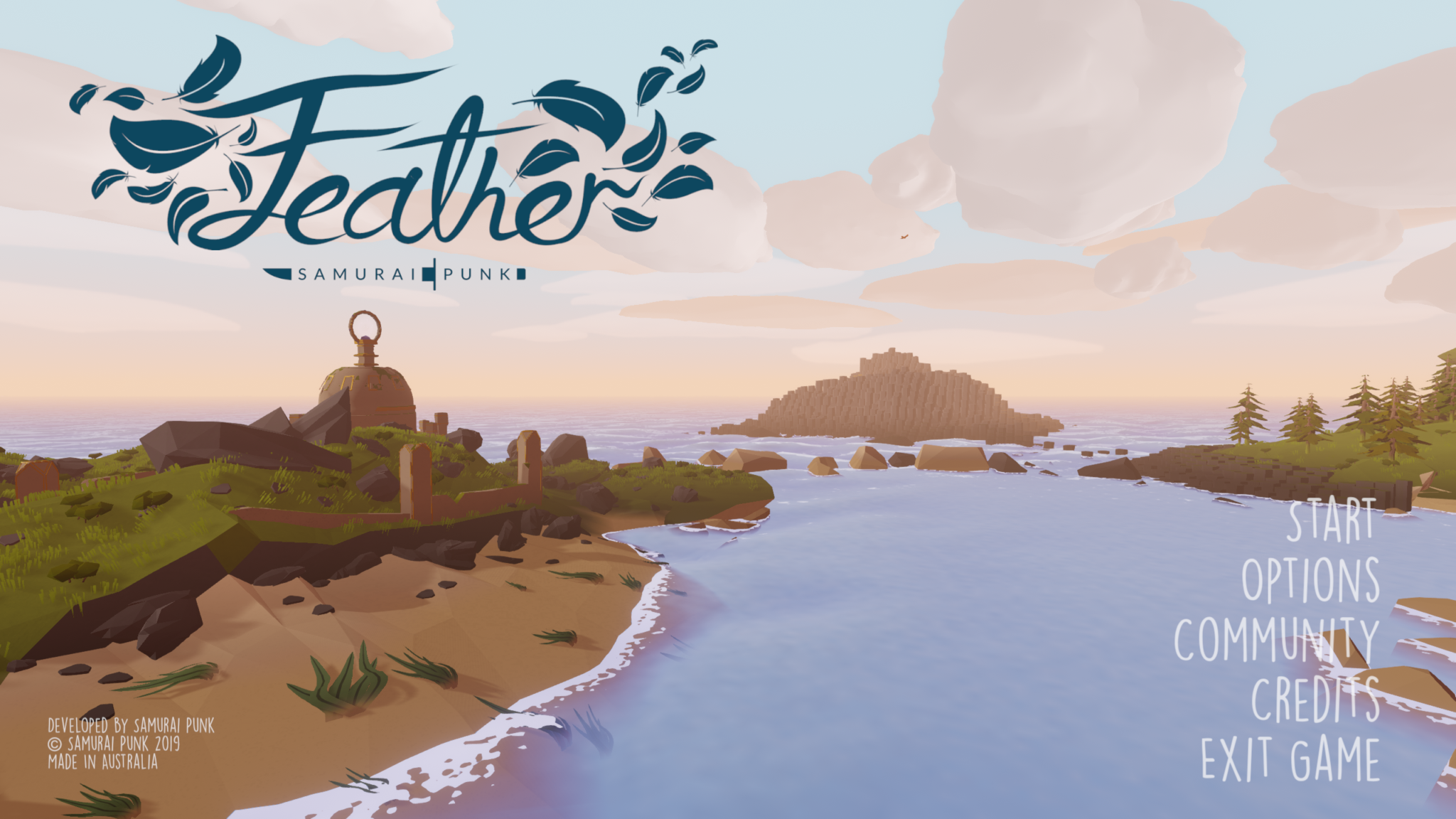 When you start Feather, you're greeted by a title screen with gentle music and a relaxing backdrop. My first instinct was to go into the settings to make sure I was playing at the correct resolution since games have a tendency to default to 1920×1080 and was pleasantly surprised to find that this early access game not only supported 1440p resolution, but also high refresh rate. I couldn't believe that I was able to play this early game made a small team in Australia at a silky smooth 144hz refresh rate (take notes, AAA games industry)! I made a couple other minor tweaks to maximize my experience and dove right in.
Flying High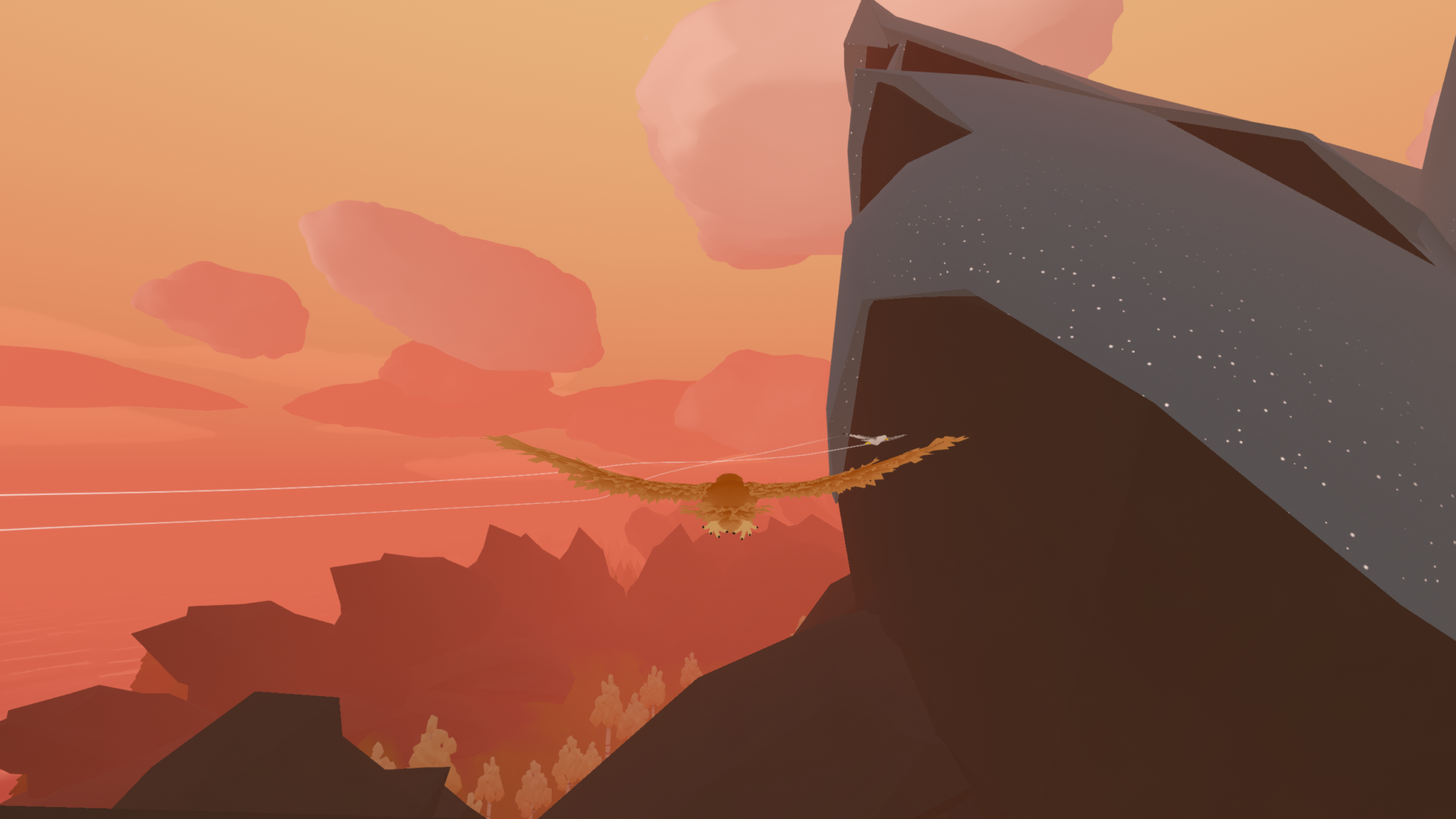 Feather throws you straight into gameplay when you hit Start. No cutscenes, no narrative, no fluff. You hit start and you're flying. It guides you through a very brief tutorial for the simple controls and then you're on your own, just you and the environment. I began soaring around taking in the sights. There's a towering mountain, plunging valleys, forests, rivers, and small oceanic islands to explore with bits and pieces of what seems to be some sort of ancient advanced civilization scattered about. I was naturally drawn to the ruins and started to fly around exploring them, and soon came upon a tower with a glowing ring on it. With no instruction, I instinctively knew I should fly through it. When I did so, the background music track changed. With many of these towers scattered about the map, it seems the intent is for the player to be able to swap tracks at will by simply flying to the location of a given tower, which is a lovely little addition. There are also triangular portals that I discovered that turn you into different birds. Each one seems to correspond with a different bird, and if you're already playing as the corresponding bird, the portal will not be lit.
I also found a closed off portal at the back of a seaside mountain that teleported me to the top of the skybox, overlooking the entire map and allowing you to dive down at high velocity. The map is small, but densely packed with little bits and pieces to look at. As I zoomed by the mountain central to the map, I noticed some pinwheels on the edge of an overlook. As I flew by, they started to spin and you could see wind trails blowing through them. It was a nice little detail that made the short detour worth it.
Compact Chill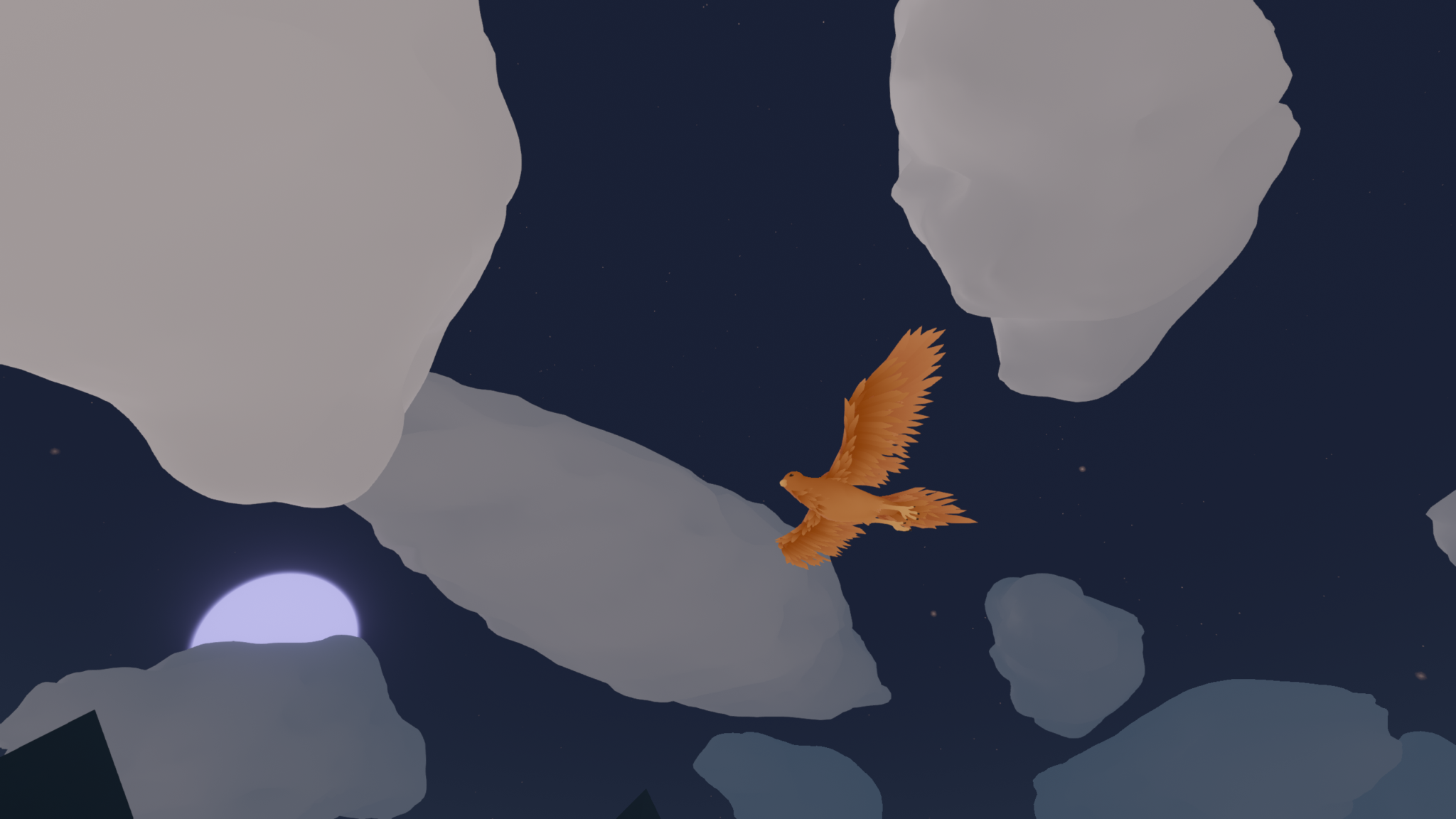 On the subject of music, the soundtrack for this game is excellent. It's relaxing, unobtrusive, and meditative. It reminds me a lot of games like Breath of the Wild in this regard where it has light, breathy music that serves as calming background noise rather than as an accent to specific scenes. This is a great game to play if you just need to relax and unwind for a bit. "Lo-fi beats to be a bird to" coming when?
    Unfortunately, I think this is all the praise I can offer this game. It's dreadfully small and has zero direction. For what it is, it's a fun little experience, but if you're someone who routinely digs their teeth into multi-hour gaming sessions, this game won't give you that fix. I'm the type of person who would play Feather in between games. Maybe I've gotten frustrated from trying to climb the ladder in Overwatch competitive and just want to chill out, I boot up Feather. I'm annoyed at a project I have to do for work, I boot up Feather. I'm at my wit's end with interpersonal relationships and just need a brief escape, I boot up Feather. This is not a game you sit down to play for hours on end, you play this when you need a break. To that end, the game is quite successful at what it sets out to do, just don't set your expectations too high.
    Feather is an enjoyable bite sized piece of being a bird in an unknown land. It's less game and more of a small, experiential art piece, but that's not exactly a bad thing. It's not a formula that will work for everyone, but I appreciate it for what it is. In a world full of sprawling epics, huge multiplayer games, and grandiose open worlds, sometimes it's nice to just kick back and be a bird for a few minutes. 
You can currently pick up Feather on Steam as well as for the Nintendo Switch, PS4, and Xbox One.