Happy early Thanksgiving, everybody! Since we're all going to (hopefully) be getting a little extra time off this week for the holiday, I thought it might be nice to look at a recent game that's all about work. Ok, the connection isn't perfect, but nevertheless I'll be reviewing Fantastic Factories, designed by Joseph Z Chen and Justin Faulkner with art by Chen. I was given a copy of the game to review by our friends at Deep Water Games, who publish it alongside Metafactory Games. Veteran board game fans have no doubt hear all about the game. In fact it's one of those games that you really can't avoid hearing about in board game spaces for the past two years. The game has been such a success that multiple expansions coming out, with another coming soon! But after all that hype, I decided I wanted to take a look for myself and see if it was worth it.
What's In The Box?
28 dice (16mm) (4 red, 4 blue, 4 green, 4 yellow, 4 purple, and 8 white)
50 energy resource tokens
30 metal* resource tokens (*clarification: represents metal resources in the game but made out of chipboard)
85 goods tokens
4 tool label tokens
78 blueprint cards
18 contractor cards
1 first player token
5 player boards and player aids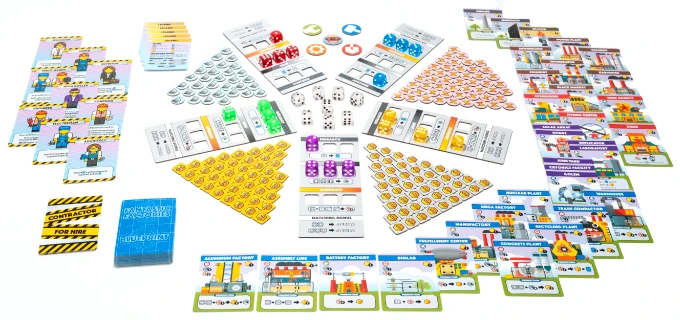 I love a clean game. While my all time favorite sort of game has plenty of art, beautiful images, tons of little things happening…I can appreciate something nice. Well designed. Fantastic Factories strikes the perfect level of clean and clear design without getting into the absurd, minimalist abstraction you get in some games. That said, the theming and look of the game is largely secondary to the creative strategies represented by the game. It just is. Some game have that goal in mind, and it's fine. Fantastic Factories isn't necessarily going to be as easy a sell to some casual gamers as, say, Wingspan or even similar dice placement game Barbearians Battlegrounds because it's "just" a factory game. The blocky art that looks like informational warning signs just adds to that. I can't say it's a knock against the game to have that, and it's refreshing to see in the sea of underdeveloped, overthemed games that seem to be coming out more and more, but it's worth keeping in mind.
How's It Play?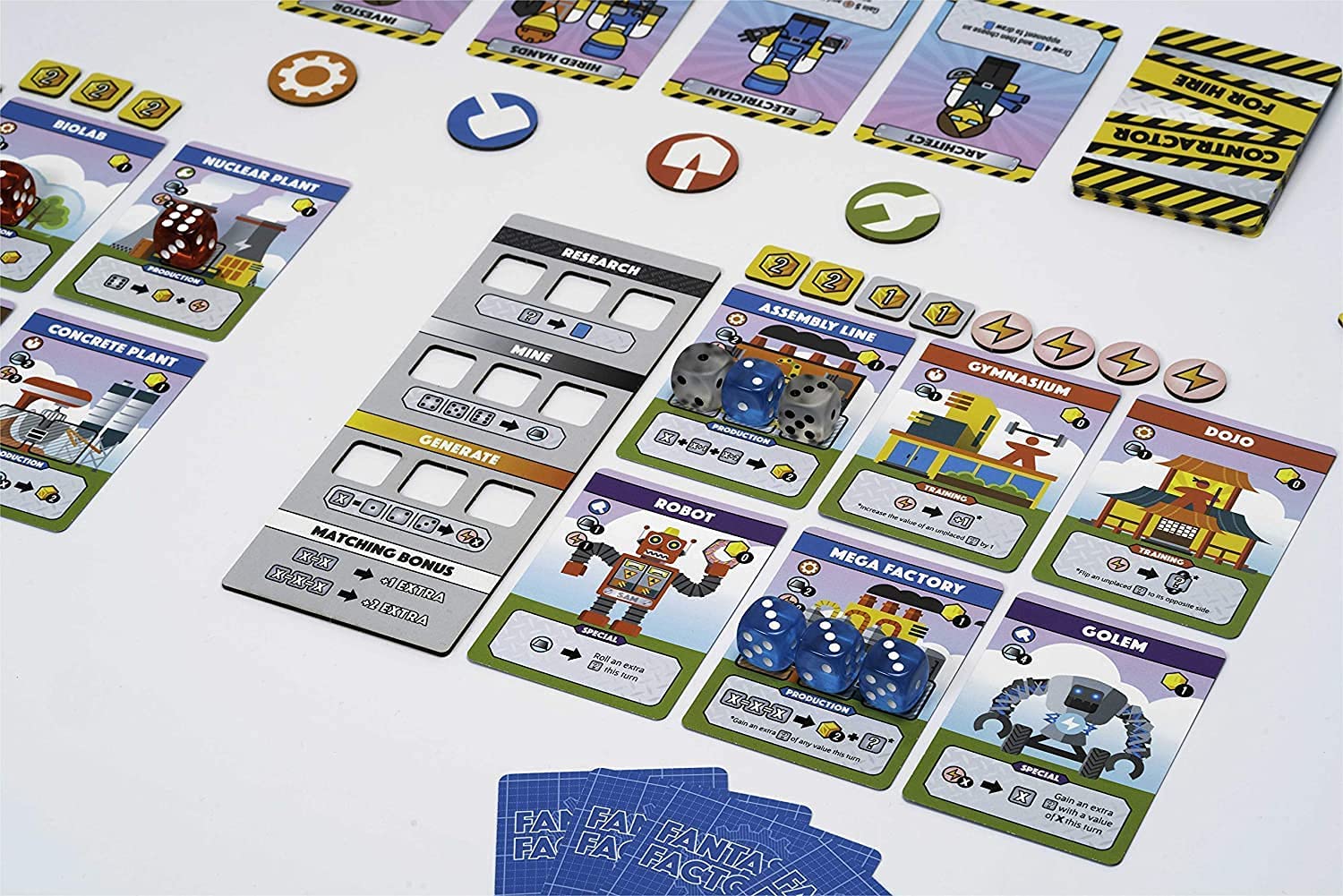 The point of Fantastic Factories is to build the best combination of buildings you can using the right mix of workers, hoping to not only create the best goods but also prestige for your company in the process. The biggest part of the game is dice placement similar to many others you might have played: roll a die, place it on your "compound" board, get the effect of that placement. You'll use that board to get a new blueprint (these are the buildings you can make a part of your factory) or get the energy and metal you need to build. Each section of the board has its own restrictions, meaning careful placement and no small amount of luck is needed to get the best results. This is also when you activate certain cards to get the beneficial effects.
Contractors and buildings essentially represent one time effects vs permanent effects. Bought during the first part of the round by discarding matching cards from your hand, contractors have stronger effects than buildings but don't generate prestige and only operate on the turn they're "hired." Buildings, however, generate more benefits consistently and can build you up to your win conditions. These can be fairly simple buildings like an assembly line or battery factory as well as more "out there" buildings like the Golem, the Dojo, and the Obelisk. The more unique and expensive creations often generate plenty of prestige or create strange effects, though you can have a very strong game by just sticking to the old reliable buildings too. Most buildings are activated by the placement of dice on their card instead of the basic compound, and as time goes on the options open for placement will become more and more difficult.
The whole thing ends when an owner has generated enough goods or built enough buildings to trigger end game, and points are awarded based on how much you've produced and how prestigious your buildings are. Like most engine-builders, there's lots of different ways to get to victory here. Big flashy buildings, lots of energy, simple combos. It's all valid.
The Verdict?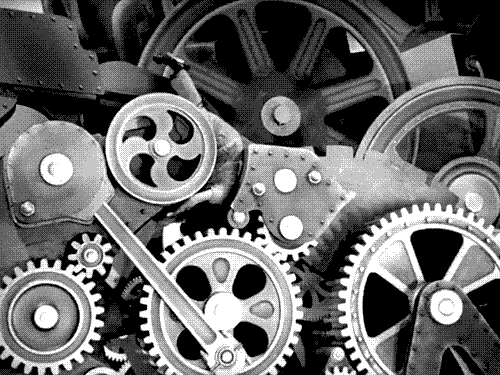 Fantastic Factories doesn't have any delusions of grandeur. It actually is a fantastic game. Easy to learn rules and a simple design belie just how much depth is in the cards. It really puts the "engine" in "engine builder" as you watch your creations slowly build up lock into place and create new opportunities for further growth. Getting enough to buy that one big project is incredibly satisfying. That also makes it a great game for younger players who might be interested in the topic. The colors and overall vibe of the game would definitely appeal. Competition between factory owners isn't too wild, but there's only so many buildings and contractors to go around and there will be arguments. While it might not be as visually memorable as some of its peers, or as truly innovative as others, I definitely can join the chorus of voices triumphantly declaring the game a true achievement.
Fantastic Factories
Summary
Rolling dice, making important choices, and building your little compound become exciting and rewarding as time goes on. There's tons of replayability and depth, and even younger players can catch on easily thanks to straightforward rules and an appealing, simplistic art style. It might not blow your socks off, but it's hard not to have a good time while playing Fantastic Factories.
You can grab a copy of Fantastic Factories from the Deep Water Games shop, Amazon, and your FLGS. It'll run about $39.00, but there's some expansions and add-ons to keep an eye out for as well (more on those in future reviews!)
Images via Deep Water Games
Have strong thoughts about this piece you need to share? Or maybe there's something else on your mind you're wanting to talk about with fellow Fandomentals? Head on over to our Community server to join in the conversation!