In the past few months, we've seen the opinions of everyone from the Television Academy to the Hollywood Foreign Press to the nation's biggest critics. But have you ever wondered what actors in Hollywood think of each other? Well the SAG's, the babiest brother of the major film awards shows, will answer that very question.
The Screen Actors Guild‐American Federation of Television and Radio Artists (you see why we abbreviate) has been putting on their own awards show since the ancient and far-off year of 1995. Despite its youth compared to most other awards shows, the nods it gives (voted on by members of the union) are sometimes the best indicators for success when the Academy Award nominations come up. As such, we at the Fandomentals want to make sure you are kept abreast of the nominations for this year, as well as give our own take on who should, shouldn't, and will win this year. As with the Golden Globes, the Fandomentals Head Film Critic Jeremiah Sherman will weigh in on the movie end of things, while I will be picking up the slack on the television end. This year will also be the first year that the SAG's will have a host, the wonderful Kristen Bell.
Film
Outstanding Performance by a Male Actor in a Leading Role
Timothée Chalamet – Call Me by Your Name as Elio Perlman
James Franco – The Disaster Artist as Tommy Wiseau
Daniel Kaluuya – Get Out as Chris Washington
Gary Oldman – Darkest Hour as Winston Churchill
Denzel Washington – Roman J. Israel, Esq. as Roman J. Israel
Who Will Win: Gary Oldman for Darkest Hour. Jeremiah: Oldman all but disappears in his performance of Winston Churchill. It's not just the makeup it's the overall fact that when you look at Oldman's Churchill, you're hard pressed to find any trace of the Oldman we know. It's the type of performance actors adore; disappearing into the character.
Dan: He was our preferred pick at the Globes, where he took home the trophy. So far he has swept nearly every award that has this category, and I doubt that this will change for the SAG's.
Who Should win: Honestly, Oldman should win. Of the actors nominated his performance is actually the best out of all of them. It should be made clear the remarkableness of Oldman's performance is not just its chameleon-like aspect but in its ability to make us believe it. It's a stunning piece of craftsmanship that should be rewarded.
Who Got Snubbed: Jeremy Renner for Wind River. I don't know if I think his Corey Lambert should win, but it is hands down the best performance I've ever seen Renner give. The haunted, stoic, and angry character is typical of Renner; but here he fills Lambert with longing, sadness, and confusion. Renner's Lambert feels like the first real performance he's ever given. That alone deserves at least a nomination.
Outstanding Performance by a Female in a Lead Role:
Judi Dench – Victoria & Abdul as Queen Victoria
Sally Hawkins – The Shape of Water as Elisa Esposito
Frances McDormand – Three Billboards Outside Ebbing, Missouri as Mildred Hayes
Margot Robbie – I, Tonya as Tonya Harding
Saoirse Ronan – Lady Bird as Christine "Lady Bird" McPherson
Who Will Win:
Frances McDormand for Three Billboards Outside Ebbing, Missouri.
Jeremiah: McDormand gives a gutwrenchingly honest portrayal of a grief-stricken and hell-bent matriarch in a small, fictional Midwestern town. It's a potent performance and will most likely be lauded by her fellow actors, especially since they adore her. It helps that she's won a Golden Globe for this role and has been putting in a strong showing on the awards circuit. Rightfully so, as she's consistently one of the best yet somehow underappreciated actress working today.
Who Should Win: Sally Hawkins for The Shape of Water. One of the more subtly daring performances. With almost no words, outside a lovely musical number, Hawkins conveyed to us a complete and fleshed out character. The relationship between Elisa and the Creature works in large part because of Hawkins' deft handling of the material.
Who Got Snubbed: I know you're expecting me to say Kristen Stewart for Personal Shopper and rightfully so. Even though she totally got snubbed, so did Danielle MacDonald for Patti Cake$. Her Patricia Dombrowski was a fierce and optimistic dream chaser. Patti's obstacles are not end-of-the-world roadblocks, they are, everyday minor setbacks. Through it all, MacDonald gives us a performance that has us clapping our hands and stomping our feet when she takes the stage.
Outstanding Performance by a Male Actor in a Supporting Role
Steve Carell – Battle of the Sexes as Bobby Riggs
Willem Dafoe – The Florida Project as Bobby Hicks
Woody Harrelson – Three Billboards Outside Ebbing, Missouri as Sheriff Bill Willoughby
Richard Jenkins – The Shape of Water as Giles
Sam Rockwell – Three Billboards Outside Ebbing, Missouri as Officer Jason Dixon
Who Will Win: Steve Carell for Battle of the Sexes. It's not based on anything except Carell's Bobby Riggs was wonderfully layered. A man beset by his lesser angels while also being, shockingly, one most keen cultural observers, and a seemingly inexhaustible daring self-promoter. Battle of the Sexes was never as good as it should have been but it wasn't awful, and that's due in large part to Carell's Bobby Riggs.
Dan: As much as I loved Carrell, I have a sneaking suspicion that Hollywood's need to reward shitty white dude characters will help continue Sam Rockwell's dominance in this category. Even though Woody Harrelson puts in a better performance, Rockwell's "redemption" arc seems to be resonating with the film world.
Who Should Win: Willem Dafoe's Bobby from The Florida Project pulled off one of the most infamously difficult aspects of acting: he doesn't appear to be acting. Of course, he's acting, but his Bobby is free of any theatrical artifice or mannerisms. Even though there's no noticeable difference between Bobby or Dafoe, the actor himself is nowhere to be seen.
Who Got Snubbed: Patrick Stewart for Charles Xavier in Logan. Logan was far and away the single best departure from the ho-humness that plagues the superhero genre. Stewart as Professor X gives a blistering and honest performance as a man in the final stages of his life. Unusually for a genre that is normally cavalier in its treatment of death, the tragedy of mental deterioration and death is made uncomfortably real by Stewart's portrayal.
Outstanding Performance by a Female Actor in a Supporting Role
Mary J. Blige – Mudbound as Florence Jackson
Hong Chau – Downsizing as Ngoc Lan Tran
Holly Hunter – The Big Sick as Beth Gardner
Allison Janney – I, Tonya as LaVona Golden
Laurie Metcalf – Lady Bird as Marion McPherson
Who Will Win: Laurie Metcalf for Ladybird, if for no other reason than because I think the Guild feels a kinship with Metcalf. She's a working actress getting a second wind in her career. I think the Guild will want to reward her for what is one of the best performances of the year.
Who Should Win: Mary J. Blige for Mudbound. A film that was all but buried by Netflix. It could have died a quiet death if not for Blige's scathing turn as Florence Jackson. Blige conveys strength and vulnerability even from behind a pair of dark sunglasses. A wife and mother who sees her family fortunes crumble before her only to see them rise from the ashes is a tour de force for any actor. But for a first-time actor? It is astounding.
Who Got Snubbed: Tiffany Haddish in Girls Trip. A comedic force-of-nature, Haddish's Dina was a vulgar loudmouth who was still more human than caricature. Much has been said about the grapefruit scene, but little is said about the scene after. Dina takes her friends into her room, kneels, and leads them in prayer. An act of simple faith that isn't part of a larger message. Haddish's Dina is such an astounding comedic creation because she is a complete creation, with beliefs and ideas, and not just comedic foibles.
Outstanding Performance by a Cast in a Motion Picture
The Big Sick – Adeel Akhtar, Holly Hunter, Zoe Kazan, Anupam Kher, Kumail Nanjiani, Ray Romano and Zenobia Shroff
Get Out – Caleb Landry Jones, Daniel Kaluuya, Catherine Keener, Stephen Root, Lakeith Stanfield, Bradley Whitford and Allison Williams
Lady Bird – Timothée Chalamet, Beanie Feldstein, Lucas Hedges, Tracy Letts, Stephen McKinley Henderson, Laurie Metcalf, Jordan Rodrigues, Saoirse Ronan, Odeya Rush, Marielle Scott and Lois Smith
Mudbound – Jonathan Banks, Mary J. Blige, Jason Clarke, Garrett Hedlund, Jason Mitchell, Rob Morgan and Carey Mulligan
Three Billboards Outside Ebbing, Missouri – Abbie Cornish, Peter Dinklage, Woody Harrelson, John Hawkes, Lucas Hedges, Željko Ivanek, Caleb Landry Jones, Frances McDormand, Clarke Peters, Sam Rockwell and Samara Weaving
Who Will Win: Lord help me I think it may be Three Billboards Outside, Ebbing Missouri. Deeply flawed but incredibly acted, it tries in vain to wrestle with the human complexity and the notion of justice. It's burdened by the whiteness of its cast, and it's narrative cowardice when dealing with racial issues. It has four women characters, but only one of them is given anything interesting to do or say. The others are merely decorative assets for their male counterparts. Needless to say, I'm betting SAG will just love all the great performances in this movie and overlook the inherent narrative flaws.
Who Should Win: The Big Sick is a movie I didn't love, but it is a movie I liked a lot. I will say that it has a fantastic cast and it serves the movie well. Michael Showalter has nothing to say visually, but he is smart enough to stack his cast with heavy hitters. Kumail Nanjiani, Holly Hunter, Ray Romano, Zoe Kazan, Anupam Kher, and Zenobia Shroff make The Big Sick as powerful and poignant as it is. The script by Nanjiani and Emily V. Gordon gives the whole cast grade A meat to sink their teeth into. Heartwarming and touching The Big Sick works as well as it does because of its cast.
Who Got Snubbed: Before you get your pitchforks and torches ready hear me out, Justice League. Justice League is by no means a masterpiece by any definition of the word, nor is it worthy of any actual awards. BUT the cast made that movie work it's weird, herky-jerky magic. Collectively they made a series of disjointed scenes and overly produced action sequences work because when they were together the movie was actually kind of fun. Whether it was Aquaman sitting on Diana's lasso of truth or Batman's look of gushing love when Superman joins in the fight against whatever the bad guy's name was, they sold the scene. I'm not saying they deserve the award but they sure as hell deserve a nomination more than Three Billboards Outside, Ebbing Missouri.
Outstanding Performance by a Stunt Ensemble in a Motion Picture
Baby Driver, ST-C Robert Nagle
Dunkirk, ST-C Tom Struthers
Logan, ST-C's Nuo Sun, Gary Hymes, Garret Warren
War for the Planet of the Apes ST-C's Isaac Hamon, Terry Notary, John Stoneham Jr., Danny Virtue
Wonder Woman ST-C'a Tim Rigby, Marcus Shakesheff, Lee Sheward
Who Will Win: Wonder Woman. While the other films in this category did a great job with their stunts, Wonder Woman not only had a fantastic stunt cast, they also let the stunt actors BE characters. A good chunk of the best stunts in the film were by the Amazons, who were played by an extremely talented and athletic group of women. Rather than let the stunt women stay in the background, Patty Jenkins let them feature in front of the camera and for that, I think the Guild will reward.
Who Should Win: Wonder Woman, again. The beach scene alone is amazing, but it also had some fantastic work during the war scenes as well.
Who Got Snubbed: Star Wars: The Last Jedi. It's sort of the norm for the SAG's to snub December release films, but this snub in this category is more surprising. It's hard to beat Star Wars when it comes to stunts, and Praetorian Guard fight on Snoke's Ship was as standout a feat of action as any other in 2017.
Television
Outstanding Performance by a Male Actor in a Miniseries or Television Movie
Benedict Cumberbatch – Sherlock: The Lying Detective as Sherlock Holmes
Jeff Daniels – Godless as Frank Griffin
Robert De Niro – The Wizard of Lies as Bernard Madoff
Geoffrey Rush – Genius as Albert Einstein
Alexander Skarsgård – Big Little Lies as Perry Wright
Who Will Win: Alexander Skarsgård. Already a success at multiple shows, and considering the tongue bath that the awards shows have been giving Big Little Lies, this seems like a gimme.
Who Should Win: Sadly, this category isn't nearly as competitive as most of the others. The closest to Skarsgård in critical acclaim is maybe De Niro, but that's probably just the built-in bias people have for the man.
Who Got Snubbed: Charlie Cox in The Defenders. A snub that can largely be chalked up to genre bias, Cox had perhaps the strongest storyline in a show stuffed to the brim with them. While Cox wouldn't win, he's at least as worthy as Blueberry Pumpkinpatch
Outstanding Performance by a Female Actor in a Miniseries or Television Movie
Laura Dern – Big Little Lies as Renata Klein
Nicole Kidman – Big Little Lies as Celeste Wright
Jessica Lange – Feud: Bette and Joan as Joan Crawford
Susan Sarandon – Feud: Bette and Joan as Bette Davis
Reese Witherspoon – Big Little Lies as Madeline MacKenzie
Who Will Win: The real question is which actress in Big Little Lies will win. Considering there's no supporting vs. main actress delineation, it could be any of the three. The best bet is Nicole Kidman, who can be counted on to give a flowery speech about female empowerment as she accepts her award.
Who Should Win: Susan Sarandon. While she's gotten very little love, thanks largely to the sheer dominance of Big Little Lies, I still think Sarandon did a great job in making sure her Bette Davis transcends a simple impression.
Outstanding Performance by a Male Actor in a Drama Series
Jason Bateman – Ozark as Martin "Marty" Byrde
Sterling K. Brown – This Is Us as Randall Pearson
Peter Dinklage – Game of Thrones as Tyrion Lannister
David Harbour – Stranger Things as Jim Hopper
Bob Odenkirk – Better Call Saul as Jimmy McGill/Saul Goodman
Who Will Win: Sterling K. Brown has been killing it at the awards this year, and his performance justifies that success. And in a category largely filled by more ensemble shows, he seems an easy choice for the Guild's committees.
Who Should Win: David Harbour. It can be hard to stand out in an ensemble cast, especially when that cast is in a genre show. But Harbour has gotten a good deal of well-earned love for his performance. Transitioning from burned out sheriff to surrogate father finding his feet, Harbour helped Hopper maintain his position as the stable rock amidst the chaos around Hawkins.
Outstanding Performance by a Female Actor in a Drama Series
Millie Bobby Brown – Stranger Things as Eleven
Claire Foy – The Crown as Elizabeth II
Laura Linney – Ozark as Wendy Byrde
Elisabeth Moss – The Handmaid's Tale as June Osborne/Offred
Robin Wright – House of Cards as Claire Underwood
Who Will Win: Elizabeth Moss. Another obvious choice, but this is a great place for the Guild to reward The Handmaid's Tale for its work and topical importance.
Who Should Win: Claire Foy. She's been great in both seasons of The Crown, and with the show moving past her it's now or never to reward her acting.
Outstanding Performance by a Male Actor in a Comedy Series
Anthony Anderson – Black-ish as Andre "Dre" Johnson
Aziz Ansari – Master of None as Dev Shah
Larry David – Curb Your Enthusiasm as Himself
Sean Hayes – Will & Grace as Jack McFarland
William H. Macy – Shameless as Frank Gallagher
Marc Maron – GLOW as Sam Sylvia
Who Will Win: Aziz Ansari. Despite his recent controversies, Aziz has gotten nothing but love for his turn in season 2 of Master of None.
Who Should Win: Anthony Anderson. Not only is he fantastic in his comedic moments, but he also does a good job during Black-ish's frequent serious discussions of race in America.
Outstanding Performance by a Female Actor in a Comedy Series
Uzo Aduba – Orange Is the New Black as Suzanne "Crazy Eyes" Warren
Alison Brie – GLOW as Ruth "Zoya the Destroya" Wilder
Jane Fonda – Grace and Frankie as Grace Hanson
Julia Louis-Dreyfus – Veep as Selina Meyer
Lily Tomlin – Grace and Frankie as Frankie Bergstein
Who Will Win: Julia Louis-Dreyfus. Thanks to the scary parallels between Veep and some modern-day politics, the character of Selina Meyer has gotten even more accolades than she did in earlier seasons.
Who Should Win:  For this category, the inevitable choice is probably the correct one.
Outstanding Performance by an Ensemble in a Drama Series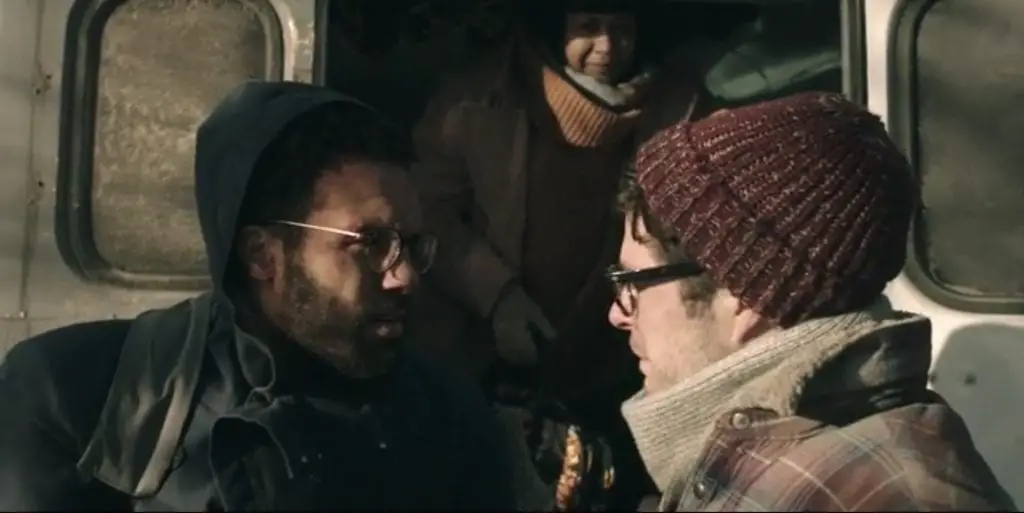 The Crown – Claire Foy, Victoria Hamilton, Vanessa Kirby, Anton Lesser and Matt Smith
Game of Thrones – Alfie Allen, Jacob Anderson, Pilou Asbæk, Hafþór Júlíus Björnsson, John Bradley West, Jim Broadbent, Gwendoline Christie, Emilia Clarke, Nikolaj Coster-Waldau, Liam Cunningham, Peter Dinklage, Richard Dormer, Nathalie Emmanuel, James Faulkner, Jerome Flynn, Aidan Gillen, Iain Glen, Kit Harington, Lena Headey, Isaac Hempstead Wright, Conleth Hill, Kristofer Hivju, Tom Hopper, Anton Lesser, Rory McCann, Staz Nair, Richard Rycroft, Sophie Turner, Rupert Vansittart and Maisie Williams
The Handmaid's Tale – Madeline Brewer, Amanda Brugel, Ann Dowd, O. T. Fagbenle, Joseph Fiennes, Tattiawna Jones, Max Minghella, Elisabeth Moss, Yvonne Strahovski and Samira Wiley
Stranger Things – Sean Astin, Millie Bobby Brown, Cara Buono, Joe Chrest, Catherine Curtin, Natalia Dyer, David Harbour, Charlie Heaton, Joe Keery, Gaten Matarazzo, Caleb McLaughlin, Dacre Montgomery, Paul Reiser, Winona Ryder, Noah Schnapp, Sadie Sink and Finn Wolfhard
This Is Us – Eris Baker, Alexandra Breckenridge, Sterling K. Brown, Lonnie Chavis, Justin Hartley, Faithe Herman, Ron Cephas Jones, Chrissy Metz, Mandy Moore, Chris Sullivan, Milo Ventimiglia, Susan Kelechi Watson and Hannah Zeile
Who Will Win: This is the closest thing the SAG's have to a "Best Series" award, and it's a tough race. Game of Thrones is always a contender, as are relative newcomers The Crown and This Is Us. But the most likely winner is The Handmaid's Tale. Picking up the win at the Emmy's and the Globes is always a good sign, and it's doubtful that the chord that the series struck with audiences didn't also reach the acting community.
Who Should Win: Stranger Things. Out of all of the series nominated, Stranger Things is the series that best represents a truly great ensemble. With this past season featuring great work from the adults (Sean Astin, Winona Ryder, and David Harbour) and the kids (Millie Bobby Brown, Finn Wolfhard, et al.), the series deserves a win. Sadly, it's probably bogged down by the fact that it IS largely a child cast and good old genre snobbery.
Outstanding Performance by an Ensemble in a Comedy Series
Black-ish – Anthony Anderson, Miles Brown, Deon Cole, Laurence Fishburne, Jenifer Lewis, Peter Mackenzie, Marsai Martin, Jeff Meacham, Tracee Ellis Ross, Marcus Scribner and Yara Shahidi
Curb Your Enthusiasm – Ted Danson, Larry David, Susie Essman, Jeff Garlin, Cheryl Hines and J. B. Smoove
GLOW – Britt Baron, Alison Brie, Kimmy Gatewood, Betty Gilpin, Rebekka Johnson, Chris Lowell, Sunita Mani, Marc Maron, Kate Nash, Sydelle Noel, Marianna Palka, Gayle Rankin, Bashir Salahuddin, Rich Sommer, Kia Stevens, Jackie Tohn, Ellen Wong and Britney Young
Orange Is the New Black – Uzo Aduba, Emily Althaus, Danielle Brooks, Rosal Colon, Jackie Cruz, Francesca Curran, Daniella De Jesus, Lea DeLaria, Nick Dillenburg, Asia Kate Dillon, Beth Dover, Kimiko Glenn, Annie Golden, Laura Gómez, Diane Guerrero, Evan Arthur Hall, Michael J. Harney, Brad William Henke, Mike Houston, Vicky Jeudy, Kelly Karbacz, Julie Lake, Selenis Leyva, Natasha Lyonne, Taryn Manning, Adrienne C. Moore, Miriam Morales, Kate Mulgrew, Emma Myles, John Palladino, Matt Peters, Jessica Pimentel, Dascha Polanco, Laura Prepon, Jolene Purdy, Elizabeth Rodriguez, Nick Sandow, Abigail Savage, Taylor Schilling, Constance Shulman, Dale Soules, Yael Stone, Emily Tarver, Michael Torpey and Lin Tucci
Veep – Dan Bakkedahl, Anna Chlumsky, Gary Cole, Margaret Colin, Kevin Dunn, Clea Duvall, Nelson Franklin, Tony Hale, Julia Louis-Dreyfus, Sam Richardson, Paul Scheer, Reid Scott, Timothy Simons, Sarah Sutherland and Matt Walsh
Who Will Win: Veep. Most of my reasoning is mentioned in my justification for Julia-Louise Dreyfus's win prediction, but there's no doubt her work wouldn't be nearly as good without the team surrounding her.
Who Should Win: GLOW. A great show that seemed to fly under some people's radar, it took a much different approach to the 2017's theme of female empowerment. Mixing funny and emotional as deftly as any Jenji Kohan program, the show had its ensemble pulling double duty as actors and as wrestlers. Sadly, if there's one thing with less respect than genre, it's professional wrestling.
Outstanding Performance by a Stunt Ensemble in a Television Series
Game of Thrones ST-C Rowley Irlam
GLOW ST-CS Shauna Duggins
Homeland ST-C's Brian Smyj, Mark Fichera
Stranger Things ST-C Lonnie R. Smith Jr.
The Walking Dead ST-C Monty L. Simons
Who Will Win: Game of Thrones cleans up in technical categories, and have won this six years running. With each season getting bigger and sillier, so have the stunts gotten more impressive to match.
Who Should Win: GLOW. While losing best ensemble would be expected, losing Best Stunt Ensemble will be a bigger disappointment. Unlike other shows, GLOW is almost centered around stunts. It did a great job in having the wrestling look as real as real wrestling, while also capturing some of the painful qualities of it. As well, the cast was trained in professional wrestling, and pro wrestlers like Carlito put in some good work throughout the series.
The 24th Annual Screen Actor's Guild Awards will be hosted by Kristen Bell, and presented on January 21, 2018, on both TNT and TBS, 8:00 p.m. EST / 5:00 p.m. PST