AEG's Smash Up series of games has been running for quite some time now, and today we're here to talk about a new expansion. The 80s-themed Excellent Movies, Dudes!
Premise
For those who don't know, Smash Up is a game about global domination, pitting various factions and decks against each other in a race to conquer bases and establish yourself as the top dog. As I said, this is an expansion of the already existing game, adding four new factions to the already extensive list the game boasts. Each faction comes with its own cards and tricks. For this pack, as one might suspect, we're going back to the hit films of the 80s!
The factions, in this case, are Action Heroes (just in general), Extramorphs (Alien), Backtimers (Back to the Future), and Wraithrustlers (Ghostbusters)
Appearance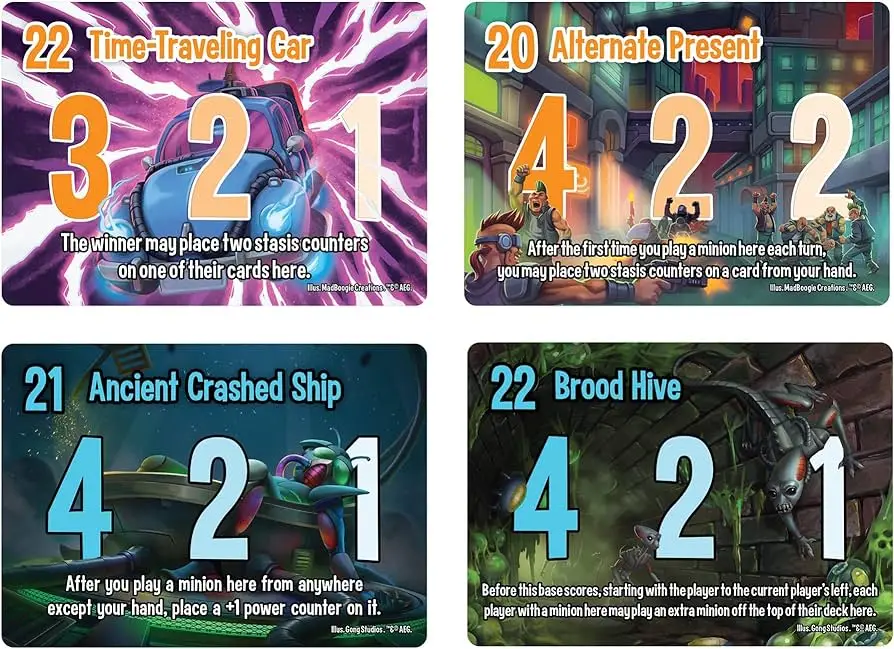 Smash Up is an extensive and popular game, and with that comes a history of quality, both in manufacturing and in appearance. The cards of Excellent Movies, Dudes! Are well made, with easy-to-read text, and pictures that are likewise good. If you're familiar with the properties they're referencing, you'll know exactly what you're looking at, no question. And even if you don't know, you'll find art that, while perhaps unoriginal, is still of a good quality and pleasant to look at.
Gameplay
First off, a quick overview of Smash Up. This is a card game, and we start by picking two factions per player and merging them into a deck. So, for example, one player would have the Action Hero and Backtimer decks, while the other player would get the Wraithrustlers and Extramorphs. Of course, this is an expansion pack that requires the main game to play, so other combinations and factions should be available to you.
Regardless, each faction has a pair of Base cards, and the goal is to be the one to most effectively use your cards to capture that Base. Every faction has two kinds of cards. Minions, and actions. You can play one of each on your turns. Minions establish a grip on the Base for you, while actions can be used to boost your minions or hurt your opponents.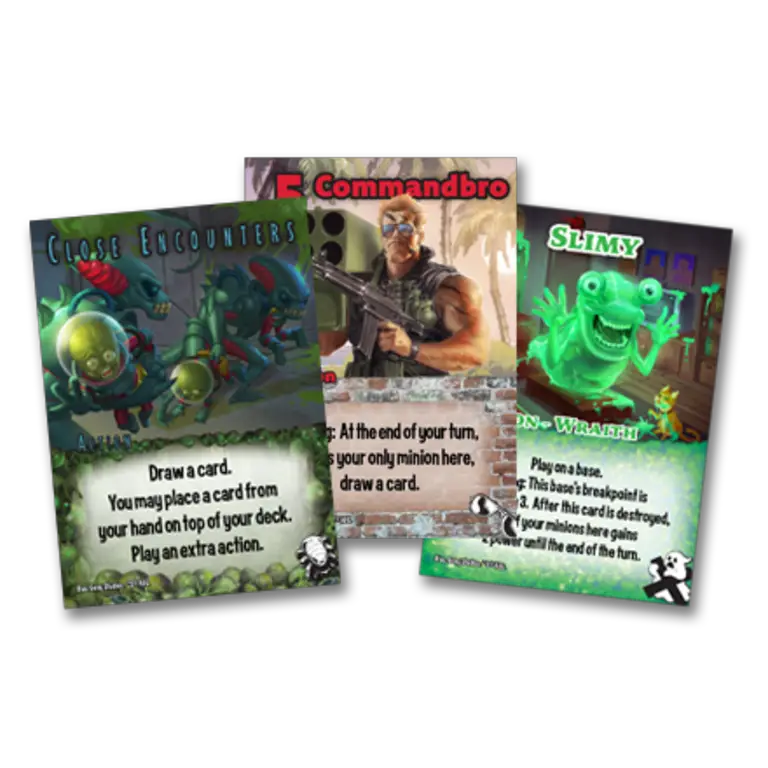 Each of the four factions of the pack comes with their own gimmicks as well. Action Heroes work best alone, and so get boosts if they're the only card you have placed on the Base. Backtimers can put things in stasis and bring them out later, planning ahead. Wraithrustlers have a second set of actions, the wraiths themselves, which they can maneuver like extra minions to cause problems for their opponents. And finally, the Extramorphs are themed around their life cycle, letting you steadily turn weaker minions into stronger ones.
The end result of all this is a new set of Smash Up cards with some interesting strategies behind them. Each plays in their own ways, while still keeping to the core of what Smash Up is, adding just enough to make it worth having them but not so much as to completely restructure the game.
Final Thoughts
Excellent Movies, Dude! is, well, an excellent expansion of an already fun game. It will find its best home with fans of the movies it's paying homage to, of course, but the mechanics each faction provides are solid enough that I think you would be able to find them fun even without that.
Now, whether or not $25 is a worthwhile price for an expansion to a $35 game is up to you and your budget of course. As this is an expansion and not meant to be played on its own, you'd be looking at $60 if you don't already own Smash Up.
Still, I enjoyed it, and I think there's a lot of fun to be had here if it's in your budget!
Excellent Movies, Dudes!
Summary
Excellent Movies, Dude! is a fun and creative expansion to the Smash Up series. While it has its own spins, this is still largely traditional Smash Up, and whether or not you like it is going to depend on your feelings towards the game in general.
Images courtesy of AEG
Have strong thoughts about this piece you need to share? Or maybe there's something else on your mind you're wanting to talk about with fellow Fandomentals? Head on over to our Community server to join in the conversation!