If you like magic and card games then Duel of Wands: Kids on Brooms Card Game is the game for you! Designers Doug Levandowski and Luke Muench as well as artist Heather Vaughan have created a lovely card game set in the world of the Kids on Brooms RPG built on the Kids On Bikes system (both from Renegade Game Studios) which finds players taking on the life of a witch or wizard at a magical school you all attend: a place full of mystery, danger, and thrilling adventure.
Within that context, casters have long used magic to settle their disputes, which developed into duels that required skill and cunning. Players attempt to prove themselves by slinging spells at one another and getting rid of their opponent's psyche to win the duel. Dang! Each game is roughly 30 to 45 minutes, which is long enough to really enjoy the premise but not so long that you get bored.
The game comes in a neatly packed box filled with two sets of 11 card starting decks, two player aid cards, 16 upgraded spell cards, 7 unique spell cards, and a rulebook. Though the game fits into the Kids On Brooms world, you don't need to have know anything about it to play this card game.
How Does it Play?
A spinoff of the Kids on Brooms role playing game, the Duel of Wands card game pits two players against each other – equipping each duelist with a nearly identical deck of cards. Unlike trading card games, or collectible card games, where a player develops an advantage by developing a particular deck of cards and consequently a strategy, the two players in Duel of Wands have to strategize based on their knowledge of the cards in the starter, Unique Spell, and upgraded decks.
A dueling round begins after each player shuffles their starter deck of 11 cards, two of seven Unique Spell cards, and two Upgraded Spell  cards (if the players have enough experience to use them). The players draw a fraction of their cards, beginning with four. Each turn, the players must cast a spell or discard a spell, drawing after they complete all actions which take place during a turn so that they always have four cards in hand.
Upon casting a spell, the instructions on the card must be carried out, after which it is added to the Cast Spells pile or, if particularly powerful, the Banished Spells pile. Spells not Banished can be reused during a round if the player casts a spell allowing them to Refresh, or shuffle and re-draw.
The object of the game is to cast spells like Hijack – where if a card you name is in the opponent's hand, you take it and add it to your Cast Spells – or Dispel – where if a card named is in the opponent's hand, it is added to their Banished hand – with the goal being to Banish the opponent's Psyche card. Other spells can be cast (or sacrificed to the Banished pile) to oppose the action of Banishing the Psyche card (or any other), making for complex opportunities to change the momentum of the competition.
Whenever a player's Psyche card is Banished, or if one player attempts to Banish their opponent's Psyche card when it is not in their hand, a round ends. When a player wins two rounds, they win the game.
The Verdict?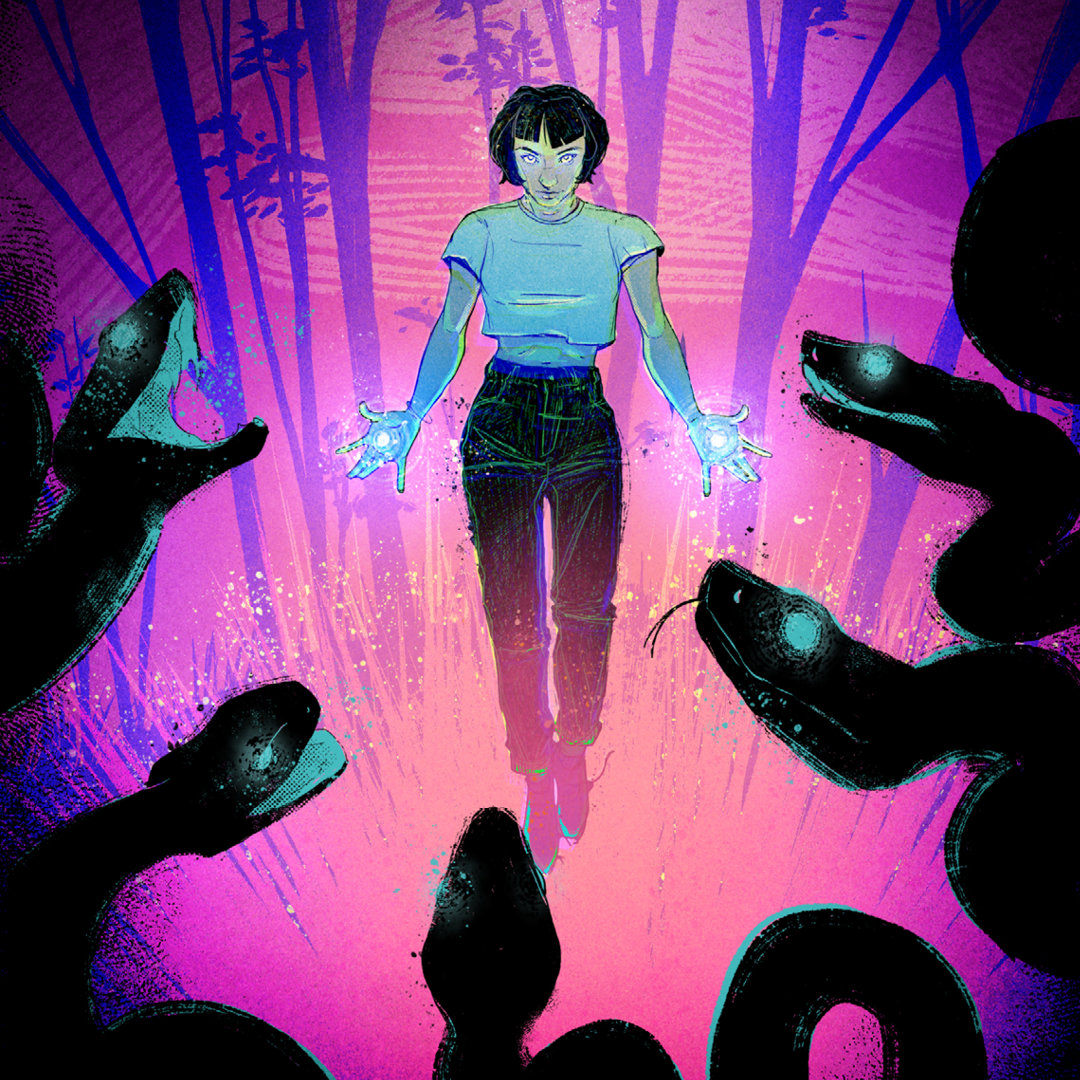 The game's meta was a little challenging to understand at first, at least for two players whose card game experience was largely based in 52-card pack games or trading card games like Magic: The Gathering. After an initial learning curve, playing the game gets easier and easier as each player familiarizes themselves with the particular effects of each individual card, especially the unique spells. The gameplay becomes fast-paced at this point, and turns can become extremely complex — with multiple actions taking place as each player casts spells and responds to their opponent's cast spells.
From an aesthetic standpoint, the game is stunning. From the case it arrives in, the inserts which divide the cards from the playing guide (or Spell Book), to the art each card is adorned with, the style of the game design is impressive. Favoring sharp colors like magenta, cyan, and yellow, a semi-realistic depiction of human mages, and distinct geometric symbols on each card's back, the art is evocative of all of the best imagery associated with magical fantasy.
Altogether, the game is enjoyable to play, wonderful to look at, and provides a great balance between challenge and ease of access while consistently allowing for competition. The initial learning curve means the game demands some initial commitment which is paid off more and more as players develop a greater understanding of the game and become more skilled.
Duel of Wands: Kids on Brooms Card Game is available at Renegade Game Studios, Amazon, and at your FLGS for $20.
[rwp_box id="0″]
Images and review copy courtesy of Renegade Game Studios
Have strong thoughts about this piece you need to share? Or maybe there's something else on your mind you're wanting to talk about with fellow Fandomentals? Head on over to our Community server to join in the conversation!