Dimension came out in 2014 and won several awards including the 2015 Parents' Choice Silver Honor award. Dimension, a fast puzzle game of stacking balls, has been brought back into the spotlight. The game is published by Kosmos, known to make imaginative games and offers products that involves wits, knowledge, art, and social interaction. Kosmos has grown the thriving board game movement and continues to support a growing industry. Recently, it's been announced that Dimension is being sold in Barnes and Nobles, and it will be more accessible for many. The game is played with 1-4 players and can be played around 30 minutes. 
What's in the box? 
12 Self-adhesive feet for player trays
60 spheres – 12 of each color
90 Point tokens of various values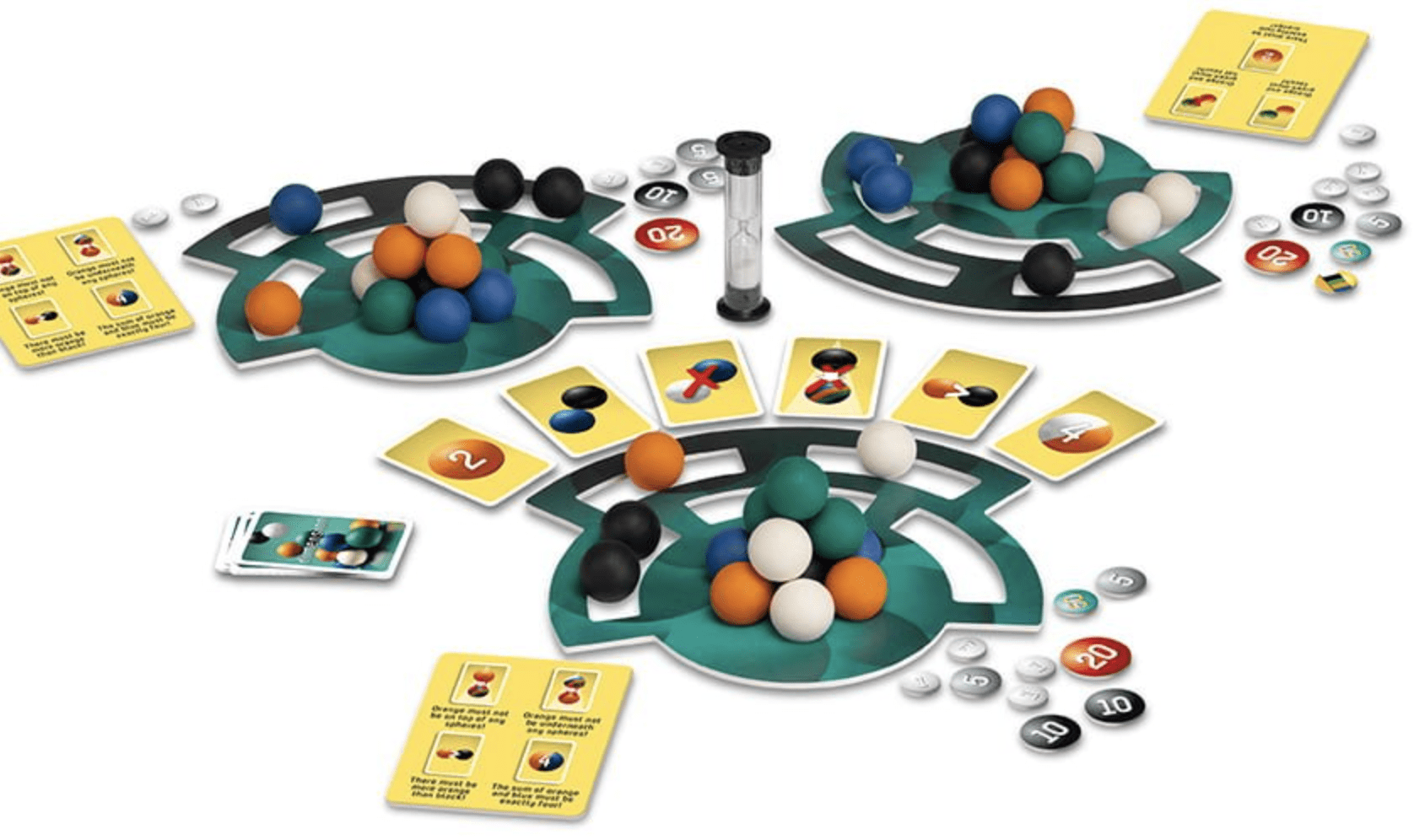 How Does the Game Play?
Each player will take a player tray and fill up each rectangular section with 3 balls of the same color. This will give each player 15 total balls, 3 of each of the 5 colors. The middle section with holes is the play area where players will place their balls creating a tower with 7 balls on the bottom, 3 in the middle section, and 1 on top, totaling 11 balls total. Players don't have to use 11 balls for each round but the more balls used is usually better. 
6 task cards are then placed out in the center of the table for all players to see. These give the rules to how you can or can not place the balls. Each card can be explained in more detail by looking at your cardboard overview tile. Once everyone understand the task cards and what they mean, the hourglass timer is flipped over.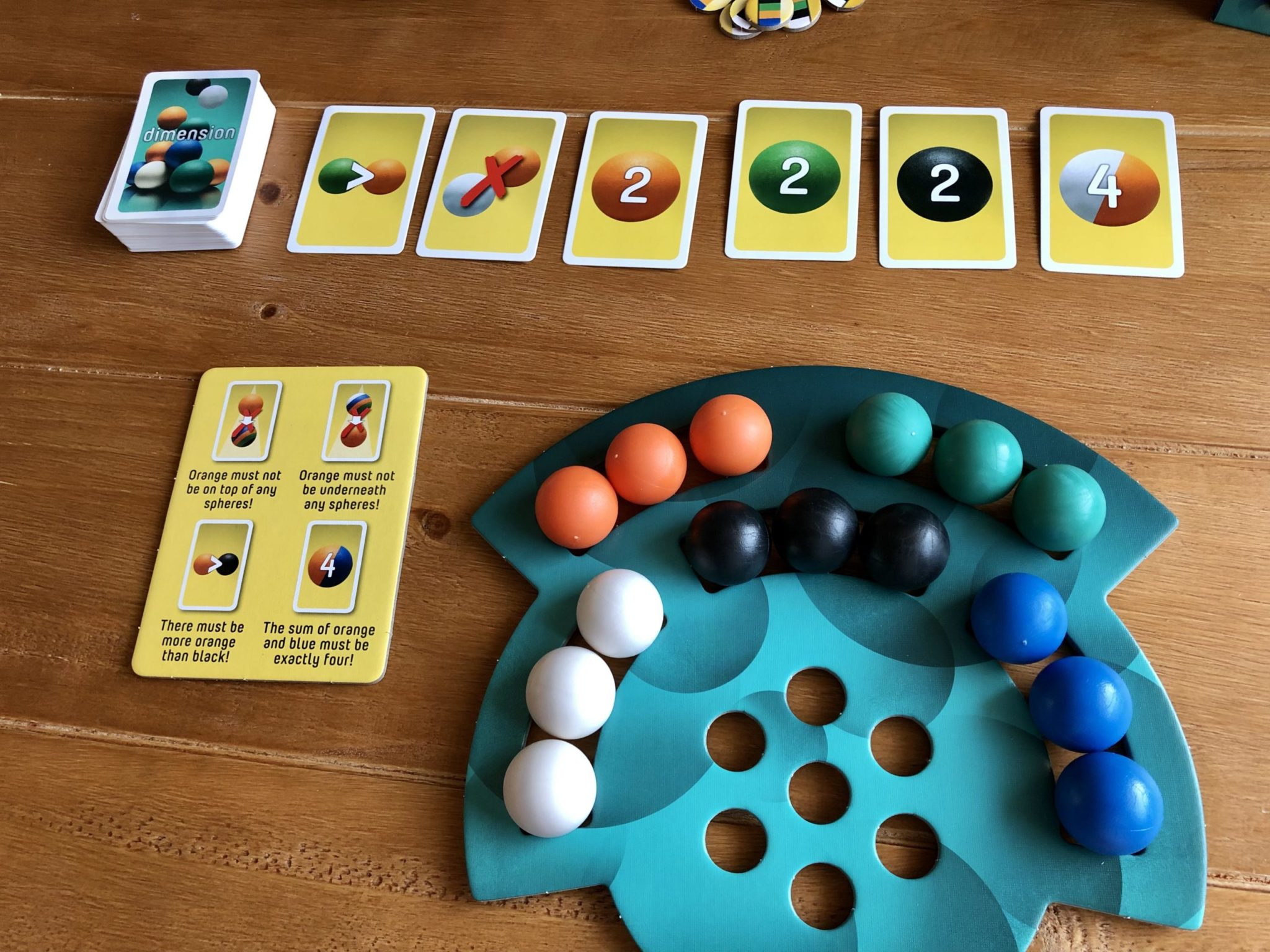 Players all have a set amount of time to then place the balls situated on the side of their player board onto the play area while obeying the rules on the task cards. Players should try to place as many balls as they can as each one in the play area is worth a point after the timer is completed. When the timer is done, everyone has to stop rearranging their board and leave whatever balls they have placed in the play area. Before the timer runs out players can always rearrange the balls replacing some or moving them to make sure they obey as many task cards as possible. 
When the timer is up, points are awarded. Each ball in the play area is worth 1 point each, with 11 points being the maximum. For each task card you did not obey, either on purpose or accidentally, you will lose 2 points. In addition, if you placed 11 balls out with at least 1 of each color, you will be awarded a bonus token.
Bonus tokens will convert to positive or negative points at the end of the game depending on how many you have collected. 
After 6 separate rounds of stacking balls, the player with the most points wins the game. 
Check out a quick round via Instagram.
The Verdict
Dimension is one of the best puzzle games that can be played by kids up to adults and can also be enjoyed by everyone in between. The game is easy to learn, in fact after understanding the basic rules, players really only need to read and understand the task cards to know how to arrange their balls. 
The task cards are definitely the shining star in this game, they can be really complicated at times, as you need to obey them all the best you can and in doing so, you will consistently have to keep rearranging your tower. Most of the times you will build something, then since there is still time left, you will start looking at each task card making sure you obeyed that rule, and if you find one you didn't you will then start changing up the tower. Sometimes this can be at the worst time, as you take balls off to rearrange and the timer ends. Your then stuck with a very low score.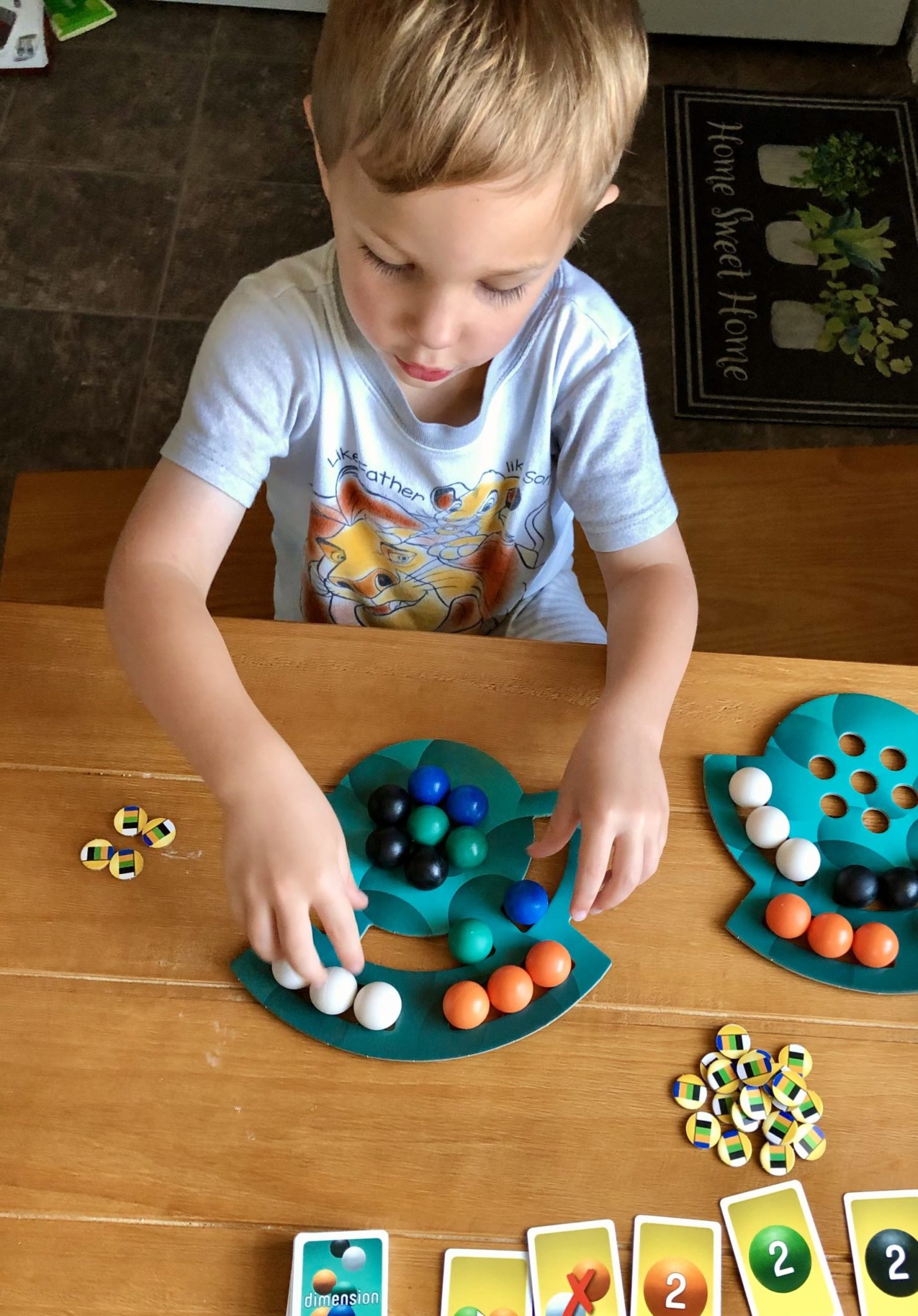 6 cards can be challenging but with less, I would say dimension gets profoundly easier. When we play with our little kids, we ended up using 4 cards to make it easier for them and they did a lot better with 4 than 6. 
The fun in the game is definitely putting those task cards together in a way that you puzzle what is the best way to score the most points. 
For a puzzle family game, this one is definitely one that needs to be kept in your game closet, and as the kids grow older, the game grows with them, so they will never grow out of the game. The game teaches logic, spatial organizing, and prioritization. Even with the game first being published in 2014, it is a game that is relevant today.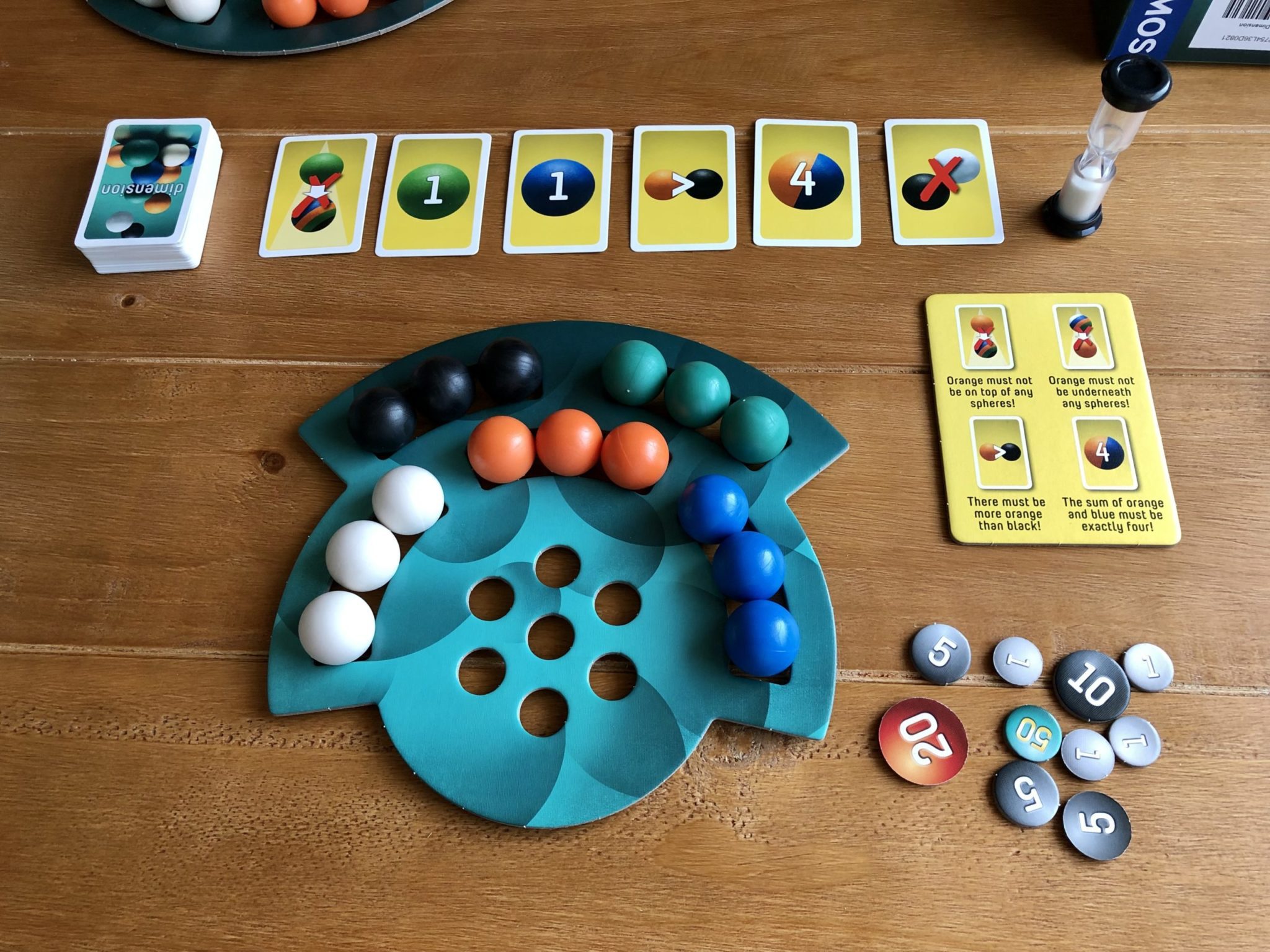 Images Courtesy of Kosmos Games
Have strong thoughts about this piece you need to share? Or maybe there's something else on your mind you're wanting to talk about with fellow Fandomentals? Head on over to our Community server to join in the conversation!