Guest Contributor Robin Summers
Last time I checked, two plus two equals four, not zebras. Unless you're Netflix, that is.
For the past six months, I've been one of several data analysts for the campaign to #SaveWarriorNun, the show Netflix canceled just 33 days after its second season premiered in November 2022. It's become something of a second full-time (but unpaid) job for me, in addition to my actual full-time job as an attorney and advocate for a national nonprofit.
There are myriad reasons as to why this show has created such a passionate fanbase, that for months, has worked tirelessly to bring the show back (you can hear some of those reasons in this short documentary). For me, and for so many of the LGBTQ+ fans that make up the beating heart of this fandom and have done everything they can to bring this show back, it boils down to this: the romantic relationship between lead characters Ava and Beatrice ("Avatrice") in Warrior Nun is a beacon of what authentic, intentional queer female representation can and should look like.
Cancelations disappointing fandoms are nothing new, and Netflix is notorious not only for a large number of sudden cancelations but also for its secrecy about how its shows perform and the criteria it uses for renewal decisions. Netflix is a business, after all, and has the right to cancel its shows when it wants, even if we, the fans, don't like it. But even before cancelation, Netflix's actions concerning Warrior Nun didn't seem to make sense, from a business perspective or otherwise.
Season two was the highest-rated season of a Netflix show ever (99% audience score on nearly 8900 user ratings, and 100% critic ratings). It was in the Netflix Top 10 in 69 countries and the Global Top 10 for three weeks. It was on a number of outlets' "best of" lists, including The New York Times.
Yet it was impossible to find on Netflix unless you searched for it. There seemed to be no promotion of the show anywhere. Many fans only found out from other fans on social media that season two was out, and many of those fans only found out after the show was canceled. We eventually learned season two had a 68.8% completion rate in the first 20 days of release, 11.4% higher than season one's 57.6% completion rate and well above the typical Netflix renewal cut-off of 50%.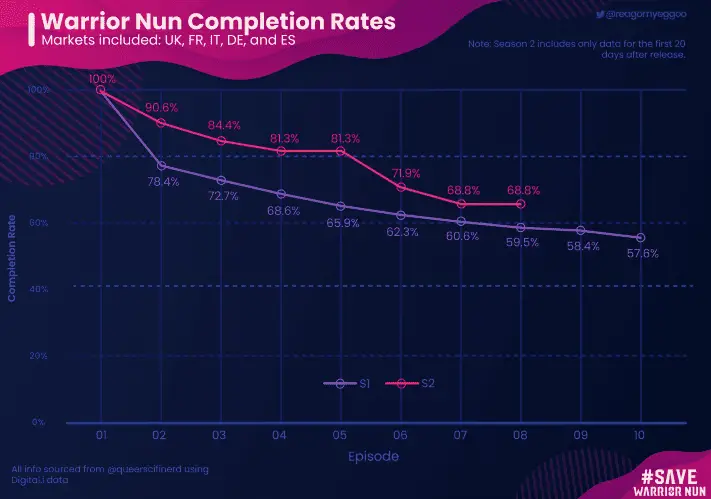 Something wasn't adding up, and as we began digging into the data, it became clear that Netflix set Warrior Nun season two up to fail.
First, Netflix did not properly promote season two. There were no press dockets, screening materials except for just a handful of journalists, no paid promotion, no official cast interviews, and just one showrunner interview. No press packets were provided even when requested. Just three videos were released by Netflix: one teaser, one trailer, and a season one recap. How Netflix treated Warrior Nun season two was wildly inconsistent with other Netflix shows released in the same period, and it had a real-world impact.
Second, Netflix seemingly buried season two's release among a packed schedule of major, heavily promoted Netflix show premieres (including Manifest, The Crown, 1899, the final season of Dead to Me, and the smash hit, Wednesday) as well as the World Cup.
Despite these hurdles, Warrior Nun season two had exceptional levels of global demand, as tracked by Parrot Analytics, which researches and analyzes streaming, social media, downloads, and a number of other types of engagement to measure demand for a show. It turns out global demand for Warrior Nun season two was significantly higher than for season 1 through 59 days from each season's premiere.
But comparing Warrior Nun to itself only gets you so far. So we looked at season two's global demand at a fixed point in time–30 days from its premiere–and compared that to global demand 30 days from the premieres of other major Netflix shows released November 2022 through April 2023. And Warrior Nun, with $0 promotion from Netflix and buried among all these other big shows, still ranks fifth out of 16 Netflix shows for which we can access 30-day data.
Moreover, Warrior Nun season two massively outranks half the shows we compared it to, a number of which have been renewed while Warrior Nun was not. This 30-day comparison is especially important because it measures demand from before Warrior Nun was canceled, meaning it can't be argued that demand is artificially inflated because of the campaign to save the show.
One more thing. It also turns out that Warrior Nun season two was among the ten most in-demand Netflix original series for the entire First Quarter of 2023. 
What does all this mean? It means that people were hungry for Warrior Nun season two, and those that knew it was out and watched it became passionate about it, despite Netflix's best efforts.
Still, demand–while very important–does not directly correlate to viewers, and Netflix's actions seem to have had a significant negative impact on season two's viewership. A conservative analysis of available data show that if Netflix had not sabotaged season two's release, an estimated 25.6 million Netflix accounts would have watched it at its peak, up from an estimated 21.8 million Netflix accounts at its season one peak. Such an audience should have been more than enough to renew Warrior Nun for season three.
Others have written previously about how Netflix seemingly set Warrior Nun up to fail, but we may finally know why the streamer did so. In a recent interview, Warrior Nun co-producer and writer David Hayter revealed that a Netflix executive barred the developing romantic relationship between Ava and Beatrice from season two. Despite the ban, the show's creatives had sowed the seeds of the relationship in season one, and they understood the importance of Avatrice to their fans. To not understand the importance of Avatrice to Warrior Nun, and to think Warrior Nun would be successful without this relationship between Ava and Beatrice, is to not understand Warrior Nun at all. So the writers included it anyway but wrote it in code: phrases like "she loves her like a friend" meant love but without the "like a friend" justification.
According to Hayter, the Netflix exec was allegedly "uncomfortable with sex on any level" and therefore did not want "to do this Avatrice thing." Which… makes no sense. Ignoring the rampant sex pervading many Netflix offerings, there was no "sex" to be had in Warrior Nun season two. While the "Warrior Nun" of the title, Ava Silva, is a bisexual atheist of the non-nun variety, her romantic partner is the sexually repressed lesbian Sister Beatrice. Their love story is told through lingering looks, desperate hugs, and growing tension; they don't even kiss until the last episode (as Ava is about to sacrifice herself to save the world, no less).
Plus, the reason we know Ava is bisexual? Yeah, that's because she had sex with a man in season one, when sex apparently actually meant sex (and was okay) and not when sex was a euphemism for queer females.
Sadly, sapphic shows being canceled are all too commonplace, especially for Netflix. In the past five years, Netflix has canceled at least nine sapphic shows – far more than any other streamer or network. Seven of those cancellations occurred just in the past three years and three cancellations were in 2022 alone (including Warrior Nun). Perhaps that's why this story has been met with a collective shrug by the LGBTQ+ press, even during this supposed Month of Pride.
And yet the fact that Netflix attempted to cut Avatrice out of season two of one of its shows in the third decade of the 21st Century should spark outrage outside of the Warrior Nun fandom. In and of itself, the Netflix executive's decision (which Netflix is, I would argue, at minimum complicit in for letting stand) is a slap in the face to Netflix's LGBTQ+ subscribers. But when I look at the nonsensical actions Netflix took toward Warrior Nun season two, how Netflix seems to have sabotaged and then so quickly canceled the show, and then I look at David Hayter's revelations about Avatrice… outrage doesn't even begin to cover it.
Can I prove this is why Warrior Nun was canceled? Not definitively, no. But unlike whatever fuzzy math Netflix used to justify canceling Warrior Nun, my math adds up.
More data on Warrior Nun season two can be found at www.warriornun.com.
Images courtesy of Netflix and WarriorNun.com
Have strong thoughts about this piece you need to share? Or maybe there's something else on your mind you're wanting to talk about with fellow Fandomentals? Head on over to our Community server to join in the conversation!
Robin Summers is an attorney and advocate who, for the past six months, has also served as a data analyst for the entirely fan-led #SaveWarriorNun campaign. When she used to have spare time, she enjoyed hiking with her dog, Roe, and rooting for her beloved Chicago Cubs.