While being stuck inside I have done some reorganizing, which means I decided to play a bunch of new games to see if they made the cut to stay on my main rotation. The Deadlies caught my eye because of the box art featuring seven cartoon creatures. Each one I find a little bit of myself in. A beautiful unicorn, a sleepy turtle, and a purple kitty all really stood out to me. This is relevant because I thought about why the name of the game is The Deadlies if it has all of these cute animals?! 
Okay, here is where I really got intrigued, each one of the cute little animals represents the following. 
The Unicorn is a representation of Pride.
A sleepy turtle represents Sloth
That super cute purple kitty is the card of Lust! 
Honestly, I'm not surprised that these are my favorite three characters. The other four creatures are Wrath, which is a bunny with horns, Gluttony, a piggy, Envy, a cute green toad, and Greed, a hoarding octopus. Once it clicked that all of the suits were based on the 7 Deadly Sins, I knew this game would take me for a hell of a ride. While I could harp on my love of art direction in this game, I want to get into the actual gameplay and components. It's a small box game that packs a big punch.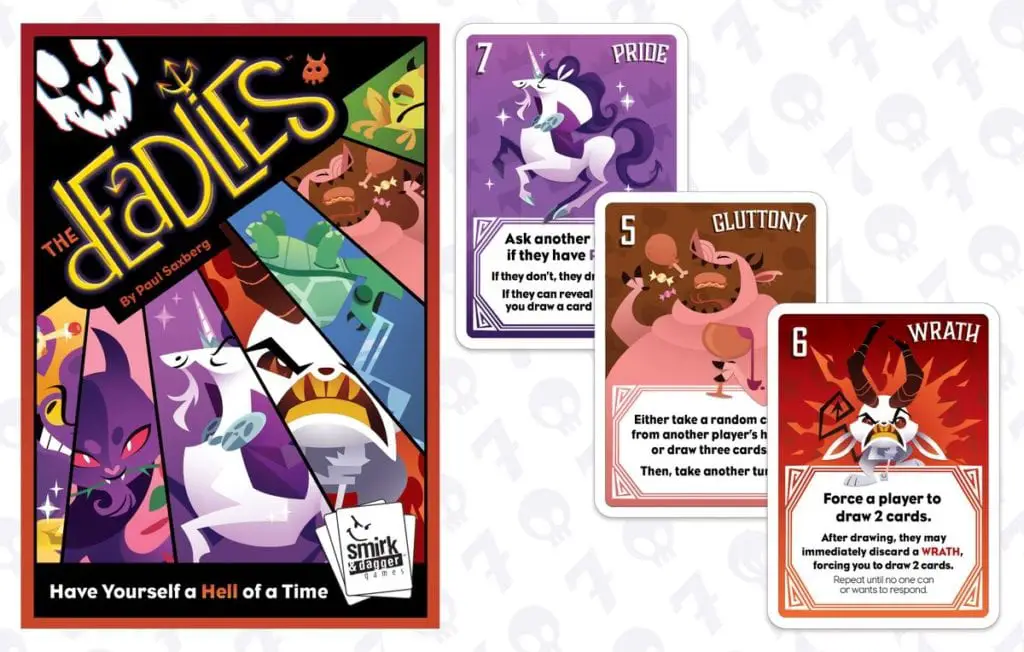 The Deadlies is a game that connects mechanics to the theme in an extremely well-done way. I can confidently say it is the best I have seen in a very long time at bridging this gap. It comes in a small box with a cardboard insert 52 cards, 6 Wickedness tokens, and the rule book. If you have a Quiver that you carry games around in, I highly recommend adding this simple yet complex game into it! This game is perfect for a beginner to the tabletop gaming hobby because it is basically "Screw you, Uno". It's very simple to learn. The way to win is to be out of cards 3 times and decrease your wickedness token as you do so. Wickedness tokens are also all based on the characters and, as a purple player in all games that it is available, I was so happy to snag a purple token for myself.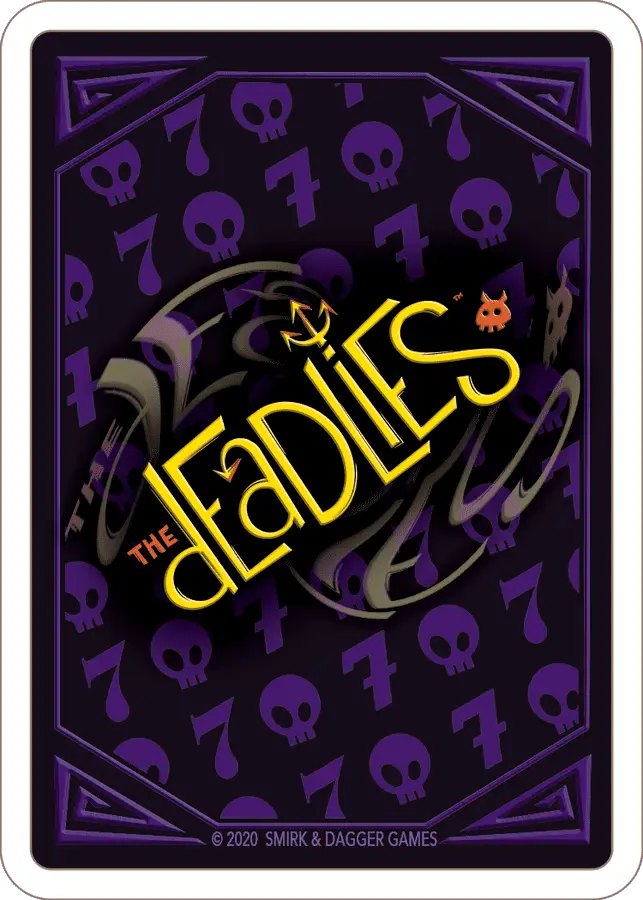 On your turn, you play a card face up in the middle of the table. They can be the same suit, same number, or in numerical order from 1-8. There must be at least two cards if you are going to lay them down in sequential. After you lay your cards down, you then complete the task on the highest card played. Each card either allows you to take a risk to lose or gain cards through player interaction at the table, or to simply lay one card down and pick a partner to choose how to proceed. While the object of the game is to run out of cards 3 times, drawing cards isn't the worst thing. Corruption is the 8th card in the game and it acts as a wild card. When I was playing the game, I won because I drew the wild card and was able to lay down a four-card suit on my last turn before my brother won. It was a super sweet victory. After we finished playing, within a minute he was already asking for a rematch.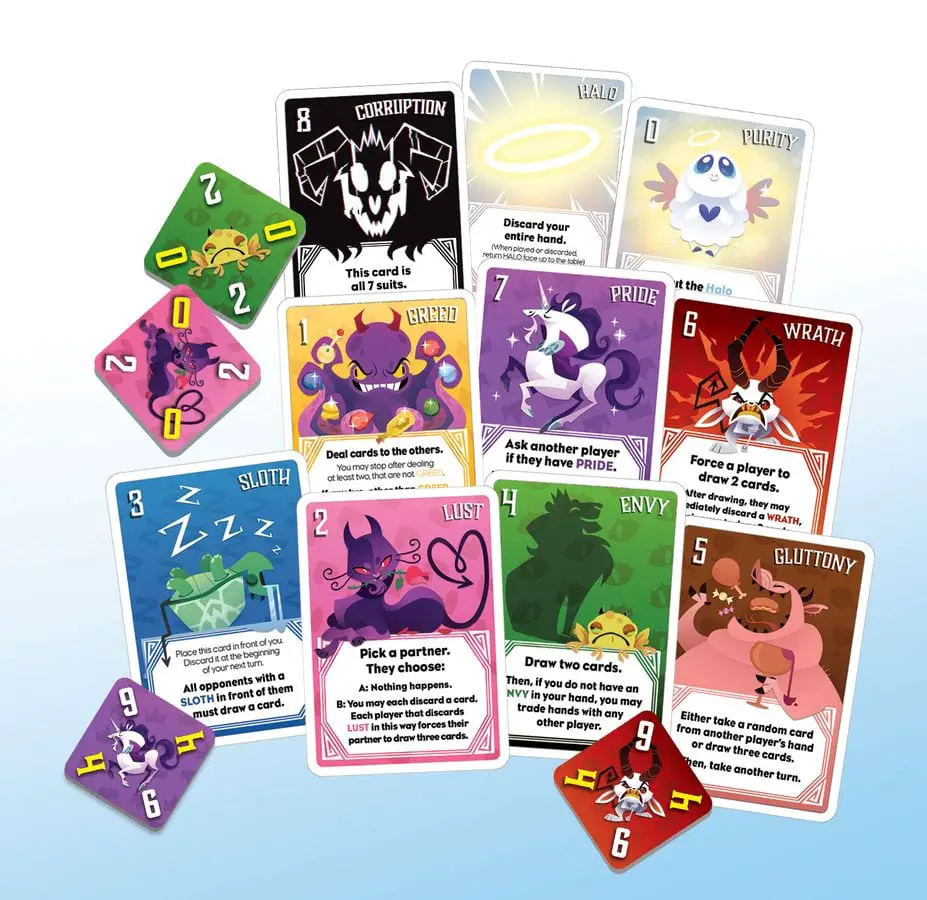 The game is meant to be played between 3-5 players aged 10 and up. You know what works for your gaming group best, but I could see someone a bit younger learning how to play it as well. It was a huge hit here, an engaging and a pleasant distraction from the real world. The took about 35 minutes to play. Five minutes of that was teaching the rules and fawning over the art. After that, the 30 minutes the boxes said it took were accurate. I'm really surprised this game isn't being snagged by everyone. I plan on changing that!
I would like to thank Smirk and Dagger for providing me with a review copy, As well as making some of my favorite games like Cutthroat Cavern, which is both a card game and now an app game! If you can't currently play games with other people, I would go check it out! So much cool stuff is being adapted to the current social demand for virtual gaming. Smirk and Dagger is a company that specializes in backstabbing fun. If that isn't for you, look up Smirk and Laughter for a more relaxing gaming experience.
[rwp_box id="0″]
You can pick up The Deadlies at the Smirk & Dagger shop, where it retails for $14.95, or at your FLGS.
Images via Smirk & Dagger games