Snacks are vital to D&D. Whether it's a bag of chips to bribe the DM or a late night sugar rush to overcome that last boss fight, no table is complete without a smorgasbord of treats. Now that pairing is a little more official as Nerds Candy joins with D&D for a special pair of releases this September. The pair is joining forces for the first time ever to launch the new limited-edition Nerds Gummy Clusters and Rainbow Nerds Theater Box packaging, featuring a team of new D&D-inspired NERDS characters. 
"Nerds encourages everyone to celebrate how we're all better together, a philosophy shared with the legendary Dungeons & Dragons," said Joey Rath, Brand Manager for Nerds Candy at Ferrara. "We're excited for fans to get their hands on this partnership's collectable packaging, unleash their imaginations and embark on a Nerds-themed D&D journey while snacking on their favorite candy pieces."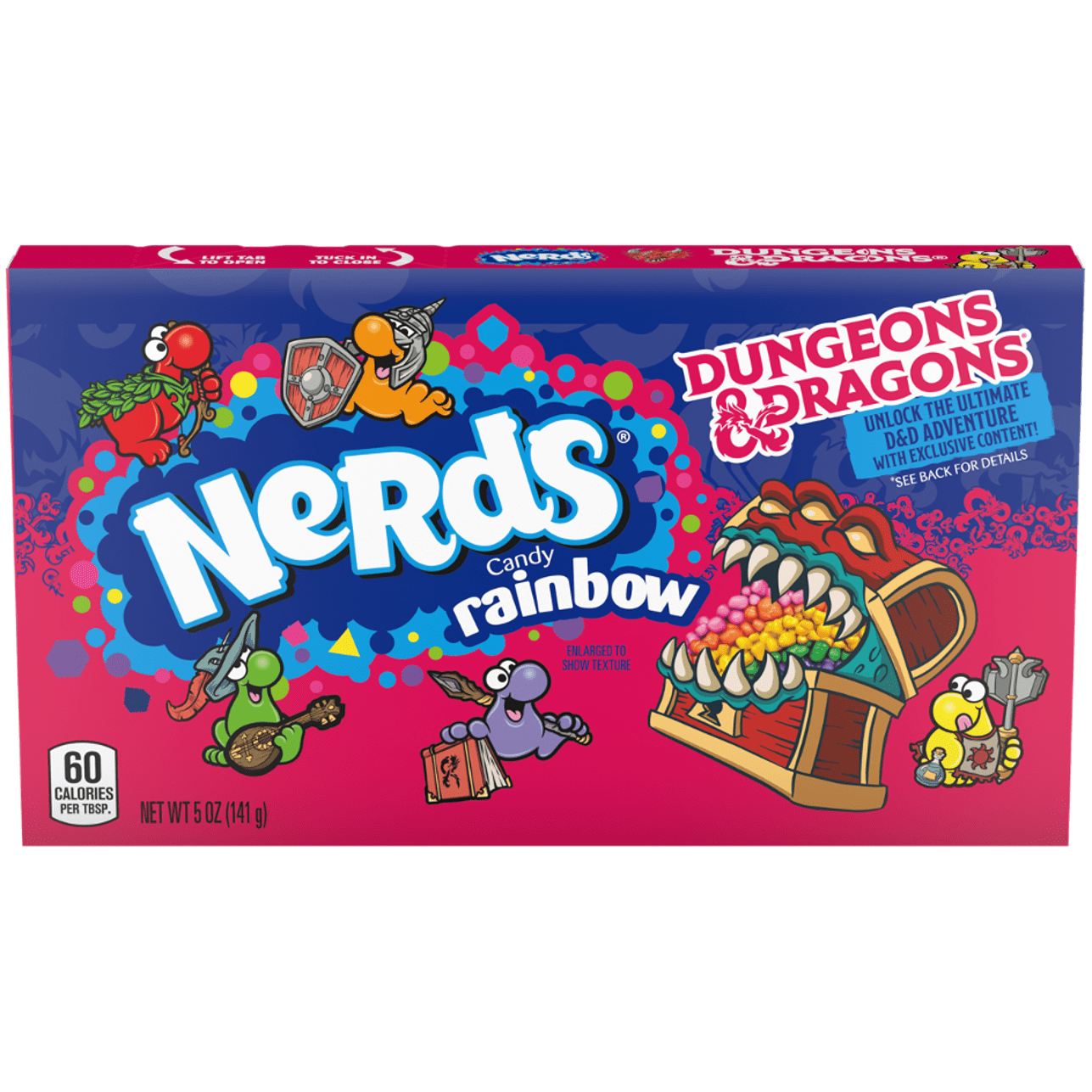 Unlock an Exclusive D&D Gaming Experience: Restoring Harmony 
Starting September 1 through December 2021, fans who purchase NERDS Gummy Clusters or Rainbow Nerds Theater Box D&D packaging can upload their receipt to nerdscandy.com/dnd to enter the legendary world of Dungeons & Dragons and join an exclusive campaign called Restoring Harmony. After uploading the first receipt, fans will gain access to a single PDF adventure and character sheet that can be run in under an hour by a Dungeon Master and one player taking on the role of a NERDS character starting at level one. 
Restoring Harmony features the six different Nerds characters, each representing a different type of Nerds personality: Curiosity, Creativity, Spontaneity, Deep Thinking, Logic and Humor. And this time, each will be transformed into iconic Dungeons & Dragons classes. 
Uploading more receipts will give access to more NERDS character sheets and adventures, and, after all six have been played, fans' seventh upload will unlock the final adventure with the entire party at third level which concludes the Restoring Harmony story. The sweet adventures focus on each of the NERDS characters and how they join forces and become better together. They are perfectly family-friendly and easy-to-start for NERDS fans new to Dungeons & Dragons. 
"I can personally say my D&D sessions are better together with NERDS candy at the table. We are thrilled to partner with NERDS on their new packaging and the release of seven custom mini D&D adventures", said Shelly Mazzanoble, Brand Manager for Dungeons & Dragons. "The NERDS brand strongly celebrates individuality and the idea that we can be better together, like a D&D party, and we couldn't think of better ally to help spread the importance of those qualities."  
NERDS Gummy Clusters and Rainbow NERDS Theater Box D&D packaging will also give fans the chance to win a D&D prize pack through the Restoring Harmony sweepstakes running from September 1 through December 2021. Fans will qualify for a chance to win several prizes including the D&D Starter Set, D&D Essentials Kit, Players Handbook, Monster Manual, and Dungeon Master's Guide. Entries must be 13+ and reside in an eligible country.
Images via Nerds and D&D