Dungeons & Dragons has a rather…mixed history in video games. The Baldur's Gate games are obviously classics, and follow ups like Neverwinter Nights certainly have a cult following despite their difficulty. But does anyone remember D&D Online? or Dark Sun: Shatterlands? With D&D undergoing a renaissance, Wizards of the Coast decided it was time to make their own video game, Dungeons & Dragons: Dark Alliance, through their subsidiary Tuque Games, a company that previously only made one game way back in 2016 named Livelock. Anticipation has been high for this alongside the insanely popular Baldur's Gate III, but on launch it got a…rather mixed reception from the fan base. Since Wizards was kind enough to send me a code for the game, I thought I'd give it a spin and see if it was really as bad as they say. Spoilers: it wasn't! But we'll get into it.
Journey To Icewind Dale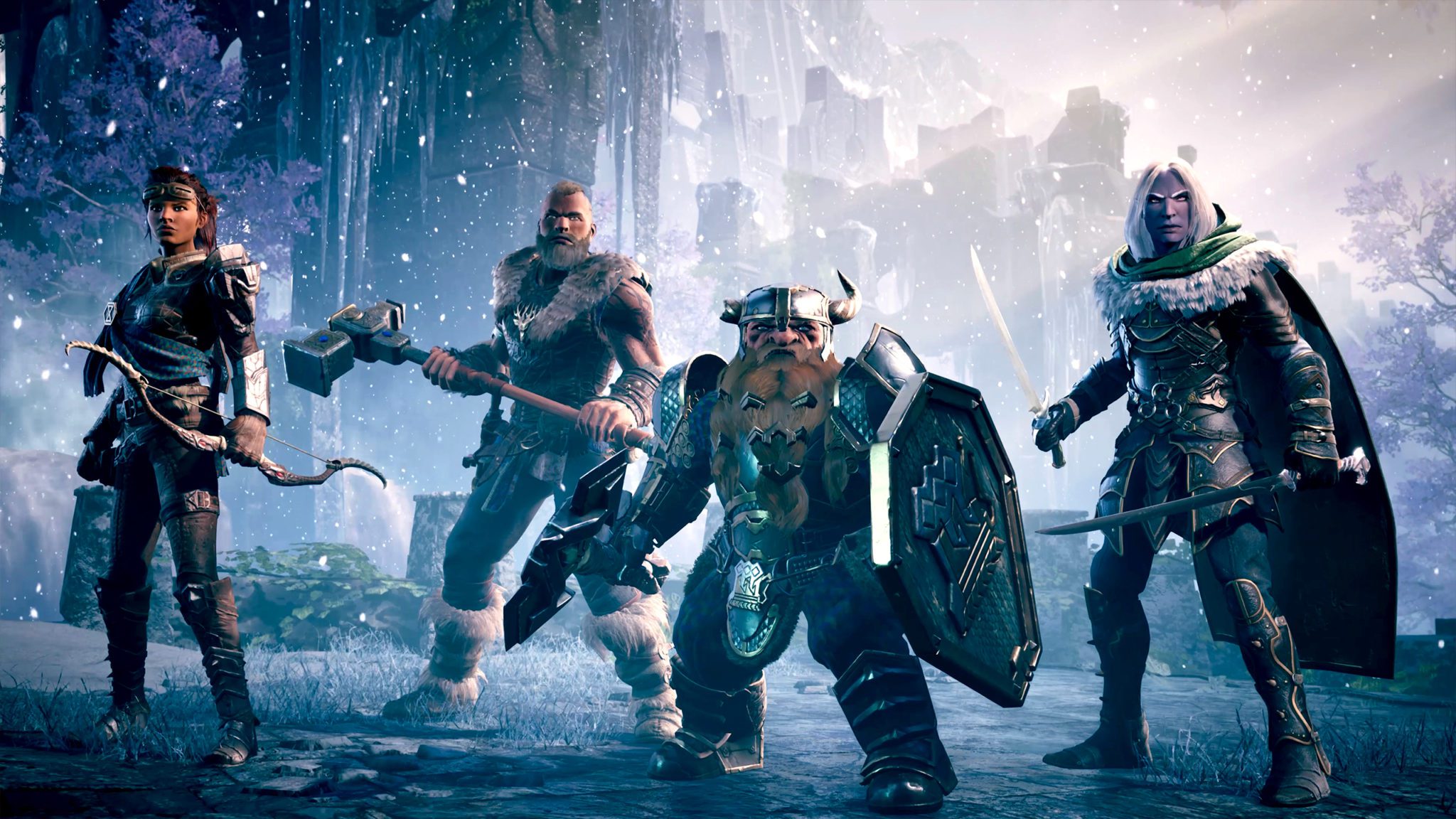 So the basic premise of this game is that The Crystal Shard, a powerful MacGuffin from R.A Salvatore's Legend of Drizzt series (one of its first MacGuffins, actually) has come to Icewind Dale and an alliance of eviltons have gathered to try to control it for their own gain. Against them are the famed companions of the hall: Barbarian Hero Wulfgar, dwarven king Bruenor Battlehammer, his adopted archer daughter Cattie-Brie, and finally the most famous dark elf ever: Drizzt Do'Urden. And here's where the first problem of the game comes in. I'm a Drizzt fan. I've read the books. They're very good, and there's a huge chunk of fans who are also fans of those books. But that cohort is absolutely dwarfed by the number of new fans who have come into 5E with absolutely no knowledge of these characters or the setting at the core of the game. Sure, the plot is basic enough and the characters simple enough that you don't need to know what's going on to enjoy it, but since you can't customize characters (a big draw of D&D and something Baldur's Gate has) then I don't see the strong draw.
Charisma Check
Presentation wise…it's OK. You're only gonna pay $40 bucks for this game, so don't go in expecting to have your mind blown by perfect graphics. Things are decently atmospheric, there's a good soundtrack, and the backdrops are at times quite pretty. Snow-capped peaks, dark dungeons, raging fires. It can be a treat! But when it comes to details and character models…oy. Nobody's mouth moves when they talk, and there's quite a lot of weird clipping that occurs throughout the game and you can just walk through some of the level elements. It's not that the game seems badly done it's just missing another go, another level of polish you'd expect. Oh and don't get me started on the hair textures.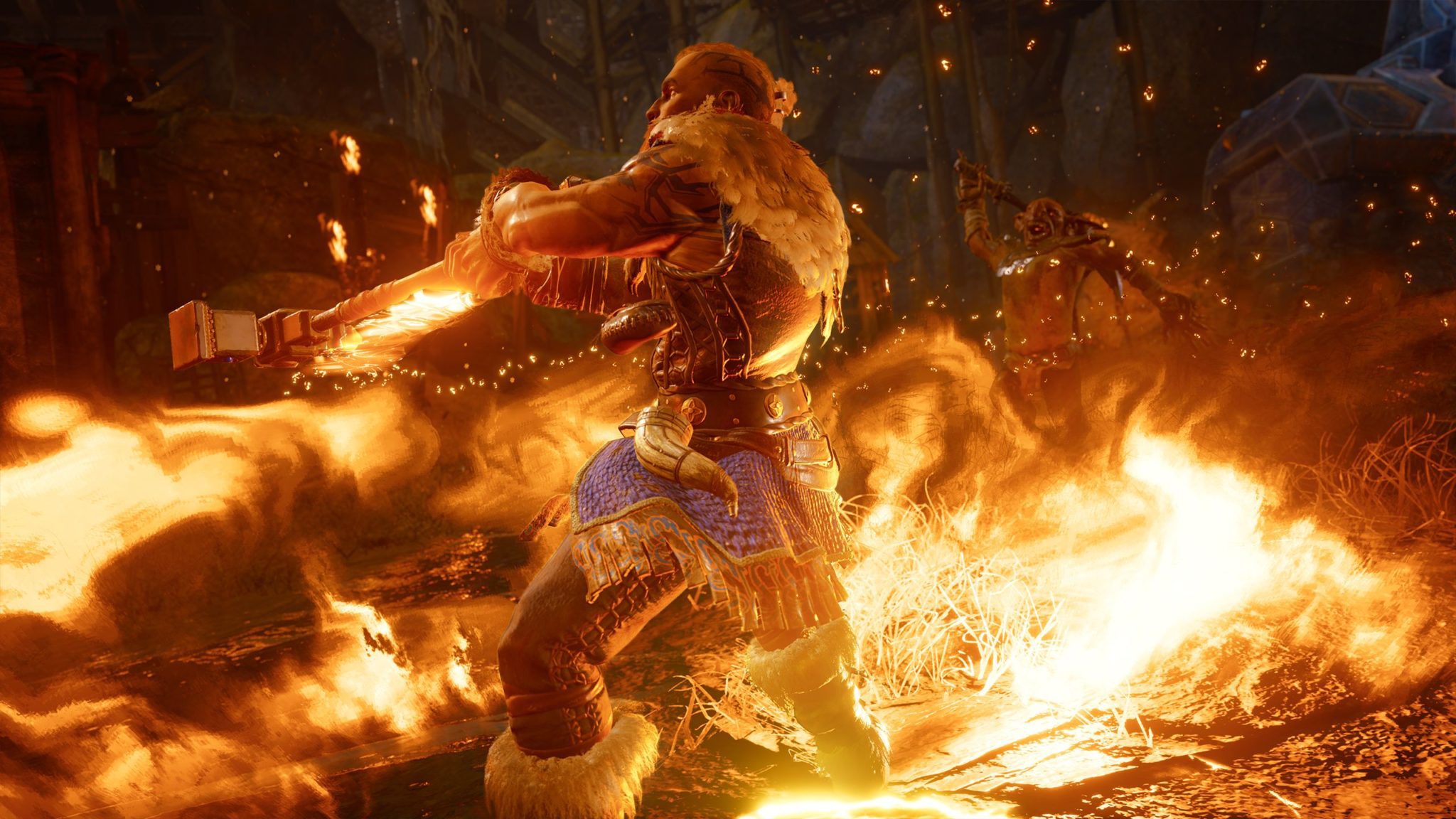 The level design of the game is a tad repetitive and the levels are huge. It's clearly built to be played in chunks. Meet your friends after work, play a level, move on. Not the worst model and one other crawlers use. But the dungeons are so big that it still takes a couple exhausting hours to get through them. Plus, in order to get any of the secrets and extras in the game you need to go looking for collectibles. Which isn't so bad but there's not mini-map. It's not an open-world game, but there's enough roaming and exploration in each level that you kind of need something telling you where the hell you are.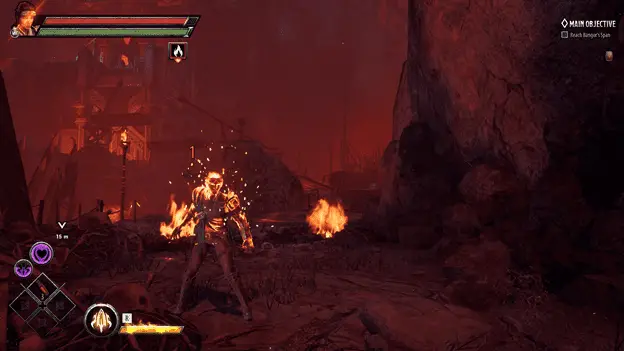 The writing is the strongest part of the game, on a micro level. The main characters have some fun banter with each other and comments on the environment and story (though I'd have liked to see more of that, especially when playing solo. It's quiet when you play solo), and the villain banter got some laughs. Especially the goblins, Tuque really nailed the goblins in this game.
Crawling Through The Dungeon
The mechanics of Dark Alliance are a mixed bag. Each character has a strong attack, a light attack, a ranged attack, and some spells as well as an ultimate sort of attack. They can also eventually unlock new abilities and upgrade current ones as time goes on. It's an easy to understand system, and you do have some say in how your character develops. Drizzt is a rogue (not a ranger, which is weird) and thus has fast rapid attacks to compensate for how squishy he is, Bruenor is a tanky brawler who can use his hammer and shield, Wulfgar is a freight train who has a slow wind up but hits harder than anyone, and Catie-Brie is an archer. An incredibly broken archer, by the way, since the game's AI is so wonky that you can stand outside of every encounter, EVERY SINGLE ONE, and just snipe the mobs without aggroing them. It's not fun and it sure ain't fast, but it's sometimes easier than actually fighting, especially solo. Which brings me to balancing.
With four players, you can have a really fun squad! With less though…Drizzt is basically useless solo unless you're great at the game and Bruenor is ok, but he's not the best tank. That leaves Cattie-Brie, who as we said above, is busted, and Wulfgar, who is super fun but a bit unwieldy. If you don't have a group to play with, this isn't going to be a game you're getting maximum value from.
So Is It A Critical Fail?
I don't hate Dark Alliance. I've had a lot of fun playing it. But it's not a perfect game, and I think there's a lot that Wizards and Tuque should learn from how this game turned out. It's a passable dungeon crawler and for fans of the original books, a good little cavalcade of references and in-jokes. But for everyone else, I'd struggle to see even $40 be a reasonable price. If it shows up free or cheap on a sale, I'd grab it though.
Dungeons & Dragons: Dark Alliance
Pros
When you get to it, combat is fun and there's a real sense of progression to the characters. Fans of RA Salvatore's books will love jumping into the Forgotten Realms with classic characters.
Cons
Big levels, no mini map, and confusing layouts make what should be a drop in and have fun crawler a bit of a slog. Graphics feel like they needed another round of polishing.
Summary
While it's easy to doomsay about the new video game division at Wizards, Dark Alliance is not necessarily the best model for future releases. While there's some good bits in the game, and it's great fun in multiplayer, it doesn't seem to justify even it's $40 price tag.
You can learn more about Dark Alliance, as well as where to buy it, on its website.
Images via Dungeons & Dragons
Have strong thoughts about this piece you need to share? Or maybe there's something else on your mind you're wanting to talk about with fellow Fandomentals? Head on over to our Community server to join in the conversation!