Two of the hottest topics of the past decade—cryptocurrency and cartel operations—clash within the indie card game, Crypto Cartel. The question is whether the game utilizes the hype behind its topics to amplify fun, or leans on them to market an otherwise flawed product. 
What's In The Box?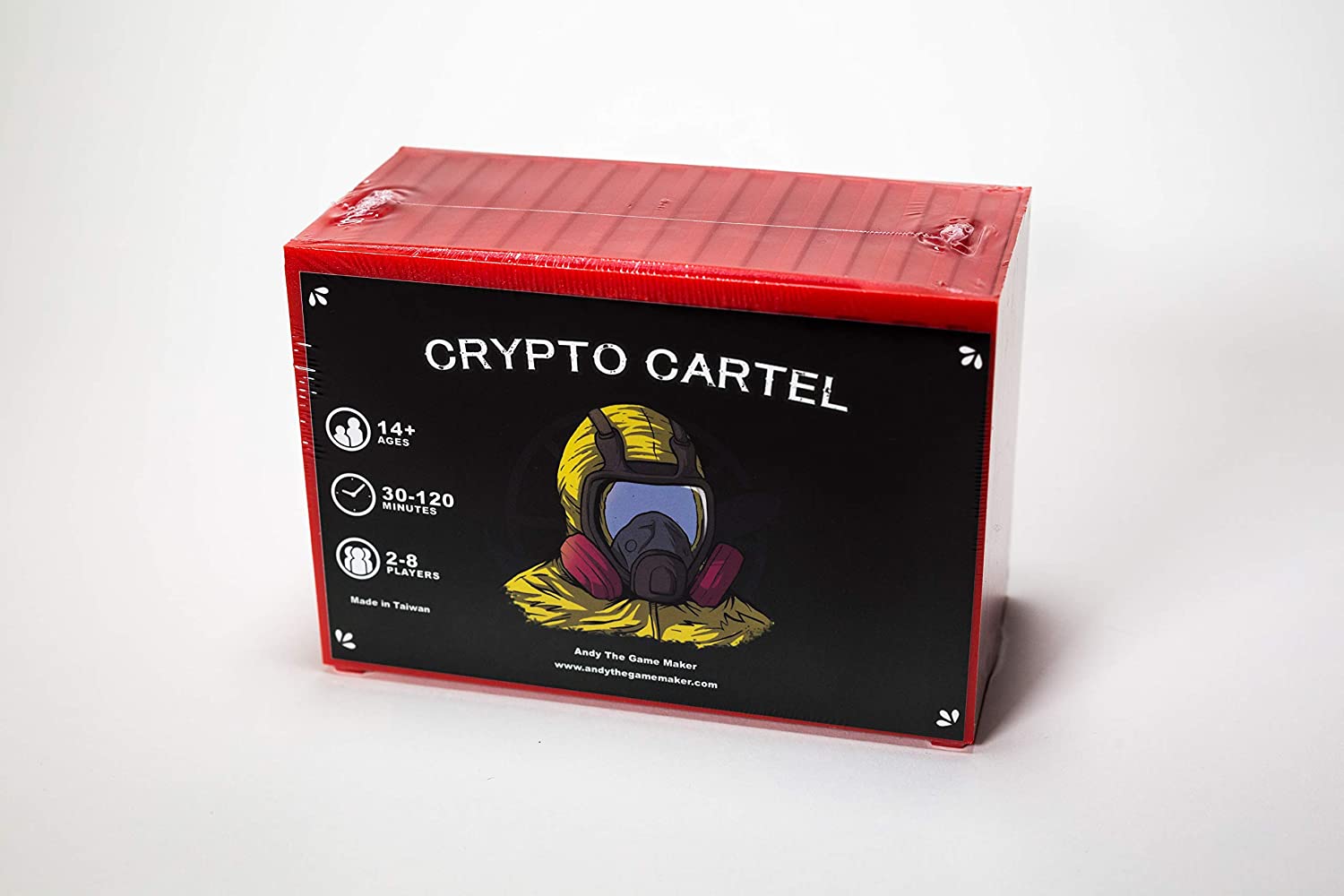 The game comes with 165 Resource Cards, 108 Silk Road Cards, 8 International Trade Cards, 8 DEA Cards, and 1 Shipping Container Style Box. 
While the box is appealing and thematically relevant (being shaped like a little shipping container), most of the contents are basic in design, and coloring varies from passable to unappealing. The card art is consistent, but forgettable.
How's It Play?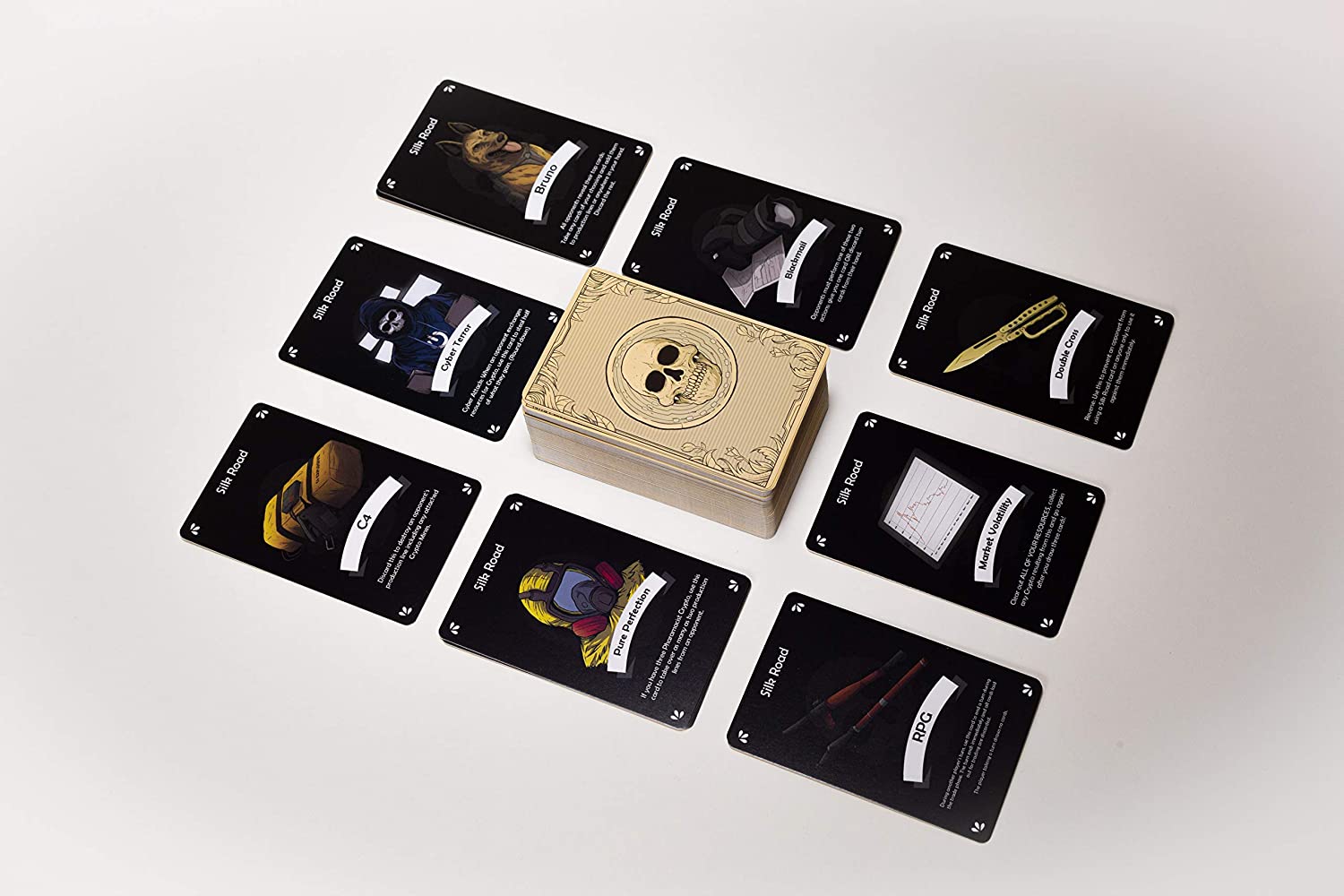 Crypto Cartel is a Card Game where players must establish resources in a limited number of production lines in order to exchange them for Cryptocurrency — or Crypto. During exchanges, players may also earn Silk Road Cards, which can give you the opportunity to descend upon your opponents and their resources or to defend yourself from any attacks.
Trading is also one of the main aspects of the game. Trading is designed to force decisions in regard to distributing extra resources to your opponents or finding ways to integrate them yourself. Earring Crypto quickly allows you to quickly outrun your opponents and possibly steamroll them into a guaranteed loss. Crypto Cartel encourages an aggressive playing style, but fail to crush all opponents and you may find yourself targeted. 
The Verdict?
Despite promising mechanics of strategically building and cashing in resources, Crypto Cartel hinders its gameplay with an incomplete ruleset. The trade phase, which should offer the most interesting strategic plays of the game, instead offers work-arounds that make optimal play obvious. Instead of involving all players in the game, the trade phase usually involves one player shuffling cards around on their own section of the board. In addition, the Silk Road cards, which form an essential part of gameplay, are often unfun to play and even less fun to fall victim to.
Unfortunately, the price point of Crypto Cartel is a bit higher than should be expected of games of similar production quality. This is likely due to the challenges associated with self-publishing the game.
Crypto Cartel is a game that still feels like it belongs in the "unpub" hall at a board game convention. The gameplay loop is repetitive and rounds last far too long to remain engaging. Playing at two players leads to an experience very similar to one found in The Alpha, where one player can fall woefully far behind with little hope of catching up; if this happens early in the game, it becomes a slog to finish it out. The resource deck could be easily trimmed and the player range narrowed for a more streamlined experience. A retheming would also do Crypto Cartel a lot of good and allow the designer to rethink how several of the less fun mechanics work. The trading and card-consolidating mechanic seems more at home in a gardening or zoo-management game.
[rwp_box id="0″]
Crypto Cartel allows for 2–8 players and has two different versions to play: a quick 30 minute game, or an epic one to two-hour game. It is available for purchase on Andy the Game Maker's website or Amazon for $35.
Images courtesy of Andy the Game Maker
Have strong thoughts about this piece you need to share? Or maybe there's something else on your mind you're wanting to talk about with fellow Fandomentals? Head on over to our Community server to join in the conversation!