Last month we had one of many co-written reviews of upcoming indie games. One of those, Cris Tales is finally out, and the lovely people at Modus Games were nice enough to provide us with not just one but two review copies! Below is an overall review of the game, with Seher following up at the end of the week with a focus on analysing the game's plot. Overall, Cris Tales follows through on its promise and is a stunning JRPG inspired adventure game.
Overview
Cris Tales follows Crisbell, a young orphan who one day chases after a talking frog that stole her personal rose and winds up getting the ability to see into the past and future, as well as the ability to affect both.
She meets a fellow time mage named Willhelm, who helps her get a grasp of her powers. Then, after a side-quest, her home is attacked by a pair of sisters working for The Empress, and she must use her powers to fend them off alongside a young man named Cristopher before setting out on a quest to stop the bad guys.
Gameplay & Mechanics
From a gameplay standpoint, Cris Tales is a fairly standard JRPG. Exploration, looting, side-quests, and grinding galore, with a slowly growing party, turn-based combat, and timed hits a la the various Mario RPGs. This isn't a game trying to re-invent the wheel, simply to pay tribute and perfect. And, quite honestly, it nails it. This is a superbly crafted game that plays very well, and is ultimately quite enjoyable as a result.
Mechanically, what makes Cris Tales stand out most are its time crystals.
Once Crisbell gains the ability to peer through time, the player's view of the world changes to reflect this. Artistically, it's fascinating, and I concede that with each new area I'd often wander around just to try and get a look at everything and everyone in both the past and future. Beyond that though, it also allows the player to manipulate the world around them.
In standard gameplay you can send your cute, top hat sporting talking frog buddy into the past or present to interact with items, and occasionally bring stuff back for puzzle solving. And in combat you can force enemies back or forward in time to debuff them. Certain combinations of skills used with the time displacement can also open up extra weaknesses, such as soaking an armored enemy in water with Cristopher then shoving them into the future to rust their armor.
It's a very creative mechanic that's executed quite well, giving Cris Tales something distinctly its own to help bring flavor to the standard JRPG mechanics that make up much of the game.
If I had a complaint about the gameplay it's that you have to work to gain the ability to check your opponent's health and status. That is a somewhat frustrating choice that causes some annoyances in the early game, but ultimately isn't anything worse than, well, an annoyance.
Presentation
From an artistic standpoint the game is gorgeous. There's really no other way to say it. Cris Tales is just an absolutely beautiful 2D game, with wonderful character designs and an overall stunning art style.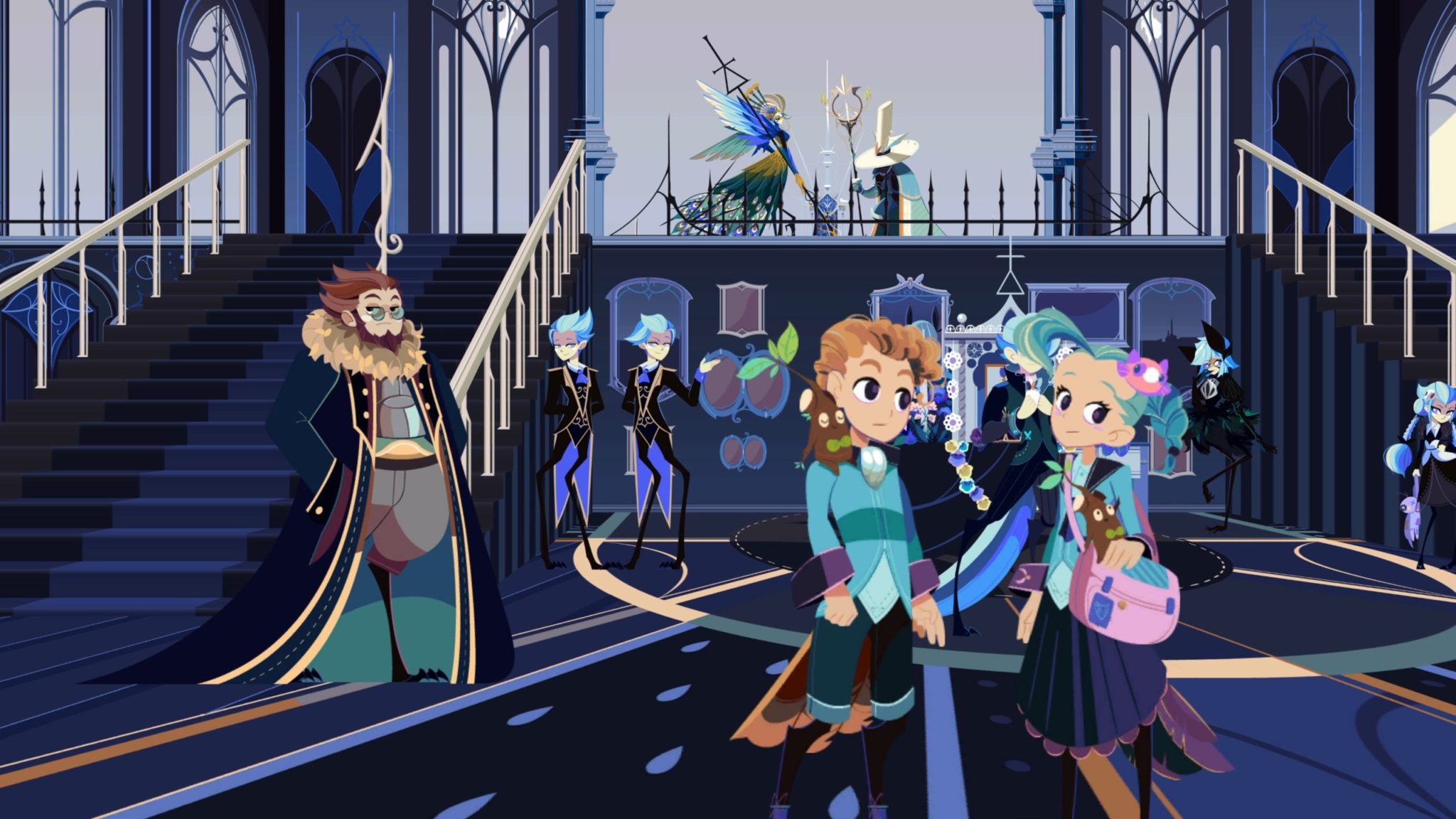 The music is, admittedly, less stellar, but not bad either! It simply stands out somewhat less than the visual art.
The User Interface (UI) is genuinely quite good and is easy to grasp, use, and understand. It's nothing especially unique to the game, but it is visually distinct, using the game's art style and sensibility's to good effect to help convey information.
Cris Tales is a genuinely fantastic game and presentation is one of the areas where it excels the most.
Writing
Fortunately, there's substance to back up that style! Cris Tales doesn't just have well drawn characters, it has well written ones. Every character is interesting, charming, and has a wealth of complexity to them. They're endearing, and make you want to learn more about them, to solve their problems and be glad when they join your party.
The plot is likewise quite engaging. The game balances having a deliberate and carefully constructed narrative with allowing for player choices to have an impact quite nicely.
Choices that do have an impact. From deciding if a family home or the town apothecary will remain standing all the way to determining if a city will go the way of Atlantis, there's a wide variety of ways that the player can impact the world. While this is a tribute to JRPGs first and foremost, there's an element of Bethesda and Obsidian as well, in the sheer, modular way the epilogue will be filled out by your choices while playing.
This is an undeniably ambitious game, but it certainly has the talent behind it to back that ambition up. While those hoping for a more straightforward and laid out experience may find themselves disappointed, those hoping for something more roleplaying oriented will be quite pleased at the end of it all.
Final Thoughts
Cris Tales is a fantastic game, one with a level of quality rarely seen just period, let alone from an indie game made in a country not particularly well known for their games industry.
If you are at all interested in JRPGs, or even just cute games, I genuinely cannot recommend Cris Tales enough. Pick up a copy of your own, you won't be disappointed!
Cris Tales
Summary
All in all Cris Tales is a fantastic game. It's art style, time mechanic, and writing more than make up for the minor flaws. Well worth your time.
Images and review copy courtesy of Modus Games
Have strong thoughts about this piece you need to share? Or maybe there's something else on your mind you're wanting to talk about with fellow Fandomentals? Head on over to our Community server to join in the conversation!