Murder mystery dinner parties continue to be incredibly popular, with many companies shifting to virtual offerings to accommodate for much needed social distancing. However, with some places allowing for in-person gatherings and larger social bubbles, murder mysteries in a board game are the perfect game to play!
As a fan of escape rooms in a box, murder mysteries, and hilarious stories, I loved Crimes and Capers: Lady Leona's Last Wishes, which we received a copy of in return for a fair review. It finds you, and three to five other players working together to find Lady Leona's last will and testament so that you can get the monies! The game was designed by Juliana Moreno Patel and Ariel Rubin who also worked on Hello Neighbor: Secret Neighbor, two different Escape Rooms in a Box, and Vampire. Pizza!
What's in the box?
Host Guide
Locked Chest
Character Diaries
Map of Langford Estate
Puzzle Sheets
Final Results Envelopes
Access to Hints
Family Tree, Letters, Secret Notes, Newspaper Clippings, and more!
How's it play?
Who gets the fortune? It's 1919 at the Langford Estate. Lady Leona has died and absolutely no one is sad about it. No seriously, everyone of the characters seems to hate her, even her long-suffering butler. She was forever threatening to write people out of her will. Now that she is finally gone, her closest family and favored servants have gathered for the reading of her will. But Leona always loved two things:  Puzzles and Making Life Difficult. I mean, I can understand both puzzles and making life difficult, but I'd only do that to the people who deserve it.
Lady Leona's Last Wishes is a cooperative game where four to six players take on the roles of her polished high society relatives and hard working servants who must work together to open a chest that holds the will, which in turn leads to the second half of the game. There's no prior knowledge needed or any reason to Google anything like many escape room/mystery puzzle games. This one really is all in the box.
Read the notes, figure out puzzles, and unlock the answers to find out where Leona hid her fortune! The game is absolutely delightful with characters like Sebastian, a "giddy playboy who simply adores the luxe life" and is known for his colorful pocket squares.
There's also Fiamma, Lady Leona's youngest granddaughter, a "bohemian artist with a flair for the dramatic and a thorough dislike of convention." By the way she's gay, which I was not at all expecting and really loved because it added a weight to what otherwise seems like a silly plot premise around which to build a board game.
Each player is provided a journal written from the perspective of their character that helps them and the other players work together to answer Lady Leona's three questions. The numbers in each answer correspond with one of the numbers on the lock's code.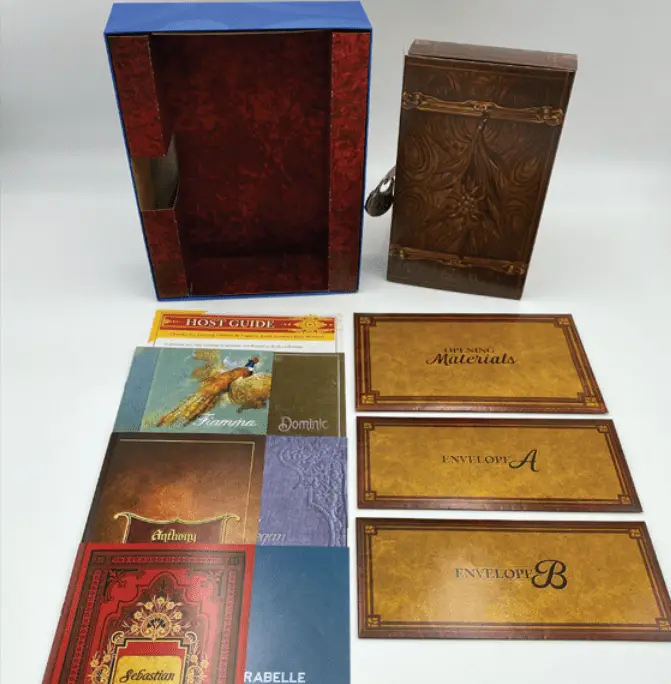 Once the code is entered correctly, the chest is unlocked. At this point, the player learns there's more puzzles to solve before actually finding the money and can either work on their own, or work in a new team to find it.
The Verdict?
Lady Leona's Last Wishes is a delightful murder mystery game with a whole lot of character. Each journal, while relatively short, provides more than enough information to get an idea of what each person is like and what Lady Leona was like before her death. There's actually a secondary murder mystery that starts to reveal itself over gameplay and at the end, you realize that Lady Leona has been through some stuff!
While the game is really only playable once since the location of the money will always stay the same, you can reassemble it to gift, or if you're playing with other people, not say anything about where it is and what the solutions to the puzzles are.
The reassembly guide lets you re-print the button puzzles that each character has to solve on their own, and you can get away with just tracing over the puzzles on white paper, I would think!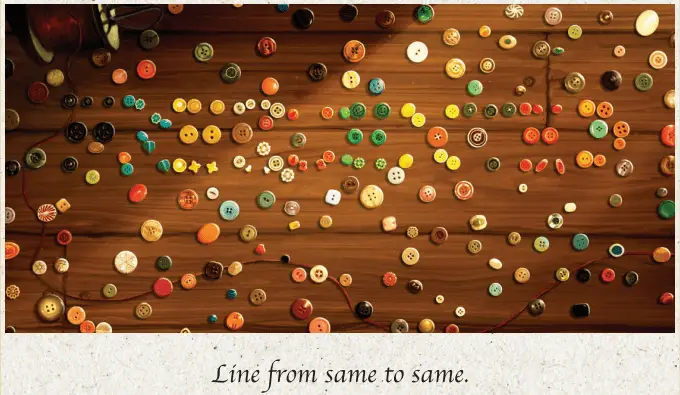 Though it is slightly more expensive than some games in this genre, it's worth it in my opinion for the sheer amount of story and details actually presented in a game ostensibly about finding a dead old lady's will and money. The characters are well-developed and you feel like you actually gained something from playing Lady Leona's Last Wishes, which is not always the case in murder mystery/mystery style games.
In the intro materials, it also states that you can play the game virtually with friends as long as one person has the physical box, and I hope RGS ends up following through with that when the game reaches the public. That would really extend the value of the game.
You can grab Lady Leona's Last Wishes at the RGS website, though with the shipping delay due to COVID-19, it might be a while before the game officially releases to the public!
Lady Leona''s Last Wishes
Summary
Lady Leona's Last Wishes is a fun game to play with a group that allows for really inhabiting the characters while getting the most out of its one play system.
Images and review copy courtesy of Renegade Game Studios
Have strong thoughts about this piece you need to share? Or maybe there's something else on your mind you're wanting to talk about with fellow Fandomentals? Head on over to our Community server to join in the conversation!