With the winter holidays bearing down upon us, the panic button for "What do I get them?" is now becoming a tempting last resort. Fear not, our team of Fanfinites have compiled a holiday gift list guaranteed to please any comic geek in your life.
DC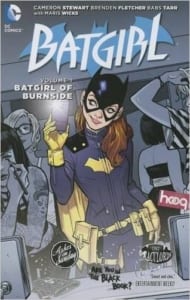 Batgirl Vol 1-3 (Cameron Stewart, Brendan Fletcher, Babs Tarr)
Barbara Gordon is no stranger to dusting herself off when disaster strikes, so when a fire destroys everything she owns, she spots the opportunity for a new lease on life – and seizes it! Following the rest of Gotham City's young adults to the hip border district of Burnside, Barbara sets about building an all-new Batgirl…and discovers new threats preying on her peers!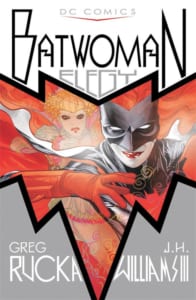 Batwoman: Elegy (Greg Rucka, J.H. Williams, III)
In these tales from DETECTIVE COMICS #854-860, now available in trade paperback, Batwoman battles a madwoman known only as Alice, inspired by Alice in Wonderland, who sees her life as a fairy tale and everyone around her as expendable extras! Batwoman must stop Alice from unleashing a toxic death cloud over all of Gotham City — but Alice has more up her sleeve than just poison, and Batwoman's life will never be the same again.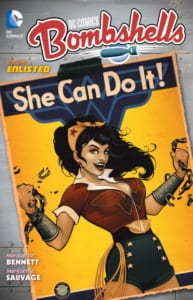 DC Comics Bombshells Vol 1: Enlisted (Marguerite Bennett, Ming Doyle, Laura Braga, Marguerite Sauvage)
In these stories from issues #1-6 of the hit series, learn the story behind this alternate reality where the Second World War is fought by superpowered women on the front lines and behind the scenes! It all begins with the stories of Batwoman, Wonder Woman, and Supergirl.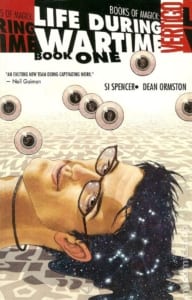 Books of Magick: Life During Wartime (Si Spencer, Frank Quitely, Dean Ormston)
Tim Hunter returns in this first collection of his new title, collecting the initial story arc from issues #1-5 as co-plotted by Neil Gaiman. This new take on the Hunter is loaded with dystopian undercurrents and psychological horror.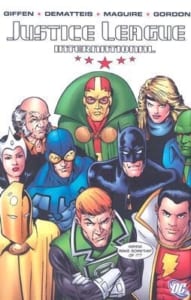 Justice League International Vol. 1-4 ( Keith Giffen, J.M. DeMatteis, Kevin Maguire, Al Gordon)
Can an unlikely new Justice League lineup work as a unit to stop terrorists at the U.N., the Royal Flush Gang, and other threats — or will they succumb to squabbling and bad jokes?
---
Marvel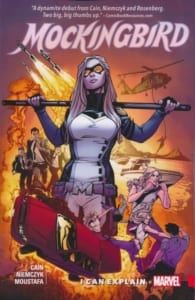 Mockingbird Vol 1: I Can Explain (Chelsea Cain, Kate Niemczyk)
Agent of S.H.I.E.L.D. Bobbi Morse, the former Avenger known as Mockingbird, goes solo in her own incredible adventures! With a scientific mind and a lethal mastery of martial arts, she's one of the most versatile, in-demand assets at Maria Hill's disposal – that makes her ideal for investigating strange goings-on in S.H.I.E.L.D.'s own medical and recovery network. And when Lance Hunter's undercover gig at the London Hellfire Club goes south, Mockingbird sets off, battle staves at the ready, to save him – and the Queen of England! From helping out a teen driven bonkers by her own new powers, to doing a little dog-sitting, Bobbi shows that she's a woman of many talents.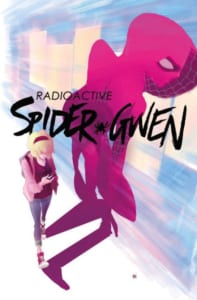 Spider-Gwen Vol 2: Weapon of Choice (Jason Latour, Robbie Rodriguez)
Gwen's life is turned upside down after the SPIDER-WOMAN event at the worst time ever as Captain Frank Castle is bearing down on her. Does she stand a chance against Castle's punishment? (NOTE: This title is released on Jan. 3, 2017, but is available for pre-order.)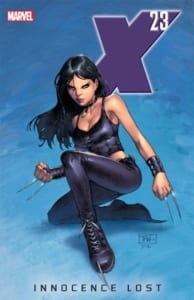 X-23: Innocence Lost (Craig Kyle, Billy Tan)
Now it can be told. The full story behind the origin of X-23 – who she is, where she came from and the exact nature of her relationship to Wolverine. You think you know, but you have no idea!
Avengers Assemble: Science Bros (Kelly Sue Deconnick, Christos Gage, Stefano Caselli, Pete Woods, Tomm Coker)
Two scientists, two giant egos. One wears a tank…one is a tank. Tony Stark and Bruce Banner are science bros! And when a fellow big-brain goes missing, the two heroes take bets who can find him first! It's Amazing Race, Avengers-style, as Iron Man and Hulk embark on a global manhunt with the ultimate prize at stake…bragging rights! But what happens when a 20 million-year-old evolutionary catalyst infects the Hulk?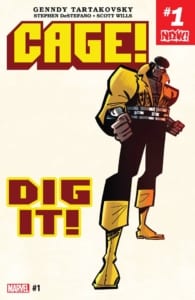 Cage! (Genndy Tartakovsky, Stephen DeStefano, Scott Wills)
From the Award-Winning creator of Dexter's Laboratory, Samurai Jack and Hotel Transylvania! On the mean streets of Harlem, shoes are big, shirts are large, bottoms are belled and crime is rampant! But in the heart of the city, the world's hardest-working, smack-talking, chain-wearing superhero is on the street and on the case! And his rates are reasonable! He's CAGE! and he'll save your behind. Dig it!
---
Indie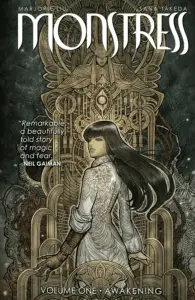 Monstress Vol 1: Awakening (Image Comics) – Marjorie Liu, Sana Takeda
Set in an alternate matriarchal 1900's Asia, in a richly imagined world of art deco-inflected steampunk, MONSTRESS tells the story of a teenage girl who is struggling to survive the trauma of war, and who shares a mysterious psychic link with a monster of tremendous power, a connection that will transform them both.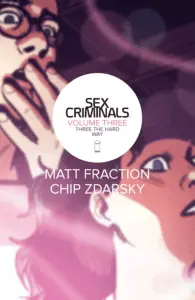 Sex Criminals Vol. 3: Three the Hard Way (Image Comics) – Matt Fraction, Chip Zdarsky
So it turns out Jon and Suzie aren't alone — other people around the world, like them, freeze time when they climax. A self-appointed group wants to regulate and control them through fear and intimidation. Jon and Suzie are falling in love and want their freak flags to fly, but if they're going to fight back they can't do it alone. And really, isn't that a metaphor for the whole series? That we might all be alone but we're all alone together? I think so. If you read only one comic with a semen-demon in it this year, please make it SEX CRIMINALS V3: THREE THE HARD WAY.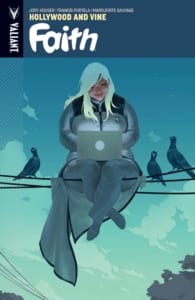 Faith: Hollywood and Vine (Valiant) – Jody Houser, Francis Portela, Marguerite Sauvage
Orphaned at a young age, Faith Herbert – a psionically gifted "psiot" discovered by the Harbinger Foundation – has always aspired to greatness. But now this once ordinary teenager is taking control of her destiny and becoming the hard-hitting hero she's always known she can be – complete with a mild-mannered secret identity, unsuspecting colleagues, and a day job as a reporter that routinely throws into her harm's way! Well, at least she thought it would… When she's not typing up listicles about cat videos, Faith makes a secret transformation to patrol the night as the City of Angels' own leading superhero – the sky-soaring Zephyr!
But flying solo is going to be tougher than she ever thought when Zephyr uncovers a deep-rooted alien conspiracy. Two-bit burglars and car thieves are one thing, but when the world needs a hero to stave off a full-blown extraterrestrial invasion, will Faith find herself in over her head…or ready for her biggest challenge yet?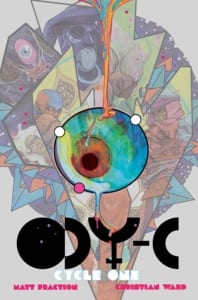 ODY-C: Cycle One (Image Comics) – Matt Fraction, Christian Ward
ODY-C, modeled after Homer's Odyssey, is a psychedelic, gender-broke science-fiction epic that tells the story of three legendary warrior-queens returning home after a centuries-long battle. Odyssia, of fair Ithicaa, encounters everything that can get in her way and slow her homecoming — and realizes with dawning horror that maybe she doesn't want to return. Queen Ene, she who rules the universe, reclaims her husband He of Troiia only to find herself trapped in a place where even the Goddesses cannot see — a secret world of men gone mad. And as for Queen Gamem, she has a date with her lovelorn wife and a warm bath of her own blood…
Told in verse with a visual sensibility that redefines the very possibilities of the comics medium, this gloriously oversized hardcover collects issues #1-12 plus exclusive bonus materials including essays by classicist Dani Colman, teaching aids, and a massive ten-page fold-out only available in the sold-out first issue.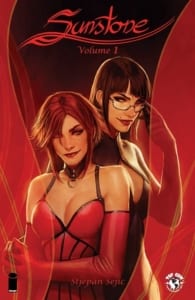 Sunstone (Image Comics) – Stjepan Sejic
Two women deal with modern themes of sex, relationships, and fetishism in this erotic romantic comedy. So beware all who enter, because, to quote a few hundred thousand readers on DeviantArt: "I'm not into BDSM…but this story…I get it."
---
And for those wanting to go the extra mile…
Merch
Subscription to Marvel Unlimited (Look, they might say they've read all the titles, but they haven't read ALL the titles. Get them a gift subscription to Marvel Unlimited and keep them busy for the rest of the year.)
DC Bombshells Tyvek Mighty Passport Cover 
America Chavez (If you love someone, gift them a year subscription for the upcoming title. Just do it. Don't make them cry during the holidays. But if the promise of a pre-order just doesn't cut it, get them this nifty phone case)
Blue Lantern Ring (So you want to swing for the fences and give them a gift to end all gifts? Picture this, LANTERN CORPS RING. And after the year we've had, hell, we could all use a little extra hope.)